From the outside looking in, it may seem like motorcycles and foul weather shouldn't mix. The lack of an enclosed cabin like that of a car fully exposes the rider to wind, rain, and snow, requiring them to face whatever weather conditions happen to be present (and that's before factoring in the added windchill from riding speed). The reality is, however, that with the right garments and riding gear, one can comfortably pilot a motorcycle in practically any conditions, limited really only by visibly.
Cold weather kit not only has to protect its wearer from low temperatures, wind, and precipitation but must be able to do so without restricting range of movement or dexterity—a combination that's much easier said than done. Spurred on by a steadily growing adventure bike market and community, cold weather riding gear often borrows elements and aspects from traditional snowmobile garments, and occasionally even ski and snowboard gear. To help shine a light on some of the best equipment today's industry has to offer, we've compiled this head-to-toe list of the best cold weather motorcycle essentials.
The Best Cold Weather Riding Gear
Best Helmet Liner/Balaclava

Alpinestars Touring Winter Balaclava

Best Base Layer Bottoms

Alpinestars Ride Tech Winter Bottoms

Best Base Layer Top

Alpinestars Ride Tech Winter Top

Best Heated Grips

KOSO 5 Level Heated Grips

Best Gloves

Held Cold Champ GORE-TEX Gloves

Best Mid-Layer

Klim Torque Jacket

Best Boots

Klim Aurora GTX BOA Boots

Best Helmet

509 Delta R3L Carbon Ignite Helmet

Best Pants

REV'IT! Dominator 3 GTX Pants

Best Jacket

REV'IT! Dominator 3 GTX Jacket

Best Suit

Aerostich R3 Suit
Selecting A Low-Temp Loadout
What Factors Should I Consider When Buying Cold Weather Moto Gear?
While many common aspects of normal motorcycle gear carry over to cold weather kit, there are still several areas that are unique to this space. Below, we'll touch on some of the more crucial factors to consider when buying cold-weather essentials.
Intended Use: This is arguably the most important area to consider, as it determines the type of gear you should be purchasing. You should consider the type of temperatures and conditions you'll be riding in, and use that as a jumping-off point, as there's gear designed to handle everything from chilly days and light rainfall, to full-on expedition-grade arctic-ready kit.
Shell Construction: A piece of gear's shell is its first line of defense from wind, precipitation, impacts, and slides, and therefore is of extreme importance. The materials and construction techniques used in this area are the main things to focus on here, as are material overlays in key impact areas.
Liner: Liners are another pivotal element on cold weather riding gear, as they have to pull off a bit of a balancing act, protecting from wind and rain (aka being weatherproof) while remaining breathable. Name brand materials are often utilized here, with GORE-TEX probably being the most obvious and most-commonly-used example.
Insulation: This is the biggest departure from regular riding gear and plays an enormous part in a piece of normal kit being "winterized." Insulation does a remarkable job of trapping heat in and blocking out colder external temperatures. Most insulated gear will cite the fill weight (usually in grams), along with the type of insulation being used.
Ventilation: Coupled with a breathable liner, ventilation is also key to keeping at a comfortable temperature while in the saddle. Most premium cold-weather jackets, suits, and gear will feature open and closable vents. Much of the time these vents are covered or positioned in such a way that they can be left open without letting water in during rain or snowfall.
Armor: No matter the season or temperature, going (shiny side) down is going down. Next to abrasion-resistance, armor is the single most important protective element on riding gear and is very seldom not included in modern products. You'll want to look for armor in the elbows, knees, shoulders, spine/back, and hips. There are also different safety ratings for armor, as well as some name brand materials such as D30.
Components: This is an area that helps to distinguish top-shelf gear from run-of-the-mill items, and makes an enormous difference in overall quality. Components to keep an eye out for include YKK (and/or) waterproof zippers, attachment points for other gear, FIDLOCKs, and Idraflap closures, to name only a few.
Adjustability: Motorcycle gear has to properly fit you in order to do its job during a crash, and cold weather gear is really no different, as ill-fitting winter kit will allow cold-air or water through. On top of regular sizing (S, M, L, XL, etc) most winter riding gear will come equipped with a host of straps, buckles, Velcro, or other elements that allow fitment of individual areas to be fine-tuned for a perfect fit.
Versatility: When a jacket has ample ventilation, it's able to lend itself to a much wider variety of applications and weather conditions. So, while it may cost more, you'll want to consider second, and even third possible uses a jacket or piece of cold weather riding gear can provide. Elements such as removable insulated liners—which can be worn when off the bike as a normal jacket—undoubtedly afford a piece of gear markedly more versatility, and consequently more value.
Brand: While this isn't true 100% of the time across the board, a motorcycle gear brand with a good reputation will rarely release a poor-quality product. When trying to make a decision, it does help to take into account a brand's reputation for quality and construction.
Layered Vs Heated
The Debate Over Electronically-Heated Riding Gear
Electronically-heated riding gear can be fantastic and can allow riders to comfortably venture into lower temperatures than they might otherwise. There are, however, numerous drawbacks to this type of gear, the first and most blatant of which is if the battery dies or the device malfunctions, you're suddenly in a very bad—potentially life-threatening—position. Regular gear on the other hand—especially when properly layered—can do nearly as good of a job, without having to worry about recharging batteries (or them dying or failing).
We're by no means opposed to using heated gear, it's just important to be fully aware of the limitations of this kind of equipment. There are also best-of-both-world pieces of heated kit that combine liners and insulation with battery-powered elements, enabling these items to still do a decent job standing up against the cold, even without the heating elements activated. We'd also recommend stashing away a backup, non-heated piece of gear to have on hand when using heated kit, just-in-case.
Making The Cut
How & Why We Selected This Cold Weather Riding Gear
When it comes to cold-weather riding gear, there's an enormous number of available products on the market. In a bid to hone in on the best of the best, we began our search by first breaking this larger space down into more-specific sub-segments — such as best cold-weather moto helmet, best cold-weather boots, best cold-weather base-layers, etc. Each of these selections were made based on criteria such as materials, features and design, construction and build quality, versatility, value, weatherproofing and insulation, and style and appearance. Using these characteristics and traits to guide our search, we then proceeded to select a few items from each sub-segment that we suspected may represent the very best. From there, each sub-segment's picks were then compared side-by-side, allowing us to make final cuts and narrow our search down to a single best-of item from each class.
Two-Wheeled Winter Wear
The Best Cold Weather Motorcycle Gear Essentials
Now that you've got a decent grasp on what qualities to look for when shopping for cold weather motorcycle gear, let's dive into our picks for the latest and greatest from each of the main categories in this space.
Helmet Liners
Head Heat Retainers
While winter riding boots and gloves are often found with beefed-up insulation, this isn't the case for helmets, which is why helmet liners are so important, as they not only keep your dome warm, but they also shield the exposed skin on your neck from the cold wind making its way under your collar.
Alpinestars Touring Winter Balaclava
Pros
Cut from a moisture-wicking stretch fabric
Uses full flat-lock seam construction
Cinching neck skirt creates seal from the elements
Is breathable & waterproof
Lined w/ cozy a micro fiber interior
Cons
Difficult to breathe through mouth hole (especially beneath full-face helmet)
Best Helmet Liner/Balaclava: Made by one of the world's most trusted moto gear brands, the Alpinestars Touring Winter Balaclava is a helmet liner that culminates in a waterproof and windproof neck skirt that covers the collar of the wearer's jacket, thereby blocking out the wind, cold, and elements. Cut from a breathable yet warm moisture-wicking stretch fabric, this balaclava-style helmet liner also boasts a full flat-lock seam construction, double sided Lycra stretch panels, and a micro fiber inner lining. An open nose panel and mouth hole help to aid in breathing while a cinching neck skirt ensures a perfect fit, regardless as to what jacket or top it's worn over.
Construction: Breathable & Waterproof Stretch Fabric
Wicking: Yes
Closure: Cinch
Base Layers
Synthetic Second Skins
Base layers serve a vital function for motorcyclists in colder and more severe weather, helping to recycle and retain heat from one's core, while remaining breathable, and often moisture-wicking. Traditional fabrics do a decent job, though there's a host of advanced synthetic materials that take comfort and performance to the next level.
Alpinestars Ride Tech Winter Top & Bottoms
Pros
Made from moisture-wicking dual-layer stretch polypropylene
Uses muscle fatigue-mitigating ribbed compression fit design
Decorated in Astars' signature Jacquard logos
Features honeycomb open mesh structure
Cons
Unusually small sizing (we recommend ordering one size up)
Best Base Layers: Specifically engineered for cold-weather riding, Alpinestars Ride Tech Winter top and bottom base layers sport a compression fit design meant to mitigate muscle fatigue. The bottoms feature stretch ribs on the front and back of the knees, knee-puck-style Jacquard logos, and a honeycomb open mesh structure that affords optimal heat and moisture exchange in winter conditions.The top half of the Italian gear brand's Ride Tech Winter kit features the same honeycomb open mesh structure, muscle fatigue-reducing compression fit design, and stretch ribs. The shoulders (and neck and chest) also bare the same race suit-style Jacquard logos that are normally found on sliders. And, just like with the lower-half of this base-layer setup, Astars' Ride Tech Winter layers lend themselves to a host of other physical off-the-bike activities.
Construction: Double-Density Elastane-Infused Polypropylene
Wicking: Yes
Fit: Compression Fit
Heated Grips
Hard-Wired Warmth
While heated gloves can be a fantastic option, hard-wired sets of heated grips offer far more convenience, not needing to regularly be recharged. These items can also be left on the bike year-round and simply turned off or disconnected during the warmer seasons. These items are also more than powerful enough to keep riders' hands' warm through even insulated gloves.
KOSO 5 Level Heated Grips
Pros
Features 5 different temp modes
Engineered for all-weather use
Easy to install
Sold w/ included LED-equipped controller
Cons
Rubber grips quickly deteriorate w/ regular use (but are easily replaceable)
Best Heated Grips: The KOSO 5 Level Heated Grips add a substantial amount of warmth to your palms and fingers — parts of your body that lose heat the fastest. Despite barely adding any bulk compared to regular non-heated grips, KOSO's 5-Level model can reach temperatures of above 90° and is compatible with all standard 7/8" and 1.0" handlebars. Sold with an included controller with an LED display and dial knob, these heated grips also feature short-circuit protection and an internal memory function that recalls your last setting.
Handlebar Size: 7/8" or 1.0"
Temp Modes: 5
Short Circuit Protection: Yes
Riding Gloves
Digit Defenders
Just like with your feet, hands get cold easily, and considering your hands and fingers are used to control and pilot your motorcycle, it's essential to keep them warm, as cold hands not only hurt, but also have a limited range of movement and less strength, compromising your ability to safely ride.
Held Cold Champ GORE-TEX Gloves
Pros
Made in Germany
Affords excellent warmth without sacrificing tactile feel
Has X-TRAFIT tech that combines waterproofing & insulating layers into single construction
CE-rated & equipped w/ knuckle guards & Super fabric reinforcements at all key impact areas
Cons
Lacks touchscreen-compatible fiber tips
Best Gloves: Most winter motorcycles gloves either offer ample warmth with limited tactile feel, or great tactile feel with limited warmth. Held's Cold Champ GORE-TEX gloves solves this issue with a clever trick. Cut from a combination of goatskin and Taslan leather, these moto gloves benefit from the use of Held's X-TRAFIT technology, which merges the item's waterproof GORE-TEX membrane and insulating 3M Thinsulate layers into a single construction that allows for a much thinner glove, affording incredible levels of warmth while simultaneously affording remarkable levels of feedback and tactile feel. Also included is a visor wipe, stretch panels on the back of the hands, and Superfabric reinforcements at all key slide-prone areas.
Primary Construction: Taslan & Goatskin
Membrane: GORE-TEX
Insulation: 3M Thinsulate
Armor: Plastic Knuckle Guards
Mid-Layers
The Second Line Of Defense
Also popular in the outdoor and hiking worlds, these garments are designed to be worn beneath a larger shell or jacket in order to provide a decent amount of extra warmth, though can also be utilized by themselves when off the bike. It's also not uncommon to see high-end winter riding jackets that come with removable mid-layers or liners, often of the insulated variety.
Klim Torque Jacket
Pros
Crafted around DWR-treated down-proof nylon shell
Packs/stuffs into its own pocket
Stuffed w/ 100-grams of 3M Thinsulate featherless insulation
Also makes for fantastic off-the-bike jacket/mid-layer
Best Mid-Layer: A lightly-updated take on an already fantastic winter garment, the Klim Torque Jacket is a lightweight mid-layer that provides a tremendous amount of warmth while still being able to roll up into a highly-compact form to stow away in one of its own pockets. Its down-proof nylon shell has been hit with a hardwearing DWR-treatment, features Taslan shoulder overlays, and houses 100-grams of 3M Thinsulate featherless insulation. This premium puffer jacket also features an adjustable and removable insulated hood, elastic cuffs, all YKK zippers, and an adjustable bottom hem. It's also worth mentioning that even when off the bike, it's durability, build quality, packability, and impressive levels of warmth make the Torque a stellar everyday jacket — an area that hugely bolsters its versatility, and therefor its value, as well.
Shell Construction: DWR-Treated Down Proof Nylon
Insulation: 3M Thinsulate
Packable: Yes
Riding Boots
Fortified Footwear
Suffering from limited circulation, our extremities are quick to lose body heat, which is why a solid pair of winter riding boots should not only protect your feet from impact and abrasions but also from frigid temperatures and precipitation of winter, usually through the use of insulation and a weatherproof membrane or liner.
Klim Aurora GTX BOA Boots
Pros
Updated, 2nd take on already stellar winter riding boot
Uses BOA Fit System
Flex panels make walking around while off the bike super easy.comfortable
Included half-size inserts guarantee a super precise fit
Sequence lacing is designed to shed dirt, snow, ice, & debris
Cons
Could benefit from additional armor/padding
Best Boots: Another recently redesigned and newly-released second-gen iteration from Klim, the Aurora GTX BOA Boots are a thoroughly warm and robust full-length pair of winter riding boots that deliver fantastic protection without overly compromising mobility. Built atop a grippy outsole made from Michelin rubber, the gen-two Aurora GTX BOA features a GORE-TEX construction that's stuffed with 800 grams of 3M Thinsulate insulation. The use of regular sizing supplemented via an included set of half-size inserts also help to ensure an ultra-snug and precise fit. Secured via a BOA fit system and BOA H4 coiler system, these parts also come loaded with a removable moisture wicking Ortholite insole, a breathable, moisture-wicking liner, a midsole with key flex panels that make it incredibly easy to walk around while off the bike, and a molded tongue overlaid with sequence lacing designed to easily shed dirt, snow, ice, and debris.
Main Construction: GORE-TEX
Membrane: GORE-TEX
Armor: N/A
Closure System: BOA Fit System
Outsole: Michelin Rubber
Motorcycle Helmets
Blizzard-Ready Brain Buckets
Motorcycle helmets are obviously an immensely crucial piece of safety gear, though cold weather presents a number of unique problems, including internally-fogged or externally-frosted visors. Often doubling as ECE/DOT-certified snowmobile helmets, winter moto helmets will usually come with electrically heated visors and breath boxes made specifically to hand low-temperature conditions.
509 Delta R3L Carbon Ignite Helmet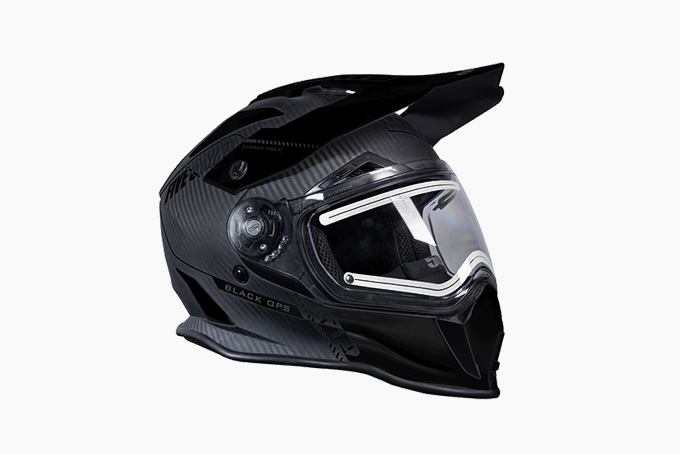 Pros
Features hand-laid carbon fiber shell over dual-density EPS liner
Can be used in dual sport, full face, or open face configuration
Ships w/ heated dual-pane face shield w/ anti-fog indium tin oxide coating
Equipped w. FIDLOCK chin strap buckle
Offers excellent bang for your buck
Cons
Warranty limited to only 12 months
Best Helmet: Weighing as little as 3.19lbs, the 509 Delta R3L Carbon Ignite Helmet is a high-end snowmobile brain bucket that happens to be DOT and ECE-certified (aka road-legal). Something of the ultimate cold weather lid, the helmet sports a carbon fiber shell housing a dual-density EPS liner, while inside there's an included cold-weather breathe box and a powerful 12V heated dual-pane face-shield. The Delta R3 also gets premium Pro Series cheek pads and liner and is secured via a magnetic FIDLOCK chinstrap that can easily be operated while wearing gloves. This helmet can also be used in either a dual sport, full face, or open face configuration.
Shell Material: Carbon Fiber
Weight: 3.19LBs
Safety Certification(s): DOT / ECE
Riding Jackets & Pants
Two-Piece Protection
Cold weather riding jackets and pants need to be able to withstand the rigors and abuses of regular garments while also being able to protect their wearer from low temperatures and the elements. Quality offerings in this space will afford robust protection, without compromising mobility or adding an uncomfortable amount of bulk or weight.
REV'IT! Dominator 3 GTX Jacket & Pants
Pros
3rd-gen take on an already world-class top & bottom set
Designed using spare-no-expense approach
Uses advanced proprietary materials
Ideal for both on & off-road use
Fantastic adjustability & ventilation
Engineered for 4-season use
Best Jacket & Pants: REV'IT!'s touted its original Dominator GTX jacket and pants as its most functional pieces of cold weather riding gear to date. Considering the brand's catalog, this was a bold claim, but one that we ultimately found to be true. Since that time, the jacket and pants have been treated to two ever-more-impressive generations culminating in the REV'IT! Dominator 3 GTX Jacket and Pants. Cut from a 3-Layer 600D GORE-TEX Pro Fabric and 400D GORE-TEX Pro Fabric, respectively, these third-gen riding jacket and pants utilize REV'IT!'s patented Ventilation Control aquadefense System and come loaded with a full suite of SEESMART and SEEFLEX armor. In typical REV'IT! fashion, the build quality, durability, and wealth of genuinely useful features on this top and bottom set help to set them apart from the competition. And while they admittedly don't come cheap, they undeniably constitute some of the very finest cold weather riding apparel that money can buy.
Shell Construction: 3-Layer 400D & 600D GORE-TEX Pro Fabric Laminate
Armor: SEEFLEX Knee, Shoulder, & Elbow Protectors & SEESMART Hip Armor & Spine Protector
Water Resistance: Waterproof
Insulation: N/A
Riding Suits
Complete Top To Bottom Coverage
When it comes to cold weather riding gear, it really is hard to beat a well-made one-piece suit, as they provide full-body coverage from ankle to neck. The step-in nature and single-piece construction allow for an unparalleled ability to trap in warmth and keep the elements out. These items are typically on the more expensive side, though the MSRPs are more than justified thanks to what is objectively top-notch comfort and protection.
Aerostich R3 Suit
Pros
Made by hand in America
Super premium materials & build quality
Engineered for a lifetime of use
Sold in 30 different color combinations
Includes full suite of armor & overlays at all slide-prone areas
Best Suit: Aerostich is without a doubt one of the best-kept secrets in the moto gear realm, producing hand-made goods at its Minnesota facility in low-number batches to ridiculously high standards. Aerostich's R3 suit is the third-generation version of the brand's flagship Roadcrafter suit—affectionately known as the "Aerostich motel"—and is built around a 100% waterproof GORE-TEX and 500D CORDURA shell with double-layer 1,000D CORDURA overlays in key impact areas. Good for handling temperatures as low as – 24ºc, the R3 is sold in 30 different color combinations and comes with numerous noteworthy optional add-ons such as detachable thigh and arm map pockets, electronically heated elements, and integrated rain boot covers. It is worth pointing out that this suit is not insulated, however, we'd argue this just makes it even more versatile, as it's been designed to be worn over other base layers and insulated mid layers, ultimately allowing it to lend itself to year round riding, no matter how cold it gets where you live.
Primary Construction: 500D CORDURA TLTex Fabric
Armored: Yes
Waterproof: Yes
The Best Motorcycle Rain Gear For Wet-Weather Riding
If you're interested in cold weather riding kit, there's a very decent likelihood that you'll also appreciate riding gear for use in the rain — the latest and greatest of which we've rounded up for our guide to the best motorcycle rain gear for wet-weather riding.