Long before motor vehicles, mankind was trying to figure out ways to go faster — including upon horseback, down snowy mountainsides with sleds and skis, river rafting, etc. But the invention of the combustion engine changed the course of history in a number of revolutionary ways in that regard. Now, thanks to near-constant innovation, going faster than humanly possible is as simple as getting yourself inside a car and putting it in drive — or at least close to that easy.
For real speed freaks and adrenaline junkies, however, road-going vehicles just don't do the trick. Even if you have a car that can go over 200mph, you can't legally do that on public roads. But that's why race tracks exist. You see, there are actually a wide variety of vehicles that aren't legal to drive on the street, but can be taken down to the track where you might push their limits. In fact, you don't even have to be a bonafide racing driver in order to get one. In the case of the following eight track-only cars, you just need enough money to purchase them.
Aston Martin Valkyrie AMR Pro
Of all the cars on this list, Aston Martin's Valkyrie AMR Pro (the track-only, tuned-up version of the brand's hybrid hypercar) is undoubtedly the most impressive from a performance numbers standpoint. And it's definitely the one that most snugly fits into the hypercar category. But it's not just the over-1,000 horsepower its V12 engine puts out, either. The track-only version of the car, in a similar fashion to its road-going counterparts, also has a revolutionary aerodynamic design, full carbon fiber bodywork, and is capable of generating more than its own weight (roughly 2,205 lbs) in downforce. In fact, this insane racer exceeds the 1:1 power-to-weight ratio — meaning its power rating exceeds its own weight. Mate that to a slew of other magnificent features — polycarbonate windows, an ultralight exhaust system, molded racing seats, carbon fiber suspension wishbones, etc. — and they add up to one of the most impressive feats of engineering of all time. There's just one problem: while this car was available for public purchase, only 25 were built (presumably for a price comparative to the $3.2m road version) and they're all spoken for.
Engine: 6.5L Cosworth V12
Horsepower: 1,100
Torque: N/A
0-60: ~2.5s
Top Speed: 225mph
Brabham BT62
While Aston Martin's Valkyrie is a hard act to follow, Brabham's BT62 track-only hypercar is absolutely nothing to scoff at. In fact, this impressive vehicle is one of the purest racing machines available to the public. That includes a dry weight of under 2,143 pounds, resulting in a power-to-weight ratio of a whopping 720 horsepower per ton. And that's possible thanks to a combination of its in-house 5.4L V8 engine, ultralight chassis, bespoke carbon fiber body panels, and so much more. The aerodynamic design of this pavement rocket also results in the production of a whopping 2645.547 pounds of downforce — which, yes, is a good deal more than the weight of the car itself. But there's another major factor that goes into making this car so desirable to the few bonafide speed demons that can get their hands on one: it was designed with technologies meant to integrate the driver's experience — meaning this is a driver's car through-and-through, relying on human control far more than electronic systems that take away from the driving experience.
Engine: 5.4L V8
Horsepower: 700
Torque: 492lb-ft
0-60: N/A
Top Speed: N/A
Ferrari 488 Challenge Evo
The Ferrari 488 Challenge Evo is an interesting beast for a number of reasons. For starters, the specs we have below are actually based upon the baseline 488 Challenge — which, itself, was based on the Ferrari 488 GTE — as this new edition doesn't have any officially-released specs. Secondly, the kit for this ride was actually developed, in part, using Ferrari's GT driving simulator to help balance the aerodynamics. Finally, this high-tech track-only racer is available both as a standalone vehicle or as an upgrade package for customers in possession of an existing 488 Challenge. On top of all that, this ultra-aerodynamic street rocket also boasts a paddle-shifted steering wheel developed specifically through Ferrari's racing experiences with the FXX-K Evo and the 488 GTE. While you can buy this ride, you'll have to reach out to Ferrari yourself for more information.
Engine: 3.9L Twin-Turbocharged V8
Horsepower: 711
Torque: 567
0-60: 3.0s
Top Speed: 210mph
Ford GT MKII
In 1964, Ford famously reached out to Carroll Shelby in order to help them beat Ferrari in the 24 Hours of Le Mans. That resulted in Ford developing the GT40 MKII, which went on to win at Le Mans — taking the 1st, 2nd, and 3rd place podium positions — in 1966. In 2016, the spiritual successor to the Le Mans-winning racer, the Ford GT, again placed 1st. Now, as a celebration of that history, Ford has created the GT MKII — a 700+ horsepower "unrestricted and unregulated" supercar built with only one thing in mind: the joy of the ride. Crowned as the most powerful Ford GT ever, this MKII is a magnificent work of American know-how and automotive excellence. However, only 45 of them will ever be made at a price of a whopping $1.2 million each. And while its rarity definitely makes it one of the most enticing offerings on this list, the price of entry also severely limits the potential of purchasing one — ensuring that only the most die-hard, deep-pocketed Ford fans will ever drive one.
Engine: 3.5L Twin-Turbocharged V6 EcoBoost
Horsepower: 700
Torque: N/A
0-60: N/A
Top Speed: N/A
KTM X-Bow GT4
If you're familiar with the name KTM, it's likely because you've glimpsed the brand's signature (and fairly strange) Slingshot road-going trike. Essentially a high-powered go-kart, the Slingshot has been a staple of the Austrian manufacturer's offerings for a long time. But it's also not the only performance-focused machine they build. In fact, if you really want face-melting speed, you'll want to check out their more-traditional X-Bow GT4. Interestingly, this lightweight track-only car uses an Audi-built 2-liter TFSI engine that's good for 360 horsepower — which doesn't sound like a lot until you consider that the car weighs just 1,742 pounds (less than the weight of an average cow). Its revolutionary canopy system was also based on fighter jets — lending to its speedy pedigree — and it boasts a superb field of vision and even increases the safety, as the push-out window can be opened from inside or outside. If you want a hulking hypercar, this one isn't for you. But if you've got roughly $180,000 to spare (a good deal less than the rest of the cars on this list), this is one of the most exhilarating track cars available.
Engine: 2.0L TFSI
Horsepower: 360
Torque: 230lb-ft
0-60: 4.0s
Top Speed: ~155mph
Lamborghini Huracan Super Trofeo Collector Edition
Leave it to the Raging Bull brand to create an opulent "Collector Edition" of an already-rare and -expensive track-only supercar. Still, there's no denying how incredibly cool the Huracan Super Trofeo you see here actually is. Done up by the brand's in-house Squadra Course specialty sub-brand, this racing-focused supercar boasts a matte carbon fiber body painted with an exclusive black-and-gold livery designed by Lamborghini Centro Stile, and is equipped with aggressive aerodynamics denoted by golden embellishments. And while it's hardly the most powerful vehicle on our list, its 612-horsepower V10 engine is definitely nothing at which to scoff. It's also worth noting that this vehicle has an electronically-limited top speed of 174 — well below the power of its road-going brethren — but the brand does denote that the cap can be lifted. For more information, availability, and to purchase, you'll need to reach out to Lamborghini's racing sales division.
Engine: Longitudinal V10 IDS
Horsepower: 621
Torque: 420lb-ft
0-60: N/A
Top Speed: 174
McLaren Senna GTR
Both because of the legendary name it carries and its high-speed hypercar pedigree, McLaren's Senna has undoubtedly made waves in the automotive world. So when the brand themselves say that its track-only sibling, the Senna GT, is "pushes things to the max" and is "freed from all road and motorsport rules," you should understand just how serious that actually is. In fact, this car produces the fastest non-F1 lap times of any McLaren ever. It also boasts the best power-to-weight ratio of any track-focused McLaren, produces up to 2204.62 pounds of downforce (more than the weight of the car itself), and is absolutely stunning to behold from tip to tail. There's still a lot that we don't know about it but we can give you two more tidbits of information: only 75 will ever be made and they're priced at a whopping $1.65 million each. Unfortunately, they were sold out before the first one ever left the factory floor — but you can probably get one secondhand if you know where to look and you've got enough power, influence, and (of course) money.
Engine: 4.0L Twin-Turbocharged V8
Horsepower: 814
Torque: 590 lb-ft
0-60: 2.7s
Top Speed: 200mph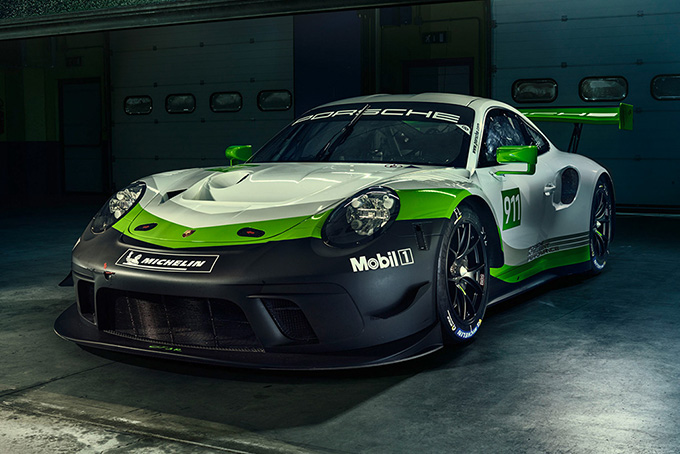 Porsche 911 GT3 R
Porsche has made a pretty solid habit of making even some of their most bonkers vehicles street-legal when they're sold to the public. That being said, the German marque is also smart enough to recognize that some folks don't want a car they can take on the road; they want a regulation-free speed machine that tears up the tarmac. And for those folks, there's the 911 GT3 R. Based on the brand's most iconic vehicle, this show-stopper boasts a 550hp water-cooled flat-six powerplant, an aggressive and aerodynamic body, a race-ready suspension and handling system, and a wealth of other racing-friendly built-in features — like a welded roll cage, an FT3 safety fuel cell, and even its own onboard fire-extinguishing system. This ain't your daddy's 911 — unless your daddy happens to be a world-class racing driver. Unfortunately, if you want to get your hands on one, you'll have to get in touch with Porsche directly.
Engine: Water-Cooled Flat-Six
Horsepower: 550
Torque: 339lb-ft
0-60: 4.1s
Top Speed: 193mph
The 10 Best Race Tracks In The USA
If you're going to get a track-only car, then you'll need to find places where you can actually enjoy it. Lucky for you, we've rounded up ten of the USA's best race tracks.