While scramblers and even purpose-built motocrossers had already existed since the '50s and '60s, it wasn't until 1980 that BMW Motorrad introduced the world to what's widely considered to be the first-ever adventure motorcycle with the R80 GS — a ruggedized R80-engined mount that would quickly prove its worth with a victory at the infamous Dakar Rally only a year after its reveal. Since that time, the segment has enormously evolved, ultimately blossoming into one of today's most popular segments in motorcycling. This enormous interest in the adventure bike class has prompted the majority of major moto manufacturers to toss their respective hats into the ADV ring, resulting in the most diverse and abundant adventure motorcycle market of all time.
While this growing class gives interested buyers more options than ever before, it can also make it difficult to sort through the more than five dozen ADV bikes that currently constitute the market. To help simplify this increasingly complex space, we've pored over the segment to highlight the best adventure motorcycles currently in production — counting down our picks for the very best across the entire class, while also delving into what defines an adventure motorcycle, what makes each bike on our list unique, how to find the adventure bike that's right for you, and what to look for when shopping.
The Best Adventure Motorcycle Rundown
Best Entry-Level Pick

KTM 390 Adventure SW

Best Mid-Sized Pick

Yamaha Ténéré 700 World Raid

Best Full-Size Pick

BMW R 1250 GS Adventure

Best Overall Pick

Ducati DesertX
KTM 390 Adventure SW
Pros
Based on KTM's proven 390 platform
Equipped w/ premium componentry
Loaded w/ advanced tech, rider aids, & switchable ABS
Sports modern Dakar raider-inspired bodywork
Comes standard w/ hand-guards, skid-plate, rear rack, & other ADV-focused items
Best Entry-Level Pick: After years of the motorcycling public clamoring for an adventure version of KTM's 390 platform, the Ready To Race brand finally deployed the 390 Adventure, equipping the 373.2cc-engined Austrian moto with more than 170mm of suspension travel front and aft, a skid plate, and sharp Kiska-designed adventure-style bodywork. Now offered in an SW (spoked wheel) version, the 390 Adventure also sports a host of other high-end amenities including a slipper clutch, WP suspension, lean-angle-sensitive traction control, off-road and cornering ABS, and multiple ride modes, including a decimated off-road map. And while it isn't the cheapest option, you'd be hard-pressed to find a better entry-level motorcycle in the ADV class than KTM's 390.
Engine: Liquid-Cooled DOHC 373.2cc Single-Cylinder
Power: 43hp & 27.3ft-lbs
Weight: 355LBS
Suspension Travel: 170mm Front / 178 Rear
Ground Clearance: 200mm
MSRP: $7,399
Yamaha Ténéré 700 World Raid
Pros
Hardcore turnkey rally-spec version of what was already one of the best ADV bikes
Equipped w/ numerous components from the GYTR parts bin
Larger tank offers over 300 miles of range between fill-ups
Has nearly 10" of clearance & 9" of travel
Livery inspired by Gauloises-sponsored Dakar Rally racers from '80s & 90s
Best Mid-Sized Pick: The Yamaha Ténéré 700 is already one of the most competent, off-road-capable adventure motorcycles in existence — made all the more impressive by the fact it costs roughly half of the segment's full-sized class leaders. Born out of a beyond extensive real-world testing and development program, the Ténéré 700 packs the FZ/MT-07's proven 689cc liquid-cooled CP2 parallel-twin, affording it ample power and torque while still weighing around 450lbs. Blurring the line between an adventure bike and dual-sport, the T7 also boasts an MX-style seat, proper off-road ergonomics, and slim bodywork, along with a Dakar-style navigation tower housing premium LED headlights and LCD gauges. Never one to rest on its laurels, the Tuning Fork company has recently introduced an even more capable World Raid-spec variant that gains an Öhlins steering damper, rally-spec fully adjustable long-travel KYB suspension with an inverted Kashima-coated fork, long-range dual side-mounted fuel tanks, a three-mode switchable ABS, a rally-style two-piece seat, and one of two different variant-exclusive livery options. This bike doesn't just look the part, as the Yamaha Ténéré 700 World Raid is truly a real-deal hardcore off-road adventure machine, sharing much of its DNA with legimtate Dakar-style rally raid racers.
Engine: Liquid-Cooled 689cc Parallel-Twin
Power: 73.4HP & 50FT-LBs
Curb Weight: 485LBs
Suspension Travel: 230mm Front / 220mm Rear
Ground Clearance: 255mm
MSRP: $14,500
BMW R 1250 GS Adventure
Pros
Latest successor to what's widely considered first ever adventure motorcycle (the R80 G/S)
Enormously popular, premium adventure tourer in off-road-specific trim level
Benefits from BMW's ShiftCam variable valve timing tech
Shaft drive requires far less maintenance compared to belt or chain
Comes standard w/ skid plate & full suite of crash bars
Absolutely enormous upgrades & aftermarket parts availability
Cons
Expensive price
Heavy curb weight at approximately 600lbs
Requires upgrades to extract full off-reading capabilities
Best Full-Size Pick: The latest iteration of the adventure motorcycle that kicked off the segment some four decades ago, the 2021 BMW R 1250 GS Adventure is the Bavarian brand's dirt-ready full-sized GS variant. On top of getting hard cases, crash bars, a skid plate, and a variety of other off-road parts, the big GS retains all of the base model's mechanical and technological bells and whistles like the BMW's variable camshaft control system, adaptive headlights, DTC and ABS Pro brakes, an adjustable windscreen, TFT display, 7.9-gallon tank, BMW's Cruising Light-equipped LED indicators and a heated seat. Benefitting from literally forty years of research and development and real-world high-level competition, there's a very good reason that BMW's R 1250 GS and its predecessors are such immensely popular choices among seasoned adventure riders and long-distance tourers.
Engine: Air & Liquid-Cooled 1,254cc DOHC Boxer Twin
Power: 136hp & 105ft-lbs
Curb Weight: 591lbs
Suspension Travel: 210mm Front / 220mm Rear
Ground Clearance: 185mm
MSRP: $20,345
Zero DSR/X
Pros
Zero's first-ever purpose-built adventure motorcycle
EV powertrain requires minimal maintenance
Chassis engineered specifically for on/off-road riding
Can receive 95% charge in as little as 1 hour
Optional Power Tank upgrade unlocks 21-kWh charging capacity
Cons
Must be charged & can't have tank refilled when off-grid
Limited suspension travel compared to more off-road-focused ADV models
Best EV Pick: As a company that was founded by a former NASA engineer, it's frankly unsurprising that Zero Motorcycle produces some of the most state-of-the-art and technologically-advanced electric bikes on the planet — with the California company's all-new Zero DSR/X adventure motorcycle being far from an exception. Constructed around an all-new frame designed specifically for adventure riding, the DSR/X features a Z-Force 75-10 passively air-cooled, torque-optimized interior permanent magnet AC motor making 100hp and 166ft-lbs of torque, plus a Z-Force 17.3-kWh battery pack that offers a combined range of 134 miles.Running off of Zero's state-of-the-art CYPHER III+ operating system, the DSR/X also boasts an inverted 47mm Showa Separate Function Cartridge Fork and a 46mm mono-shock that both offer 7.48" of travel and are adjustable for preload, compression, and rebound damping. Tech on this electric adventure model includes Bosch Advanced MSC with Combined Braking, off-road route planning, Vehicle Hold Control, connectivity to a dedicated app, and a dedicated Off-Road mode.
Engine: Electric Interior PMAC Motor
Power: 100HP & 166FT-LBs
Curb Weight: 544LBs
Suspension Travel: 190mm Front / 190mm Rear
Ground Clearance: 246.3mm
MSRP: $24,495
DUCATI DESERTX
Pros
Purpose-built cutting-edge mid-sized ADV bike dressed in '90s Dakar-inspired bodywork
Sold w/ optional crash bars & tail-mounted auxiliary fuel tank
Retains Ducati's classic razor-sharp on-road cornering
Fantastic ergonomics
Now offered in Audi's RS Q e-tron Dakar racer's RR22 livery
Cons
Minimal aftermarket part availability
Expensive price
Best Overall Pick: Originally breaking cover as a render in 2019 before being revealed in concept form in April of 2020, the Ducati DesertX is the Borgo Panigale's first-ever attempt at a hardcore off-road-focused adventure motorcycle. Utilizing the same 110-hp 937cc Testastretta 11° Desmodromic engine as the Multistrada V2 (and base model Monster), the DesertX features a completely novel chassis design engineered for go-anywhere riding. Riding on an all-terrain 21" front, 18" rear wheel set, the frame is paired with a long travel Kayaba suspension setup affording 9" of travel in front and 8.66" out back. The framework and engine come cloaked in a retro-inspired set of Dakar-style bodywork that takes aesthetic inspiration from the Ducati-powered racers that won the Dakar Rally in '90 and '94. Available with a host of optional add-ons including a suite of aluminum hard luggage and a supplementary 8-liter fuel cell, the DesertX also boasts a rally-style exhaust, a six-axis Bosch IMU-regulated electronics package, a quick-shifter, 9.84" of ground clearance, Brembo M50 monobloc brakes, a skid plate, a 5" TFT display, and half-a-dozen riding modes — two of which are dedicated off-road modes.
Engine: Liquid-Cooled 937cc L-Twin
Power: 110HP & 68FT-LBs
Dry Weight: 445LBs
Suspension Travel: 230mm Front / 220mm Rear
Ground Clearance: 250mm
MSRP: $17,095
Supplementary Selections
Runner-Up Adventure Motorcycle Picks
While we've now gone over our absolute favorite adventure bikes on the market, the reality is they aren't the only available options that are worth considering. Below, we've compiled a handful of additional selections to supplement our five favorite models above.
Royal Enfield Himalayan
First launched in 2016, Royal Enfield's Himalayan represented a rugged yet rudimentary, back-to-basics take on a modern ADV bike, employing a simple air-cooled single-cylinder engine housed in a half-duplex split cradle frame in lieu of the tech-laden big-bore multi-cylinder engines found in the lion's share of models that comprised the segment. Despite the thumper's displacement, the Himalayan is still good for freeway travel, and while it is short on tech — a fact that's reflected in the sub-$5,000 motorcycle's MSRP — this model does come equipped with Royal Enfield's new Bluetooth-connected "Tripper" onboard navigation assistant and system.
Engine: Air-Cooled 411cc SOHC Single-Cylinder
Power: 24.3hp & 23.6ft-lbs
Curb Weight: 438lbs
Suspension Travel: 200mm Front / 180mm Rear
Ground Clearance: 220mm
MSRP: $5,449
Husqvarna Norden 901 Expedition
Easily one of the most hyped and hotly-anticipated new adventure bike releases in recent years, Husqvarna's Norden 901 quickly proved itself as one of the most capable mid-sized ADV models on the market, though in a bid to bolster its go-anywhere capabilities, the Swedish marque has opted to outfit the 901 with a host of off-road and travel accessories and upgrades as standard, transforming the bike into a turnkey all-terrain overlander. Cloaked in a new topographical-themed livery — a motif that also adorns the 36-liter soft rear luggage included on the Husqvarna Norden 901 Expedition is powered by the parallel-twin used in KTM's 890 platform — a liquid-cooled 889cc mill putting down 105hp and 74ft-lbs of torque. Additionally, the Expedition-spec Norden also comes loaded with an aluminum skid plate, a host of advanced tech, connectivity to a dedicated smartphone app, a touring windscreen, multiple ride modes including off-road modes, an off-road ABS function, and WP XPLOR suspension (and steering damper) affording 9.44" of travel fore and aft.
Engine: Liquid-Cooled 889cc Parallel-Twin
Power: 105HP & 74FT-LBs
Weight: 473LBs
Suspension Travel: 240mm Front / 240mm Rear
Ground Clearance: 270mm
MSRP: $15,799
KTM 1290 Super Adventure R
For its latest model year, KTM took its already class-leading R-spec 1290 Super Adventure, and treated the Austrian adventure bike to a top-to-bottom redesign, bestowing the V-Twin-engined on/off-roader with a new frame paired with a longer swing-arm, a 7" TFT display, top-shelf Alpina and WP componentry, a revised powertrain with lighter cases, upgraded pistons, and a reworked exhaust, and a suite of cutting-edge rider aides regulated via a new 6-axis lean angle sensor, like motor slip regulation, off-road traction control, and hill hold control. Sporting completely revised bodywork, the lighter and even more capable 2023 1290 Super Adventure R boasts the world-class performance that one would expect from a manufacturer that's bagged an unprecedented 18 consecutive wins at the Dakar Rally.
Engine: Liquid-Cooled 1,301cc DOHC 75° V-Twin
Power: 160hp & 101.8ft-lbs
Dry Weight: 487.2lbs
Suspension Travel: 220mm Front / 220mm Rear
Ground Clearance: 242mm
Purchase: $20,299
Harley-Davidson Pan America 1250 Special
A major step in a new direction for the Harley-Davidson Motor Co, the Pan America is the Black and Orange's first-ever purpose-built adventure model and is powered by a much more potent, modern, and sophisticated V-Twin that pumps out 150hp and 94ft-lbs of torque. On top of 211mm of ground clearance, the Pan America also sports 190.5mm of suspension travel front and back. The $2,680 premium over the base model for the Special-spec of the Pan America (seen above) gets you a slew of off-road-focused hardware and features such as a real-time tire pressure monitoring system, a center stand, a multi-position rear brake pedal, brush Guard, an aluminum Skid Plate, an adaptive Daymaker headlight, hand wind deflectors, heated grips, a steering damper, semi-active front and rear suspension with the Bar and Shield brand's Vehicle Load Control and an Adaptive Ride Height system, and optional tubeless spoked wheels.
Engine: Air & Liquid-Cooled 1,254cc DOHC Boxer Twin
Power: 102HP & 664FT-LBS
Curb Weight: 573lbs
Suspension Travel: 150mm Front / 150mm Rear
Ground Clearance: 185mm
MSRP: $20,399
Energica Experia Green Tourer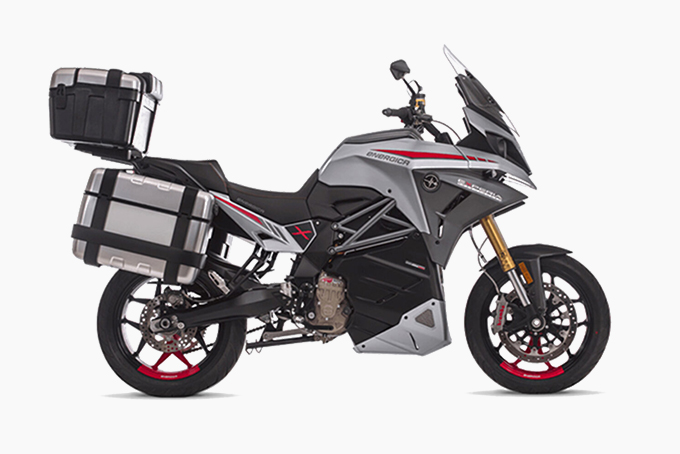 Thanks to a 261-mile range, the Energica Experia Green Tourer stands as the world's first true touring-capable electric motorcycle. Made in Italy, this battery-powered adventure bike boasts a slew of impressive specs including a 3.5-second 0-60mph time and a 112-mph top speed courtesy of a redesigned PMASynRM motor cranking out 102hp and an otherworldly 664ft-lbs of torque. Making the bike all the more conducive to touring and long—distance riding are multiple USB outlets and a set of side hard panniers and a top case that collectively afford a cool 112 liters of storage space.
Engine: Air & Liquid-Cooled 1,254cc DOHC Boxer Twin
Power: 102HP & 664FT-LBS
Curb Weight: 573lbs
Suspension Travel: 150mm Front / 150mm Rear
Ground Clearance: 185mm
MSRP: $23,750
What Exactly is an Adventure Bike?
As the class's name suggests, adventure motorcycles are versatile machines built for near-unlimited two-wheeled freedom. Like dual-sports and enduros, adventure bikes are purpose-engineered for both on and off-road riding, and, as such, feature long-travel suspension, ruggedized and often fortified frames and powertrains, upright riding positions that are incredibly conducive to standing up on the pegs, (typically) spoked wheels in off-road-oriented sizes (such as 21"/18" or 19"/17"), and full or partial sets of bodywork that almost always sport tall windscreens, navigation towers, and other elements borrowed from Dakar-style rally raid bikes. It's also common to see more off-road-focused specs of adventure models that come equipped with hard luggage, additional crash protection, auxiliary lighting, and other amenities for when the tarmac ends
In addition to wearing Dakar-style bodywork in favor of motocross-style plastics, adventure motorcycles tend to be markedly more touring-friendly than their on and off-road-friendly enduro and dual-sport counterparts — usually thanks to bigger, more powerful engines that enable ADV mounts to lend themselves much better to freeway travel. Adventure bikes also frequently feature large, extended-range fuel cells, allowing for ample autonomy between trips to the pump. Because these machines are designed for long-range use, they also tend to be incredibly reliable, with bullet-proof engines that boast services intervals of more than 10,000 miles.
Traditionally, the bikes that we define as adventure motorcycles have been of the big-bore variety, with displacements at or above the one-liter mark — with smaller engines also historically helping to differentiate dual-sports from full-sized adventure bikes — though in more recent years we've seen smaller-engined options (as well as a myriad of mid-sized models) with crash protection, long-travel suspension, unmistakable ADV-style bodywork, and other traits that place them squarely into the adventure motorcycle category. And while it makes them substantially more freeway-capable, the larger engines — which then require the bike to have a larger chassis, larger suspension, larger brakes, etc — add a considerable amount of weight, making them more difficult to negotiate off-road terrain compared to lightweight dual-sports or regular dirtbikes.
Often borrowing much of their chassis, powertrain, electronics, and suspension development straight from factory MotoGP and Dakar Rally teams, adventure motorcycles often represent the flagship offerings of major moto marques, and as a result are often bestowed with the latest and greatest, most cutting-edge powertrains and technologies. This makes adventure motorcycles some of the most advanced, high-performance bikes in existence, though state-of-the-art tech like electronically adjustable and/or active suspension coupled with large-displacement multi-cylinder engines also make adventure motorcycles one of the most expensive segments in the two-wheeled realm.
Because of their robust suspension, upright powerful engines, and a suite of protection, adventure motorcycles are also wildly versatile, and lend themselves tremendously well to just about any riding application, from fire trail exploration to cross-continent touring to moto camping. Their upright riding position also makes adventure bikes a stellar choice for urban commuting duties. And, while you may not guess it from looking, when properly set up, adventure motorcycles can offer some shockingly high performance on the road — as evidenced by a mostly-stock Ducati Multistrada 1260 winning the 2018 motorcycle class at the Pikes Peak International Hill Climb.
There are dozens of adventure motorcycles in production right now, which can make finding the right bike intimidating — and that's before you start factoring in the even more abundant used motorcycle market. To help start your search, begin by narrowing down your selection of bikes based on your skill level and riding experience. If you're new to riding or have no experience off-road, then you'll want to steer clear from full-size models, as they're much harder to wrestle around and control. You can always upgrade to a larger, more powerful model later on down the road
How To Find The Adventure Motorcycle That's Right For You
Next, you'll want to factor in your intended use. By looking at how much time you plan on riding on-road versus off-road, you should be able to narrow down your search to models designed for your intended riding applications. On top of often sporting elements like sump-guards, crash bars, hard luggage, and auxiliary lighting, the more off-road-focused adventure motorcycles will also feature better ground clearance and markedly longer suspension travel.
You'll also want to consider how much freeway travel you plan on doing, as this will help determine which engine size will be appropriate (though again, new riders should avoid big-bore models). Mid-sized adventure bikes are also a fantastic option, as they offer a compromise with less weight than big-bore models — and therefore better off-road prowess — while still being plenty free-way travel capable. Likewise, we'd also highly recommending exploring potential used bike options, as it can be a great way to save — especially when dealing with a low-mile example or one that's still under its factory warranty.
What To Look For An ADV Bike
Now that you're clued into what an adventure bike is and have a better sense of how to go about finding the model that's right for you, let's delve into the ten main areas to take into consideration before heading down to your local dealership.
Engine: As the heart of the motorcycle, an ADV moto's engine is of utmost importance. As per usual, you'll want to look into the engine configuration and the number of cylinders, displacement, cam setup, and fueling and cooling systems. You'll also want to not only pay attention to how much horsepower and torque a given engine produces but also how much the motorcycle weighs as well — as a motorcycle's power-to-weight ratio will give a much better sense of real-world abilities than simply seeing its number of ponies on paper.
Technology: Representing some of the most advanced motorcycles on earth, modern adventure bikes must be able to contend with an enormous variety of settings and conditions. In a bid to help make it easier to navigate one of these approximately 500lb machines both on and off-road, manufacturers have routinely started bestowing high-end ADV models with electronically-regulated active/adaptive suspension, live tire pressure monitoring systems, vehicle hill and hold control, adaptive headlights, electronically adjustable windscreens, heated (and sometimes cooled) seats and grips, multiple ride modes, adjustable traction control, and cornering ABS, just to name a few.
Off-Road Readiness: Separating ADV mounts from full-size sport-touring bikes is the former's off-road prowess. Despite their hefty curb weight, many adventure bikes are capable of affording solid dirt-going capabilities thanks to advanced chassis designs paired with long-travel suspension and a generous amount of ground clearance. Alongside luggage, crash protection, and auxiliary lighting, other elements that point to a given model being more off-road-capable include spoked wheels, knobby tires, tall windscreens, toothed footpegs, and "beak-style" integrated front fenders.
Weight: Though there are smaller displacement exceptions and outliers, most adventure motorcycles tend to be on the heavy side, tipping the scales at or around the 500lb mark. This makes for a wonderfully planted ride in town or on the freeway, though it can make things difficult in the dirt — especially for less experienced off-road riders. We strongly encourage anyone even considering buying an adventure bike to first hit a dealership and experience what it feels like to operate one of these machines before going any further.
Storage: Because adventure bikes are designed for long-range use, it's frankly unsurprising that manufacturers would opt to bestow many of these models with storage compartments — often under the seat or tank cover — that make life on the road easier. What's more, there's an enormous range of aftermarket storage options for practically every ADV model, including tank and tail bags, soft cases, panniers, and so on.
Range: If you plan on taking on long-distance treks or spending much of your time out on the trails, off of the grid, then fuel economy and tank size (aka range) will be an important factor to take into consideration. Fortunately, these freedom machines are built for untethered exploration and as such tend to come equipped with generously sized fuel cells. Some models even sport supplementary tanks under the seat or in other non—traditional locations on the bike.
Style: Though they all have a similar basic shape, adventure bikes can vary pretty hugely aesthetically, with some models taking inspiration from their respective manufacturer's sport and superbike family, and others going with a more traditional Dakar-style design. It's also worth mentioning that there are plenty of riders that like the look of adventure bikes, and opt to purchase and ride them despite having little to no intention of ever going off-road. Just like buying a pickup because you dig the aesthetic, there's nothing wrong with seeking out an ADV bike for this reason, though we'd just recommend considering some of the more road-focused models.
Available Factory Amenities: Again, as the flagship offering from many of their manufacturers, adventure bikes tend to come outfitted with more bells and whistles than any other class of motorcycle. These optional add-ons include heated grips and seats, luggage, auxiliary lighting, crash protection, upgraded pillions, spoked wheel options, and connectivity to smartphone apps, among many, many more.
Aftermarket Availability: Not unlike the aftermarket overland sector has exploded for trucks over the last decade, so too has the aftermarket realm embraced the influx in popularity in the adventure bike market, resulting in an absolutely enormous array of available add-ons and upgrades from third party companies. You can find almost any aftermarket part you could possibly need for just about any ADV bike model, though some of the more popular mounts — like BMW's GS range and KTM's top-of-the-line 1290 Super Adventure R — will come with markedly more options. Many of these aftermarket items are more affordable than factory options — and at times better quality, too — though they aren't backed by a factory warranty like the factory-installed add-ons are.
Servicing Costs & Intervals: In addition to the motorcycle itself, you'll also want to factor in a given bike's cost of ownership. This means looking into costs for things like insurance and maintenance, as well as what service intervals there are and what work is required when the time comes. The good news is that now, more than ever, adventure motorcycles — and motorcycles in general — are offering better reliability, fewer emissions, more power, and longer service intervals than ever before.