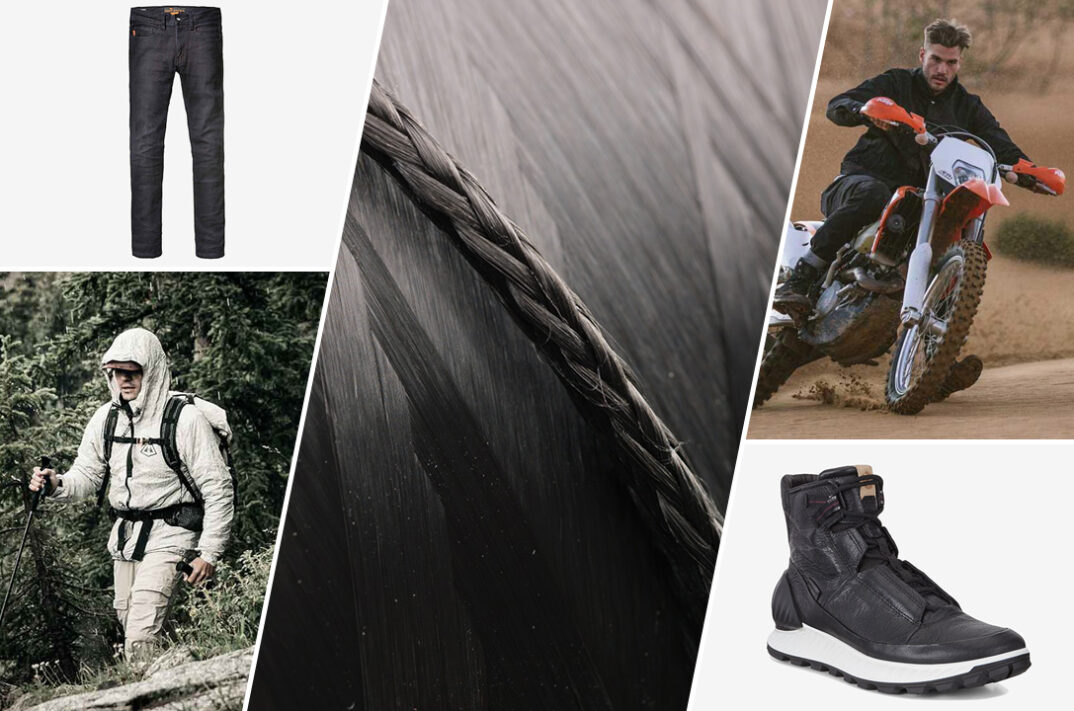 Over the last few years, there have been some pretty impressive advancement when it comes to outdoor gear materials. From ballistic nylon, to improved techniques involving leather, to the repurposing of classic fabrics (like military truck tarp being turned into bags) – there's a lot to be said from a fabric standpoint. One of the most interesting and elusive, however, is Dyneema.
Heralded as stronger than steel, more versatile than nylon, and light as a feather, Dyneema is a wonder fabric if there ever was one. But, even with increasing popularity and availability, much of the gear world is still a bit in the dark as to what Dyneema is. But that's exactly why we put together the following guide – to key you in on the history, application, and even physical makeup of this impressive textile.
Material History
How Dyneema Came To Be
Dyneema is actually a proprietary material, meaning there's only one company in the world that has the rights to manufacture it. What you might not know, however, is that that company, DSM, wasn't in the business of technical fabrics when the material was invented.Dyneema was discovered completely by accident back in 1968. In fact, they were actually entrenched in the coal mining and fertilizer business.
You see, Dyneema was discovered completely by accident back in 1968 when a chemist who worked for DSM, Dr. Albert Pennings, was doing research into polyethylene (plastic, to the laymen). During his research, he developed a fiber which he was unable to pull apart. When he took it to his superior, however, he was met with complete indifference. Lucky for us, however, Dr. Pennings didn't give up on the material, continuing to study and develop it over the following 20 years.
If you're keeping track, that timeline makes Dyneema a whopping half a century old – 50 years exactly. And that long period of R&D may be the chief reason that the material is so impressive. Whereas things like nylon have been around for much longer and certainly have a storied history in and of themselves, Dyneema has the impressive benefit of an exceedingly long testing period. That means, though it might seem new (and perhaps untested) to you, you're actually getting a miracle material that has been put through the paces. That also means that the claims of how tough, durable, and versatile the stuff is are well-founded – even moreso than some competing textiles.
Speaking of competing textiles, Dyneema is actually not the only one of its kind. At one point, a similar fabric – called Cuben Fiber (after the America³ racing boat that used the fabric in its sails when it won the America Cup in 1992) – was also on the market. However, the company that made it, was eventually bought out by DSM and their tech was folded into the larger Dyneema-making brand. "Dyneema" is now completely proprietary, however there are other competing companies that make similar materials – including Ticona, Braskem, Teijin (Endumax), and Mitsui. Dyneema, however, does seem to be ahead of the game at least in regards to consumer exposure.
What Is Dyneema
Fantasy Fabric
It's easy to look at the claims of Dyneema and feel a bit perplexed. And that's a completely normal reaction, as it's somewhat of a mystery – even to folks that are embroiled in the world of outdoor gear. The thing is, Dyneema is not a thing of fiction – sci-fi, fantasy or otherwise – it is the product of real hard science.Dyneema is not a thing of fiction – it is the product of real hard science. And that means the claims of it being stronger than steel while still remaining flexible as cloth are backed up with data. But, if the stuff isn't magic, then what, exactly, is it?
Ultra high molecular weight polyethylene (UHMwPE) – a mouthful to be sure, this is the technical term for what is commonly known as Dyneema. Unfortunately, as descriptive as it might seem, the terminology does little to actually expound upon of what the material is made. To clarify, we've endeavored to explain it as plainly as possible, here.
Dyneema is a thermoplastic polyethylene. Meaning that, while it actually falls under the umbrella of plastic, it is pliable and moldable above a certain temperature and solidifies upon cooling – much in the same way that metals do. It differs from metal, however, in that – after cooling – it does not necessarily become rigid and brittle. Rather, it retains a measure of pliability, similar to common textiles. That particular combination of factors means that, while the material is extremely flexible, it's also incredibly strong – with some claims putting it at around 15 times stronger than steel (of a similar thickness).
It also has other chemical properties that put it head and shoulders above other competing materials. For instance, Dyneema is resistant to many corrosive chemicals, is extremely resistant to abrasion, and has an exceedingly low rate of moisture absorption – putting it squarely in the realm of waterproof fabric.While the material is extremely flexible, it's also incredibly strong. And while things like nylon share many of those same characteristics, Dyneema performs better in all categories across the board.
Dyneema is also formed from fibers, at its basest physically-observable level. For reference, a fiber is defined as "a thread or filament from which a vegetable tissue, mineral substance, or textile is formed. These fibers are what allow the material to be turned into strands and, then, woven together to create fabrics – which can be made entirely from Dyneema or intertwined with other types of fabrics to imbue the new material with a lot of the properties that make Dyneema so special. Combination fabrics, like that used in denim jeans, that use Dyneema in their construction are not going to be as strong as Dyneema alone, but they do greatly benefit from the addition.
Common Applications
What It's Used For
While it's still fairly rare compared to other materials in the outdoor world, we're already seeing a lot of excellent applications for Dyneema in the gear world. As mentioned previously, the stuff was first used in things like boat sails – at which it excelled thanks to its water-resistance, lightness of weight, and natural buoyancy. But it has also appeared elsewhere. For instance, it's easy to find super strong fishing line made from Dyneema. Similarly, it's common in things like safety gloves and climbing ropes.
But while all of those applications are fairly niche, we're seeing it more and more in things that are a little more everyday consumer-friendly. In this section, we've rounded up a few of our favorite applications – from hiking backpacks, to motorcycle jeans, and more. All of the following items feature Dyneema in their construction and are available for purchase right now.
Mountain Hardwear Summit Rocket 30 Backpack
Though not the entire bag is made up of the stuff, Mountain Hardwear's Summit Rocket 30 Backpack does feature Dyneema in some important spots – namely, on its base. That means that, while cutting down on a bit of weight, you can depend on this bag to keep your gear safe and dry, even if you set it down in a puddle. Plus, the highlights add a bit of style to the pack.
Ecco Exostrike Outdoor Boot
Ecco took a risk making these boots, as many in the outdoor gear space might've scoffed at the idea of the streetwear brand inching into the hiking world. But, from the looks of things, it paid off. These sneakerboots are impressive, to say the least, with a bonded leather and Dyneema upper, shock-absorbing midsole, and ruggedized outsole perfect for even the roughest terrain.
Saint Unbreakable Motorcycle Jeans
A perfect example of how Dyneema can be incorporated into other materials, these high-tech denim motorcycle jeans are extra protective, boasting absurdly high abrasion resistance, a bit of stretch, and garnering them the mantle of the world's strongest denim. It helps, too, that they look plenty slick.
Black Yak Emergency Jacket
One of the more straightforward uses of the material, Black Yak's Emergency Jacket is made almost entirely of Dyneema. What that means for the end user is that it is ultralight, waterproof, windproof, breathable, and can pack down to about the size of a baseball. You might not always need it out on the trails, but you'll never regret bringing it along, as it is about as unobtrusive as jackets come.
Hyperlite Mountain Gear UltaMid 2 Pyramid Tent
Hyperlite Mountain Gear has pretty much staked their reputation on the quality of Dyneema – and that has paid off in a big way, as the brand has made some of the most impressively durable and lightweight gear in the world. And that includes their UltaMid 2 Pyramid Tent. Perfect for mountaineering, this simple camping tent weighs just 1.18 pounds in total. But it's also wind-resistant, waterproof, packs down super small, and is made here in the USA.
Fabric Of The Future
What Comes Next?
Really, it's only limited by the creativity of the people using it.Though the fabric has already passed the 50 year mark in regards to its age, we are still only at the beginnings of seeing its application across the gear space. Sure, some brands – like Hyperlite Mountain Gear – have embraced it fully, but others are just starting to learn of its benefits and the ways it might be used. It's hard to say with any material what the future might hold, but we wouldn't be surprised to start seeing Dyneema incorporated into everything from apparel and things like camping tents (as it is now) to footwear, everyday carry wallets, and even eyewear. Really, it's only limited by the creativity of the people using it. Whatever the case, we're excited to see what the future holds for Dyneema, as it means more durable and versatile gear for all of us.