Each year, motorcycle manufacturers task their designers, mechanics, and engineers with delivering upgraded bikes for the coming model year, updating the aesthetics and bolstering power and overall performance, all while adhering to increasingly stringent emissions standards. Despite this being a fairly monumental undertaking, it's a vital part of convincing the motorcycling public to shell out their hard-earned money for the latest and greatest two-wheeled offerings. And with today's motorcycle market arguably being more competitive than ever before, we thought we'd take the time out to highlight the finest models the industry has in store for the 2021 model year.
With more than a decade having passed since the global recession of 2008, the majority of major motorcycle manufacturers have managed to bounce back, now possessing the resources needed to develop new models across a host of styles and classes. Satisfactory sales numbers have also given way to an increasingly diverse market that includes a growing number of purpose-engineered models, from entry-level adventure models to 200mph+ superbikes capable of going toe-to-toe with the latest MotoGP machines. So, after poring over every model release from the last year, let's dive into our picks for the best new motorcycles you can buy off the lot.
The Best Motorcycle For Every Rider
Best Entry-Level Bike

SUPER73 CX1

Best Scrambler

Fantic Caballero 500 Rally

Best Adventure Bike

Ducati DesertX 937

Best Sport-Tourer

Moto Guzzi V100 Mandello S

Best Cafe Racer

Norton Commando 961

Best Electric Bike

Energica Experia Green Tourer

Best Cruiser

Harley-Davidson Electra Glide Highway King

Best Naked Bike

Ducati Streetfighter V4 S

Best Superbike

BMW M 1000 RR
Reasons To Get On Two-Wheels In 2021
The Latest & Greatest Features & Elements On New Production Motorcycles
As previously stated, today's new motorcycle market is incredibly diverse in terms of the bikes' size, style, engine configuration, and amenities, though there are a few traits and characteristics that are largely present on 2021 models across the board. Below, we'll be exploring some of the greatest strength and features offered on today's latest crop of scoots.
More Power: While there are obviously numerous other key factors involved, horsepower (and torque) has long been used as a go-to means of conveying a bike's potency. Today's latest sport and superbikes boast unworldly amounts of power that are often more in line with the figures you'd see on automobiles than two-wheelers. This metric counts for more than just numbers of the dyno, and translates to hair-raising top-speeds.
Improved Mechanics: Not only are the newest bikes the most powerful, but their cutting-edge engines also offer unparalleled reliability and maintenance intervals easily exceeding 10,000 miles. The current Euro5 emissions standards have also ushered in models with improved fuel economy and reduced emissions outputs. There are also other modern mechanical elements such as variable valve timing, quick-shifters, and assist/slipper clutches that further enhance a motorcycle's performance and rideability.
Advanced Electronics: Even the most talented riders on earth would seriously struggle with managing the immense oomph of 200 horses being sent to the back wheel. As a result, high-performance motorcycles are outfitted with a suite of electronic rider assists that, amongst other things, helps to keep their enormous power in check. Modern motorcycles also feature other advanced electronics systems such as lean angle-sensitive ABS, wheelie, slide, launch, and traction control, as well as different fuel maps and electronically-regulated active suspension setups.
Industrial Design: Quite possibly the most obvious selling point associated with buying a new motorcycle is a bike's outward appearance. Whether hailing from America, Japan, Germany, Sweden, or Italy, the latest crop of two-wheelers feature the sleekest and most modern bodywork and visual themes. And, because pretty much every new motorcycle offers relatively solid performance—at least compared to earlier models—there's nothing wrong with letting your aesthetic tastes play a guiding role in making your purchase.
Aerodynamics: Just like with traction control, winglets first appeared on MotoGP bikes before eventually trickling down to production models. And though they were at first reserved for homologation specials and track-only models, winglets and other down-force-generating aerodynamic bits have more and more started appearing as standard fare, even on nakeds and adventure models. On top of bolstering stability, handling, and overall performance, winglets sport an unmistakably modern and race-derived appearance that adds to a bike's appeal. Winglets aside, the bodywork on new models almost always offers a better, more slippery drag-coefficient compared to outgoing model years.
The Latest Bells & Whistles: Similarly to the automotive industry, the motorcycle world in recent years has been increasingly permeated with cutting-edge computer-driven technology and components. TFT touchscreen displays, Bluetooth connectivity and smart tuning apps, ride-by-wire throttles, tire pressure sensing monitors, and other tech-driven bits have more and more become commonplace in the two-wheeled realm.
Competitive Pricing: Buying the latest high-performance nakeds or superbikes has never come cheap, and that reality isn't changing in 2021. The entry-level motorcycle market, however, is a different story entirely. As the beginner-friendly segment has hugely expanded in recent years. manufacturers have managed to deliver more and more accessibly-priced models, typically boasting MSRPs that are around or below the $5,000 mark. This factor on its own represents a pretty solid reason to invest in a new motorcycle.
Latest & Greatest On 2-Wheels
The Best New Motorcycle Currently On Showroom Floors
SUPER73 CX1
Pros
Stylish, all-electric 3/4-scale e-moto
Designed to bridge gap between ebike & full-sized motorcycle
Offers roughly 75-mph top speed
Sports ultra-sleek, custom-inspired appearance
Equipped w/ high-end componentry
Battery offers 100-mile range & can receive 0-80% charge in under 15 minutes
Cons
Taller riders will feel cramped
Not two-up friendly
Best Entry-Level Bike: Since its inception in 2016, SUPER73 has objectively stood as a bonafide disruptor in the two-wheeled space, producing lightweight, electric alternatives to traditional motorcycles that don't require a license, registration, insurance, or any prior experience in the saddle. And, while the California company has already made some impressive strides over its short history, the Southern California startup has now taken what's undoubtedly its biggest step forward to date with the unveiling of its C1X electric motorcycle. Boasting a 15" wheel-set and a short 51" wheelbase, the CX1 is a 3/4 scale motorcycle that aims to bridge the gap between lightweight ebikes and full-size motorcycles. Freeway-capable with a top speed of around 75mph, the CX1 is kicked along by an electric powertrain that offers a 100-mile range and can receive a 0-80% recharge in only 15 minutes. Like SUPER73's pedal-equipped ebike models, the CX1 also draws ample visual inspiration from the custom motorcycle realm, with its hooped monoposto subframe and tracker-style front number board.
Engine: Electric Motor
Power: N/A
Curb Weight: N/A
Origin: America
MSRP: $TBD
Fantic Caballero 500 Rally
Pros
Vintage-inspired scrambler based on modern enduro platform
Solid off-road capabilities in stock form
Makes for stellar commuter bike
Has 7.8" of travel fore & aft
Comes w/ stacked dual Arrow exhaust setup
Also sold in smaller 125cc version
Cons
Not currently sold on U.S. shores
Best Scrambler: While best-known for its modern dual-sports and dirt bikes, Italian firm Fantic has been making waves in the two-wheeled realm with its retro-inspired Caballero lineup. The range includes a particularly off-road-capable half-liter model known as the Fantic Caballero 500 Rally. Underneath its vintage and custom-inspired appearance lies a cutting-edge chassis, suspension package, and powertrain that collectively afford the 500 Rally with some stellar performance — whether on or off-road, thanks to over 13" of ground clearance and 12" of suspension travel front and rear. Its lightweight and flickable nature and immense durability also make the Fantic Caballero 500 Rally a great choice for commuters. The company also produces a smaller 125cc version of the bike that sports the same appearance (albeit with an eighth-liter engine).
Engine: Liquid-Cooled 449cc Single
Power: 39.5HP & 31.7FT-LBs
Dry Weight: 330.6LBs
Origin: Italy
MSRP: $9,650
Bimota BX450
Pros
Ultra-premium boutique Italian-made enduro bike
Based on Kawasaki's cutting-edge KX450 dirt bike
Offers 13.2" of ground clearance & 12" of travel front & rear
Equipped w/ its own unique engine maps & traction control settings
Comes w/ carbon-tipped Arrow exhaust
Cons
While only available upon request, pricing is no doubt expensive
Best Enduro: Bimota is a boutique Italian brand that produces high-end motorcycles based on existing engine platforms. After recently being acquired by Kawasaki, Bimota took a break from churning out sportbikes to produce its first-ever enduro model. Based on the Kawasaki KX450 dirt bike, the Bimota BX450 features a custom aluminum perimeter frame with Showa suspension front and aft, both affording 12" of travel. In addition to being retuned, the 449cc single at the heart of the bike has also been bestowed with its own unique engine maps and traction control settings. Equipped with a massive 37.4" seat height and a generous 13.2" of ground clearance, the BX450 also comes loaded with all-LED lighting, an LCD display, a carbon-tipped Arrow exhaust, Renthal Fatbar handlebars, custom MX-style bodywork, and a markedly larger 2.8-gallon fuel cell with a carbon fiber Acerbis cap.
Engine: Liquid-Cooled 449cc Single-Cylinder
Power: 52HP & 32.6FT-LBs
Curb Weight: 243LBs
Origin: Italy
MSRP: TBD
Ducati DesertX 937
Pros
Purpose-built cutting-edge mid-sized ADV bike dressed in '90s Dakar-inspired bodywork
Sold w/ optional crash bars & tail-mounted auxiliary fuel tank
Retains Ducati's classic razor-sharp on-road cornering
Fantastic ergonomics
Now offered in Audi's RS Q e-tron Dakar racer's RR22 livery
Cons
Minimal aftermarket part availability
Expensive price
Best Adventure Bike: The Ducati DesertX is the brand's first-ever take on a hardcore off-road-focused adventure motorcycle — unlike the more road and touring-oriented Multistrada lineup. Kicked along by the same 110-hp 937cc Testastretta 11° Desmodromic engine found in the current Multistrada V2 (and base model Monster), the DesertX is constructed around a completely novel chassis design that was engineered specifically for go-anywhere riding. Equipped with an all-terrain 21" front, 18" rear wheelset, this new framework has been mated to a long travel Kayaba suspension setup affording 9" of travel in front and 8.66" out back. The chassis comes adorned in a full suite of bodywork that was inspired by the fairings on old '80s and '90s era Dakar rally raid bikes. And, while it is offered with a host of available factory add-ons, because of how new this model is, aftermarket part availability is still quite limited, though this will almost certainly change over time.
Engine: Liquid-Cooled 937cc L-Twin
Power: 110HP & 68FT-LBs
Dry Weight: 445LBs
Origin: Italy
MSRP: $17,095
Moto Guzzi V100 Mandello S
Pros
Modern cutting-edge sport-tourer that retains Moto Guzzi's classic DNA
Equipped w/ Brembo brakes & semi-active Öhlins suspension
Features advanced tech & electronics package
Has adaptive aero kit w/ deployable winglets
Offered w/ huge variety of optional factory add-ons
Cons
Cutting-edge tech & premium components result in high price
Best Sport-Tourer: The first all-new model produced by the brand in close to a decade, the Moto Guzzi V100 Mandello S represents a monumental step forward for the Piaggio-owned outfit, as the motorcycle boasts cutting-edge equipment, componentry, and performance while fully retaining Moto Guzzi's classic DNA with a shaft-driven transverse-mounted V-Twin complemented by the firm's signature visual theme. Inside its all-new frame is a completely novel liquid-cooled 1,042cc 90° V-Twin that puts down 115hp and 77ft-lbs of torque. Components on the bike include Brembo monobloc calipers and fully adjustable Öhlins Smart semi-active suspension front and rear. Additionally, on the tech front, the Guzzi also sports four ride modes, a TFT display, an electronically-adjustable windscreen, all-LED lighting including an adaptive headlight, cruise control, cornering ABS, four-level traction control, and a state-of-the-art adaptive aero kit that deploys a set of downforce-generating winglets once the bike reaches a certain speed.
Engine: Transverse-Mounted Liquid-Cooled 1,042cc V-Twin
Power: 115HP & 77FT-LBs
Curb Weight: 513LBs
Origin: Italy
MSRP: $17,490
Norton Commando 961
Pros
Modernized, high-end take on ultra-iconic British cafe racer
Combines vintage cafe looks w/ modern performance & reliability
Powered by Norton's own in-house developed & built engine
Features top-shelf Brembo brakes & Öhlins suspension
Outstanding build quality & fit & finish
Has 6,000-mile service intervals
Cons
On the heavier side at just over 500lbs
Expensive price & running costs
Best Cafe Racer: First introduced in 1967 — at which time it was crowned "Machine Of The Year" before repeating the feat for another four years straight — the original Norton Commando was an objectively game-changing and bar-raising British motorcycle that quickly garnered a legendary status that it still possesses to this day. This archetypal cafe racer was recently revived, and is now being produced using a spare-no-expense formula that merges classic retro cafe looks with modern performance and reliability. Pieced together around a custom frame that's MIG and TIG-welded entirely by hand, this boutique-made motorcycle features Brembo brakes and Öhlins suspension fore and aft. Powering the bike is an air and oil-cooled pushrod 961cc parallel-twin that's been developed and built entirely in-house by Norton. And, while its appearance undeniably looks great, the 961's top-notch build quality and fit and finish make it all the more attractive.
Engine: Air & Oil-Cooled 961cc Pushrod Parallel-Twin
Power: 76.8HP & 59.7FT-LBs
Curb Weight: 507LBs
Origin: England
MSRP: $20,800
Energica Experia Green Tourer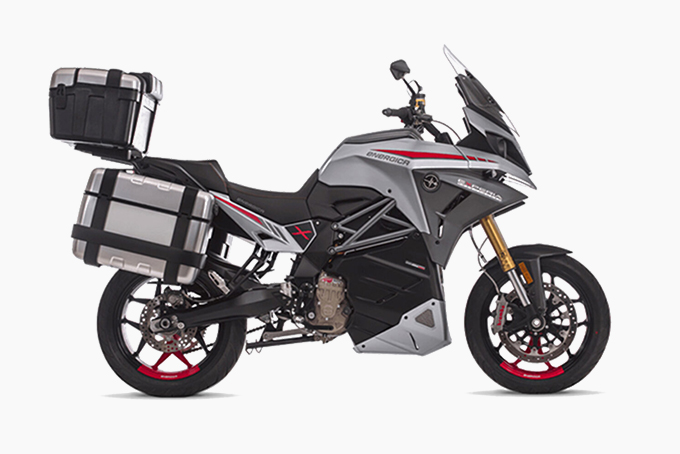 Pros
The first-ever truly touring-capable electric motorcycle
Boasts range of over 260 miles
Made in Italy
Great brakes, suspension, & other running gear
Sold w/ wide array of available accessories
Cons
Must be recharged & can't simply be refueled at pump
Poor off-road capabilities in stock form
Expensive price
Best Electric Bike: Electric motorcycles have long offered gobs of torque, though have traditionally been seriously lacking in terms of range — at least compared to their petrol-powered counterparts. Italian EV outfit Energica is changing this reality, however, debuting an all-electric adventure-touring model that offers the best of both worlds with an astonishing 664ft-lbs of instantaneous torque on tap, while delivering a (city) range of just over 260 miles on a single charge. This latter figure makes the Energica Experia Green Tourer the first true travel-capable electric motorcycle, though the two-wheeler's strengths don't end there. Made in Italy, this battery-powered bike boasts a slew of impressive specs including a 3.5-second 0-60mph time and a 112-mph top speed — courtesy of a redesigned PMASynRM. Making the bike all the more conducive to touring and long—distance riding are multiple USB outlets and a set of side hard panniers and a top case that collectively afford a cool 112 liters of storage space.
Engine: Electric PMASynRM Motor
Power: 102HP & 664FT-LBS
Curb Weight: 573lbs
Origin: Italy
MSRP: $23,750
Harley-Davidson Electra Glide Highway King
Pros
Based on 1968 FLH Electra Glide
Part of H-D's exclusive Icons Collection
Combines vintage looks w/ modern performance & reliability
Equipped w/ advanced electronic & safety package as standard
Limited to a single 1,750-unit production run
Cons
Expensive price
Very heavy at roughly 850lbs
Best Cruiser: The latest addition to the MoCo's exclusive Icons Collection lineup the Harley-Davidson Electra Glide Highway King is a one-time release that's limited to just 1,750 units worldwide. Directly modeled after the Milwaukee marque's 1968 FLH Electra Glide, this top-of-the-line American-made cruiser combines unmistakably vintage styling with a modern powertrain and electronics package. Powered by Harley's new Milwaukee-Eight 114 engine — a twin-cooled (air and liquid) 1,868cc V-twin with electronic sequential port fuel injection and dual chrome mufflers — the Electra Glide Highway King comes outfitted with ABS, vehicle hold control, and cornering-enhanced electronic-linked braking, traction control, drag torque slip control — all as standard. The bike also comes cloaked in one of two different throwback two-tone liveries.
Engine: Air & Liquid-Cooled 114ci (1,868cc) V-Twin
Power: 95HP & 122FT-LBs
Curb Weight: 849LBs
Origin: America
MSRP: $26,999
Ducati Streetfighter V4 S
Pros
Fantastic-looking, ultra-aggressive naked Italian superbike
Features state-of-the-art tech & rider assist packages
Powered by MotoGP-derived V4 engine
Has winglet-equipped aero kit
Makes over 200HP, does 180mph, and 0-60 in 2.9 seconds
Cons
Expensive price & running costs
Best Naked Bike: Ducati previously sold naked, streetfighter-versions of its 848 and 1098 superbikes, though they were pulled from production around 2015. However, with the introduction of Ducati's recent V4-engined flagship Panigale model, the Italian firm is once again offered a Streetfighter in its lineup, and it's even more stunning than its predecessor. Sporting a Panigale tail and tank, and a modern interpretation of a streetfighter-style headlight, the naked Duck gains an angular belly-pan and radiator shrouds accompanied by aerodynamic winglets that generate approximately 20lbs of downforce at 93mph and roughly 75lbs at 186mph. What's more, with top speeds exceeding 195mph, these numbers are far from hypothetical. Crowned "Most Beautiful Bike" at EICMA upon its debut, the Streetfighter derives its winglets and V4 engine design from Ducati's MotoGP program and keeps the latter in check via a sophisticated suite of electronic rider aids. The model's S-spec also gains Ohlins suspension and a few other performance parts that one would want on a 200hp+, 200mph motorcycle.
Engine: 1,103cc Liquid-Cooled DOHC 90° V4
Power: 208hp / 90.4ft-lbs
Curb Weight: 392lbs
Origin: Italy
MSRP: $27,795
BMW M 1000 RR
Pros
BMW's first-ever M class motorcycle
Engine makes over 200hp & offers 190+ MPH top speed
Derived from BMW's WSBK race bikes
Sports all carbon bodywork & aero winglets
Offers incredible levels of performance
Has M-specific engine & electronics package
Cons
Is wildly unpractical for street/road use
Very expensive price
Best Superbike: BMW launched its M Motorsport division back in 1972, and while the Bavarian brand has since released countless M-spec cars, it wasn't until 2022 that it finally debuted its first-ever M class motorcycle with the BMW M 1000 RR. Based on BMW's already extremely capable S 1000 RR superbike, the M-spec model comes loaded with a plethora of upgrades and tweaks over the normal S1KRR. This includes M brakes and brake ducts, an M-specific electronics package, M carbon fiber wheels, a full titanium Akrapovic exhaust, optional M aero wheel covers, and a full suite of carbon fiber bodywork that's been complemented via a set of MotoGP-style aero winglets. Powered by a retuned M RR powertrain that cranks out over 200hp, the M 1000 RR can reach speeds of over 190mph, though it isn't only its speed and acceleration that have earned this model the top spot on our list for best superbike, as it's incredibly sharp handling and general flickability give the WSBK-derived BMW a huge leg up over the completion.
Engine: Liquid-Cooled 999cc Inline-Four
Power: 205HP & 83.3FT-LBs
Curb Weight: 425.5LBs
Origin: Germany
MSRP: $32,995
The Best Motorcycles For Beginners
Want to check out a selection of more entry-level-focused models to cut your teeth on? Then be sure to cruise on over to our guide to the best beginner motorcycles for fantastic options to start your riding career on.