The automotive industry is full of long-running publications — many of which have fostered devoted followings through years of experience, value, and trust. And while many of the industry's greats are inherently educational, the grittier side of the automotive world is scarcely touched upon. The people, the shops, and the platforms all have their own stories to tell, and sometimes, that gets lost in translation when you're writing the same technical jargon over and over again.
Luckily, there are a handful of up-and-coming — and sometimes, already-established — magazines that have taken the traditional formula of automotive writing, and turned it on its head. These artistic endeavors are often packed with visual illustrations of what makes driving so popular, as well as elaborate documentation of the minds, journeys, and vehicles that have etched their names into the annals of four-wheeled history. Below, we've outlined a handful of our favorites, emphasizing a dedication to design, photography, flow, and purposeful wordplay. So, take your eyes off of that clogged-up website; it's time to dive into some publications that are actually worth their salt.
The Best Car Magazines
Best Porsche Magazine

000 Magazine

Best Automotive Design Magazine

Auto & Design

Best Lifestyle Magazine

Automobile Magazine

Best General Coverage Magazine

Car and Driver

Best Art & Culture Magazine

CHURCH

Best Vintage Porsche Magazine

Curves

Best Euro Car Magazine

eS4

Best Supercar Magazine

EVO Magazine

Best Japanese Magazine

Garage Life Magazine

Best F1 Magazine

Lollipop GP

Best Driver's Magazine

Octane Magazine

Best Off-Road Magazine

Overland Journal

Best Classic Car Magazine

Sunday Motoring Club

Best Club Magazine

The Motoring Journal

Best Overall Publication

Type 7
What Makes For A Good Car Magazine?
With so many different types of vehicles, disciplines of motorsport, and subcultures all falling under the larger automotive umbrella, it can admittedly be a little tricky to explain exactly what qualities and attributes make for a good car magazine. Whether focusing on off-roading, JDM classics, modern supercars, or vintage Porsches, all eminent automotive magazines share a few key qualities across the board — the most pivotal of which we'll be breaking down directly below.
Specialization: It's exceedingly difficult to be an expert in every facet of the larger automotive world. As such, the vast majority of the best car magazines limit their coverage to one — or at most a few — different types of cars and/or types of motorsport. This ultimately allows for more focused, in-depth coverage that simply makes for a better publication. There are, however, a couple of magazines that have managed to successfully take a wider approach to their automotive coverage — like Road & Track and Car & Driver.
Access & Connections: Another benefit of focusing on a particular area or niche, is that most publications and the journalists that write for them tend to establish relationships with everyone from manufacturers to racers to leading custom builders. This ultimately allows for special inside access, exclusive stories, and other types of content that can benefit from these insider connections. Being a more reputable publication also grants these publications access to testing out the latest and greatest vehicles and attending press launches. It's also not uncommon for staffers at these publications to occasionally call in a few favors from friends within the industry, thereby allowing for some particularly interesting pieces that otherwise wouldn't be possible.
Knowledge & Passion: A writer's knowledge and passion for a particular type of vehicle or motorsport can almost always be pickup up by the reader. This expertise and enthusiasm ultimately makes for a much better publication — and more importantly, a trustworthy, genuine, and authentic one.
Style Or Attitude: The vast majority of automotive magazines possess a clear style or attitude that helps to express who exactly the publication is and how they approach the automotive landscape. This can range from magazines with a more adventurous spirit, to more staunch, serious, and conservative outlets, to more relaxed, often-tongue-in-cheek magazines that don't take themselves too seriously.
Ink & Card Stock: In today's digital age it can be easy forget about how important the quality of a magazine's paper and printing is. While there are undeniably some fantastic magazines that print on standard magazine stock, quite a few of the smaller, more boutique operations utilize heavy card stock and super-high-quality printing presses that can deliver coffee table book-level quality. This is especially common for the publications produce their magazines on a quarterly or semi-annual basis where quality is favored over quantity — and quite frankly, above all else.
000 Magazine
The Lowdown
A lauded publication exploring Porsche culture, & the brand's cars, old and new. 
Best Porsche Magazine: 000 Magazine is a publication for and by Porsche enthusiasts. This quarterly journal calls upon the talents of Pete Stout, Justin Page, and Alex Palevsky to create contemporary documentation of the manufacturer's finest vehicles, events, and happenings while putting years of experience and knowledge to use for the education of 000's audience. As an homage to the three-digit model type numerology of Porsche's finest variants, the magazine's name demarcates its adoration for virtually all of the German manufacturer's offerings, telling the stories of each specific variant, while also diving into the worlds of racing, restoration, and cultural relevance. If you're looking to become an expert on the history of Porsche, 000 might be the perfect publication to drop some hard-earned money on.
Focus: Porsche Cars & Culture
Year Founded: 2016
Auto & Design
The Lowdown
An Italian publication that covers modern automotive and industrial design. 
Best Automotive Design Magazine: First established in 1979, Auto & Design is an Italian magazine that, like its name suggests, focuses exclusively on automotive design. Showcasing the the latest and greatest concepts and production vehicles, the magazine's interest also extends into industrial design, plus features interviews and exclusives with some of today's most renowned automotive designers. The magazine also explores the technology and advancements in automotive powertrains, mechanics, and chassis design, rather than only delving into coachwork. And, while it is a European magazine, it covers cars from all over the globe and doesn't restrict its coverage to only Euro or Italian models or designs.
Focus: Automotive Design
Year Founded: 1979
Automobile Magazine
The Lowdown
A high-end car magazines with the motto "No Boring Cars" started by former C&D staffers. 
Best Lifestyle Magazine: Automobile Magazine holds a lot of clout within the world of automotive, and for good reason. The publication was conceived in 1986 alongside its newly-penned motto, "No Boring Cars," and consisted of former Car and Driver employees who had defected to create a more refined magazine. Instead of focusing primarily on the specs and details of the industry's finest vehicles, Automobile defined itself as a lifestyle-focused publication that chose to highlight the personalities, designers, builders, and intricacies of the auto world, becoming a go-to read for many enthusiasts who want true, subjective writing and analysis. Since it's such a far cry from the industry's more technical magazines, Automobile fosters a reputation rife with profound cultural documentation and adoring readers, making it one of history's finest publications.
Focus: Lifestyle-Focused Car Coverage
Year Founded: 1986
Car and Driver
The Lowdown
A renowned American magazine covering all-things automotive. 
Best General Coverage Magazine: For better or for worse, Car and Driver is a staple of the automotive world. As one of, if not the most well-known, car magazines out there, this monolithic editorial has remained at the center of vehicular culture since it was brought to life in 1955. When it was founded, it began under the monicker of Sports Cars Illustrated and focused primarily on small import vehicles, before taking a broader stance on the industry's current models. During its rise in popularity, Car & Driver became infamous for its strict reviews and rigorous testing practices, becoming embroiled in more than one controversy since its conception. That, paired with critical, to-the-point columns on the negative aspects of models, has made the magazine a favorite for readers looking to for a no-frills, no-bull approach toward the analysis of prominent platforms. Needless to say, the magazine's readership is stronger than ever, thanks to its commitment to accurate reportage and editorial prowess.
Focus: General Automotive Coverage
Year Founded: 1955
CHURCH
The Lowdown
An idiosyncratic & artistic exploration into the so-called "white trash subculture." 
Best Art & Culture Magazine: While a vast majority of automotive magazines focus on a breadth of wordy, technical descriptions and reviews, CHURCH takes an entirely different approach. In each issue, viewers will be treated to the design-oriented trappings of the magazine's visionary director, Coby Gewertz, as he weaves a splendid visual story surrounding American automotive culture — or as he puts it the "white trash sub-culture." Sure, his choice of words might be a bit harsh, but they're respectable — an honest representation of his unique view on the things he loves. With such a brash outlook, you can expect the magazine's visuals to be equally-as-enticing, calling upon Gewertz's magnificent creative direction, thought-provoking layouts, and a discernible lack of words, to amplify the reader's experience. However, when Coby does decide to throw some verbiage into the mix, that lack of said descriptors makes their presence all the more powerful.
Focus: American Automotive Culture
Year Founded: 2006
Curves
The Lowdown
A deep-dive into Porsche's vehicles and subculture, told through a different region's network of roads.
Best Vintage Porsche Magazine: Curves Magazine was born and bred in Germany, and with a birthplace like that, you can expect that the publication's writers will have a soft spot for Porsche. While that's not untrue, the magazine also goes out of its way to tell stories beyond the realm of air-cooled steeds, placing a staunch emphasis on the automotive world's most prolific racers, builders, and teams. With a plethora of editorial and industrial knowledge at their backs, Curves' writers have brought readers along with them on a handful of spectacular journeys, including the Auerberg Klassik, road trips from Denver to San Francisco, and even the Petro-Surf Festival — an air-cooled event on the island of Sylt.
Focus: Porsche Cars & Culture
Year Founded: 2011
eS4
The Lowdown
A Japanese magazine covering tuner-style European car builds using luxury model donors.
Best Euro Car Magazine: Dating back to 2005, eS4 is a Japanese magazine that focuses exclusively on European sportscars and supercars. Putting its own culture's spin on Euro cars, eS4 has a major proclivity for features tuner-style builds that use high-end European models as their platform. A magazine that's truly by tuners and enthusiasts for tuners and enthusiasts, eS4 often gets into the nitty gritty, highly technical details of the builds and vehicles that it covers, venturing much further into the weeds than other more mainstream automotive publications. The publication also delves into local culture tied to the Euro tuner scene, covering everything from meetups to racing.
Focus: European Sportscars
Year Founded: 2005
EVO Magazine
The Lowdown
A passionate look at the world of today's latest and greatest sportscars and supercars.
Best Supercar Magazine: EVO Magazine was birthed all the way back in 1998, and thanks to superb writing, in-depth reportage, and beautiful design, it quickly became a contender among the industry's most prominent prints. After a long and arduous conception process, the magazine released its first edition — an editorial based on, and built as, a figurative introduction to the maverick car club, where high-end variants were put to the test on various roadways, prolific climbs, and tracks like the Bedford Autodrome to evaluate several different standards set forth by EVO's writers. With a focus on immaculate photography, storytelling, and technical writing, the magazine has remained one of the industry's finest supercar-focused periodicals, continuing to captivate readers everywhere.
Focus: Sports & Supercars
Year Founded: 1998
Garage Life Magazine
The Lowdown
A Japanese publication that literally focuses on garages and the vehicles they house. 
Best Japanese Magazine: Not to be confused with the biannual fashion and art publication GARAGE Magazine, Garage Life Magazine is a Japanese publication with a monicker that's more literal than you might realize. The magazine literally focuses on garages and workshops and how they're set up. Obviously, the publication also delves into cars — and a wide variety of cars too, touching on everything from vintage classics to tuner cars to modern supercars. The magazine has also been in publication for years, meaning newcomers can explore dozens and dozens and dozens of back issues.
Focus: Cars & Garages
Year Founded: 2011
Lollipop GP
The Lowdown
An inside look & deep dive into Formula 1, its drivers, its cars, and more. 
Best F1 Magazine: There's a lack of Formula One coverage in the editorial realm, and we understand that. That's why Lollipop GP is such a great magazine. Not only does this publication represent the best of the best when it comes to the visual documentation of the sport, but it also places an emphasis on its exclusivity. It doesn't shy away from Formula One's identity as the world's most prestigious automotive stage, taking readers behind the scenes for unprecedented access to the shrouded lives of drivers, teams, managers, and owners. Through spectacular visuals, photography, art direction, and a minimal amount of written word, this F1-focused magazine is one of the best — and only — publications you'll find to give you a first-hand look at the world of adrenaline-inducing race culture.
Focus: Formula 1 Cars & Racing
Year Founded: 2013
Octane Magazine
The Lowdown
A heralded publication covering vehicles, and driving itself, with a particular focus on vintage vehicles.
Best Driver's Magazine: Best For the past 15 years, Octane Magazine has served as a haven for classic car aficionados, aftermarket enthusiasts, and purists who live for the thrill of the four-wheeled platform. Focusing on the exclusivity and excitement of automotive's most prominent drivers, platforms, and shops, Octane has fostered a devoted readership that relies on its experienced writers for unique stories from the past 100 years. However, the magazine does define itself as a contemporary of the classics, meaning that readers will find a wealth of information on cars from the figurative "golden age" of automotive manufacturing. But that doesn't mean you won't be kept up-to-date with coverage of the industry's upcoming events and news. Octane still takes pride in its timely, well-rounded editorial prowess, and that's no secret.
Focus: Classic & Performance Cars
Year Founded: 2003
Overland Journal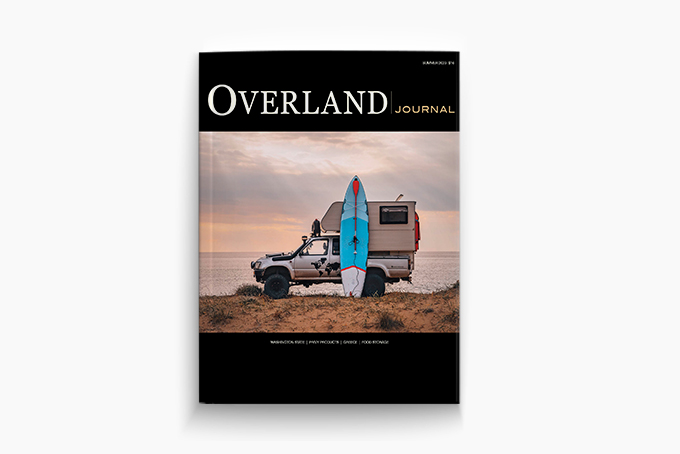 The Lowdown
A leading publication covering off-roading and overloading builds, stories, and destinations. 
Best Off-Road Magazine: Overland Journal is a magazine built by, with, and for the expeditionary audience. This beautiful amalgamation of text, design, and visuals isn't as clear-cut as one might think, however. Instead of focusing on the same regurgitated figures and specs set forth in a handful of the industry's frontrunners, OJ places an emphasis on the intricacies of travel. For its writers and contributors, the thrill of the journey is what matters most, and it shows. Each article is crafted with the utmost care and has been formulated to help readers relive these travels vicariously, while awe-inspiring photography, enamoring wordplay, and full-page spreads solicit a feeling of undeniable wanderlust.
Focus: Off-Roading & Overlanding
Year Founded: 1954
Sunday Motoring Club
The Lowdown
A highly-praised publication that tends to focus on vintage and classic cars — all viewed through an artistic lens.  
Best Classic Car Magazine: Sunday Motoring Club is an odd one. This artistic magazine has just a single pilot under its belt, and even so, has already made a name for itself within the motoring world as one of the genre's up-and-coming acts. With its first edition launching late last year, Sunday burst on the automotive scene with a unique blend of wordplay and visual illustration that can only be described as "authentic," calling upon deep artistic understanding, direction, and an emphasis on humanity's infatuation with design to shed light on its lesser-known stories. But maybe that's all part of the plan for Sunday, especially since the youthful publication doesn't aim to walk the path of the genre's biggest stars. Instead, it looks to carve its own path — and as far as we're concerned, that's always a valiant pursuit.
Focus: Vintage & Classic Cars
Year Founded: N/A
The Motoring Journal
The Lowdown
A broadly-focused, quarterly publication from a Los Angeles-based auto enthusiasts facility & club. 
Best Club Magazine: Established only half a decade ago, The Motoring Club is an 11,000 square-foot facility in Los Angeles that aims to be something of a permanent cars and coffee location that can serve as a hub for the local automotive community. Guided by its principles of inclusivity and curiosity, the warehouse strives to, in its own words, "bring cars, culture, and community to one place." Alongside its physical location, TMC also has a fantastic quarterly magazine. Printed in Canada, each issue is comprised of 128 pages printed on heavy card stock. Having only been founded in 2018, the publication takes a more modern and nuanced approach to its coverage, focusing on a broad variety of vehicles and stories.
Focus: General Automotive Culture
Year Founded: 2-18
Type 7
The Lowdown
A Porsche-owned, Ted Gushue-run outlet celebrating cars, art, & design. 
Best Overall Publication: Deriving its name from the codename for the prototype that eventually became the 911 — rather than the personality type — Type 7 is a Porsche-owned publication that was founded by Ted Gushue. Type 7 consists of an online blog and a wildly popular Instagram account, though it also produces some incredible films, along with coffee table book-style magazines. Whether it's Type 7's printed offerings or IG account, the outlet is essentially a celebration of Porsche culture past and present. Rather than merely focusing on the Stuttgart firm's cars, this publication also celebrates design in general, and highlights world-class architecture, photography, and art.
Focus: Porsche Cars, Culture, & Design
Year Founded: 2018
The Best Outdoor Adventure Magazines
Want check out a selection of some of our other favorite publications? Then be sure to check out our guide to the best outdoor advent magazines.