Now standing as an undisputed super power, America got to where it is today on the strength of untold amounts of blood, sweat, and tears. Combined with the country's propensity for innovation, mechanics, and fine craftsmanship, this tradition of hard work and determination has long made the United States a leading force in the automotive world. Despite some wildly capable vehicles being produced overseas in Europe and Asia, some of the most high-performance rides on the planet are designed, engineered, and constructed in the US of A — the latest and greatest of which we'll be counting down today in this guide to the best American-made supercars you can buy right now.
Defining The Segment
What Exactly Is A Supercar?
Before we go any further, we should probably delve into what this term actually means. When we're talking about supercars, we're referring to ultra-high-performance, lightweight models with powerful exotic engines and frames and suspensions that are more oriented for the racetrack than the open road. Often borrowing many of their features and technologies from cutting-edge race cars, supercars also feature a low stance, a two-door configuration, and a suite of bodywork that's equipped with some degree of downforce-generating aero kit. These last factors are crucial, as they afford these machines razor-sharp handling that hugely distinguishes them from their cheaper, mass-produced four-wheeled counterparts.
Typically costing an exorbitant price that can go well into six and seven-figure territory, supercars almost always sport an unmistakably exotic, eye-catching appearance — an aesthetic that tends to hint at the performance capabilities of the engine that lies beneath. And, though they can come outfitted with some incredibly plush and luxurious interiors, most supercars boast cabins that — like any quality true driver's car — are largely devoid of creature comforts and bells and whistles, and instead feature a minimalistic setup that focuses almost, if not entirely, on drivability.
Because supercars are so costly to develop and manufacture, very few drivers can actually afford them, and of those that can, even fewer are actually interested in spending the literal fortune it takes to acquire one. As such, supercars are produced in extremely limited numbers, with most models being hand-crafted in small batches if not on an individual, built-to-order basis. This gives supercars an even more exotic and exclusive air, as these vehicles are incredibly rare compared to regular production models, with less than 0.05% of all global automobile sales (in 2020) being "supercars."
It's also imperative to note that, in order to qualify as a supercar, any given model must tick all of these boxes. As an example, Tesla's Model S Plaid and Dodge's Charger SRT Redeye Jailbreak both feature gobs of power and crazy-impressive acceleration — with the model S clocking supercar-esque 0-60mph times of just 2.3 seconds — however, their immense weight, lack of cornering abilities, and the fact that they're mass-produced means they no longer qualify to boast supercar status. It's also important to point out that, for the sake of this article, we've lumped both supercars and hypercars into a single category/definition — though we'll readily admit that, while subjective, there's undeniably a difference between the two that we are in fact privy to.
The Made in America Difference
What 'US-Manufactured' Really Means For Supercars
The words "made in America" represent significantly more than just a product's land of origin, and tend to speak to a higher degree of precision and craftsmanship, with manufacturing that benefits from immensely tight tolerances and high standards for execution and quality control. And nowhere is this more true than the boutique-built high-performance vehicle sector, which see supercars hand-constructed by individuals that take immense pride in their work and craftsmanship and find value and purpose in meticulously creating a finely-built product — rather than solely being motivated by monetary gain. For the vast majority of these people, cars aren't just their 9-5 and instead represent their main passion in life — a fact that's often lead to the inception of some the best designed and most high-performance supercars that money can currently buy.
Looking Under The Hood
The Most Important Factors To Consider When Purchasing An American-Made Supercar
Now that you're up to speed on just what exactly a supercar is — at least in our opinion — and what makes USA-made models unique, let's take a brief moment to touch on seven of the most crucial areas to consider when shopping around for a new American-made supercar.
Engine: As the heart of any automobile, the engine will always be of extreme importance when looking at a supercar. Engineered to afford maximum power and performance, these motors tend to boast large displacements and often utilize exotic configurations such as V-10 and V-12 layouts — many of which are rear or mid-mounted and have been fitted with turbo or superchargers in order to extract even more power. When looking into a supercar's powertrain, you'll also want to explore the type of transmission or gearbox that the lump has been mated to — most of which are manual stick shifts, though there are also models with paddle shifters as well as sequential gearboxes. 
Speed & Power: An engine's layout, displacement, induction, and tuning are some of the main factors that come together to determine a power plant's horsepower and torque output — figures that tend to be substantially greater than your average commuter car. In addition to affording an objective sense of an engine's power, horsepower and torque figures also play a major role in a supercar's speed, both in terms of its acceleration and the number it tops out at. 
Size & Weight: Supercars are designed to offer an impressive power-to-weight ratio that allows for truly extraordinary performance capabilities. As such, these vehicles tend to be fairly lightweight — an area owed to the use of exotic, lightweight materials such as carbon fiber for structural elements and body panels, and one that enables them to achieve stellar acceleration and cornering abilities. 
Interior Dimensions: Because these machines are designed purely for spirited driving — and are often derived from race cars — they not only tend to be devoid of most creature comforts, but are also often quite cramped in terms of interior room for the driver and passenger. This is an important area to review, especially for taller drivers. What's more, these cars are also extremely limited on cargo space, with many model's storage space being limited to just a glovebox and a small frunk (front trunk).
Fit & Finish: When buying a supercar, you aren't only paying for an ultra-high-performance engine and a cutting-edge frame, you're also shelling out a substantial premium for the meticulous attention to detail and world-class levels of craftsmanship that go into the creation of each of these supercars. Built to much higher standards, supercars boast near-perfect fit and finish, with every surface being expertly finished and every body panel being perfectly-evenly spaced. Supercars also tend to utilize some of the finest materials on the planet, such as super premium leather for their upholstery or rare or precious constructions for their cabin's trim. Constructions like titanium and carbon fiber are also used liberally when crafting these machines.
Price & Value: It doesn't take an automotive expert to know that supercars pretty much always cost an arm and a leg — whether new or used. With that said, some models do offer much greater bang for your buck than others. More importantly, some supercar models — especially those from renowned marques with rich histories — can make for stellar investments that will likely only appreciate as time passes. 
Maintenance & Ownership Costs: On top of just considering the cost of purchasing a supercar, you'll also want to look into what it will take to own and maintain it, as the ultra-rare and exotic nature of these machines unsurprisingly makes upkeep pretty costly, as it involves the use of expensive and/or rare parts being worked on or installed by highly-trained specialist mechanics. Whether you plan on regularly driving your supercar or keeping it garaged much of the time, both routes will require the car receiving care and attention if you wish to retain its condition and value. 
Bespoke Options: As vehicles that are produced in small numbers, quite a few supercars are built with an enormous range of bespoke options for buyers who are given the ability to select materials and finishes for a myriad of elements on the car, going well beyond mere basic factory paint and upholstery choices. 
The Best American-Made Supercars You Can Buy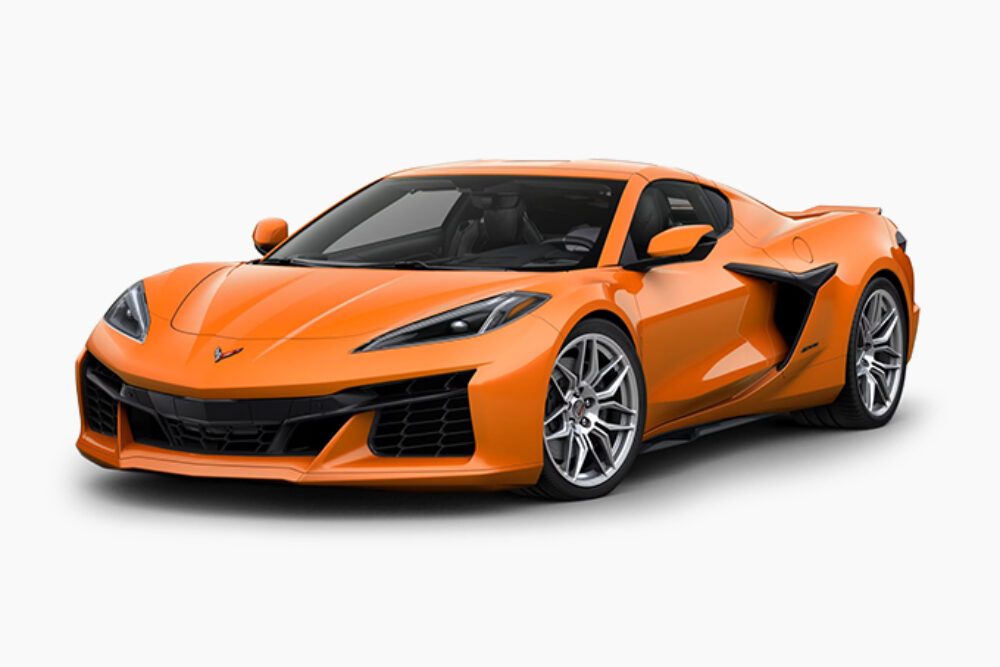 Chevrolet Corvette Z06
As a mass-produced model, Chevy's Corvette Z06 technically doesn't meet our criteria to be considered a supercar, however, with hair-raising performance prowess and incredible looks, the Z06-spec 'Vette is no doubt still worthy of a spot on this list — an area furthered by the fact that this American-made exotic offers unparalleled value and dollar-for-dollar performance. The fastest Corvette of all time as well as the first-ever mid-engined variant, the latest Z06 model packs a hand-built naturally-aspirated 5.5-liter LT6 flat plate crank V8 that puts down 670hp and allows for a nearly 200mph top speed, as well as the ability to hit 60mph from a complete standstill in just 2.6 seconds. Offered in coupe and convertible versions, the Chevy supercar features a full aero kit with ultra-wide fender flares, a quad exhaust setup, and massive intake scoops set just behind the doors. Alongside optional Brembo carbon ceramic brakes, Chevrolet also offers an available performance package for the Z06 'Vette that includes a rear wing and a host of other carbon fiber items and track-focused amenities.
Engine: 5.5L V8
Power: 670HP & 460FT-LBs
Curb Weight: 3,535LBs
Top Speed: 195MPH
0-60MPH Time: 2.6 Seconds
Origin: Bowling Green, Kentucky
Saleen S1
Marking the legendary marque and tuner's first all-original model since the S7, the Saleen 1 — or "S1" — is a lightweight two-seater that was engineered from the ground up to be a next-generation true driver's car. Equipped with a 42/58 weight distribution, the car is pieced together around an all-aluminum tub that's been adorned in carbon fiber bodywork. Good for 450hp, the car is powered by a mid-mounted turbocharged 2.2-liter four-banger with a unique split block configuration that allows the Saleen 1 to reach a 180-mph top speed and clock 0-60mph runs in just 3.5 seconds. And, while it's no doubt quick off the line, where the S1 really shines is in the corners. With an advanced frame, low ride height, independent suspension, and a 2,700-pound curb weight, the S1 affords razor-sharp handling and the ability to quickly and effortlessly stop or change direction — just like any good true driver's car should.
Engine: Turbocharged 2.2L Inline-Four
Power: 450HP & 400FT-Lbs
Curb Weight: 2,700LBs
Top Speed: 180MPH
0-60MPH Time: 3.5 Seconds
Origin: Corona, California
Tesla Roadster
Though it has yet to officially hit the roads, the soon-to-be-released Tesla Roadster almost certainly represents the future of supercars. In place of a traditional gas engine, the Roadster sports a trio of electric motors that collectively generate an otherworldly 7,375ft-lbs of torque — all of which is sent to the ground via an advanced all-wheel drive system. This ultimately allows the Tesla to achieve a top speed of over 250mph, and the ability to complete quarter mile runs in 8.8 seconds, 0-60mph runs in 1.9, and 0-100mph runs in only 4.2 seconds. These mind boggling performance capabilities are made all the more impressive by the fact that this fully-electric supercar manages to deliver these specs while retaining what can only be described as true daily-drivability thanks to seating for four, a generous amount of cargo space, and a whopping range of 620-miles on a single charge.
Engine: Three Electric Motors
Power: 1,000HP & 7,375FT-LBs
Curb Weight: N/A
Top Speed: 250+ MPH
0-60MPH Time: 1.9 Seconds
Origin: Fremont, California
Ford GT
A true American-made supercar in every sense of the word, the Ford GT is an ultra-high-performance, track-focused, road-legal model that's essentially a modernized take on the Blue Oval's legendary Le Mans-winning GT-40. Despite drawing so much inspiration from its '60s era predecessor, the latest GT boasts a remarkably sleek set of bodywork with a multifunctional buttresse, a rear diffuser, front splitter and canards, and a semi-integrated rear wing. Cloaked in all carbon fiber bodywork, the entire vehicle also boasts the ability to lower its already slammed ride height by an additional 2", allowing for even better handling and aerodynamics. The Ford GT's running gear is also of the ultra-top-shelf variety and includes Ford Performance-developed suspension and a set of top-of-the-line Brembo carbon ceramic brakes. Mounted just behind the seats is a twin-turbocharged 3.5-liter EcoBoost V6 engine that makes 660hp and 550ft-lbs of torque, allowing it to deliver three-second 0-60mph runs and to break the 200mph barrier — and do so by a decent margin.
Engine: Twin-Turbocharged 3.5L V6
Power: 660HP & 550FT-LBs
Curb Weight: 3,053LBs
Top Speed: 216MPH
0-60MPH Time: 3 Seconds
Origin: Norwalk, Ohio & Markham, Ontario
SSC Tuatara
Based in Richland, Washington, SSC North America is a boutique automotive startup that isn't merely attempting to deliver cutting-edge hypercars, but has instead set its sights on the even more ambitious goal of crafting the world's fastest production automobile — a feat that the fledgling firm achieved in October of 2020 when its seven-figure Tuatara model managed to clock a top speed of 316.11mph. Alongside a fairly svelte curb weight of 2,750lbs, the Tuatara's legitimately world-class speeds are mainly owed to its thoroughly state-of-the-art twin-turbocharged 5.9-liter V8 engine that produces an incredibly potent 1,750hp and 1,280ft-lbs of torque. Boasting an ultra-slippery drag coefficient, the SSC Tuatara's bodywork features an advanced aero setup that massively bolsters downforce and stability when cruising at triple-digit speeds. At more than $1.3M, the Tuatara obviously doesn't come cheap, however, if money is no object and you simply seek the fastest production model that money can currently buy, then look no further than this SSC hypercar.
Engine: Twin-Turbocharged 5.9L V8
Power: 1,750HP & 1,280FT-LBs
Dry Weight:2,750LBs
Top Speed: 316MPH
0-60MPH Time: 2.5 Seconds
Origin: Richland, Washington
Trion Nemesis RR
Limited to only 50 units worldwide, the Trion Nemesis RR is the result of internal combustion engine technology being taken to its logical conclusion — before petrol-powered mills are soon ushered out in favor of EV powertrains. Tipping the scales at just a tad over the 3,000-pound mark, the RR-spec Nemesis has a massive 9.0-liter V8 engine that's been fitted with a pair of turbochargers that allow its advanced all-wheel drive system to put down an even 2,000hp — a monstrous figure that ultimately results in a top speed of over 270mph and a 0-60mph time of just 2.8 seconds. On top of carbon ceramic brakes, active handling stability control, and a sequential eight-speed transmission, the supercar also features a carbon fiber monocoque with inconel front and rear frames and push-rod-equipped horizontal mono-tube damper suspension setup. Top-shelf componentry and 2,000-hp engine aside, a massive part of what makes the Nemesis RR so special is its carbon fiber bodywork design, which looks more like a concept rendering or something you'd see in a video game more than it does an actual functioning supercar you'd spot rolling down the street.
Engine: Twin-Turbocharged 9.0L V8
Power: 2,000HP
Curb Weight: 3,088LBs
Top Speed: 270+ MPH
0-60MPH Time: 2.8 Seconds
Origin: Las Vegas, Nevada
Czinger 21C
Heavily inspired by hypercar class endurance racers though also drawing ample influence from Lockheed's SR-71 Blackbird, the Czinger 21C is a road-legal track weapon that's touted as being the world's first-ever human-AI-designed and 3D-printed hypercar. Benefitting from the use of various cutting-edge proprietary technologies, manufacturing techniques, and materials, the 21C features a carbon fiber frame that sees the driver located in a centrally-mounted F1-style seat. Tipping the scales at 2,756lbs, the hypercar's wildly impressive 1.9-second 0-60mph time and more than 250mph top speed are owed to Czinger's 2.88-liter V8 which, thanks to a pair of turbochargers and a hybrid electric drive unit, is able to crank out 1,350hp, making it the most power-dense engine of any production car on the planet at 330hp-per-liter. Designed and built in Los Angeles, this hybrid hypercar also features a cutting-edge set of carbon-rimmed wheels and a carbon aero kit that can generate over 4,400lbs of downforce.
Engine: Twin-Turbocharged 2.88L Hybrid V8
Power: 1,350HP & 1,061FT-LBs
Dry Weight: 2,756LBs
Top Speed: 250+ MPH
0-60MPH Time: 1.9 Seconds
Origin: Los Angeles, California
Hennessey Venom F5 Revolution
Taking its name from the highest and most extreme category ranking on the Fujita tornado scale, the original Hennessey Venom F5 first debuted in 2017 and unequivocally stood as one of, if not the world's single fastest and most powerful production car. In early 2023, Hennessey Specialty Vehicles announced an even more high-performance variant of the American-made supercar with the Hennessey Venom F5 Revolution. With a mid-mounted twin-turbocharged 6.6-liter V8 engine with over 1,800hp and 1,600ft-lb of torque on tap, Hennessey's new Revolution-spec Venom F5 is able to achieve a 2.6-second 0-60mph time and a top speed of over 250mph. Constructed around a featherweight carbon monocoque chassis, the Texas-built hypercar also features a re-engineered all carbon fiber aero kit that allows the roughly 3,000-pound vehicle to generate over 1,400lbs of downforce as it nears it top speed. While it admittedly comes at a steep price, the Venom F5 Revolution is one of the closest things we've ever seen to an absolutely "perfect car," with a spare-no-expense development process that's ultimately allowed for every single element that comprises the cutting-edge hypercar to be meticulously considered — making for one of the most high-performance cars on the globe, whether going around a circuit or in a straight line.
Engine: Twin-Turbocharged 6.6L V8
Power: 1,817HP & 1,617FT-LBs
Curb Weight: 3,053LBs
Top Speed: 250+ MPH
0-60MPH Time: 2.6 Seconds
Origin: Sealy, Texas
Drako Motors GTE
As a daily-drivable four-door model with sleek yet understated bodywork, Drako Motors' GTE doesn't quite fall into supercar territory, however, if you're judging it purely based on its performance capabilities, then you'd likely agree that the Drako is more than deserving of an honorable mention spot on this list. Despite looking like your average late-model European luxury sedan, the GTE hides an electric motor in each wheel that come together to generate a whopping 1,200hp and an even more insane 6,491ft-lbs of instantaneous torque —all of which is transmitted to tarmac via state-of-the-art adaptive torque vectoring algorithms and a special direct-drive gearbox. These numbers also allow the 5,300-pound electric vehicle to rocket from 0-60mph in 1.9 seconds and to reach a top speed of 206mph. So, if you're looking for a more understated and practical ride that still boasts supercar-levels of performance, you'd be hard pressed to find a better option than the GTE — though that's assuming you can afford/stomach the vehicle's $1.25M price tag.
Engine: Quad In-Wheel Electric Motors
Power: 1,200HP & 6,491FT-LBs
Curb Weight: 5,300LBs
Top Speed: 206MPH
0-60MPH Time: 1.9 Seconds
Origin: San Jose, California
The Best Supercars You Can Actually Buy
Interested in checking out an even wider list of ultra-capable rides that isn't limited to just models from America? Then be sure to cruise over to our guide to the best supercars you can actually buy for another curated selection of some of the most high-performance vehicles currently on showroom floors.