With an estimated 600,000,000 motorcycles on the planet, there's an enormous demand for protective garments and riding gear. And while the majority of these pieces of gear come from big-name brands that mass-produce their respective offerings, there does exist a small myriad of items that are made by markedly smaller, independent boutique operations scattered across the globe. And while some of these smaller companies have become something of household names amongst riders, others have flown under the radar of the mainstream riding community — despite the fact that many of them produce stellar pieces of riding gear and equipment. So, in a bid to right this wrong, we've rounded up our picks for the best boutique motorcycle brands deserving of your attention — and hard-earned money.
Best Boutique Motorcycle Gear Brands Breakdown

What Exactly Is A Boutique Motorcycle Gear Brand?
A boutique motorcycle gear brand is typically a small, independent company comprised of no more than a few dozen staffers at most — and sometimes as few as an individual person. As a result, these brands usually produce gear in much, much smaller numbers than their markedly bigger counterparts. Often deeply engrained in their local riding culture, these outfits tend to be more lifestyle-focused compared to their larger competitors, plus they usually produce products that more specifically cater to their own local market or region — as a rider commuting in New York City will obviously require a different loadout of gear than riders navigating the canyons and coastal highways of Southern California.
In fact, these brands' hometown's often play a major role in determining their overall identity. Due to being so firmly-rooted in their region's moto culture, it's also fairly commonplace to see boutique moto gear brands that also dabble, or even specialize in churning out custom one-off motorcycle builds — in addition to making bags or luggage, helmets or riding gear, or whatever other products they produce. Likewise, quite a few boutique moto gear brands are also heavily involved in racing, off-roading and rallying, and/or attending — or even organizing and hosting — local motorcycle shows, competitions, and other events.
What Makes Boutique Motorcycle Gear Brands So Special?
This type of smaller operation does ultimately allow for a significantly higher degree of craftsmanship and a much better fit and finish when compared to gear born out of mass-produced operations. It's also not uncommon to see boutique motorcycle gear brands employing the use of better, more premium materials like Dyneema and Horween leather. Without needing to move an enormous volume of product, boutique brands are also able to deliver more idiosyncratic offerings that don't have to appeal to as many people, and can therefor be substantially more unique.
In the same vein, some of there premium, luxury-esque boutique moto gear brands are able to craft ultra-high-end, exorbitantly-priced products, as they're made in small batches and only need to appeal to a niche market. Boutique brands also tend to be much more authentic. Rather than being bloated, purely-profit-driven corporate-owned and run entities masquerading as as cool and hip independent brands, quite a few boutique outfits are the real deal, and are even what a lot of the bigger brands aim to emulate with their own branding and marketing, as they know this type of authenticity no doubt resonates with riders. For this same reason you also routinely see these objectively cool boutique moto gear brands team up with larger helmet brands or gear-makers for collaborative releases.
In the case of this particular list, of the the brands featured on this guide are also made all the more special by the fact that they happen to produce stellar pieces of protective equipment and riding garments. Quite a few boutique moto gear brands also not only make their products in small batches, but they often produce them in a small, finite amount before then retiring them and introducing a new offering – before then rinsing and repeating. This essentially makes all the gear produced by these particular type of brands limited edition items, which no doubt bolsters the appeal and exclusivity of these pieces of kit.
And while some boutique moto gear brands have grown incredibly large and successful, a select few have  managed to remain boutique operations at heart, guiding by the same principles, focus on lifestyle, and commitment to quality that most likely made them popular in the first place. There are even brands on this list that hold massive festivals or have over a dozen brick and mortar locations scattered across the globe, yet their principles and the way they run their companies keeps them squarely planted in boutique brand territory. Anyway, now that you're up to speed on what exactly a boutique motorcycle gear brand is and why they're so special, let's dive into our picks for the best outfits currently in operation. 
Aerostich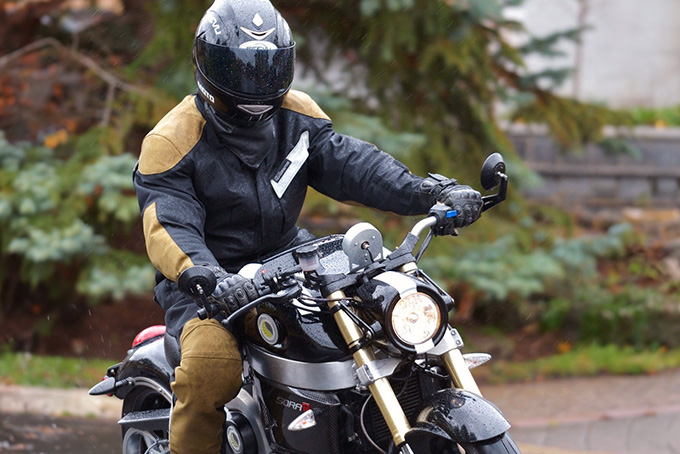 Why it Made The Cut
An institution of a moto gear brand that's beloved by riders & known for its world-class riding suits.
Starting with the oldest company on this list — and by a pretty significant margin — Aerostich is very different from most other boutique motorcycle gear brands as it doesn't produce any slick marketing or maintain a particularly hip or cool identity, however, what it does do, it does better than anyone else — again, by a significant margin — and that's handcraft USA-made pieces of riding gear that offer exceptional quality, versatility, and performance. Founded by Andy Goldfine — a long-time avid rider and the same individual behind Ride to Work Day — Aerostich is undoubtedly best-known for its absolutely stellar one-piece riding suits, though pretty much anything that leaves its small Minnesota-based headquarters is almost guaranteed to be a fantastic piece of kit. The brand also acts as a retailer that carries a huge selection of fantastic camping gear and other equipment that's been selected for its ability to lend itself to touring, off-roading, and other riding applications.
Location: Duluth, Minnesota
Specialty: Riding Suits & Riding Gear
Founder: Andy Goldfine
Year Founded: 1983
AETHER
Why it Made The Cut
A SoCal company delivering technical pieces of riding gear influenced by the brand's adventurous spirit. 
Employing cutting-edge materials and extremely technical designs, AETHER is a boutique Los Angeles-based clothing and riding gear brand that favors quality over quantity. As such, the company doesn't have an enormous catalog of riding gear, though every single piece that it does produce is nothing short of superb. And while it does produce some more urban-focused, vintage-inspired items such as its Moto Boots and Laslo and Draft riding jackets, the majority of AETHER's riding gear keeps in line with the brand's adventurous, outdoor-focused identity, and as such consists mostly of pants and jackets made for touring and adventure riding — or as AETHER puts it, a "Uniform of the Restless." What's more, in addition to organizing and holding several noteworthy campouts and rally riding events, AETHER is also responsible for commissioning some insanely-cool one-off vehicle builds including a pair of vintage Alfa Romeo cars turned into lifted and ruggedized safari-style off-roaders.
Location: Los Angeles, California
Specialty: Clothing & Riding Gear
Founder: Jonah Smith & Palmer West
Year Founded: 2009
Deus Ex Machina
Why it Made The Cut
A bonafide empire of a boutique custom bike and lifestyle brand with locations scattered across the globe. 
Founded by entrepreneur Dare Jennings, Deus Ex Machina started out as a small operation in 2006 with just a single location in Sydney, Australia. Based on the strength of its stellar apparel design and lifestyle branding — which no doubt got some help from the terrific illustrations from its creative director Carby Tuckwell and the slew of world-class one-off moto builds that came courtesy of Michael "Woolie" Woolaway — Deus has now blossomed into a globally-recognized powerhouse of a lifestyle brand that's opening well-over a dozen brick and mortar locations all over the planet. Despite its size, the brand remains committed to producing quality products and staying involved in local motorcycle and motorsport communities in regions all over the world where it has locations. And, while a slew of boutique moto gear brands on this list have collaborated with big names, Deus has almost certainly teamed up with the most impressive partners for many of its collabs, such as the moto-inspired watches that it's produced in partnership with Breitling.
Location: Sydney, Australia (Now Global)
Specialty: Custom Motorcycles, Clothing, & Riding Gear
Founder: Dare Jennings
Year Founded: 2006
El Solitario MC
Why it Made The Cut
An ultra-idiosyncratic boutique Spanish brand that makes riding gear & luxury goods — & turns its nose at conformity in the process. 
El Solitario MC is an incredibly unique Spanish brand that very much marches to the beat of its own drum. Famous for its ultra-eclectic array of high-end one-off customs, ESMC offers a catalog comprised of luxury clothing and lifestyle goods as well as riding gear and bags, and includes everything from a tactical ballistic-nylon riding vests to a cashmere hoodie to Dyneema-infused coveralls. First established in 2008 and going against the grain ever since, the company regularly collaborates with other leading names in the moto gear space like 100% eyewear and Alpinestars, though it also engages in joint efforts with other less-expected outfits from other sectors such as its recent whiskey collab, a pair Sebago dress shoes, a range of sunglasses with Native Sons Eyewear, an Alpha Industries bomber jacket collab, and a Dyneema tent done in collaboration with YAMA Mountain Gear — all of which point to the type of lifestyle and identity that ESMC possesses.
Location: Galacia, Spain
Specialty: Custom Motorcycles, Clothing, Collabs, & Riding Gear
Founder: David Borras & Valeria Libano
Year Founded: 2008
Fasthouse
Why it Made The Cut
A lifestyle brand and design house deeply engrained in the motocross & mountain biking communities. 
Kenny Alexander was born in Southern California in the so-called "golden era" of two-wheeled competition where he was raised by a father that was a desert racer. After these off-road events in the desert, Kenny's father and his friends that he competed with would all go back to the Alexander family home to hang out and talk racing, leading to it being referred to as "the fast guys' house." This would ultimately serve as the inspiration — and eventual monicker — of Fasthouse. Utilizing vintage-inspired graphic designs and famous for its signature black and wire color scheme, Fasthouse is now a renowned design firm and clothing brand, however it's bread and butter is producing motocross and mountain bike riding gear. Collaborations are another key component to this boutique brand, as it's partnered on joint efforts ranging from a collection with Hot Wheels to a slew of Bell Helmets to a Fasthouse Edition Ducati Scrambler Desert Sled.
Location: Valencia, California
Specialty: MTB & MX Riding Gear & Clothing
Founder: Kenny Alexander
Year Founded: 2014
Fuel Motorcycles
Why it Made The Cut
A custom bike builder-turned-gear-maker that blends vintage styling with modern materials. 
Fuel Motorcycles was conceived in 2012 and started out by building one-off motorcycles — hence the name. Having watched numerous once-high-profile custom builders eventually close up shop, Fuel started designing pieces of riding gear in a bid to stand the rest of time. And this is what the brand is now known best for. Guided by a spirit of adventure, love for travel and exploration, and passion for off-road riding, the Spanish shop's gear is characterized by its use of heavily-vintage-inspired designs that are brought to life using modern materials and technology — as well as the fact that new items are regularly being cycled into its catalog as old items are retired. Also of note is Fuel's Crash Replacement Policy, where riders that go down in an on-road accident can reach out to the brand via email, send photos, and receive a replacement (or item from the same gear category) so long as it meets their criteria.
Location: Barcelona, Spain
Specialty: Custom Motorcycles & Riding Gear
Founder: N/A
Year Founded: 2012
Hedon
Why it Made The Cut
A high-end London-based workshop that handcrafts a small handful of retro-inspired helmets. 
Merging old-school designs with modern helmet constructions, Hedoon Helmets is a boutique London-based workshop that handcrafts high-end retro-inspired lids. Made in London, the brand's entire catalog consists of just four motorcycle helmets; the full-face Heroin, the new bike-specific Edenist 3/4-style lid, the open-face Hedonist, and the visor-equipped version of the open-face model known as the Epicurist. Hedon also makes a super-premium half-style antique-inspired bicycle helmet dubbed the Hedstrong. And while it may offer less than half a dozen models, Hedon sells its handcrafted helmets with an absolutely enormous slew of available color, designs, patterns, textures, and finish, and an equally generous number of trim and interior construction and color options — all of which are meticulously applied individually, entirely by hand by a small skilled team of artisans.
Location: London
Specialty: Retro-Inspired Helmets
Founder: Lindsay Chong & Reginald Flint
Year Founded: 2011
Iron & Resin
Why it Made The Cut
A vintage-inspired clothing and riding gear brand with products shaped by the founder's lifestyle & experiences growing up & riding in SoCal. 
If one wanted to demonstrate how a boutique brand's local region can massively influence its products and identity, than look no further than the Ventura-based team that comprises Iron & Resin. Drawing heavily from founder Thom Hill's own personal lifestyles and experiences growing up riding motorcycles, surfing, and skating in a small California beach town, Iron & Resin makes vintage-inspired, heirloom-quality apparel and pieces of riding gear that are made by hand in America in small batches. Alongside sporting a timeless appearance, the brand's products are also characterized by their use of premium materials and hardwearing constructions. Its robust construction and rugged materials also allow the boutique brand's clothing to be particularly conducive to use as workwear. And, on top of being ideal for passing down to future generations, the immense durability of these heritage-grade items has also resulted in the company offering a buy-and-sell market place that allows its customers to buy and sell used pieces of riding gear or apparel — as they these products are the very definition of built-to-last.
Location: Ventura, California
Specialty: Clothing & Riding Gear
Founder: Thom Hill
Year Founded: 2011
JANE Motorcycles
Why it Made The Cut
A hip NYC espresso shop, gear-maker, & custom bike building operation that serves as a local community hub. 
Another boutique outfit that boasts a heavily influence from its locale, JANE Motorcycles is a New York City-based customs shop, cafe, and apparel and riding gear brand. On top off its custom two-wheelers, Jane churns out a range of clothing and riding gear that aesthetically range from vintage-inspired items to modern technical pieces — all of which are made in small batches and backed by high-levels of craftsmanship and premium materials. JANE also operates as a cafe that also serves as something of a local community hub. JANE also not only makes most its products America, but it also exclusively sources its materials domestically and from Japan. Also of note is the fact that the brand's NoHo brick and mortar location is shared between JANE and noted Land Rover Defender restoration and customs shop, Brooklyn Coachworks.
Location: Brooklyn & Manhattan, New York
Specialty: Custom Motorcycles, Clothing, & Riding Gear
Founder: Adam Kallen & Alexander DiMattio.
Year Founded: 2013
Revival Cycles
Why it Made The Cut
An Austin-based brand delivering finely-crafted goods, riding gear, & meticulously-built world-class customs. 
Coming on the heels of being let go from his job in the tech industry and a breakout with a longterm significant other, Alan Stulberg founded Revival Cycles in 2008 and quickly assembled a crack team of designers, engineers, and fabricators. From there, Revival carved out a world-class reputation for its builds, leading to an increasingly-expanding apparel line, a line of ultra-premium in-house-made lifestyle goods brand known as Revival Limited, a range of motorcycle parts, and a growing collection of bags and luggage — not to mention multiple brick-and-mortar locations. Fast forward to today and Revival now produces one-off builds that are sometimes born out of more than 1,000 hours of expert labor, allowing for a level of attention to detail and build quality that's only made possible with world-class fabrication and design skills — and an open checkbook. Revival is also the force behind the now-massive annual Handbuilt Motorcycle Show. Like a lot of other boutique motorcycle gear brands, Revival also routinely takes part in collaborations, most recently with its local MLS team Austin FC, and an Everyday Carry Totepack done in collaboration with one of our personal favorite carry solution companies, Peak Design.
Location: Austin, Texas
Specialty: Custom Motorcycles, Riding Gear, & Moto Parts
Founder: Alan Stulberg
Year Founded: 2008
Roland Sands Design
Why it Made The Cut
A custom bike, moto parts, clothing, & riding gear powerhouse founded by a champion GP rider. 
Raised by father Perry Sands — a custom builder and the founder and operator of aftermarket parts brand Performance Machine — Rolands Sands spent his entire life around motorcycles, with a childhood in the two-wheeled community that culminated in Roland securing an AMA 250cc GP Championship title in 1998. After hanging up his leathers in 2002, Roland started his titular brand Roland Sands Design. Over the last roughly 20 years, RSD has blossomed into a wildly successful enterprise that now produces aftermarket upgrades and parts, a huge range of apparel and riding gear, a huge collection of accessories and lifestyle good, and countless collaborations — not to mention the Super Hooligan racing series, annual the Moto Beach Classic festival. A major part of RSD's identity is also based in its ever-growing portfolio of one-off builds.
Location: Long Beach, California
Specialty: Custom Motorcycles, Riding Gear, & Moto Parts
Founder: Roland Sands
Year Founded: 2005
SA1NT
Why it Made The Cut
A highly-innovative Australian moto gear brand famous for its top-shelf single-layer Dyneema-infused riding jeans. 
Another boutique brand from down under, SA1NT is an innovative boutique Australian that that's responsible for bringing the first-ever pair of CE-rated, singe-layer riding jeans to market. And over the last approximately ten years, SA1NT has gone through more than half a dozen different generations of its jeans, all of which harness the remarkable properties of cutting edge — and thoroughly top-shelf — Dyneema. SA1NT also makes a range of more affordable non-Dyneema-infused denim jeans made form high-denier nylons, though like they're Dyneema construction counterparts, they boast the fit and finish and craftsmanship of luxury designer denim. And while it's main focus is on motorcycle jeans, workwear, and regular apparel products, the brand also makes an equally terrific lineup of gloves, jackets, and other pieces of riding gear. The fashion-forward nature of most of the brand's products also means you'll also find yourself wearing their casually-styled riding gear even on days when you don't ride.
Location: Melbourne, Australia
Specialty: Dyneema-Infused Jeans & Riding Gear
Founder: Aidan Clarke
Year Founded: 2014
SKRAM
Why it Made The Cut
A boutique outfit churning out premium sunglasses in classic styles that are brought to life with shatter-resistant constructions. 
Created by Mark Hawwa — the same individual that's responsible for founding The Distinguished Gentleman's Ride — SKRAM is an Aussie eyewear outfit that produces sunglasses in a small handful of classic styles of frames. Despite looking and feeling like an ordinary pair of premium sunglasses, SKRAM's moto-specific eyewear is comprised acetate frames that house sets of ultra-shatter-resistant lenses that are composed of a special polycarbonate. SKRAM's glasses are sold with an included quilted leather carrying case, a microfiber cleaning cloth, and adjustment tool, plus are all offered in numerous frame color options and with a myriad of different lens colors that includes photochromic Transitions lenses. And, while they're engineered for use in the saddle, you'll almost certainly find yourself regularly wearing these finely-crafted sunglasses even when you're not on the bike.
Location: Sydney, Australia
Specialty: Shatter-Resistant Riding Glasses
Founder: Mark Hawwa
Year Founded: 2019
Tobacco Motor Wear
Why it Made The Cut
An American brand producing classically-styled, Kevlar-lined jeans & other vintage-themed garments. 
Using the same principles as a producer of high-end American-made jeans, Tobacco Motor Wear is a purveyor of built-to-last riding jeans, jackets, and other pieces of motorcycle gear. Unlike SA1NT, Tobacco offers slide protection to riders via the addition of underlying sections of Kevlar laid beneath the jeans' most slide-prone areas. Making the most of its small-batch production, Tobacco's clothing boasts classic, timeless, retro-inspired designs an exceptional level of build quality. Also worth mentioning that in 2016, the same people behind the Tobacco Motor Wear brand also starting the bag brand Pack Animal — a fantastic boutique carry solution company that, like Tobacco, makes finely-crafted vintage-inspired pieces of built-to-last gear.
Location: San Fernando, California
Specialty: Motorcycle Jeans & Riding Garments
Founder: Dave Ackerman
Year Founded: 2014
VELDT Helmets
Why it Made The Cut
A Parisian helmet shop offering a retro-inspired modular lid platform. 
Taking its name from Ray Bradbury's 1950 short science fiction story, VELDT is a boutique Parisian outfit that handcrafts high-end motorcycle lids. Harnessing more than three decades of collective experience in the moto helmet game between its small team of staffers, this French firm produces a single 3/4-style helmet with a carbon fiber shell that serves as the platform and basis for all of the company's offerings. This open-face platform can be outfitted with a variety of add-one ranging from chin-bars to vintage MX-style visors to full-face-style face shields. This modular retro-inspired design comes in a huge number of different hand-applied finishes that use top-shelf automotive-grade paint. Like most of the other brands in this list, the overall craftsmanship and build quality also play major roles in separating VEDLT's helmets from their mass-produced counterparts.
Location: Paris, France
Specialty: Modular Retro-Inspired Helmets
Founder: Francois-Xavier Terny & Pál Kutvölgyi
Year Founded: 2017
The Terms Motorcycle Riders Need to Know
In addition to brands that you should b privy to, there's also a massive slew of pieces of terminology that it also helps to be familiar with when talking bikes, riding, or protective gear — the most important of which we've broken down in our guide to the terms motorcycles riders need to know.