Though manufacturers and independent shops had been modifying cars for competition purposes since the inception of the automobile, it wasn't until cars entered mass production that the customs scene really began to flourish. Hotrods would become the first genre of custom to gain widespread popularity, first appearing as race machines in the Southern California desert on the heels of the Great Depression before later being more widely adopted for street use. In the subsequent 90-years, the custom car industry has evolved into a complex ecosystem of outfits, each specializing in their own specific areas of expertise.
Out of the enormous number of noteworthy custom car outfits currently in operation, there are a select few that stand out from the rest as world-class experts in their own respective fields, offering designs, performance, and both an interior and exterior fit and finish that's on par with some of the most elite automotive marques on the planet. And it's this eminent array of one-off automotive outfits that we'll be exploring below in this guide to the best custom car shops.
What Makes A Custom Car Shop Elite?
Breaking Down The Qualities Possessed By The Best
It can be tricky to nail down exactly what it is that makes a custom car shop elite, one of the most crucial common elements shared by every shop on this list is an extreme focus and consideration on the details, both on a small individual level and as a cohesive whole. The world's best custom car shops tend to really sweat the details to a near-obsessive level, painstakingly considering every inch of every project which results in unparalleled details such as beautifully upholstered and fully-finished engine bays, world-class performance capabilities, and an outward appearance that would look right at home on the exhibition floor at SEMA.
On top of an uncompromising attitude, the best custom builders also put an enormous amount of time into researching and developing the optimization of their donor vehicles. Rather than selecting a handful of the most expensive aftermarket parts, eminent customs shops will calculate how each component affects the overall performance and ride characteristics and will select each part to ensure the most harmonious possible outcome when pieced together as a whole. And this is true whether we're talking ruggedized Baja-style off-roaders or hyper-tuned Italian supercars.
These world-class transformations don't come cheap, however, which brings us to our next common element, price. The details possessed by builds from elite shops such as highly-massaged engines and bespoke carbon-fiber interior accents, seatbacks, or headlight housings cost an exorbitant amount to produce. As such, and in order to produce a world-class custom car, it requires an exorbitant amount of money.
Custom Car Genres 101
The Seven Main Styles Of One-Off Automobiles
While every entry on this list does objectively world-class work in their own respective field, there are a variety of styles and genres of custom car outfits that comprise today's industry. To help simplify things, we've broken down the one-off automotive space into seven main categories, each of which we'll briefly delve into immediately below.
Paint & Cosmetic: This is the most basic level of customs shop, primarily trading in aftermarket paint and vinyl wraps, along with other bolt-on items and essentials such as window tinting, stereo installation, door conversions, body kit installation, and aftermarket lighting. These types of shops can be found in pretty much every major city and can be thought of as an "entry-level" customs shop.
Coachbuilder: Coachbuilders produce upgraded versions of existing production cars, bestowing models with lightly restyled exteriors and bespoke cabins. This somewhat subtle genre of custom also includes specialty outfits that convert models — typically larger luxury SUVs — into executive-grade limo-style coaches. There are also coachbuilders that take things one step further and offer armored versions of vehicles with blast-proof cabins, bulletproof windows, and other top-shelf security features.
Race: Whether churning out competition-spec vehicles for amateurs or professionals, these shops specialize in building track-only cars specifically engineered for racing. This typically means performance is the main priority, with comfort and amenities taking a backseat to lightness and efficiency.
Tuner: Not unlike race shops, this genre of custom outfits place immense importance on performance With that said, tuner shops tend to focus on already exotic and extremely capable sports, super, and hypercars, which they then manage to crank up several notches through the addition of performance packages, and suspension and aero kits. Alongside carbon widebody kits and the like, many of today's most elite tuning companies also offer wildly plush custom interior conversions, as well.
Off-Road: Catering to customers interested in off-roading, Overlanding, rock crawling, or racing, off-road outfits offer ruggedized turnkey machines engineered to thrive on just about any terrain imaginable. These trucks and SUVs are routinely treated to lift kits, skid plates, suites of auxiliary lighting, roof racks and/or tents, cargo storage bays, winches, and, more often than not, heavily upgraded interior packages.
Continuation: As all things nostalgia continue to grow in popularity, so too have continuation car companies, which produce modern, period-correct "continuation" versions of beloved classic car models. These outfits are typically given official approval by the original manufacturer — if not outright owned by them. There are also modernized continuation cars that largely retain the model's factory appearance while adding a host of contemporary running gear.
Resto-Mod: Part restoration and part modification, this genre of custom has spiked in popularity in recent years, giving rise to a number of thoroughly world-class restomod shops. Restomod builders aim to customize, modify, and modernize classic car models while still retaining much of the character of the donor vehicle. When done by a renowned shop like Ringbrothers or Speedkore, the results of these efforts typically yield heavily upgraded powertrains and componentry, thoroughly plush and modern interiors, and restyled muscle car bodywork that's routinely crafted from carbon fiber.
World-Class One-Offs
Today's Best Custom Car & Truck Builders
Now that you've got a better sense of what makes these shops so special, let's dive into our choices for the best custom car builders currently in operation.
ARES Design
After spending several years working for Lotus, Dany Bahar would go on to co-found ARES Design in 2014. Working out of a cutting-edge Italian facility since 2017, ARES built its name as a coachbuilder, upgrading and restyling prestigious makes such as Bentley and Land Rover, though in more recent years this elite outfit has been churning out its own world-class supercars with offerings like the Wami Lalique Spyder, S1 PROJECT, and the Panther ProgettoUno.
Specialty: Coachbuilder
Year Founded: 2014
Headquarters: Modena, Italy
ASD Motorsports
Comprised of a team of mechanics from New Zealand now working out of the American East Coast, ASD Motorsports is a highly-renowned race and tuning outfit that routinely prepares cars for competition in the Formula Drift series. In addition to its pro-grade tire-scorching Formula Drift racer cars, the Charlotte-based shop is also well-known for having built Ken Block's iconic 1,400hp, twin RTR-turbocharged 6.7L V8-powered " Hoonicorn" Mustang.
Specialty: Race & Tuner
Year Founded: 2007
Headquarters: Charlotte, NC
Classic Ford Broncos
As its name suggests, Classic Ford Broncos is a restomod and off-road outfit that trades in transforming '66 through '77 specimens of the iconic American SUV. Since 2005, CFB has built its name by injecting the boxy half-century-old exterior design with modern-day reliability, emissions, and performance prowess, resulting in a noticeably more modern and comfortable vehicle that's markedly more understated than most other Bronco restomods. And, in addition to offering hard, soft, and no-top builds, CFB also has an online Bronco configurator on its website that lets you design your own build from the ground up.
Specialty: Off-Road & Restomod
Year Founded: 2005
Headquarters: Powell, OH
Hennessey Performance Engineering
While most leading customs builders manage to excel by focusing on one key expertise, HPE is somehow capable of delivering world-class vehicles across a plethora of genres and classes of vehicles. Hennessey produces highly-tuned, aero-kitted modern muscle and sports cars and heavily ruggedized 4×4 and 6×6 off-road vehicles, though, on top of modifying existing models, HPE also produces its own in-house design hypercars from its Hennessey Special Vehicles, including its Venom F5 which is capable of 310mph speeds and a 1.9 second 0-60mph time.
Specialty: Off-Road & Tuner
Year Founded: 1991
Headquarters: Sealy, TX
ICON
Established by a husband and wife team in 1996, ICON 4×4 is one of the oldest and most respected vehicle customization outfits that primarily trades in restomodded Toyota FJ's and Ford Broncos. ICON's MO consists of ruggedizing these classic off-roaders, bolstering their performance capabilities, and adding a myriad of modern amenities, without compromising the exterior aesthetic or overall character of each build's iconic donor vehicle. ICON's interiors also receive complete overhauls that boast a slew of bells and whistles, but still possess a vintage-inspired feel.
Specialty: Off-Road & Restomod
Year Founded: 1996
Headquarters: Los Angeles, CA
INKAS AVM
INKAS Armored Vehicle Manufacturing is a Canadian company that produces heavily-armored military vehicles and troop carriers for a number of armed forces groups. And its INKAS' experience developing battle-tested hardware has allowed it to become one of the world's most eminent forces in the armored civilian vehicle sector. INKAS crafts executive-grade luxury SUVs with ridiculously plush and spacious cabins that are thoroughly fortified with features such as bulletproof windows, blast protection, on-board air scrubbers, electrified door handles, and run-flat tires.
Specialty: Coachbuilder
Year Founded: 2000
Headquarters: Toronto, Canada
Mansory
Prestigious marques such as McLaren, Ferrari, Lamborghini, and Aston Martin already produce some of the world's most elite vehicles in their stock form, so needless to say, managing to build atop these already ridiculously exotic platforms to improve performance characteristics and comfort is by no means an easy feat. Despite the enormity of the work required, Mansory has consistently taken the finest new cars on the planet and turned them into even more exclusive, high-performance machines thanks to the addition of body kits, upgraded exhausts and ECUs, and other performance parts.
Specialty: Exotics Tuner
Year Founded: 1989
Headquarters: Fichtel Mountains, Germany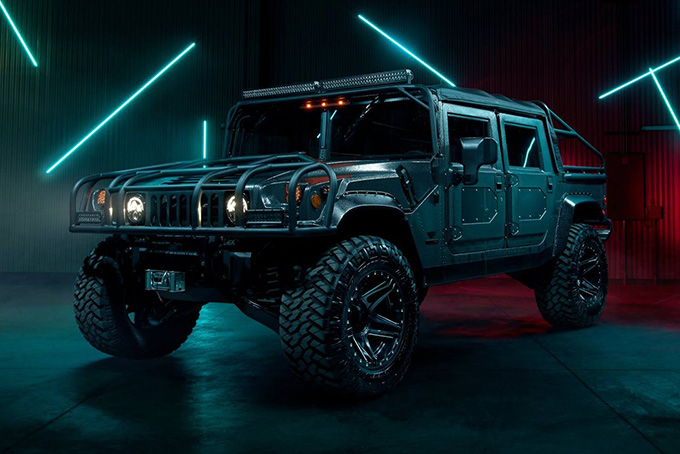 Mil-Spec Automotive
In 2015, a group of friends in their early '20s set out to create the ultimate Hummer H1 restomod, appointing the sluggish military vehicle with a modern powertrain, running gear, and a plush and well-appointed interior. The success of this project would result in the founding of Mil-Spec Automotive, which now produces ultra-high-end Hummer builds, as well as MSA's more recent F-150-based offerings. Built as a thoroughly calculated whole rather than a collection of randomly-selected bolt-on parts, MSA's trucks possess pretty incredible off-roading abilities right out of the package, plus heavily upgraded interiors.
Specialty: Off-Road & Restomod
Year Founded: 2015
Headquarters: Auburn Hills, MI
NOVITEC
Dating all the way back to 1989, NOVITEC takes already immensely capable high-dollar supercars and manages to crank them up to eleven through the addition of upgraded mechanical components and lightweight upgraded aero kits. Built for the world's most discerning automotive enthusiasts, NOVITEC's rides shave time off of already impressive (and at times world-class) quarter mile and 0-60mph runs while also increasing top speed. This Bavarian shop also sells custom-made wheels, exhausts, suspension packages, and other additional upgrades.
Specialty: Exotics Tuner
Year Founded: 1989
Headquarters: Stetten, Bavaria
Ringbrothers
Despite being founded within the last decade, Ringbros is unequivocally recognized as one of, if not the most celebrated restomod outfit in existence, with a deep catalog of wildly-impressive modernized takes on classic muscle cars. This Wisconsin-based shop pores over each aspect of its builds, bestowing them with top-of-the-line, high-performance powertrains and running gear, wildly plush interiors packed with contemporary amenities, and restyled bodywork that's often equipped with supplementary aero kits and crafted from carbon fiber. Ringbrothers is unquestionably one of the bar-setting shops in today's custom car space.
Specialty: Restomod
Year Founded: 2011
Headquarters: Spring Green, WI
RUF
While RUF Automobile GmbH first appeared on the radar of the larger automotive world in the late 1980s with the debut of its 911 Carrera 3.2-based Group C Turbo RUF (or "CTR"), the company actually stretches back to before the outbreak of WW2. From its humble roots as a single German mechanics shop, RUF eventually blossomed into an automotive institution that's now recognized as one of the world's most eminent custom Porsche tuners, rivaled only by the likes of Singer, RWB, and Gunther Werks.
Specialty: Tuner
Year Founded: 1939
Headquarters: Pfaffenhausen, Germany
Shelby American
Founded by American racing and auto design legend, Carroll Shelby around the peak of his motorsport career, Shelby American is an incredibly iconic customs outfit that bolsters the performance capabilities of various car and truck models from Ford. This all-American outfit now produces continuation versions of classic cars including GT-40s, Cobras, Daytona Coupes, and GT-spec Mustangs, as well as wholly modern automotive offerings such as the Super Baja F-250 and the Mustang-based Super Snake. Few if any shops hold as historically significant a place in American automotive history as Shelby, too.
Specialty: Tuner & Continuation
Year Founded: 1962
Headquarters: Gardena, CA
Singer Vehicle Design
Since its inception in 2009, Singer Vehicle Design has been setting the bar in Porsche tuning circles, building high-performance restomodded 911s that can only be described as world-class (or if your as Top Gear's James, "A love letter to the 911"). Singer's Porsche's famously potent engines, flared wheel arches shrouding massive tires, quarter-panel intakes, and ridiculously elaborate interiors — all hand-produced by craftsmen that each represents some of the best work in their field, be it painting, upholstery, or engine tuning. And, though it's only been in operation for roughly a dozen years, Singer — which also produces its own line of high-end watches — will almost certainly be remembered as one of the all-time greatest custom car shops.
Specialty: Restomod
Year Founded: 2009
Headquarters: Sun Valley, CA
Speedkore
Just like Ringbrothers, Speedkore is a Wisconsin-based custom car shop specializing in producing genuinely world-class restomodded classics, combining the timeless appearance of muscle and vintage sports cars with thoroughly modern performance capabilities. Speedkore's absolutely stellar work has attracted the attention of numerous A-list celebrity clients that have commissioned their one customs from the Grafton outfit, including Kevin Hart, Robert Downey Jr., Chris Evans, Eric Clapton, Eddie Van Halen, and James Hetfield, just to name a few. If you aren't familiar with these guys, do yourself a favor and dive down the rabbit hole that is Speedkore's image gallery on its website.
Specialty: Restmod
Year Founded: 2015
Headquarters: Grafton, WI
Superformance
Makers of the only cobra replica Cobra built under official license from Carroll Shelby, Superformance is a highly-celebrated, Southern-California-based manufacturer and distributor of replica car kits and continuation cars that are all based on iconic 1960s models and racers. Selling its wares from 20 independent dealerships scattered across the globe, Superformance manages to separate itself from the competition the same way most elite customs shops do, through a painstaking level of attention to detail and an unrivaled knowledge of its area of expertise, with several of Superformance's key staffers having lived through and worked alongside Carroll Shelby in his heyday.
Specialty: Continuation
Year Founded: 1992
Headquarters: Irvine, CA
The 15 Best Continuation Cars You Can Buy
Haven't gotten your fill of expertly modified, modernized classics? Well be sure to check out our guide to the best continuation cars for more than a dozen beloved vintage models being manufactured under official license today.