The world of luxurious wristwear is a daunting space, filled with more than a handful of brands that are all vying for the top of the pecking order when it comes to excessively lavish timekeeping devices. Whether you're a fan of immaculately tailored dress watches, functionally-fitting divers, or the occasional classic silhouette, there's one brand that stands head and shoulders above all the rest as one of the only tried-and-true names in the industry — and that's Rolex.
The legendary watch company began its tenure in Geneva, Switzerland in 1905, perfecting the art of Swiss engineering and elaborate timepiece construction. Over the following century, the manufacturer's watches would become so popular that they were seen as a mark of societal standing — a revelatory accessory that could only be worn by leaders of business, heads of state, and world-famous movie stars. Needless to say, the legacy that Rolex has so rightfully accrued serves as the primary catalyst for some of the horological realm's most sought after watches, with more than a handful of their platforms holding records regarding their cost of sale. Below, we'll outline 10 of the most expensive Rolex watches ever sold — from Steve McQueen's fabled Submariner to India's heirloom timepiece, and everything in between. So sit back, relax, and prepare to learn about what it takes to sit atop the throne of Swiss timekeeping.
Steve McQueen 1967 Rolex Submariner
Depending on who you ask, Steve McQueen might very well be one of the most revered and respected men's icons of the past century. From Hollywood's silver screen, all the way to fashion editorials and Rolex watches, the famed actor imprinted his own brand of fashion-forward thinking upon the world, defining what it meant to be a respectable gentleman during his era and carving a path for the generations to come. McQueen's 1967 Rolex Submariner is a testament to the man, himself, exuding a clean, classic, vintage look that would transcend the actor's career and earn itself a place among the world's most expensive watches. In 2009, his Submariner was sold for 201,670 Euros (or $234,000) at an auction hosted by Antiquorum. While the watch housed no significant traits, the sole contributor to the Submariner's outrageous sale was McQueen, himself — or rather, the rich legacy that he left behind.
Price: $234,000
Year Sold: 2009
Paul Newman Ferrari Red Rolex Daytona Ref. 6565
Paul Newman has made quite the name for himself as one of the 20th century's most prolific individuals — donning various personas as an actor, film director, producer, philanthropist, and race car driver throughout his storied life. As the proprietor of a moderately-successful open-wheel IndyCar racing team, Newman's early love for race-oriented endeavors came during a period when he would claim multiple national championships in road racing as a driver for the Sports Car Club of America. His time on the track didn't go unnoticed, especially by the Swiss watchmakers at Rolex, who created the special edition, 17-jewel Ferrari Red Paul Newman Rolex Oyster Cosmograph Daytona (Ref. 6565) for his role in the 1969 film, Winning. No more than 22 and as few as 8 of these ultra-limited Rolex's are believed to exist today, making them rare enough to get your hands on in the first place — but with Newman's name tacked on top, this red and black dial beauty was able to sell at auction for $267,203.
Price: $267,203
Year Sold: 2014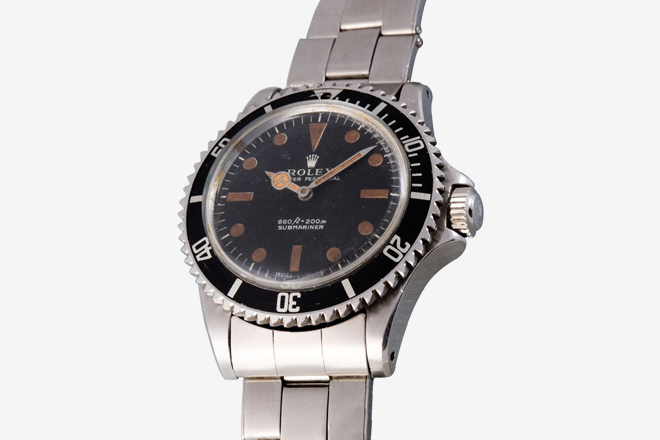 James Bond's 1973 Rolex Ref. 5513 Submariner
There are few men in this world, if any, who can match the superb taste and exceptional influence of the international super spy, James Bond. While his gargantuan reputation tends to overshadow most of the generation's attire and style choices, it's an unspoken fact that his tailor-made wristwear might be just as iconic as his black and white tuxedo. The 1973 Rolex 5513 Submariner worn by Sir Roger Moore in the movie Live and Let Die was modified to extremes for use by the actor — including a sharpened bezel that served to cut rope and a "magnetic field" that was used to unzip women's dresses. Despite the theatrics involved with the infamous Rolex, the 5513 would be sold at an auction in 2015 for $365,000.
Price: $365,000
Year Sold: 2015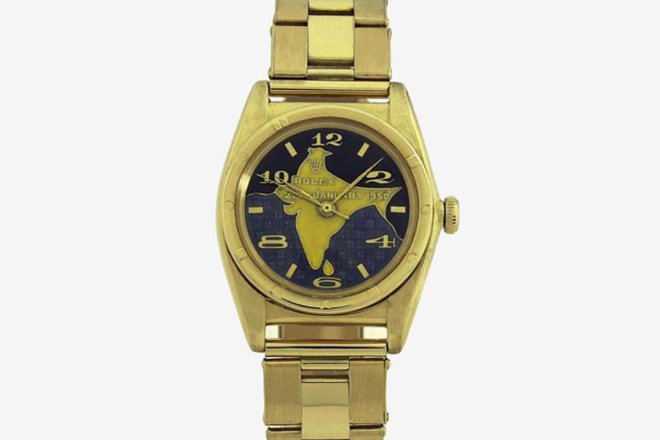 Dr. Rajendra Prasad's Gold Rolex Oyster Perpetual
Dr. Rajendra Prasad has achieved many things in his life, but no feat could usurp his groundbreaking heritage as India's first president — making him one of the most notable figures in all of South Asia. As an inaugural gift, Prasad was believed to have received this unique Gold Rolex Oyster Perpetual (and one of two commissioned and sold by Rolex's Bombay agent), which annotates the first constitutional day of India, January 26th, 1950, and houses a Perpetual made from 18k pink gold with a map of the country embedded on the dial. Following the president's death, the Rolex would be given to Sadaqat Ashram and subsequently lost or stolen in 1964. In 2011, the watch reemerged on Sotheby's list of influential timepieces for auction where it was sold for a whopping $440,000.
Price: $440,000
Year Sold: 2011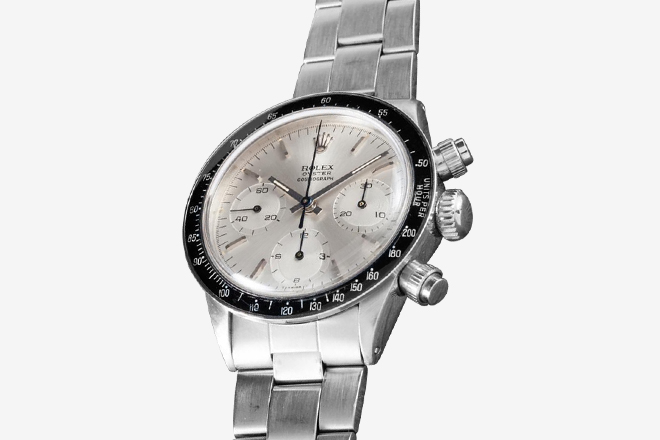 Eric Clapton 1971 Rolex Daytona
Aside from being one of the greatest musical artists of the century, Eric Clapton had an exceptional affinity for finely-tuned wristwear. Slowhand's "Oyster Albino" Cosmograph Daytona is one of four to ever be built by the Swiss manufacturer — a unique timepiece with silvered chronograph totalizers and components that share the same color as the watch's dial — giving it its 'Albino' name. The watch usually sports a black chronograph, but this 1970-era stainless steel Rolex breaks apart from its brethren thanks to its unique composition and storied ownership. Though the Daytona has been sold numerous times over the past decade, its most recent buyer secured the timepiece for $1,400,000 in 2015, making it one of the most expensive Rolex watches to ever be sold at auction.
Price: $1,400,000
Year Sold: 2015
1942 Rolex Antimagnetique
While a variety of Rolex's most famous watches have made their way to the auction block, few have surpassed the prestigious heritage of the brand's classic 1942 Rolex Antimagnetique. Originally, these finely-crafted timepieces were given to a handpicked selection of racing teams and drivers, solidifying their status in the annals of the watchmaker's vintage collection due to their extreme rarity (and the fact that they were never released to the public). There were 12 watches in total — steel- and gem-adorned variants that measure a staggering 44mm in diameter, making them the largest Rolex watch ever produced. In 2016, the Antimagnetique was sold at a Philips auction for $2,400,000, doubling its former sales price of roughly $1,200,000 only three years earlier. The sought-after variant has earned its place as the most expensive Rolex ever sold at auction on not one but two separate occasions — showing that the appeal of the brand's vintage collections is not going away anytime soon.
Price: $2,400,000
Year Sold: 2016
1969 Paul Newman Cosmograph Daytona Ref. 6263
Paul Newman needs no introduction — in fact, we already covered one of the actor's most infamous watches earlier on in the list. Following in the footsteps of other variants in Newman's extensive watch collection, the 1969 Cosmograph Daytona Ref. 6263 has attained "legendary" status thanks to its screw-down pushers and iconic Cal. 727 movement (which was used in Eric Clapton's Albino timekeeper), its Art Deco front, and its lemon grené dial. The exceptional Rolex, which was noted to have been in like-new condition during the time of sale, was auctioned off in 2017 for an astounding $3,718,000, marking it as the third record-breaking Rolex that would be sold under the Newman name.
Price: $3,718,000
Year Sold: 2017
Bao Dai Rolex Ref. 6062
The Bao Dai 6062 Rolex is a true enigma when it comes to the collectible watch industry, showing that the influence of Rolex supersedes that of any other horological manufacturer. In 2002, the one-of-a-kind wristwatch was worth only $235,000, making it supremely expensive for the period. However, as the only offering to ever receive Rolex's black dial with diamond indexes, it quickly rose to popularity within the collector's realm. The moon phase and yellow gold triple calendar watch would only garner more interest in the coming years, and in 2017, the sought-after timepiece sold for almost $5,100,000 — expanding its value by over 20 times.
Price: $5,060,427
Year Sold: 2017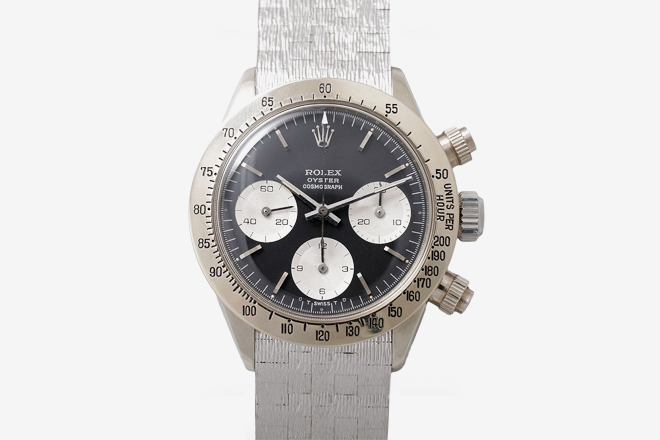 1971 Rolex Daytona Reference Ref. 6265 "Unicorn"
Taking a step away from the realm of storied ownership, the 1971 Rolex Daytona Reference 6265 "Unicorn" was popularized within the world of luxury wristwear thanks to its mythical construction and design. As the only known example of the 6265 to ever be manufactured in 18k white gold, the Unicorn earns its place among our list as one of the rarest Rolex watches to ever be manufactured. Aside from the Daytona's lineage, the 1970-era timepiece sports the same Oyster case and chronograph components as the brand's 6263 but opts for a high-quality metal bezel in place of the original acrylic foundation. In 2018, it was sold at the Philips auction for $5,900,000, making it the second most expensive Rolex to ever hit the auction block.
Price: $5,900,000
Year Sold: 2018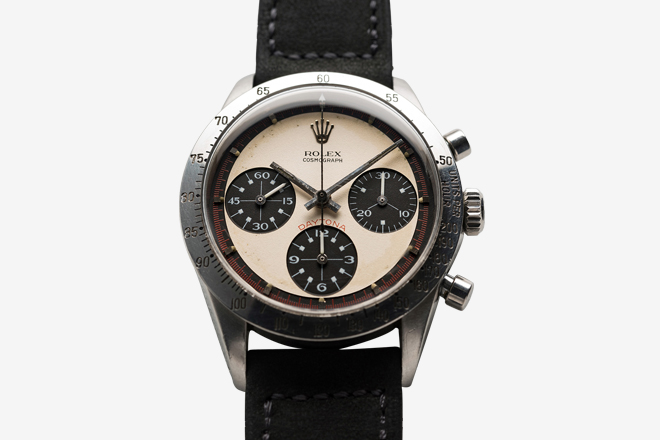 Paul Newman's Rolex Daytona Ref. 6293
Last but not least, we have Paul Newman's 1968 Rolex Daytona. Where Newman's Ferrari Red Rolex Daytona falls short, his ultra-rare Cosmograph Daytona Ref. 6293 raises the bar for the Swiss watchmaker's tailored offerings. As one of the most highly sought-after pieces of wristwear to ever hit the market, the Cosmograph Daytona was gifted to the prolific race car driver by his wife, Joanne Woodward, who purchased the watch from a prestigious Tiffany & Co. location in New York. To personalize the timepiece, she had the words "Drive Carefully Me" engraved upon the body — a show of faith for her husband's numerous racing ventures. In 2017, the watch was sold at a Philips auction for a mindblowing $17,800,000, usurping the brand's other watches (and maintaining its position against the Bao Dai timepiece) as the most expensive Rolex ever sold at auction.
Price: $17,800,000
Year Sold: 2017
A Complete Guide To Buying Your First Rolex
Now that you've seen the highest-grossing watches that the Swiss brand has to offer, head on over to our complete guide on buying your first Rolex to read up on what makes them special.