Within the watch industry, and especially among watch enthusiasts, sport watches receive the lion's share of attention. Whether it's dive watches, racing chronographs, GMT travel watches, or the currently hot steel integrated bracelet models, sporty and casual watches drive sales for brands and keep excitement high among collectors. This is a relatively new phenomenon, as it was dress watches that were the pinnacle of watch collecting and manufacturing throughout the majority of the 20th century. And while dress watches may not garner the headlines that sport watches do these days, they are still an integral part of any well-rounded collection. And perhaps because of their reduced popularity relative to the past, it's not hard to find a great dress watch for under $1,000.
The best dress watches under $1,000 will work for any formal or semi-formal occasion. They all have class and subtle styling that will keep you looking sharp and your wrist under the radar — while also keeping you on time. For this guide, we've selected our 15 favorite budget-conscious dress watches from established affordable brands, esteemed Swiss heritage watchmakers, and upstart quality microbrands. They cover a wide range of styles and tastes within the dress watch genre, and any one of them will look great with a suit. And best of all? They all can be had for under a grand. So take a look below to discover our list of the best dress watches under $1,000.
Best Sub-$1,000 Dress Watches
Orient Bambino 2nd Generation

Seiko Presage Cocktail Time

Tissot Visodate Powermatic 80

Hamilton Intra-Matic Auto

Certina DS-1 Big Date Powermatic 80 Special Edition
What Makes A Dress Watch?
There are a number of traditional ways to define a dress watch, but they all follow the same general guidelines. That is, they all aim to keep the watch low-key and unnoticed. These rules have loosened over the years, and realistically, you can wear what you want. After all, there are plenty of people rocking Apple watches with tuxedos. But if you're interested in playing by the rules, here are the parameters to keep in mind.
Size: Traditionally, dress watches are smaller and thinner than sport watches. Throughout the 20th century, dress watches were almost exclusively under 36mm, often clocking in around 34mm. These days, as men's watches have grown in size across the board, 38mm, 40mm, or even 42mm case sizes are more common for dress watches. Thinness, however, remains paramount in dress watch design as it allows shirt cuffs to easily slide over the top of the watch without getting caught.
Complications: The most traditional watch-wearers among us will say that dress watches should have no complications at all. Some view a date window as being too flashy, while others even think the presence of a seconds hand or lume is blasphemous. And generally speaking, when it comes to dress watches, simpler is better. But rules are meant to be broken, and there are plenty of complications that are right at home on dress watches. Notably, the dress chronograph is an entire genre of watches unto itself, and one that has many decades of history behind it. But if you do decide to go the complicated route, just make sure the overall design of the watch is subdued and "dressy" and the watch isn't too oversized.
Straps: The most classic strap for a dress watch is, without question, a black leather strap. Or, if you're feelin' fancy, a black alligator or crocodile leather strap. And while you certainly can't go wrong with black leather on a dress watch, it's not your only option. Brown leathers can certainly work, too, depending on the color of your dial, and even some metal bracelets get a pass. Milanese mesh bracelets in a fine weave pattern happen to be very well-suited to dress watches, as do steel bracelets with small, round, polished links, such as a Jubilee bracelet. But not all straps look at home on a dress watch. Larger-linked steel bracelets can look too sporty, while NATO and rubber straps are obvious clashes. Even some leather straps are best avoided, such as those with heavy stitching or distressed treatments, as they are too casual for a formal setting.
Orient Bambino 2nd Generation
Why It Made the Cut
Orient's flagship Bambino is arguably the most affordable quality automatic in the game, let alone with its vintage look.
For several years now, the Orient Bambino has been a favorite of budget-seeking dress watch shoppers. That remains unchanged with this vintage-inspired iteration from the old-school Japanese watchmaker. The 2nd Gen Bambino has the updated in-house F6722 automatic movement that hacks and hand-winds, while its cream-colored dial with roman numerals and domed mineral crystal gives off classic vibes. It's one seriously classy piece for around $150.
Case Size: 40.5mm
Movement: Automatic
Crystal: Mineral
Timex Marlin Hand-Wound
Why It Made the Cut
This '60s-inspired manual timepiece from Timex among its finest of its modern dress watches, especially at this price point.
Timex has undergone a renaissance over the past handful of years by revisiting some of their heritage designs, and this 2018 release was the runaway hit that started it all. The watch came out of leftfield for the classic American brand, eschewing the quartz movements and Indiglo of Timex's modern catalog in favor of a 34mm case, hand-wound movement, lume-free silver sunburst dial, and tall acrylic crystal. The watch looks like it emerged straight out of a portal from 1963, and that's a good thing.
Case Size: 34mm
Movement: Hand-Wind
Crystal: Plexiglass
Dan Henry 1937
Why It Made the Cut
Inspired by 1930s watches and Art Deco, this dressy chronograph is one of the few in its category that's this affordable.
As we stated already, rules are meant to be broken, which brings us to this dress chronograph. It's worth pointing out that dress chronographs aren't exactly new. They were quite popular in the 1930s, which is where famed watch collector (and titular brand owner) Dan Henry got the inspiration for this piece. The watch's Art Deco design leans heavily into the era that spawned its creation, but its symmetrical busy dial looks just as pleasing in these modern times.
Case Size: 38mm
Movement: Meca-Quartz Chronograph
Crystal: Sapphire-Coated K1 Mineral
Seiko Presage Cocktail Time
Why It Made the Cut
With a radial sunburst dial in ice blue and a dark blue leather strap to match, this Cocktail Time from Seiko appears as though it would cost much more than $300.
Following the success of Seiko's original Cocktail Time watch several years ago, the company created an entire line based on the concept under their more premium Presage label. The reference seen here is based on the original model, and for our money, it's still the best thanks to that jaw-dropping ice blue radial sunburst dial. The faceted dauphine hands, polished shark tooth indices, and dark blue leather strap complete the look, making this one of the most stunning watches available at its price.
Case Size: 40.5mm
Movement: Automatic
Crystal: Hardlex
Baltic HMS 002
Why It Made the Cut
The Paris-based microbrand reaches to the 1940s with this vintage-style stepped sector dial.
Baltic founder Etienne Malec created the company as a tribute to his late father and his collection of vintage watches, and the Paris-based microbrand makes some of the most tasteful vintage-style watches around as a result. The HMS 002 is the brand's 1940s-inspired three-hander, and it sure is sharp. With a stepped sector dial and conservative Arabic indices, the watch is vaguely reminiscent of some classic pieces from Swiss luxury brand Longines — but at a much more attractive price.
Case Size: 38mm
Movement: Automatic
Crystal: Plexiglass
Tissot Visodate Powermatic 80
Why It Made the Cut
One of the best sub-$1,000 dress watches in recent years, this Visodate reissue from Tissot has been updated with a Powermatic 80 movement.
As one of the best sub-$1,000 dress watches of the past decade, Tissot's modern Visodate reissue was always assured a spot on this list. But recently, the Le Locle brand has updated this fan-favorite to make it even more of a value proposition than before. The watch now houses the company's Powermatic 80 movement with its stellar 80-hour power reserve, along with updated vintage dial text, a curvier and more svelte case, better finishing all around, and new colorways like this knockout champagne sunburst option. Bravo, Tissot.
Case Size: 42mm
Movement: Automatic
Crystal: Sapphire
Zodiac Olympos
Why It Made the Cut
Zodiac's unique-looking gold PVD-treated reissue brings back a '60s favorite with its manta ray case and swan neck regulator.
Stainless steel watches are widely accepted as dress watches these days, but traditionalists may prefer to stick with a precious metal like gold. And while you're certainly not getting a solid gold watch for under a grand, you can find one that's absolutely doused in gold PVD treatment like this Zodiac. A reissue of a funky Zodiac dress watch from the 1960s, the modern Olympos keeps its iconic manta ray case but adds modern touches like a sapphire crystal and the basically-in-house STP 3-13 automatic movement featuring a rarely-seen-at-this-price swan neck regulator.
Case Size: 37mm
Movement: Automatic
Crystal: Sapphire
Junghans Max Bill Quartz
Why It Made the Cut
Junghans' minimalist icon, the Max Bill, gets a quartz treatment to make it more affordable without losing its simple aesthetic.
Basically unchanged since its debut 50 years ago, the Max Bill is a classic example of Bauhaus design. Variations on the formula make up a significant chunk of Junghans' catalog, with everything from chronographs to a solar-powered version. But this quartz iteration is the best way to get your hands (or wrists) on the iconic timepiece, with its sapphire crystal, a slightly larger 38mm case size, and abundance of simplicity. Some things just can't be improved upon, and the Max Bill Hand-Winding really is one of them.
Case Size: 38mm
Movement: Quartz
Crystal: Sapphire
Mido Belluna Royal Gent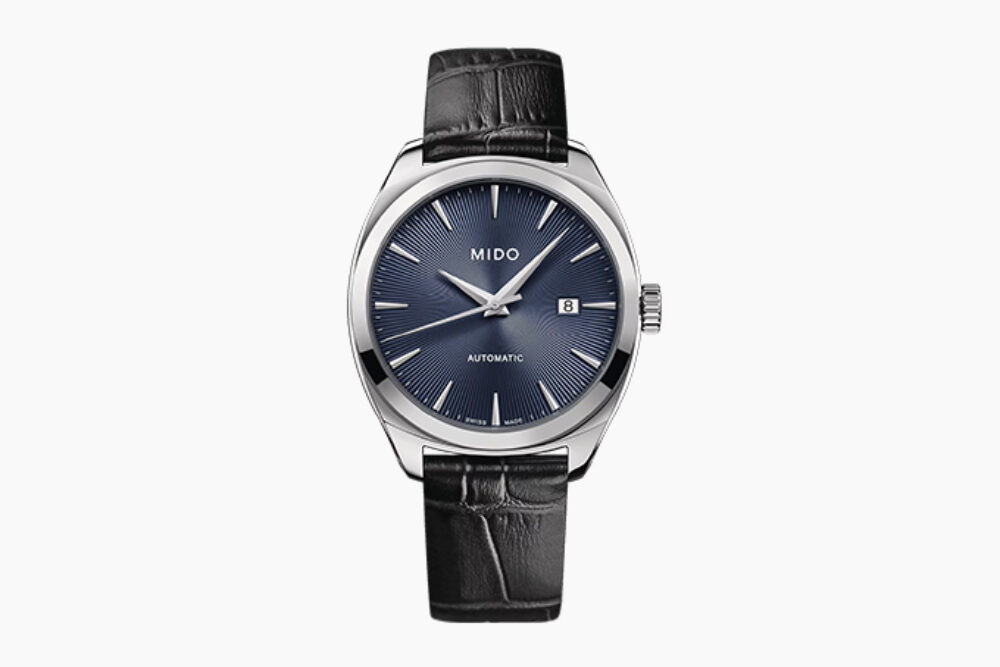 Why It Made the Cut
Mido decorates this automatic with a guilloche stamped sunray dial and some other higher-end features while remaining offered at a reasonable price.
What doesn't this watch offer for under a thousand dollars? Swiss heritage brand? Check. Dual-finished dauphine hands? Check. Nicely-decorated ETA-base automatic movement with 80 hours of power reserve? Check. A guilloché stamped sunray dial in a striking blue? Check. Double-sided AR-coated sapphire crystal? Check. This Mido offers a ton, and it does it all in a case that's rather thin at just a hair over 10mm. These are attractive attributes on any watch, but for an automatic, they're most impressive — especially at such a low price.
Case Size: 41.3mm
Movement: Automatic
Crystal: Sapphire
Hamilton Intra-Matic Auto
Why It Made the Cut
Hamilton's classy Intra-Matic reissues a mid-century favorite with a domed crystal, curved minute hand, and tons of retro styling.
As you've no doubt noticed, there are a lot of vintage-inspired watches on this list, and that's because dress watch styling peaked in the mid-century when they were the flagships of watch brands. Case in point: this Hamilton. Based on the 1960s Intra-Matic, the modern-day version is a serious value proposition with its domed sapphire crystal, premium ETA 2892-2-based movement, and impressive attention to detail, as seen in the curved minute hand that follows the sloping edge of the dial. Of course, the Don Draper-esque retro style doesn't hurt, either.
Case Size: 38mm
Movement: Automatic
Crystal: Sapphire
Certina DS-1 Big Date Powermatic 80 Special Edition
Why It Made the Cut
Sporting a premium Milanese mesh bracelet, this green-dialed automatic celebrates the 60th anniversary of Certina's DS line.
Certina often operates in the shadow of fellow modestly-priced Swatch Group stablemates Hamilton, Tissot, and Mido, but that's no fault of their watches and is more a result of how Swatch markets and distributes the brand. Truly, Certina makes some great stuff, like this 60th-anniversary celebration of their DS line. A green-dial stunner, this pricey-looking dress watch features a high-quality Milanese mesh bracelet, an anti-magnetic 80-hour power reserve movement, and a big date complication for a touch of whimsy.
Case Size: 41mm
Movement: Automatic
Crystal: Sapphire
Zelos Nova
Why It Made the Cut
Zelos goes against type with this dress watch, which features an uncommon linen dial and a fantastic lume.
Zelos is a microbrand known for their chunky and rugged dive watches and their innovative use of materials like titanium Damascus and meteorite. So it was pretty unexpected when they released a dress watch in 2020, but they ended up knocking it out of the park. The Nova's movement, a hand-wound ETA 7001 with Côtes de Genève finishing and blued screws, is impressive at this price, but the real draw of the Nova is its styling, as it combines vintage cues (check that linen dial) with modern touches (it has surprisingly great lume) perfectly.
Case Size: 38mm
Movement: Hand-Wind
Crystal: Sapphire
Stowa Marine Classic 36
Why It Made the Cut
Based on Stowa's 1939 Marine observation watches, this dress piece is widely customizable and sports Roman numerals and blue steel hands.
Stowa is right to call this watch the Marine Classic, as it's based on the company's Marine observation watches from 1939. Widely customizable — you can change the indices, date, and movement — we like to keep it as classic as possible when using it as a dress piece. That means Roman numeral indices, no date, and a hand-wound decorated Sellita SW215-1 (though that movement will push you a smidge over $1,000). But regardless of which configuration you choose, you're still getting real thermal-blued steel hands and a high-polished white enamel-look dial.
Case Size: 36mm
Movement: Automatic or Hand-Wind
Crystal: Sapphire
The Best Sub-$1,000 Automatic Watches to Buy
If you're looking for more affordable timepieces, check out our guide to the best automatic watches for under $1,000.