We are firm believers that everyone should own and carry at least one pocket knife. But we're also aware that most bladed tools work well in given circumstances. For instance, a camp axe is best suited for chopping up wood while you're out on the trails. Similarly, a minimalist pocket folder is great when you're in a casual urban environment.
If you want the best bang for your buck in all situations, but are still concerned with discretion, your best bet is probably going to be a tactical folder. These knives are designed to go through some of the toughest stuff you can throw at them and come out on the other side virtually unscathed. Whether you find yourself in a war zone, lost in the woods, or you just want to be ready for anything – a tactical folder could end up being your most useful tool. And the following 15 are the absolute best tactical folders out there.
Smith & Wesson Border Guard Folding Knife
Most people know Smith & Wesson for their production of firearms. But you might not know that they also have a full suite of other tools – including their Border Guard folding knife. You might have guessed from the name, but this blade was designed for use by the folks that keep the entryways to our nation safe. And it's loaded with useful features to get the job done right – like a glass breaker tip, partially serrated edge, and emergency seatbelt cutter.
Blade: Black Oxide 7Cr17MoV
Handle: Aluminum With Trac-Tec Inserts
Lock: Lockback
CRKT M16 Law Enforcement Folding Knife
Created by late-great knife designer, Kit Carson, this particular version of the ever-popular CRKT M16 tactical folding knife has been enhanced for use by members of law enforcement around the globe. While it already comes built to last, a few added features up the ante to the nth degree. For instance, this one has a seatbelt cutter, a glass breaker tip (which can be used whether the knife is open or closed), and a sturdy AutoLAWKS Safety that practically turns it into a fixed blade when it's deployed.
Blade: AUS 8
Handle: Glass-Filled Nylon & Stainless Steel
Lock: AutoLAWKS Safety
SOG Trident Elite Folding Knife
SOG was born out of a desire to create some of the toughest tools on the planet. In fact, the whole brand was inspired by an elite operative group that functioned during the Vietnam War – so you can bet your bottom dollar that they've crossed their Ts and dotted the Is on all their gear. The Trident Elite, however, might be their most formidable folder to date. It features an assisted opening deployment, partially serrated blade, seat belt cutter, and a reversible deep carry pocket clip.
Blade: AUS 8
Handle: Glass-Reinforced Nylon & Rubber Overmold
Lock: ARC
Kershaw Blur Glassbreaker Folding Knife
Made in the USA, Kershaw's standard Blur folding knife is already an excellent everyday carry blade. But, with a tactical treatment, it has gotten even better. This Ken Onion design is bolstered by both a partially serrated blade and a super tough glass breaker tip for use in emergencies. This version also features highly textured Trac-Tec inserts for excellent grip even in the wettest of conditions. And the brand's signature SpeedSafe deployment system ensures quick access at all times.
Blade: 14C28N
Handle: 6061-T6 Anodized Aluminum With Trac-Tec Inserts
Lock: Liner
Boker Plus Jim Wagner Reality Based Blade
Jim Wagner is a longtime self-defense teacher with a wealth of books and instructional videos under his belt. As it turns out, he's also pretty good at designing self-defense focused cutting tools – case in point: the Boker Plus Reality Based Blade. As you might glean from the name, this knife was designed with real-world situations in mind and includes functionality both as a normal cutting tool, but also comes equipped with a glass breaker tip, a super grippy ergonomic handle, and has two lanyard holes to make the knife more accessible in a pinch.
Blade: 440C
Handle: Fiberglass-Reinforced Plastic & Stainless Steel
Lock: Backlock
Cold Steel Recon 1 Folding Knife
Cold Steel has a bit of a reputation on the internet, thanks to their over-the-top demo videos. But that shouldn't deter you from considering their gear as viable everyday carry – especially if you're looking for a tactical knife. In fact, their Recon 1 is one of the best folding knives of all time, tactical or not. From the multiple blade shape options, to the grippy g10 handle, to the sturdy and reliable backlock, this is a hardcore hard-use cutting tool through and through.
Blade: S35VN
Handle: G10
Lock: Backlock
Spyderco Assist Folding Knife
Spyderco is famous both for their highly functional blades and for their iconic, unique, and sometimes odd designs. The Assist, however, might be the strangest looking one they've ever made. But, there's a reason for that: it was designed with emergency responders in mind. that means the partially serrated blade has a blunt tip to avoid any accidental stabbing in high pressure rescue situations. It also has a curved ergonomic handle and wavy blade back that was designed by a Swedish firefighter to make cutting rope quick and easy in a pinch. If you're looking for pure emergency functionality out of a knife, this might be your best bet.
Blade: VG-10
Handle: Fiberglass Reinforced Nylon
Lock: Backlock
Gerber 06 Manual Combat Folder
Like SOG, Gerber Gear is very well known for their highly aggressive tactical blade designs. And their 06 Manual Combat Folder is certainly one of the best offerings they've ever released. The button lock allows for quick and easy one-handed closure, and also serves to be a bit safer – as your fingers never need to cross the path of the blade in order to close it. It's also really tough, thanks both to the superb materials that went into it and the American craftsmanship behind it. That's right, this one was made in the USA.
Blade: S30V
Handle: Hard-Anodized Aluminum
Lock: Plunge Lock
Zero Tolerance 0350ST Folding Knife
Zero Tolerance is one of the greatest knife making brands. If you're skeptical of that fact, just have a look at their 0350ST folding knife. This USA-made bad boy is one of the burliest workhorse knives available for purchase. Featuring a flipper style deployment, this stout blade comes with a partially serrated edge perfect for any small sawing tasks you may encounter – like, perhaps, cutting up pieces of paracord from your survival kit. It also has a grippy ergonomic handle and was designed by none other than Ken Onion.
Blade: Tungsten DLC S30V
Handle: G10
Lock: Liner
Tops Knives Xcest Delta Folding Knife
Tops Knives actually offers a few different options for tactical folding knives. But their Xcest Delta is by far the best of the bunch, both for its unique appearance and sheer badass toughness. The handsome handle is made from a combination of blue and black G10, and it's mated to a bulldog-style black traction coated drop point blade that is built to take an absolute beating time and time again. It even comes with a black nylon belt sheath.
Blade: N690CO
Handle: G10
Lock: Liner
DPx Gear HEST/F Folding Knife
Robert Young Pelton, the brilliantly mad mind behind DPx Gear, is one of the toughest dudes ever to have graced our small blue dot of a planet. In fact, he's embroiled himself in some of the harshest environments in the world – including multiple actual wars. And it was those experiences that led him to learn the value of a good knife by your side. the HEST/F folding knife is one such tool – built from titanium, G10, and Sleipner steel. The cherry on top, however, is that this knife also comes with a built-in bottle opener.
Blade: TiCN PVD-Coated Sleipner
Handle: G10 & Titanium
Lock: Frame
Benchmade Adamas 275 Folding Knife
All of Benchmade's offerings are superb from an everyday carry standpoint. But, if you're seeking the strictly tactical, you can't do better than their Adamas folder. Featuring a D2 blade mated to a G10 handle, this beefy folder stays deployed thanks to Benchmade's sturdy signature Axis lock. As an added bonus, it was also built to be compatible with the MOLLE modular system and a portion of the proceeds of each sale goes toward Three Rangers and to the Navy SEAL Foundation.
Blade: D2
Handle: G10
Lock: Axis
Emerson Bulldog Folding Knife
Though they don't often get the spotlight in the everyday carry world, Emerson Knives are some of the most uncompromisingly well-built tools available to the general public. And, honestly, you can't really go wrong with a single one. We're just partial to the Bulldog for its aggressive appearance and superior materials. It helps, too, that you can choose your blade finish at the time of purchase. That way, if you are a fan of all black everything like we are, you can get exactly that.
Blade: 154 CM
Handle: G10
Lock: Liner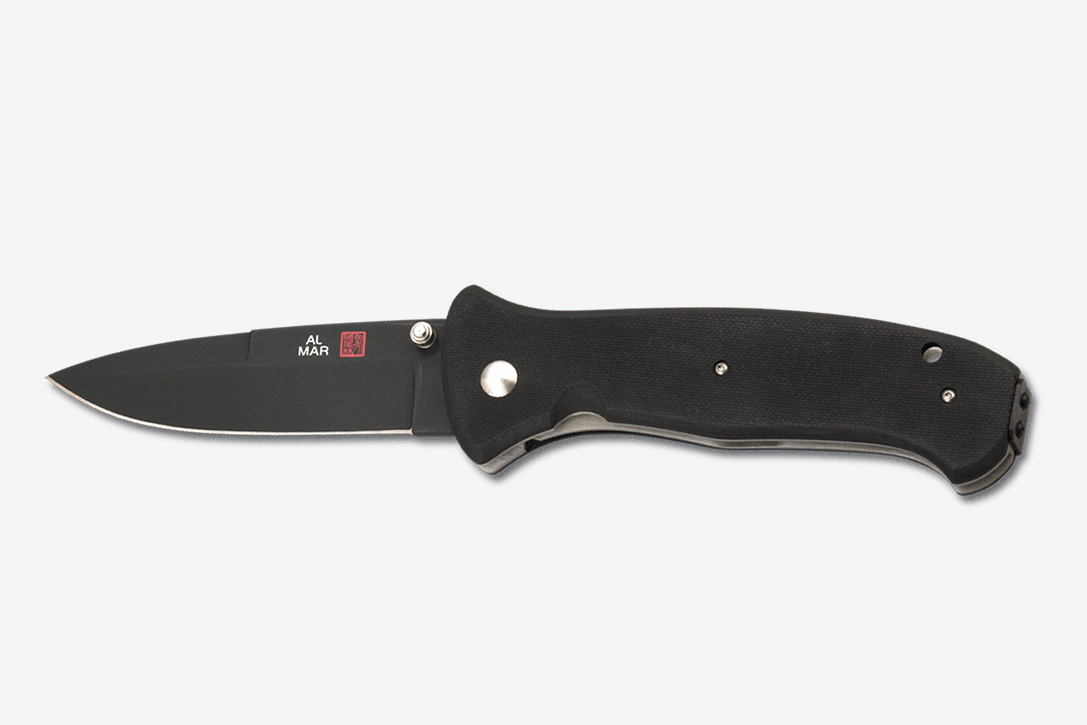 Al Mar SERE 2000 Folding Knife
Originally created in collaboration with Colonel Nick Rowe for the U.S. Army's SERE school, this knife dates back to the 1980s and is renowned as one of the toughest blades to ever be brought into existence. And, as time has gone by, that's only become more true thanks to the incorporation of stronger and lighter materials and some of the most precise knife-making practices out there. It might not look as extreme as some of its counterparts, but this is a hardcore tactical knife through and through.
Blade: VG-10
Handle: G10
Lock: Liner
Pro-Tech Strider SA20 SnG AUTO Knife
Strider Knives – out of Escondido, California – offers one of the most identifiable knife silhouettes out there. And their signature style is only bolstered by their commitment to brilliantly built blades. They pared that style and expertise perfectly into this automatic knife collaboration with Pro-Tech (excellent knife makers in their own right). In fact, the only real downside to this offering is that it isn't legal in all 50 states. Still, if your state allows you to carry an auto knife, this is one of the best of the best.
Blade: 154CM
Handle: G10
Lock: Button
Best Tactical Belts
Knives aren't the only field-ready piece of gear you can keep on you. In fact, even something as seemingly commonplace as the thing that holds up your pants can be imbued with extra functionality. Don't believe us? Just check out our list of the best tactical belts.