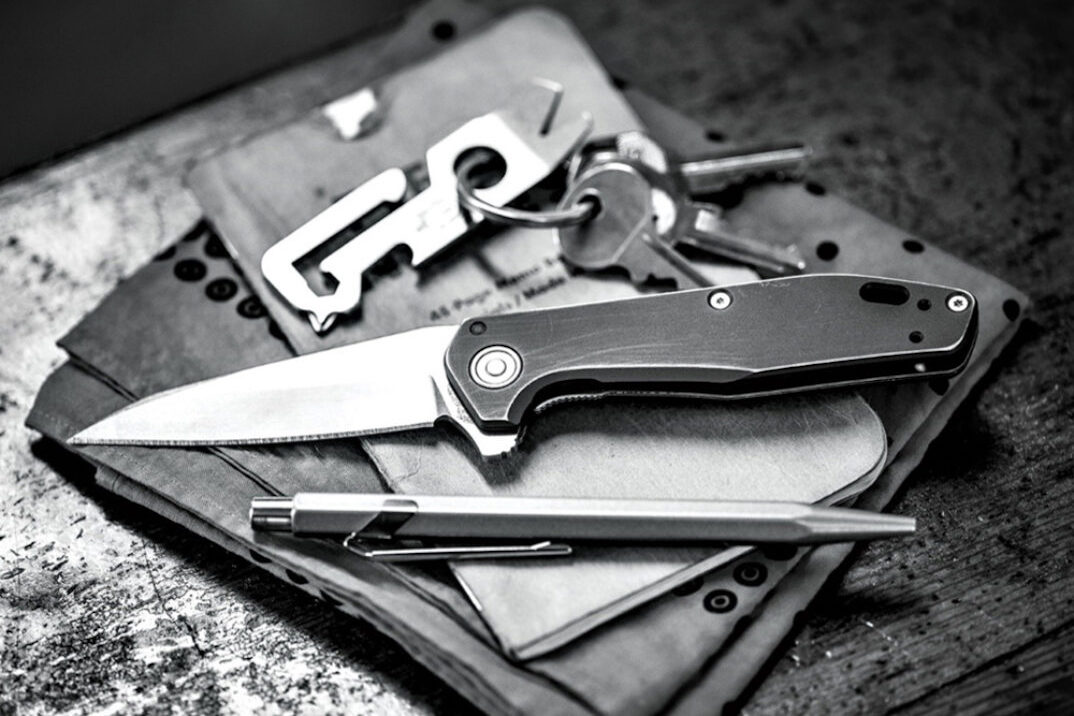 Though many people think of them as little more than violent weapons, we're of the mind that knives are tools first. And, in the hands of someone who respects the danger involved, they can be one of the most valuable things you carry with you anywhere. Of course, it helps if the everyday carry knife in your pocket is of good quality.
If you really want to stack the deck in your favor in that regard, you can rarely go wrong with a pocket knife made here in the United States. After all, "USA-made" is often synonymous with "superbly built" — and American craftsmen are keen on continuing that tradition. It is with that in mind, specifically, that we've put together the following list of our picks for the best USA-made EDC knives currently on the market. Stay sharp!
Best American-Made Knife Rundown
Best Vintage-Style Knife

Buck 110 Folding Hunter

Best Value Knife

Gerber Fastball

Best Tactical/Self-Defense Knife

Spyderco Para Military 2

Best Upgradable Knife

Benchmade Bugout

Best Slipjoint Knife

Zero Tolerance 0235

Best Automatic Knife

Emerson Knives Bullshark Auto

Best Titanium Knife

DPx HEST/F Urban Ti

Best Top-Shelf/Grail Knife

Chris Reeve Sebenza 31
Why Buy American?
Dedication to Superb Quality
It would be asinine to suggest that American soil is the only place you can find well-built gear. That doesn't change in the case of everyday carry knives. In fact, there have been positive strides made all around the EDC and knifemaking worlds and there are tremendous craftspeople all around the planet. Having said that, there are also a lot of reasons you know you can trust American craftsmanship — guarantees that you might not find elsewhere. Below, we'd like to illuminate some of the many reasons you should consider buying a USA-made blade for your next EDC cutting tool.
Expectations/Reputation: It's hard to say which came first in the United States: the quality of craftsmanship or the public perception of it. The truth is, they probably developed simultaneously over time. The real truth is, however, that it doesn't matter. The fact remains that USA-made goods have a reputation for being well-built and, as a result, that's what people expect out of them. And American craftspeople are keen to keep that reputation, as it means people will continue to seek out their goods and keep them in business. Thusly, it's in the best interests of American makers to continue the tradition of well-built goods. It might be a chicken-and-egg situation, but the true origin doesn't really matter.
Regulations: As far as labor laws are concerned, the United States has some of the strictest in the world. This ensures that craftspeople are well cared for, paid appropriately, not abused on-the-job, etc. To some, this means that USA-made gear is simply more expensive — but we'd suggest it also means greater quality, oversight, etc. Furthermore, materials are also subject to higher scrutiny on U.S. soil — leaving less room for corner-cutting and, thusly, resulting in a better overall quality tip to toe. Yes, the laws and regulations are rigid, but that means the end result is elevated that much higher. It also encourages craftspeople at the top of their game to seek out employment with U.S. companies. After all, people that craft the best also want to be employed by the (subjective) best.
Patriotism: While it probably shouldn't be the sole reason to seek out USA-made gear of any kind, national pride can definitely influence a decision — and Americans are often quite full of pride. After all, why wouldn't you want to support the hardworking people of your country of origin? Americans have a penchant for thinking of their country as the best in the world, so it makes sense to purchase goods that originate within its borders. After all, what's good for America is often also what's good for Americans.
Buck 110 Folding Hunter
Pros
Iconic design gone unchanged for 60 years
Sports ethically-sourced Crelicam ebony wood scales
Handle features brass pins and bolsters
Will form patina over time
420HC blade benefits from Paul Bos heat treatment
Cons
Lacks utility & ergonomics compared to modern pocket knife designs
Best Vintage-Style Knife: Perfectly encapsulating the notion of "if it aint broke, dont fix it," the Buck Knives 110 Folding Hunter is an immensely iconic American-made folder that was first introduced in 1964 and has remained in production ever since, going almost entirely unchanged over the subsequent six decades. Sold with an included genuine leather sheath with a custom Buck-branded snap closure, this classically-styled pocket knife is constructed around a stainless steel frame adorned in a pair of ethically-sourced Crelicam ebony wood scales complemented via brass bolsters and a steel back-lock mechanism. Mated to the handle is a 420 high-carbon steel clip point blade spanning 3.75". And while it retains the original model's 420HC construction and clip point profile, the latest version of the 110 Folder benefits from a modern Paul Bos heat treatment system.
Blade: 420HC Stainless Steel
Handle: Crelicam Ebony Wood
Blade Length: 3.75"
Total Length: 8.625"
Type: Lockback Folder
Gerber Fastball
Pros
Offers terrific bang for your buck
Has premium materials & build quality
Features flipper tab deployment & ball-bearing pivot
Also offered with cleaver-style blade
Cons
Handle would benefit from grip-enhancing texturing
Thin blade profile at just 0.11″
Best Value Knife: Why more people aren't obsessed with the greatness that is the Gerber Fastball is beyond us. Truly, having handled this one ourselves, it is a spectacular USA-made EDC knife any way you flip it. With a sleek, pocket-friendly design, this knife boasts tough and lightweight anodized aluminum handles, a razor-sharp CPM-S30V steel blade, and a reliable liner lock. It might not be very boastful, but it is beautiful in its subtlety and quite formidable at its price point. Back that with a USA-made construction and you can understand our draw to this knife.
Blade: CPM-S30V
Handle: Aluminum
Blade Length: 3″
Total Length: 7.1″
Type: Flipper
Spyderco Para Military 2
Pros
One of the all-time most popular EDC knives
Premium materials & build quality
Stellar ergonomics & grip
Sports Spyderco's signature thumb-hole opening & leaf-shaped blade
Wide array of available aftermarket upgrades
Cons
Very aggressive-looking design
Fairly large for EDC at 8.25" overall
Best Tactical/Self-Defense Knife: If you consider yourself an everyday carry enthusiast and the Spyderco Para Military 2 isn't on your radar, we've got some bad news: you're probably not as well versed as you think you are. Since its initial release, the PM2 has remained one of the most iconic and formidable folding blades ever released and has retained its popularity through the years — leading to an incredibly wide array of available aftermarket upgrades for the PM2. While there are many different options, the one you see here has a leaf-shaped CPM-S30V blade (complete with Spyderco's signature oversized thumb hold), G-10 handle scales, and Spyderco's unrivaled compression lock — which might be the best all-around lock presently on the market.
Blade: CPM-S30V
Handle: FRN
Blade Length: 3.42″
Total Length: 8.24″
Type: Manual/Tactical
Benchmade Bugout
Pros
One of the all-time most popular EDC knives
Features ultra-sturdy proprietary AXIS lock
Super-pocketable, low-profile design
Offered in large number of variants (& in smaller Mini Bugout)
Wide array of available aftermarket upgrades
Cons
Expensive price considering the materials
Best Upgradable Knife: While Benchmade's Griptilian long held the attention of the everyday carry and knife worlds, it's beginning to look a lot like its dominance has now been usurped by the incredibly popular Bugout. And that is a pretty big deal, as Benchmade has long been amongst the best knifemaking brands out there. Available in a huge number of formats — including a smaller, more discreet mini version — we've chosen to focus on the base model. But don't let that fool you; this is still a formidable option. It boasts a reliable CPM-S30V manually-deployed blade, a lightweight-yet-super-tough Grivory handle, the brand's signature AXIS locking mechanism, and — of course — a lifetime guarantee. Its widespread and continued popularity has also lead to an enormous number of aftermarket upgrades for the Bugout, from thumb-stud sets to scales to backspacers to AXIS locks to even blades. Pick up this knife and you might not want to ever put a different one in your pocket again.
Blade: CPM-S30V
Handle: Grivory
Blade Length: 3.24″
Total Length: 7.46″
Type: Manual
Zero Tolerance 0235
Pros
Modern, high-end take on a classic slip joint
Designed by industry legend Jens Ansø
Uses slip joint mechanism & double detent system
Carbon fiber handle complemented via blue-anodized back-spacer
Made from top-shelf materials including CPM 20CV "Super Steel" blade
Best Slip Joint Knife: Believe it or not: Zero Tolerance had actually never released a slipjoint before the 0235 you see here. That being said, this Jens Anso-designed beauty was certainly worth the wait and has already become one of our favorite designs in recent memory. For starters, it has a grippy and lightweight carbon fiber handle mated to a stout-yet-useful CPM-20CV steel blade — complete with a nail nick for easier deployment. Furthermore, the blade is kept safe in the closed position by a pair of detent balls, the pocket clip allows for deep carry, and there's even a lanyard hole — should you want to attach some paracord and/or beads. For discreet carry, this is a pretty tough knife to beat.
Blade: CPM-20CV
Handle: Carbon Fiber
Blade Length: 2.6″
Total Length: 6.3″
Type: Slipjoint
Emerson Knives Bullshark Auto
Pros
First-ever auto knife from renowned American brand
Ultra-compact & pocketable design perfect for EDC
Fully legal to carry in California
Ultra-snappy auto-deployed blade
Cons
Can be difficult to find in stock
Would benefit from upgraded blade steel
Best Automatic Knife: California has some of the strictest regulations regarding automatic knives in the world. However, Emerson Knives has masterfully sidestepped them to create this stunning and stout Bullshark automatic knife that is 100% legal to carry in California. Of course, even without that goal in mind, this would be a spectacular USA-made everyday carry knife thanks to its unique silhouette, 5.3-inch total length, 1.9″ 154 CM steel blade, and the list just keeps going. If you have always dreamed of owning an automatic knife but you're wary of the legal restrictions, this is one of the absolute best workarounds. Of course, even if legality isn't a concern, this is a spectacular knife.
Blade: 154CM
Handle: Aluminum
Blade Length: 1.9″
Total Length: 5.3″
Type: Automatic
DPx HEST/F Urban Ti
Pros
DPx's very 1st all-American-made folder
Made from top-shelf materials
Heirloom quality craftsmanship
Beefy 0.16" thick blade has integrated bottle opener
6AL4V titanium handle has onboard integral Hex drive
Best Titanium Knife: Designed by all-around badass Robert Young Pelton — who has lived through more battles than he'd probably care to count as a war journalist — the DPx HEST/F Urban Ti is a remarkably hardcore tactical folder pared down into a pocketable EDC format. To be more specific, the knife weighs just 4.25 ounces, measures up at 6.7″ overall, and still manages to be loaded from tip to tail with an incredible number of high-end features and materials. That includes a full titanium handle with a remarkably sturdy frame lock, a CPM-S35VN drop point blade, an integrated bottle opener, a glass-breaker tail, and a hex wrench. All told, this incredibly formidable folder might just be the definition of "tiny but mighty." At the very least, it packs a punch that you can depend on for years and years and years.
Blade: CPM-S35VN
Handle: Titanium
Blade Length: 2.9″
Total Length: 6.7″
Type: Tactical
Chris Reeve Sebenza 31
Pros
THE ultimate EDC grail knife
Now equipped w/ CPM MagnaCut blade steel
Features Reeve Integral Lock w/ ceramic ball interface
Unparalleled build quality
Offered with wide array of handle inlays & blade profiles
Best Top-Shelf/Grail Knife: There is a very good reason that the Chris Reeve Sebenza has been one of the most lauded and sought-after pocket knives ever built. Actually, there are numerous reasons — many of which have been carried over and improved upon for the latest update, the Sebenza 31. The standard edition (meaning the version without any additional upgrades, like inlays) comes with a titanium handle, a CPM MagnaCut drop point blade, an off-set pocket clip, and the legendary Reeve Integral Lock — which is perhaps the best version of a traditional frame lock we've ever seen and has been emulated many times but never truly replicated. It's also available in large or small versions — so you can pick your poison — and, as mentioned, there are numerous other available upgraded editions, including one with absolutely drop-dead gorgeous Macassar Ebony wood.
For a closer look, read our Chris Reeve Sebenza 31 Knife review.
Blade: CPM MagnaCut
Handle: Titanium
Blade Length: 2.99″/3.61″
Total Length: 6.98″/8.4″
Type: Manual
The Best EDC Knives Under $50
You don't have to spend an arm and a leg to get a solid everyday carry cutting tool. In fact, if you take a gander at our list of the best EDC knives under $50, you'll realize you can find carry-worthy quality for much less than you might think.