Considering that they have to stand up to the stresses and abuses that come with hard daily use, everyday carry knives need to boast ample durability, quality materials, and solid craftsmanship — traits that unsurprisingly very seldom come cheap. And while we tend to subscribe to the belief that great EDC knives are rarely cheap and cheap EDC knives are rarely great, there does exist a small handful of outliers that offer incredible bang for your buck — the latest and greatest of which we'll be counting down today in this guide to the best everyday carry knives under $100.
The Best Pocket Knives Under $100 Breakdown
Best Build Quality

CIVIVI Elementum

Best Budget Knife

RUIKE P108

Best Compact Knife

Kizer Mini Sheepdog

Best Work Knife

Spyderco Delica 4

Best Materials

SOG Terminus XR
Affordable Utility
The Main Qualities To Look For When Buying A Sub-$100 EDC Knife
Shopping for a sub-$100 blade isn't all that different from buying any other EDC knife, however, there are a handful of areas that are important to focus on. Below, we'll briefly touch on seven of the most crucial factors to consider before pulling the trigger on your purchase.
Video Review: The Best EDC Knives Under $100
Want a more detailed look at our favorite blades for under a bill? Then be sure to head over to our guide to the best knives for under $100 for our 4K video guide.
Blade Steel: As the part of the knife that provides its function and utility, the blade — and the material said blade is crafted from — is of utmost importance. And while the sub-$100 EDC knife space was once primarily occupied by bottom-shelf blade steels, the market's increasingly competitive nature has ultimately given way to a range of affordable everyday carry blade that sport Sandvik and Crucible Industries steels such as 14C28N and S35VN.
Handle Material: A knife's handle — or "scales" — are also of immense importance, as they not only play a major role in a model's overall appearance, but they also have a massive impact on a given knife's durability and the level of grip that it offers. It's also worth pointing out that — in addition to typically being offered in a plethora of different color and handle materials — the most popular knives on this list can be modified and customized using aftermarket upgrades.
Hardware & Details: Though the handle scales and blade comprise most of the knife itself, some of the smaller components still play a pivotal role in a knife's overall quality. This includes a knife's liner or frame, backspacer, pivot hardware, pocket clip, and handle hardware.
Locking Mechanism: A locking mechanism is of extreme importance, playing a pivotal role in any knife's overall performance — sub-$100 blades very much included. As such, it's imperative to look into the particular type of lock being used on a given knife. And, while there are sub-$100 models that feature more high-end frame and AXIS-style locks, it's more common to see lock back and liner lock mechanisms used at this price point.
Craftsmanship: After materials, another area that hugely separates most affordable EDC knives from their more expensive counterparts is craftsmanship and quality control. And while one may not expect this, there are several knives being sold for under $100 that boast wildly impressive fit and finishes, with precise tolerances and exacting quality control standards. Not only do these knives feel better in the hand — and offer markedly more durability and overall quality — but they also tend to feature smoother, better blade deployment and sturdier, smoother, and more robust locking mechanisms.
Size & Weight: The dimensions of an EDC knife are particularly important when shopping with a $100 cutoff. Seldom are full-sized top-shelf everyday carry blades priced at under a bill, however, some of the smaller and more compact knives on the market can be had for under $100. As such, it's crucial to review the blade length of a knife, along with its handle length and overall length. Additionally, most sub-$100 knives tend to be on the heavier side, as they very rarely utilize more expensive yet lighter materials like titanium and carbon fiber.
Appearance & Finish: On top of using it, you'll also have to look at your EDC knife on a daily basis, which is why it's also important to select a knife with an aesthetic design that you appreciate. Whether you're partial to classically-styled pocket knives or futuristic-looking folders, there's a wide variety of appearance options in the sub-$100 EDC knife space. What's more, quite a few of the affordable EDC knives on the market — including many of the knives from our list — are offered in a wide variety of blade and handle finishes.
Selection & Testing Process
How & Why We Got Hands-On With These Particular Sub-$100 Knives
Over the more than decade long period that HICONSUMPTION has been in operation, we've put together dozens of best knife buyer's guides, though our selection and testing process for the latest and greatest sub-$100 knives differed from our normal approach in a myriad of ways. We began putting together this list by first seeking out what we suspected to be the best knives for under a bill, making our initial picks based on criteria including each knife's design, deployment, locking mechanism, blade steel, handle frame and scale constructions, and size. What's more, we also closely considered the price of each knife in relation to its material selection and utility, as the level of value and bang for your buck offered is also of significant importance when shopping within this price point.
You can glean a slew of information from looking at a knife's photos and spec sheet online, however, it isn't until actually getting the knife in hand and using it that one can gain a more complete sense of its overall quality, performance, and value. As such, after generating a shortlist of what we thought to be the best sub-$100 knives, we then proceeded to get hands-on with each and every blade. This crucial phase of our testing process allowed us to test the factory sharpness of each blade, the smoothness of each knife's action, the ergonomics of the handle, and the overall craftsmanship, build quality, and fit and finish. This hands-on review process is ultimately what enabled us to narrow our initial list of knives down to a final list of what we consider to be the very best everyday carry knives currently available for under $100.
Affordable Utility
The Best Sub-$100 EDC Knives On The Market
CIVIVI Elementum
Pros
Offers great value
Has surprisingly high-end build quality
Features ultra-smooth deployment/action
Sold w/ wide array of blade shapes, blade finishes, & handle materials
Wide range of aftermarket handle, pocket clip, & hardware upgrade options
Cons
Would benefit from thicker blade
Best Build Quality: The CIVIVI Elementum could easily pass for a knife costing four times what it does, with this $50 blade boasting the execution and build quality of a top-shelf model — so much so in fact, that we're surprised the Elementum isn't made under the WE Knife Co. monicker (CIVIVI's more high-end sister brand). This particular version of this fan-favorite folder features a D2 blade that measures in at just a tad under 3.0" and is secured via a liner lock set between a set of G10 scales.
On top of its genuinely superb build quality — and the fact that the knife is sold with an included nylon fur-padded case — the Elementum also boasts a butterfly smooth action that's activated via a flipper tab. CIVIVI also produces the Elementum in more than 60 different versions, all ranging in handle material, blade steel, blade finish, and locking mechanism.
Blade Steel: D2
Handle Material: G10
Blade Length: 2.96"
Total Length: 6.99"
Lock Type: Liner Lock
RUIKE P108
Pros
Fantastic build quality for the price
Equipped with 3.50" Sandvik 14C28N blade
Boasts unbeatable bang for your buck
Blade secured via double-locking (Beta Plus) framelock
Has appearance & build quality of much more expensive knives
Cons
Can sometimes be difficult to find in stock
Best Budget Knife: Despite rising inflation, the RUIKE P108 (pronounced "rake") remains at the same ultra-accessible price, with its $40 MSRP getting you a full-sized eight-inch frame-locking flipper with a Swedish-made Sandvik 14C28N 3.50" spear point blade. It's actually pretty shocking this knife is sold at the price it is, considering its features, materials, and build quality — charecteristics that would easily justify a price that's two or three-times that of the P108's MSRP.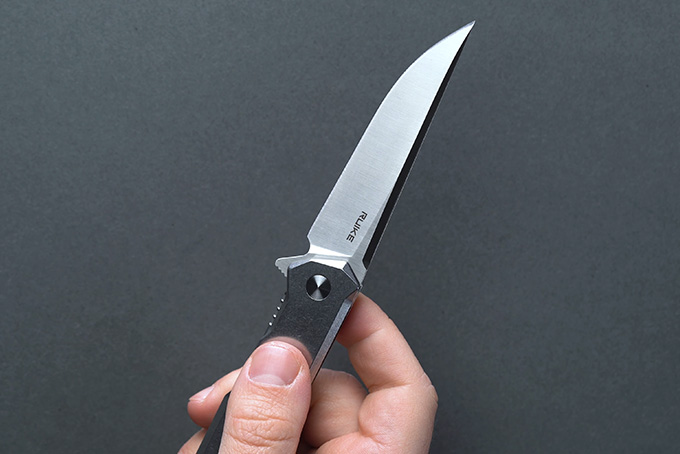 Equipped with an ultra-smooth action, the P108 sports a stainless steel handle that sees its framelock mechanism backed by a secondary Beta Plus lock that prevents the lock from being opened. A unique pocket clip design and a satin finish complete the package on this RUIKE knife. While it is fairly heavy at 4.16oz, the P108 unequivocally offers some of, if not the best value of any EDC knife currently on the market.
Blade Steel: Sandvik 14C28N
Handle Material: Stainless Steel
Blade Length: 3.50"
Total Length: 8.0"
Lock Type: Beta Plus-Equipped Frame Lock
Kizer Mini Sheepdog
Pros
Great-looking EDC knife
Mini version of super popular flipper cleaver knife
Scaled down version of custom knife from Chris Conway
Offered in huge number of different variants
Cons
Fairly aggressive appearance (despite small size)
Small handle size doesn't afford the best grip/ergonomics
Best Compact Knife: Originally an incredibly sought-after custom cleaver-style flipper from Chris Conway — a high-end custom knife maker and the founder and force behind Sheepdog Knives — the Kizer Mini Sheepdog is a mass-produced version of the original. Like the Elementum, the immense popularity of the knife has prompted Kizer to produce the Sheepdog in a huge slew of different versions across a massive number of handle materials, including full-sized models, titanium frame-locking versions, and button-locking variants, just to name a few.
This Mini-spec Sheepdog sports a liner lock-equipped G10 handle set mated to a 2.63" 154CM cleaver-meets-sheepsfoot blade that, despite its size, delivers enormous utility, punching well above its weight relative to its length. It is important to point out that — as the word "Mini" in this model's name suggests — this knife measures in at just 6.18" overall, making it just big enough to comfortably fit four fingers around.
Blade Steel: 154CM
Handle Material: G-10
Blade Length: 2.63"
Total Length: 6.18"
Lock Type: Liner Lock
Spyderco Delica 4
Pros
Very easy to clean, assemble/disassemble & sharpen
Made in Japan
FRN handle has Spyderco's patented bi-directional texturing
Also has Spyderco's signature leaf-shaped blade & thumb-hole opener
Wide availability of upgrades & aftermarket parts
Cons
Handle has cheap feel to it (despite being objectively rugged)
Is easy to over-tighten when reassembling
Best Work Knife: Now on its fourth iteration, the Spyderco Delica 4 can best be described as the ultimate entry-level knife from the Golden, Colorado company, with a 7.15" item that offers solid performance in an affordable and pocketable package. More importantly, the Delica 4 features a laundry list of Spyderco's signature design elements and features, from its leaf-shaped blade to its circular thumb hole opening to its knurled thumb ramp to the handle's four-way reversible pocket clip and use of Spyderco's patented bidirectional handle texturing — the latter of which affords remarkable levels of grip and control, even in wet conditions and under hard use.
Guided by a set of phosphor bronze pivot washers, the blade on this particular Delica 4 model spans 2.90″ and is composed of Japanese-sourced Takefu VG-10, though the Delica 4i is also offered with a variety of other blade steels ranging from S30V to S90V to M4. Because of its immense popularity, there's also a wide variety of available aftermarket pocket clips, handle scales, and sheaths produced for the Delica 4.
Blade Steel: VG-10
Handle Material: FRN
Blade Length: 2.90"
Total Length: 7.15"
Lock Type: Lockback
SOG Terminus XR
Pros
Boasts materials normally reserved for more expensive knives
Has extremely rugged yet lightweight G-10 & CF handle
S35VN blade has 3 deployment options
XR lock can withstand 1,500lbs of force
Offers fantastic value
Cons
Made in China
Fairly thin 0.10" blade
Best Materials: Priced just beneath a Benjamin, the SOG Terminus XR is another immensely capable EDC knife that offers excellent value and punches well above its weight. Boasting the Studies and Observations Group's signature brand of tactically-inspired style, the Terminus XR is constructed around a handle that's made from a combination of carbon fiber and G10 and outfitted with an ultra-sturdy XR Lock.
Capable of being deployed via a flipper tab, thumb studs, or using its XR Lock and a flick of the wrist, the Terminus XR's blade consists of a 2.95" drop point item that's crafted from top-shelf CPM S35VN — easily one of the best EDC blade steels in existence and a seldom-used construction in the sub-$100 knife space. At 7.21" overall, the Terminus XR offers high levels of utility, too, with this rugged workhorse of a folder being incredibly conducive to everyday carry use.
Blade Steel: CPM S35V
Handle Material: Carbon Fiber & G10
Blade Length: 2.95"
Total Length: 7.21"
Lock Type: XR Lock
Secondary Selections
Followup Sub-$100 EDC Knife Picks Also Worth Considering
Ontario Knife Co. Rat-1
Trusted by legions of military operators, the Ontario Knife. Co. Rat-1 is another tactical folding knife design that lends itself to everything from self-defense to hard work to EDC applications. The predecessor to the legendary Rat 2, the first-gen Rat offers excellent bang for your buck, being extremely durable and easy to service and clean thanks to its relatively simple design. Measuring 8.50" overall, the knife sports a glass-filled nylon handle mated to a liner lock-secured 3.60" AUS-8 blade.
Blade Steel: AUS-8
Handle Material: Glass-Filled Nylon
Blade Length: 3.60"
Total Length: 8.50"
Lock Type: Liner Lock
CRKT Pilar
Like the company's Squid model, the CRKT Pilar takes inspiration from compact pistols and aims to offer ample utility in an ultra-compact and highly-pocketable package. Despite a sub-$40 MSRP, the Pilar packs a frame-locking stainless steel handle that comes mated to a beautifully-designed thumb-hole-opening blade made from 8Cr13MoV. Spanning 5.94" in length with its 2.40" blade deployed, the Pilar was also penned by renowned knife designer Jesper Voxnaes.
Blade Steel: 8Cr13MoV
Handle Material: Stainless Steel
Blade Length: 2.40"
Total Length: 5.94"
Lock Type: Frame Lock
Buck Knives 110 Hunter
Easily one of the most iconic pocket knife designs of all time, the Buck Knives 110 Hunter is an old-school EDC option that sports unmistakably classic style and surprisingly high-end materials for its price. Made in America, the 110 Hunter features a lockback-secured handle with brass bolsters and ebony wood inlays that's been paired with a 3.75" blade composed of high-carbon 420 steel. Buck also produces more modern and EDC-friendly versions of the knife with more premium materials such as anodized aluminum and forged carbon fiber handles and S30V and S35VN blades.
Blade Steel: 420HC
Handle Material: Brass & Ebony
Blade Length: 3.75″
Total Length: 8.50"
Lock Type: Lockback
Böker Plus Urban Trapper
Designed by Brad Zinker — the force behind numerous noteworthy releases from knife brands like CIVIVI, Boker, and WE, from Civivi, Boker, and WE — the Böker Plus Urban Trapper is a super slim liner-locking everyday carry knife that features decent materials at an affordable price. Sporting some major gentleman's knife vibes, this particular version of the Urban Trapper boasts a flipper-deployed 3.50" CPM-S35VN blade mated to a white resin handle with accented blue liners and a liner locking mechanism — though Böker produces the Urban Trapper in a slew of other handle material and color options.
Blade Steel: CPM-S35VN
Handle Material: Resin
Blade Length: 3.46"
Total Length: 7.72"
Lock Type: Liner Lock
The James Brand The Folsom
One of the Portland EDC purveyor's earlier releases — and one of the best-looking knives sold at under a bill — The James Brand's The Folsom Knife is a classically-styled thumb-hole-opening pocket knife that's been brought to life using modern materials and construction techniques. Spanning 6.50" overall, The Folsom consists of a liner-locking G10 handle-set paired with a 2.75" Takefu VG-10 blade with a jimped spine. Rounding out the knife are an integrated lanyard hole and a TJB-logoed stainless steel pocket clip. And, in addition to producing versions of The Folsom with a partially-serrated blade, TJB also offers this knife in more than half a dozen color options — some of which feature Micarta constructions for only a few bucks more.
Blade Steel: VG-10
Handle Material: G10
Blade Length: 2.75"
Total Length: 6.50"
Lock Type: Liner Lock
The Best Budget Pocket Knives for Affordable EDC
On a tighter budget but still want a solid EDC blade? Then be sure to checkout our guide to the best budget pocket knives for a super affordable array of cutting tools that deliver exceptional bang for your buck.