With the benefit of millions of years of evolution, nature's had the ability to slowly optimize and perfect the anatomy and function of the animals that roam the planet. So, unsurprisingly, when looking to engineer a performance and/or utility-driven product, it's not uncommon for eminent designers to borrow highly-efficient aspects from objects or being already existing in nature, using a technique known as "biomimicry." Much like how the nose of Japan's Shinkansen bullet trains have been derived from the insanely hydro and aerodynamic profile of the Kingfisher's beak, Karambit knives can be traced back to another one of nature's wildly-efficient designs: the tiger claw.
Measuring up to 5 inches, tiger claws afford the big cats the ability to slash and tear into their prey with incredible efficiency. And it was these basic principles that reportedly lead the Minangkabau people of Indonesia's West Sumatra region in the eleventh century, to craft a cutting tool modeled after the mighty tiger claw. This would eventually evolve into what we know today as the "Karambit." On top of being stellar self-defense tools, Karambits can make for excellent EDC blades. So, with this in mind, we're counting down our picks for these equally deadly and utilitarian tools in this guide to the best Karambit knives for everyday carry.
The Best Karambit Knives Breakdown
Best Overall Pick

Reate EXO-K

Most Innovative Pick

CRKT Provoke

Best Tactical Pick

LionSteel x Emerson L.E.One

Best Value Pick

CRKT Du Hoc

Best Compact Pick

Microtech Feather

Best Premium Pick

Toor Knives Karsumba
Karambit-Copping 101: What To Look For
There are admittedly dozens of factors one can consider when shopping for a Karambit — or really any knife for that matter. With that said, there are a few elements that trump all others in terms of importance — factors that we'll be individually touching on directly below in this mini guide to what to consider when shopping for a Karambit knife for everyday carry use. 
Folding Vs Fixed-Blade: Karambit knives are available in either folding or fixed-blade versions, both of which possess their own unique strengths and drawbacks that we'll be unpacking in greater detail below.
Blade Steel: The type of steel used to construct any knife's blade will play an enormous role in how the thing performs — more specifically how well it holds an edge and for how long. This factor also has a profound impact on the price of the knife. It's also worth noting that the more high-end blade steels like CPM 20CV or Bolher M390, while much better at holding an edge, are also markedly more difficult to sharpen when the time does finally come. Cheaper blade steels, on the other hand, like AUS-8, D2, or Sandvik 12C27, will be much easier to sharpen, though will require sharpening more often.
Blade Size: The size of a Karambit's blade will largely determine much of the knife's utility, as larger blades tend to provide better cutting and chopping power. With that said, larger blades are far less pocketable than their smaller counterparts — meaning there's a trade-off here where you'll want to strike a balance based on your needs and intended use. And, while all Karambit knives will feature a hawkbill or claw-shaped blade profile, the angle and profile of these blades can still vary from model to model, making this another crucial area to explore.
Handle Material: The type of construction used to craft a knife's handle scales will play an important role in the level of traction/grip the knife provides, along with how durable it is. Some of the most common handle constructions seen on Karambit knives includes Micarta, G-10, carbon fiber, and other various plastics, polymers, and composites. And, while this only applies to folding knives, you'll want to review a folder's liner or frame material, as well as its handle scales.
Ergonomics: Though a Karambit knife's level of traction comes from its handle material, the handle's size, shape, and contours will all collectively determine the handle's ergonomics, level of grip, and how well it fits into the handle. For Karambit knives, this also means examining the complete handle, including the often-present finger hole ring these knives tend to possess.
Blade Deployment: Though this area only applies to folding Karambits, it's still of pretty monumental importance. Considering these knives are often used in self defense and combat situations, it's imperative that the knife's user can easily and quickly deploy its blade. Like other folding knives, folding Karambits are often deployed using a thumb-hole opening, thumb-stud(s), or a flipper tab. There are also Karambits with more innovative and idiosyncratic blade deployment setups such as the CRKT Provoke's Kinematic system or the Reate EXO-K's Gravity Karambit setup. It's also not uncommon to see folding Karambits that feature more than one blade deployment method.
Locking Mechanism: Again, only applying to Karambit knives of the folding variety, though still of massive importance, a folding Krambit's ability for its blade to lock into place and remain locked while being used as absolutely imperative, as the last thing you want to experience in a CQC scenario is a locking mechanism failure. Fortunately, most modern locking mechanisms are fairly robust — with some of the most common being liner locks and frame locks.
Sheath: While this factor only applies to fixed blades, the type of sheath that a fixed blade knife comes paired with will directly determine whether or not it will lend itself to certain types of tactical situations, as quick-draw-ready KYDEX and other hard sheaths allow you to deploy your knife much faster than a leather sheath or holster with a snap-button securement. As such, you'll want to explore the sheath's construction, securement method, and the sheath's available clips and mounting options.
Blade Thickness: Whether or not a knife will lend itself to more hard-use tasks is largely determined by a knife's blade's shape and bade thickness. And while Karambit knives are seldom used for these type of hard-use workhorse applications — though they can undeniably handle most basic slicing and cutting tasks with ease — they are typically used for combat or self-defense situations. As grim as it may sound, the reality is that thin, cheap knife blades often snap or break-off when actually being used in close-quarter-combat scenarios. For this reason, a Karambit kinife's blade thickness is of fairly extreme importance.
Available Trainers: Unlike a lot of EDC knives that are more tools than weapons, Karambit knives are primarily designed to lend themselves to combat and self-defense applications. And like any other deadly weapon, we highly recommend spending ample time practicing and training with a Karambit before you ever even consider carrying one — a task that's much easier when you can get your hands on an available unsharpened version of one of these knives also known as a "trainer."
Build Quality: It's not just the materials used to craft a knife that determine its overall quality, but also how meticulously those materials have been machined and assembled. This area not only hugely impacts a knife's overall quality, but build quality and fit and finish also play huge roles in separating high-end knives from their cheaper, more value-focused, and more mass-produced counterparts.
Full-Tang or Pivoting: Pros & Cons of Fixed vs. Folding Karambit Knives
Whether it's a fixed-blade Karambit or a folding model, these knives all tend to make for exceptional self-defense tools and weapons in CQC scenarios. Having said that, both varieties possess their own unique pros and cons. Just like with regular fixed blades or folders, the former type is much less pocketable compared to its folding counterpart. Folding knives, however, possess more moving parts and mechanisms — and therefor have more areas that can possibly break, malfunction, or fail. Folding Karambits also have to be opened, and are fairly useless until their blade is deployed, as where fixed-blade Karambits are ready to go as soon as you pull it out of its sheath. Fixed blades also tend to be stronger, and feature more robust, beefier constructions compared to folding models. 
The Best Folding Karambit Knives
Pocketable blades purpose built for EDC
Reate EXO-K
Pros
Insanely unique & innovative design
Has titanium backspacer/finger hole
Blade sports super sharp factory edge
Great build quality
Comes w/ non-sharpened trainer version
Karambit hole can double as knuck
Cons
Can be hard to get in-between drops (sells out fast)
Requires practice to use
Best Overall Pick: Known as a "gravity Karambit," Reate's EXO-K unequivocally represents one of the most unique and innovative folding knife designs of the decade. Equipped with a titanium finger hole ring that acts as a back-spacer, the EXO-K is comprised of a primary aluminum handle piece with a frag grip pattern that's mated to a pivoting arm that holds the knife's blade at the opposite end of that same arm (albeit on a different pivot). Once its button-lock is pushed, this knife can be flicked outward and then back in to deploy its blade. In addition to the actual knife, this folding Karambit is also sold with an included unsharpened trainer — a fact that actually gives this undeniably innovative knife pretty great value.
Blade Steel: Böhler N690
Blade Length: 3.07"
Total Length: 6.69"
Handle Material: Aluminum
Locking Mechanism: Button Lock
CRKT Provoke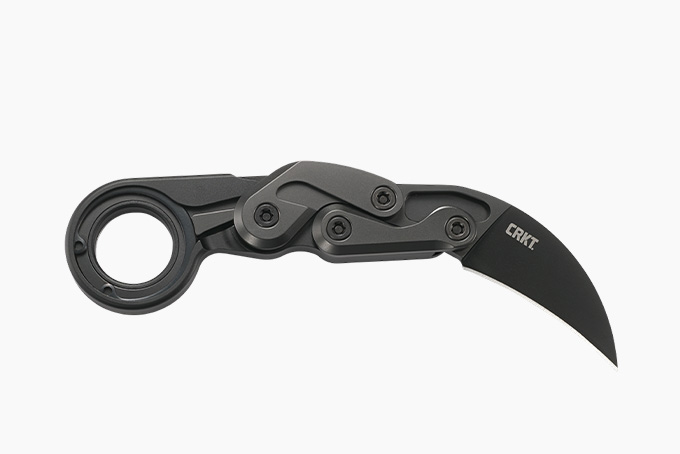 Pros
Features insanely unique morphing design
Frame has integrated pocket clip design
Ergonomic handle shape & Karambit hole collectively afford fantastic grip
Equipped w/ innovative Kinematic tech/mechanism
Now sold in variety of variants & w/ optional hard sheath
Cons
Heavy for its size at over 6oz
Better-suited to self-defense & 1st responder use than to EDC
Most Innovative Pick: Joe Caswell's "morphing" configuration is without a shadow of a doubt the most innovative and envelope-pushing Karambit design in recent history (and quite possibly ever). The first knife ever to utilize Kinematic technology, the Provoke consists of a four-piece construction with an aluminum handle linked to a levered blade via a pair of arms. This highly-unique design makes for one of the most interesting blade deployments ever seen. Backed by a lifetime warranty, this brilliantly-designed CRKT knife is made all the better by the use of premium hardwearing materials, with a titanium nitride-finished D2 steel blade and hard-anodized aerospace-grade 6061 T6 aluminum handles.
Blade Steel: D2
Blade Length: 2.41"
Total Length: 7.25"
Handle Material: Aluminum
Locking Mechanism: Kinematic
LionSteel x Emerson L.E.One
Pros
Designed for military & law enforcement
Features an integral single-piece handle
Stellar materials & build quality
Offers fantastic bang for your buck
Has 4 blade deployment methods
Cons
Small thumb-hole is difficult to use quickly
Best Tactical Pick: While the Emerson Super Karambit has long been a go-to choice for military and law enforcement personnel, the California company has more recently joined forces with boutique Italian outfit LionSteel to deliver an evolved, heavily-updated mil-spec, LEO-ready folding Karambit knife. Dubbed the LionSteel x Emerson L.E.One, this knife is constructed around a frame-locking integral handle that's been precision-machined from a single block of aluminum. Mated to this ultra-rugged mono-construction handle is a 3.25" CPM MagnaCut hawkbill blade that can be deployed in one of four different ways (front flipper tab, thumb-hole opening, Emerson Wave feature, and rear flipper tab). Considering its integral handle construction, stellar build quality, and MagnaCut blade steel, the L.E.One also affords pretty fantastic bang for your buck.
Blade Steel: CPM MagnaCut
Blade Length: 3.25"
Total Length: 8.25"
Handle Material: Aluminum
Locking Mechanism: Framelock
The Best Fixed Blade Karambit Knives
CQB blades designed for self defense
CRKT Du Hoc
Pros
Handle offers stellar grip
Hawksbill blade shape is perfect for slashing
Features a super sturdy & super beefy 0.20″ thick blade
Sold w/ multi-position hard sheath w/ pocket clip
Offers unbeatable value
Cons
Could benefit from a more premium blade steel
Best Value Pick: Punching well above its weight relative to its price, the CRKT Du Hoc is a full-size tactical knife that can go toe-to-toe with Karambits costing several times more. Sold with a hard thermoplastic sheath that afford multiple mounting angles and options, the Du Hoc was designed by Ryan Johnson of RMJ Tactical and features a full-tang SK5 carbon steel construction that culminates in a curving 5.10" plain-edge blade. Tipping the scales at under 9.5oz, the knife's full-tang construction has also been fortified via a matte powder-coated finish before being cloaked in a set of grippy and ultra-rugged G-10 scales. If you aren't looking to spend a lot but still want a quality Karambit that you can trust with your life, the Du Hoc is the way to go.
Blade Steel: SK-5
Blade Length: 5.10"
Total Length: 9.63"
Handle Material: G-10
Sheath: Hard Thermoplastic
Microtech Feather
Pros
Born out of collab between Bastinelli Creations & Microtech
Makes for great backup or EDC blade
Features stellar ergonomics
Made in America
Machined from single piece of steel w/ integrated grip pattern
Sold w/ included KYDEX sheath
Cons
Lacks general utility of larger blades
Best Compact Pick: Born out of a collaboration between Bastinelli Creations and Microtech, the Feather is a compact yet deadly fixed-blade Karambit that's been precision-machined from a single piece of tool-grade D2 steel. Spanning 7.75" overall and boasting a thickness of 0.145", the Microtech Feather features absolutely stellar ergonomics and grip — with this latter aspect being owed to the pattern that's been machined into the handle. Made in America, the Feather makes for a great last-ditch or backup weapon in tactical scenarios, plus is small enough to lend itself to EDC use — an area furthered by the fact that it's sold with an included KYDEX sheath with an IWB clip. Weighing just 2.19oz, this knife also boasts a chisel-ground blade with one of the sharpest factory edges we've ever tested.
Blade Steel: D2
Blade Length: 2.25"
Total Length: 6.625"
Handle Material: D2
Sheath: KYDEX
Toor Knives Karsumba
Pros
Made in America in small batches by boutique brand
Finger ring delete makes for more compact Karambit
Super easy to conceal
Features outstanding ergonomics and grip
Stellar build quality & craftsmanship
Sold w/ included KYDEX sheath w/ numerous mounting options
Best Premium Pick: If you aren't concerned with price and simply want the best EDC-ready Karambit that money can buy, than you almost certainly want the Karsumba from legendary boutique bladesmith Toor Knives. Measuring 6.75", the Karsumba features a traditional hawkbill blade and a curving handle, though is devoid of a finger ring — a design decision Toor made in order to deliver a shorter, more compact Karambit that's markedly easier to conceal. Meticulously made by hand in San Diego in small batches to ensure the highest possible levels of craftsmanship and quality control, this Karambit boasts a full-tang CPM 154 construction with a super beefy 0.1875″ thickness and 2.50" of cutting edge. Fitted with either sculpted ebony or G-10 scales, the blade also sports a black oxide finish. In addition to multiple color choices, this knife is also sold with a FlexTech KYDEX sheath that's offered with a wide range of available mounting options.
Blade Steel: CPM 154
Blade Length: 2.50"
Total Length: 6.75"
Handle Material: G-10 Or Ebony
Sheath: KYDEX
The Best Self-Defense Knives To EDC Right Now
Didn't find the right knife on this list? Then be sure to check out our guide to the best self-defense knives for a curated selection of utilitarian yet deadly EDC options.