Though experience and proper training do greatly help to mitigate the likelihood of a crash, riding a motorcycle nonetheless comes with the inherent risk of wrecking. With nothing separating your body from the road or the other multi-ton vehicles that occupy it, wearing proper protective gear is absolutely essential. But with so many different styles of motorcycle jacket, and what feels like a sea of available offerings within each category, finding the right jacket for you can be an intimidating experience, especially while knowing your physical safety is possibly at stake.
So, to help get you suited up wearing the best possible garment for your bike, riding style, and intended application, we've pieced together this expansive guide to the 18 best motorcycle jackets. Below, we'll be delving into what properties make for a quality moto jacket, what features to look for, why you should wear one, and the different types of riding jackets that exist, as well as our picks for the three best motorcycle jackets from each section.
Moto Jackets 101
What Separates The Best From The Rest
Application: There is no one best motorcycle jacket, but rather, motorcycle jackets that happen to excel in specific applications. Obviously, an item that might lend itself to track use probably won't be very conducive to off-road use, or vis versa. Consider the type of bike you'll be riding, your particular riding style, and your intended riding application in order to hone in on what style of jacket is right for you.
Materials: What a jacket is made of plays a pivotal role in its overall quality. The type of construction determines breathability, weather, and abrasion resistance, as well as overall durability. High-tech materials like Cordura, Dyneema, and Kevlar have all made their way into the riding jacket space, as have GORE-TEX membranes and the like. The construction techniques used in a jacket's creation also heavily factor into the overall quality.
Armor: Integrated armor basically consists of internal padding that provides ample protection from impacts in the event of a crash. And while any armor is better than no armor, there are different brands and types on offer like D30 and SAS-TEC, rated using a specific Level numbering system. Armor routinely covers the elbows and shoulders, and occasionally the spine and/or chest. Jackets in the sport and track category are often equipped with external sliders, too.
Ventilation: The armored and layered elements that shield the rider from abrasions, impacts, and the elements, also make for a rather hot and stuffy garment, which is why solid ventilation is so key. The use of open and closable flaps and perforated or mesh sections all provide airflow, helping to cool the rider. A key area to consider here is exhaust ports, as the inclusion of one or more of these will allow for much greater breathability when compared to jackets that only sport ventilation intakes.
Layering & Versatility: Using modular shell and liner systems enables certain motorcycle jackets to suit a wide variety of riding situations, climates, and conditions. Removable liners have also become standard fare on most mid to top-shelf riding jackets on the market today.
Climate: Just like with any regular jacket, the type of climate you're in (or plan on being in) should play an enormous role in guiding your purchase. Different motorcycle jackets are designed for use in all manner of different climates. In the same vein, moto jackets vary in weatherproofing. There's also heated motorcycle jackets and gear for the most extreme, otherworldly cold locales.
Features & Amenities: Recent years have bared witness to a slew of innovative features in the moto jacket realm, that have added functionality and, in some cases, hugely-improved safety capabilities. Some modern amenities to look for include hydration reservoirs, removable liners, loops or zippers for attaching to riding pants, slots for supplementary armor, replaceable sliders, and the biggest advancement in recent moto-jacket history: the smart wireless airbag system.
Color & Visibility: There's a common term shared amongst riders called "SMIDSY," short for "Sorry mate, I didn't see you," referring to how often those words are uttered by at-fault drivers following a collision. And the existence of this term makes it abundantly clear how important visibility is while riding a motorcycle. Jackets in brighter colors make it easier to be seen, and while we personally think that nothing looks cooler than all-blacked out moto gear, it hugely hinders drivers' ability to spot you on the road, greatly upping the danger factor. Black gear also soaks up the sun and makes an already hot leather jacket all the more unbearable. On the other end of the spectrum from black gear are high-visibility (or "Hi-Viz") colors: bright neon hues specifically utilized for their ability to grab driver's attention. Reflective elements are also incredibly helpful for being seen at night.
Cut & Shape: Different varieties of motorcycles sport different riding positions, depending on the height and placement of the seat, handlebar height, length, and width, and position (and type) of the foot-controls. If you're piloting a superbike with clip-ons and rear-sets that boasts a hunched-forward rider's triangle, you're going to want a jacket with a matching cut and shape. Conversely, if you're cruising on a laid-back bagger with swept-back bars and forward controls, you'll almost certainly best off with a jacket that has a more relaxed fit.
Weight: Today's current crop of riding jackets is incredibly light compared to offerings from prior decades, though weight is still an area that should be considered, especially when looking at bulky ADV jackets, or thick leather cruiser or cafe pieces. Assume you'll be wearing this jacket for prolonged periods, at times in the sun.
Fit & Adjustability: Just like with motorcycle helmets (and really all protective riding gear), for a jacket to properly do its job, it needs to correctly fit its wearer. While some jackets follow the traditional "S, M, L, XL" sizing conventions, there are other offerings that use the European measurement system with is markedly more precise, allowing for a much more accurate fit. Being able to adjust individual areas to better shape your body is another feature to keep an eye out for, as this too affords an even better fit.
A Worthwhile Second Skin
Why You Should Be Wearing A Motorcycle Jacket
While it's an extremely unfortunate reality, crashing is a very real possibility on the street. And we'd argue it's well worth investing in gear upfront, rather than having to pay exorbitant medical bills down the road — not to mention one of these two options involves experiencing markedly more pain and suffering. Jackets also provide you with additional confidence, knowing you're protected should something happen, which in turn should enable you to ride be more comfortable on the bike.
At the end of the day, we as motorcyclists have very little protection on a bike, which makes it all the more important to fully-utilize the security that we do have at our disposal. With today's abundant range of highly-breathable textile jackets and fashion-forward "stealth" riding jackets (aka protective riding garments made to look like regular clothes), there really is no excuse not to be gearing up every time you swing a leg over a bike.
Today's Best Motorcycle Jackets
Our Top Three Picks From Each Category
Now that you have a more robust understanding of the factors to consider when shopping and which style of jacket is right for you, let's dive into our picks for the three best motorcycle jackets from each of the six main categories.
Adventure
Rugged Go-Anywhere Garments
Adventure — or "ADV" as it's often referred to — jackets are the most hardwearing and durable garments in entire moto jacket space, made for on and off-road use (with a heavier emphasis on the latter), typically constructed using materials that can survive impromptu meetings with logs, rocks, or other unforgiving terrains, as well as being able to withstand regular slides on the tarmac. ADV jackets are also routinely equipped to stand-up to hostile weather conditions, and as such often feature wind and waterproof GORE-TEX membranes. At the same time, due to the physically-demanding nature of off-road riding, these jackets also have to be able to afford their wearer ample ventilation, and consequently, normally come with a bevy of flaps and panels for this purpose. And, much like adventure bikes themselves, ADV jackets sport a decidedly rugged, off-road-themed aesthetic.
Spidi Allroad H2Out Jacket
First released back in February, the Allroad H2Out jacket is is an incredibly versatile, three-in-one jacket that can be adjusted on-the-fly to accommodate any climate. Equipped with a myriad of ventilation flaps and using a layering system, the jacket boasts a PU-coated polyamide Tenax fabric outer shell, a quilted 100-gram liner, and a waterproof and windproof H2Out membrane rain shell that can be worn under or over the shell. Robust protection comes from CE Level 2 shoulder and elbow armor – backed by polyamide reinforcements in slide-prone areas – which can be perfectly adjusted into place via Spidi's ergo-fit hook and loop system. The product of a quarter-century of development, this ADV jacket also features a carabiner attachment, neoprene collar inserts, 3M Scotchlite reflectors, waterproof pockets and zippers, magnetic neck closure, is hydration-system-ready, and can be connected to/paired with Spidi's matching Allroad pants.
Dainese Carve Master 2 D-Air Gore-Tex Jacket
Since 1972, Dainese has been producing some of the world's very finest riding gear, and the Italian brand's Carve Master 2 D-Air jacket is by no means an exception. Extremely hardwearing, this adventure jacket is constructed from Mugello fabric (the brand's proprietary micro-nylon and elastomer material) and features a full water- and windproof GORE-TEX membrane. The Carve Master 2's armor is made from a special composite, and is covered in 3D-Stone Fabric (a special high-tensile twisted nylon) and uses PU rigid plates over the shoulders (plus has a slot for supplementary chest armor). The jacket is appropriate for a wide variety of climates thanks to its bevy of ventilation flaps and removable thermal collar and liner. What really sets this jacket apart, however, is its use of Dainese's cutting-edge D-Air smart wireless airbag system which can detect crashes and deploy in just 30 milliseconds.
Klim Adventure Rally Jacket
Dealing exclusively in the off-road and adventure sector, Klim produces extremely-purpose-built gear, offering immense durability and utility, while placing a premium on function over form. The exterior of this Klim item was designed to handle whatever kind of abuse you might face on the trail, with a GORE-TEX three-layer Pro Shell with Armacor and GORE-TEX Talisman Superfabric in key slide areas, with stretch panels at the shoulders for an unrestricted range of motion. The jacket's armor is the best of the best: D30 Xergo at the elbows and shoulders; and D30 Viper Pro back pads; and a ventilated silicone Dow Corning Deflexion integrated chest guard. Heavy on features, Klim's ADV Rally jacket also packs a moisture-wicking mesh internal liner and microfleece-lined collar, armor adjustment straps at the bicep and forearm, adjustable external waist belt with daisy chain, weatherproof YKK Vislon zippers in exposed areas, an included three-liter Hydrapak reservoir and a slew of routing options, and 3M Scotchlite reflective strips.
Cafe
Vintage-Inspired Modern Standard
Cafe racer garments are traditional leather biker jackets, with a more aggressive cut and an overall aesthetic design that borrows heavily from that of race gear from the 1960s and 1970s. Similar to modern scrambler and cafe racer models, cafe jackets combine this aforementioned vintage aesthetic with modern materials and safety standards, ultimately affording what many riders would call, "the best of both worlds". And, in response to the steep rise in popularity of modern-retro models over the last decade, gear companies have stepped up to feel the demand, resulting in an enormous number of offerings in this specific space. Cafe jackets also have the added benefit of being a stylish wardrobe option when not riding — especially if the jacket in question has removable armor.
Merlin Chase Jacket
Merlin's Chase Jacket is your straight-forward modern cafe riding jacket, calling on a vintage-inspired design that incorporates modern safety standards and materials. Beneath the sleeves on the two-tone black and brown leather jacket's sleeves is CE Level 2-certified elbow and shoulder armor, as well as space for a spine protector (sold separately). Constructed from abrasion-resistant, 1.2 – 1.3mm cowhide leather, the jacket also features four (external) zippered mesh pockets that can be left open to double as ventilation, and accordion panels to ensure a free range of motion. A removable 100-gram thermal liner makes the jacket at-least three-season-friendly, Details like a black satin lining, antique-finish Merlin-branded snap studs, color-matched accent stitching, and the use of YKK zippers throughout all give the jacket a more premium look and feel.
Roland Sands Clash Jacket
Whether it's aftermarket upgrades, custom motorcycles, or riding gear, pretty much anything wearing a Roland Sands Design label is going to be stylish, well-made, and performance-focused, and such is the case with the Southern California brand's Clash Jacket. Offered in black, oxblood (red), or brown, the jacket sports a unique appearance with an asymmetrical main zipper, and quilt-stitched overlays on the shoulders and lower back. As the garment's moniker suggests, the jacket definitely sports a bit of a rocker influence, without being too loud or over-the-top. The jacket made from a top grain 1.1mm cowhide leather that's been washed, oiled, waxed, and finished by hand. Rather than utilizing generic armor, the Clash Jacket packs RSD armor at the shoulders and elbows — the latter of which is decorated in low-profile external metal studs, adding equal parts style and protection.
Alpinestars Oscar Charlie (Tech-Air) Jacket
Though it may be a bold statement, we'd argue that Alpinestars' Oscar Charlie jacket is hands-down the best cafe racer jacket in existence. Part of the Italian moto gear brand's retro-themed Oscar lineup, the Charlie seamlessly blends the timeless style of a vintage riding jacket with the latest in modern safety, boasting a full-grain leather shell with pre-curved construction that conceals the company's removable Bio Light elbow and shoulder armor (plus a slot for Astar's Nucleon back protector) and is compatible with Alpinestars' Tech-Air wireless smart airbag system — which is sold separately but can be swapped between any Tech-Air compatible garment. Decorated in double red stripes down the arm and an embossed OSCAR chest patch, and featuring an LED light display for the airbag system in the forearm, the Charlie jacket also takes on a wonderful patina over time that gives each one its own unique character.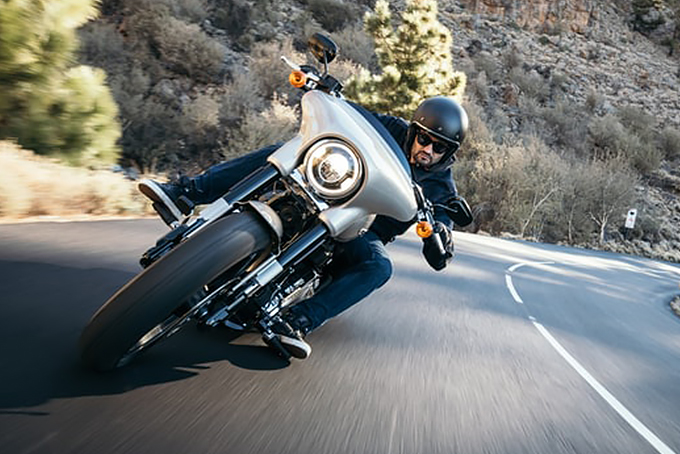 Cruiser
The Classic American Low And Slow
Cruiser-style jackets are the classic, stereotypical, quintessential American biker jacket. Famously popularized by Marlon Brando in the 1954 film, The Wild One, these jackets usually sport a relaxed cut and fit, conducive to the leaned-back riding position of a cruiser bike. Unfortunately, many of these jackets are produced in the traditional form, which offers ample slide protection, but are seldom equipped with integrated armor (a key feature to look for when shopping for any style of riding jacket), which is why it's best to opt for a newer model whenever possible. And, on top of the leather construction providing unparalleled abrasion-resistance, the animal hide also does a superb job of shielding its wearer from the harsh winds experienced while riding at freeway speeds.
AETHER Badlands Jacket
Despite only having emerged onto the scene roughly a decade ago, AETHER has quickly developed a deep and diverse catalog of casual garments and riding gear. And the Los Angeles outfit's practice of putting a premium, and slightly-more fashion-forward spin on classic clothing stapes is on full display with AETHER's Badlands Jacket. Made from abrasion-resistant leather, the jacket has a clean and minimalistic design, with a trio of zippers on either side and one running up the middle that reveals its stylish plaid lining. D30 EVO XT armor is found at the elbows, shoulders, and spine, though all of the armor can be removed when wearing the jacket off the bike, and surprisingly solid ventilation is afforded via a number of perforated leather panels.
Helite Leather Airbag Jacket
Like Alpinestars' Oscar Charlie Jacket, the Helite Leather Airbag Jacket is another classic, vintage-style item with a cool trick up its sleeve. Using a tethered airbag system inflated via an integrated CO2 cartridge, this jacket has a reusable full-body airbag that can deploy in 0.1 seconds. Further protection comes from Knox CE Level 2 shoulder and elbow armor, and a SAS-TEC Level 2 spine protector. There's also a soft open collar, a removable polyester thermal liner, wrist-fasteners, and FreeAir mesh vents at the armpits, offering both ventilation and free range of movement. Ultimately, this garment provides a more subtle, low-key style option that still arms its wearer with the protection of an airbag, and with Helite's extensive experience and history with producing airbag-equipped riding gear, you can trust that you're relying on well-proven technology and hardware.
Belstaff Ivy 2.0 Jacket
Belstaff's Ivy 2.0 Jacket is a super-top-shelf classic cruiser jacket oozing with quality and craftsmanship. Though it may appear to be constructed from your average cowhide, the Ivy 2.0 is in fact made from 1.0 – 1.1mm Bull leather, which is markedly stronger. Zippered cuffs, collar snaps, and a buckled waistband allow for a wide array of adjustments and airflow options, while a relaxed fit keeps its wearer comfortable, without resting awkwardly when off the bike when its wearer's arms aren't raised (like they are when riding). The lower back, shoulders, and elbows are all adorned in diamond quilting, while underneath the latter two is removable armor. Other noteworthy elements include vintage nickel hardware, a corduroy-lined collar, a cotton and viscose liner, and an embroidered logo across the left sleeve. This is a legitimate heirloom-quality jacket that will last you a lifetime (and can be passed down to the next generation).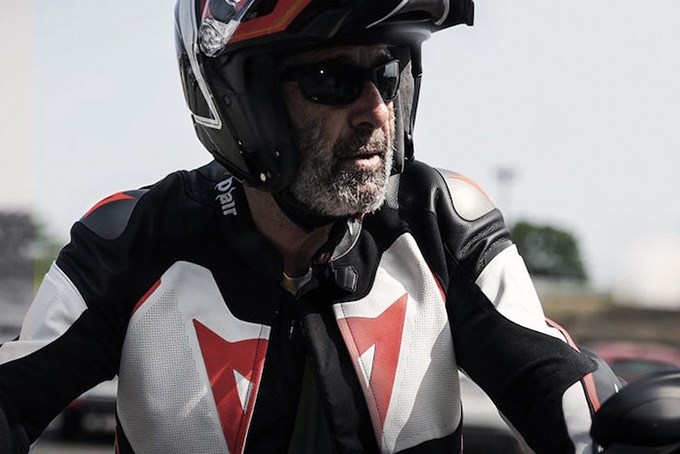 Sport
The Pinnacle Of Two-Wheeled Performance
Sport jackets are built to cater to the most performance-focused motorcycling styles, produced with an aggressive, hunched-over cut that's designed to accommodate a rider using clip-ons and rear-sets, and/or in a full race tuck. Much like superbikes, these track-oriented offerings typically exhibit the latest and greatest in materials and technology and are often used to debut cutting-edge features such as smart airbag systems. As such, sport jackets almost always represent the pinnacle of moto safety, and unlike other jacket segments, these offerings are engineered with a focus on aerodynamics. They also possess a sleek look that pairs wonderfully with sportbikes — an element that plays an undeniable role in this sector's popularity.
Furygan Crow Leather Jacket
Though Furygan has existed since the late 1960s and is a household name amongst riders in Europe, the French gear brand isn't widely known in other markets, which is a real shame because Furygan makes some truly outstanding motorcycle gloves, jackets, pants, boots, and suits. Using the same technology, construction, and materials as the suits worn by professional riders (that the company sponsors) in MotoGP and World Superbike, the firm's Crow Leather Jacket is a track-ready, race-grade suit with an aggressive appearance and an equally aggressive fit, boasting a cut that's designed to accommodate a rider in a full tuck. Made from a highly abrasion-resistant leather with a water-repellent treatment and Kevlar reinforcements, this jacket not only features SAS-TEC internal armor but also packs external aluminum sliders so crucial impact areas don't get destroyed in a slide.
RS Taichi RSJ832 GMX Arrow Leather Jacket
RS Taichi is undoubtedly another top-notch brand that's well-worthy of far more exposure amongst American motorcyclists. Similarly to fellow Japanese brands Shoei and Arai, RS Taichi takes an old-school approach to its production that values craftsmanship and exercises extreme quality control. Also, a professional, race-grade garment, RS Taichi's RSJ832 GMX Arrow Jacket is made from a thick and highly-abrasion-resistant 1.3 – 1.4mm cowhide leather with perforated sections on the front and arms, leather flex panels and elastic knit in key moment areas. There's also Knox armor at the elbows and shoulders, and a moisture-wicking T-DRY mesh lining paired with an additional removable Windstop liner. And though it's clearly a race-focused jacket, with features that include aerodynamic race hump on the back and the brand's signature external TIPS shoulder sliders, it's still somewhat street-friendly, with solid ventilation, 3M reflectors, and a cut that allows the rider to sit upright when needed.
Dainese Tuono D-Air Jacket
If you look at the grid of any professional race series, you're practically guaranteed to see several riders wearing Dainese suits, which makes sense considering the brand churns out some of the most cutting-edge race protection on the planet. This particular jacket essentially takes the brand's latest and greatest replica race suit, removes the pants, and slightly tones down how aggressive the cut is, allowing for the same top-notch level of protection afforded to world champion riders, in a more practical, street-friendly package. Equipped with a host of features hard-won out of extensive R&D and real-world completion experience, the jacket packs Pro-Armor, which conforms to the shape of the wearer's body and sits beneath pieces of composite armor at the shoulders and elbows, both of which are fortified via (replaceable) seamless aluminum slider plates. Made from the brand's cutting-edge D-skin 2.0 (specially-treated and processed) full-grain cowhide leather), this jacket is also armed with Dainese's D-Air system, offering the absolute pinnacle in modern moto protection.
Textile
Fashion-Forward Digs On Or Off The Bike
For years, leather was the standard material of choice in the motorcycling realm, whether you were piloting a chopper or a Grand Prix bike. And while leather affords quality protection in the event of an impact or slide, it's incredibly hot and uncomfortable to wear on a hot summer's day. Enter: the textile riding jacket, a more modern style of riding garment, typically constructed from ultra-breathable mesh, or some other well-ventilated fabric. Without the restrictions of working with leather, textile jackets can be produced in a much wider variety of styles, including traditional fashion staples concealing abrasion-resistant materials and integrated armor (the latter of which is normally removable). It is extremely important to opt for a quality textile jacket, as the cheaply-made items in this space will basically disintegrate upon meeting the pavement.
Icon Upstate Riding Shirt
The Icon Upstate Riding shirt presents a thoroughly modern take on the traditional summertime textile riding jacket. Released in late February of 2020, this jacket is made Icon's Iron Weave Mesh, and despite the proprietary material being wildly-breathable, lightweight, and abrasion-resistant, the Oregon outfit has nonetheless reinforced key impact and slide areas with Cordura overlays. There are also subtle reflective accent strips for increased visibility at night. Shielding the rider from blunt-force trauma is a full suite of D30 armor, covering the elbows, shoulders, and back. There's also a stealthy all-black version of the jacket that forgoes the two-tone olive green combo for a black shell that matches the black Cordura panels. And while it objectively provides robust protection, this is also just a great looking jacket, that can proudly be worn on or off the bike.
Pando Moto Bomber Jacket
The words, "textile riding jacket" usually conjure up images of super airy, traditional mesh-construction garments, though in recent years we've been treated to a host of more modern textile jackets that bestow men's wardrobe staples with the materials and construction needed to perform as a motorcycle jacket. And such is the case with one of Pando Moto's latest offerings, the plainly-named Bomber Jacket. Boasting the stylish, WW2-pilot-inspired appearance of a normal bomber jacket, this item offers extreme protection through the use of full 12.5oz Cordura denim construction and SAS-TEC TripleFlex CE Level 1 armor covering the elbows and shoulders. Meanwhile, a zippered arm pocket, ribbed varsity collar, cuffs, and hem, removable hook and loop Pando Moto chest patch, and lightly-quilted torso all help this riding bomber maintain its usual fashion-forward design.
REV'IT! Stealth 2 Hoody
REV'IT!'s Stealth 2 Hoody aims to deliver a modern technical jacket, that discreetly possesses the elements required for a quality riding jacket. Sporting the tech wear's usual military-inspired, tactical cut, this jacket is comprised of a Cordura stretch denim shell, backed by a laminated Hydratex 3L Pro membrane, and polyamide overlays covering the elbows, which feature double layers of PWR|shield: a proprietary blend of polyethylene, polyamide, and aramid fibers that affords surfaces and materials extreme abrasion resistance. Between the Cordura and the PWR|shield, this jacket easily rivals leather in terms of slide protection. The jacket is also equipped with a detachable thermal liner, belt loops and connection zipper for connection to riding pants, and laminated reflective sections. Lastly, this jacket also offers a pretty unbeatable value, as it can be utilized as a riding jacket or regular technical jacket for off-the-bike use in the city or in the backcountry.
Waxed
Traditional British All-Weather Coverage
Quintessentially British, waxed riding jackets have practically existed since the dawn of motorcycling, and remain in production today, largely unchanged. The rugged nature of the construction has always ended itself particularly well to riding, whether on or off-road, while the material's weatherproofing (that originally helped it rise to popularity in its native UK) allows it to stand up to even the nastiest of conditions. The appearance of these classic jackets is also incredibly timeless, looking just as fashionable today — on or off the bike — as it did in the 1920s. And, like cruiser jackets with American V-twin riders, waxed canvas jackets are deeply rooted in tradition — a fact that's certainly helped along by the hardwearing garment's ability to last for generations.
Barbour International Waxed Jacket
Dating back to nearly a century ago, Barbour's is unequivocally responsible for the original waxed riding jacket. Famously worn all throughout motorcycling's history, including every British rider at the Isle of Man TT for several decades, as well as being Steve McQueen's jacket of choice when desert racing his scrambler (when not riding shirtless, of course). Still in production today, Barbour very much employs an "if it ain't broke, don't fix it" mentality to its wares, with its iconic waxed riding jacket made, to this day, in the same manner it was in the Great Depression era, calling on 100% heavyweight 8oz Sylkoil waxed cotton in a matte finish, a cotton Barbour Tartan lining. The snap pockets and their placement remain unchanged as well, with the slightly asymmetrical arrangement that includes the slanted card pocket, once needed for riders competing in the International Six Days Trials. If you want classic British scrambler style, this is the jacket for you.
Fuel Discovery Jacket
Like today's current crop of scrambler models, Fuel's Discovery Jacket is an on and off-road-themed, retro-inspired offering that's produced using contemporary materials, technology, and construction techniques. Armed with CE Level 2 armor found at the elbows, shoulders, and spine, this 3/4 waxed riding jacket is made from a heavy-duty cotton canvas outer shell that's been hit with a waxing and water-proofing treatment. Other minor details on the jacket highlight the Spanish custom moto shop's propensity for sweating the details, such as anti-rust brass buttons stamped with Fuel logos, used throughout, a corduroy-lined collar, and an inner removable jacket (complete with pocket) that can be used as a liner, or worn as a thin layer off of the bike when you're done riding. Even areas like the chest and hip pockets are thoroughly-calculated, made from smooth suede and boasting a low-profile in order to minimize the possibility of a snag.
Jane Kingsland Parka
Born out of multiple years of development, Jane Moto's Kingsland Parka is another garment that could easily be mistaken for a fashion-forward piece of streetwear. The stylish overcoat boasts water-resistant, specially-treated 8.5oz waxed canvas that, when paired with the jacket's wind-resistant nylon liner and stud-fastened weather-flap, afford the Kingsland's wearer complete protection from the elements, whether traveling by foot or on two-wheels. D30 armor is present on the elbows, shoulders, and back, and internal Velcro-secured pockets make it incredibly easy to remove said armor for off-the-bike use — something you're practically guaranteed to do, considering this jacket's attractive and versatile nature. Constructed in tiny batches in the American made brand's New York City workshop, this jacket's shell is designed to take on a patina over years of riding.
The 24 Best Motorcycle Helmets
While a quality riding jacket is a great start to a full set of gear, motorcycle helmets are still the single most valuable piece of protective gear. So, to help make sure you get linked up with the best possible brain bucket, we've put together this extensive, up-to-date guide on the best motorcycle helmets.