Let's be honest — after safety, style is one of (if not the) foremost concerns on many a rider's mind. Sure, some may be inclined to discount it as pointless or misplaced vanity, but really, there's no shame in putting a little extra thought into one's appearance. After all, you wouldn't don your gym clothes for a dinner out, so why would you rep gear ill-suited to your ride? If you're going to be turning heads with a vintage or retro-styled bike, you can't be the eyesore that ruins the equation.
However, it's not worth risking life and limb in order to look the part. That Bell Star from 50 years ago may reek of retro cool, but it's nothing if not a liability when you're up on two wheels. So, while it's one thing to appreciate an old-school aesthetic; it's another to endanger yourself in the pursuit of appearance. Thankfully, motorcycle gear manufacturers are attuned to the trends — having seen the recent rise in cafe racers, scramblers, and any number of other timeless customs, they've done their damndest to give the people what they want. The result is an overwhelming amount of pieces that are nostalgic in aesthetic but modern in performance. And while you could go it alone and weed through the options, we've already put in the work. Read on to see our list of the best pieces of retro motorcycle gear.
While most people are apt to use any old pair of work gloves in order to round out their retro kit, they're putting their hands in harm's way. Instead, grab a pair with some knuckle guards — whether you're taking your scrambler off the beaten path or you're lane-splitting through traffic, you'll appreciate the added impact protection.
Biltwell Leather Work Gloves
For those who are looking for a simple, no-frills pair of riding mitts that are as hard-wearing as they are handsome, Biltwell's Leather Work Gloves are a great buy. Made from 100% heavy-duty cowhide leather, they come with anatomic accordion baffles on the index and middle fingers to provide maximum control during clutch and brake operation. What's more, the palms have been reinforced with an extra layer of thick leather for added shock absorption over a long ride and improved abrasion resistance in the event you take a spill. Top it off with a 9oz fleece liner and an adjustable wrist opening, and what results is a glove game for year-round riding. Available in black, gold, and chocolate colorways.
GoldTop Viceroy Gloves
Founded in 1951, British-based GoldTop has been making high-quality retro motorcycle gear before it was considered retro — so it's safe to say they know a thing or two about what goes into a good pair of gloves. The short-cuff Viceroy model shown here is a unique offering in that it looks the part while also packing a plethora of protective qualities. For instance, the gloves feature a "floating" armored knuckle, as well as gel-padded fingers, double-stitching at crucial wear points, and a reinforced palm and thumb. So, in addition to being a solid pair of safe gloves, they're also incredibly tough. Should you want an even richer look and feel, you can always spring for water-repellent Ducks Wax — it'll help preserve and maintain the gloves while giving them a bit of added water protection.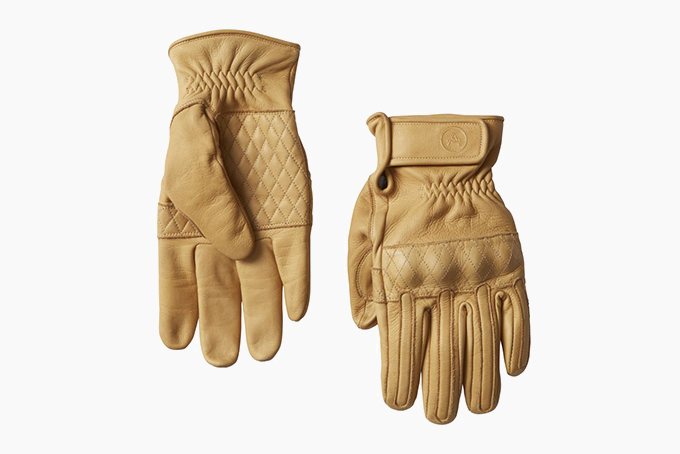 Aether Moto Gloves
Many of Aether's offerings skew more towards modern minimalism than they do retro revival; however, their Moto Gloves cut quite the vintage vibe. They're crafted from 100% leather and they come with an added layer of reinforcement at the palm, thumb, as well as at the top of the fingers — so it's safe to say that these gloves are made to last. And thanks to their built-in foam padding at the knuckles, they even provide a bit of hand protection for off-road riding when you're apt to encounter tree branches and other passing peripherals. Finished off with some diamond stitch detailing and an adjustable cuff closure, these are one pair of gloves well worth the premium price tag.
Save your Redwing Moc-toes and Wolverine 1000-mile boots for around-town wear. Sure, they're heaped with heritage, but they were made for logging and other occupations — not riding a motorcycle and certainly not protecting your ankles. The good news is that even with their added safety elements, all of the picks we've featured here fit right in with any old-school outfit.
Alpinestars Oscar Monty Boots
With its history of bold designs and bright colors, Alpinestars is not a name you'd expect to see on a retro moto roundup. But that's where you'd be wrong. In recent years, the Italian-based brand has expanded its offerings to include some urban-appropriate options for when you're not tearing up the track or sending it off a step-up. As part of the Oscar line, the Monty Boots are made to keep you safe and look good while they're at it — a perfect option for riders looking for a break from full-on moto boots. Inside, they come with toe, heel, and ankle reinforcements, cradling your tootsies in structured support and providing an added dose of impact resistance. What's more, they feature Alpinestars' anatomical disk ankle protection, a dual-density foam-backed unit that'll protect you far better than any soft-sided casual boot could. Finished off with an oil-resistant rubber compound sole, these babies may look like classic Americana, but dig a little deeper and you'll see that they mean business.
Stylmartin Yu'Rock WP
Pairing outward punk style with subtle in-built safety, Stylmartin's Yu'rok Boots are one option we'd rock any day of the week, whether that's on a miserable Monday commute or a spirited weekend getaway. For starters, they come with an upper made from full-grain leather, meaning that they'll hold up for many miles to come. But that's not all — inside, they feature a breathable, waterproof lining. In other words, they'll not only keep your toes from getting too toasty; they'll also stop moisture in its tracks. And because they come with an internal PU malleolus protection on both sides, you can ride assured knowing your ankles are safe from harm. Secured by a hook and lace fastening, these babies provide a stable, supported fit.
Fuel Motorcycles Paratroops
Having initially found inspiration in the double-buckle M43 combat boots used by the US Army throughout WWII, Fuel put over two years of development into its Paratroops before bringing them to market. The result is a pair of moto-forward footwear that are rich in rugged style with some impressive protective provisions to boot. Like the above options, they're made with some added reinforcement on the left toe. However, rather than slapping on a tiny swatch of leather, Fuel opted to give it an entire extra layer, guaranteeing your boots will stay strong no matter how shift-happy you might be. They also come with polyurethane ankle and heel pieces in order to protect you from possible impact. And because the sole features some high resistant antislip rubber inserts, you can put your foot down knowing that you have traction to spare.
No longer are you limited to leathers if you're looking for a set of safe riding pants. Thanks to the industry's appropriation of Kevlaar, Dyneema, and other specialty fabrics, moto-specific denim now packs plenty of protection against road rash and other unwanted eventualities. And with inserts for armor at key impact points, it keeps bony areas like knees and hips safe from bruising.
Dainese Strokeville Jeans
While most protective denim at this price point is more mom than it is moto, Dainese's Strokeville jeans are an exception to the rule. Woven with DuPont Kevlar and featuring additional support behind the knees, hips, and rear, these slim-fit, mid-rise jeans will keep you safe and looking good while they're at it. And with included Pro-Armor in the knees (hip armor sold separately), you can ride confidently knowing that you're properly protected against any eventuality. But that's not all — the Strokeville jeans also come with a set of reflective inserts to keep you visible and some straps under the foot to help them stay in place while you ride. Sure, they come in at our first pants pick, but they're an option that punches well above their weight.
SA1NT Unbreakable Slim Jeans
Made by riders for riders, SA1NT's jeans are as good as it gets when it comes to motorcycle denim. Their Unbreakable series is their longest-running offering, and with each iteration, it's only gotten better. For starters, these jeans are made from Dyneema — a fiber 15x stronger than steel used to stop bullets and tether space shuttles — so you know it can stand up to even the sketchiest of slides. And because its denim is so strong, SA1NT has managed to make its jeans out of a single layer, meaning that in addition to being extremely safe, they're also incredibly lightweight and breathable. Last but not least, they come with built-in elastane for stretch, allowing for unrivaled comfort on and off the bike.
El Solitario ES-1 Protective Jeans
Part bespoke bike builder, part moto apparel purveyor, El Solitario is one brand that lives and breathes all things high-octane. Like the above pick from SA1NT, the ES-1 Protective Jeans are sewn with a Dyneema denim construction. Nigh-on indestructible, they'll survive over 4 seconds of slide time, so there's no doubt they'll save you some skin. What's more, Dyneema has the benefit of being lightweight and thermally conductive, ensuring that you stay cool and dry in even the hottest conditions. And with their relaxed fit and gentle taper, they wear comfortable at the thigh before narrowing at the ankle to stay out of the way. While they're a bit of a markup compared to the competition, no one does badass like El Solitario.
Although your dad's leather jacket may make you feel like James Dean, it's better to check your ego and save the sentiment for the street. With no protective provisions and questionable construction quality, you wouldn't be doing yourself any favors repping it on the bike. Thankfully, today's jackets are both stylish and safe, ensuring that your look is on point while you ride.
Jane The Driggs Jacket
In addition to making eye-catching customs, Brooklyn-based Jane Motorcycles also sells some of the most stylish riding gear on the market. Designed to be worn on and off the bike, the Driggs is one jacket that'll keep you safe on a ride while being plenty fashionable for the street. It's made from 8.5oz waxed canvas, meaning that it hits the sweet spot between being light enough for warm weather riding and hefty enough to hold up in the event of an accident. And with its interior pockets for d30 armor at the elbow, shoulder, and back, it keeps you safe while you look the part. A great option if you're looking for a simple design and a slim fit with subtle protective elements.
Roland Sands F@#K Luck Jacket
Sure, you can take your chances and play the odds, but it pays to be properly prepared whenever you're up on two wheels. With this in mind, Roland Sands Design crafted the F@#CK LUCK Jacket, an offering that's about as close to a race-ready suit as you can wear while still looking like you belong on this planet. It's made from ultra-fine race-grade leather with flex ribbing on the sleeves and lower sides, as well as vents at the shoulders and back, ensuring a close fit with a complete range of motion. Complemented by a set of KNOX Micro-Lock CE Level 1 should and elbow armor, the F@#CK LUCK makes for a jacket that's as comfortable as it is safe. But the best part is that because of its handy connection zipper located at the rear, the jacket can attach to the F@#K LUCK Leather Motorcycle Pants, giving you a fully integrated riding suit with plenty of corner-slaying protection.
Belstaff Trialmaster Leather Jacket
Inspired by the iconic Barbour International, Belstaff's Trialmaster Jacket is an offering that oozes retro British styling — with its four-pocket design, hand-waxed bull leather construction, and interior corduroy lining, you'll cut quite the classy gent. However, underneath its cool exterior. the Trialmaster is a highly protective piece of kit. Built to European CE standards, it comes with removable D30 inserts in the shoulders and elbows, as well as a large back interior pocket if you're in need of even more safety. Should you want to rock the jacket for casual wear out on the street, simply slip the armor out of the pockets and you'll be good to go. Oh, and if you were in any doubt of the Trialmaster's appeal, just check out Ewan McGregor or David Beckham. If it can be worn by those hotshot personalities, there's no doubt it'll level up your look on (and off) the bike.
Helmets
Don't Lose Your Head
With the recent boom in custom bike-building, retro helmets are hotter than ever. Whether you're looking for something that's off-road appropriate or something that's tested on the track, there are options aplenty for you to choose from. Just be sure to check that your lid is up to date with your country's safety regulations.
Bell Moto 3
With over 60 years of helmet engineering experience to its name, Bell is well-versed in making quality protective gear that's good-looking, comfortable, and — most importantly — safe. Based on the original Moto 3 design, this helmet isn't some old-school impersonator; it's a full-on retro redux. So, while it shares the same outward appearance, underneath it's been updated to meet today's safety standards. It's made from a fiberglass composite shell with an EPS-lined chinbar, a combination that's been rated to both DOT and ECE certifications. And with 3 different shell sizes and 4 different interior EPS sizes, there's a fit perfect for everyone. Make sure to rock the 5 snap visor and some goggles for that added vintage cool factor.
Hedon Hedonist
Hedon is a brand built on the relentless pursuit of pleasure, so it goes without saying that their Hedonist open face helmet would be a cut above the rest. With its bold, nostalgic design and quality handcrafted construction, it makes for an option fit for even the most discerning of riders. Its shell is made from a composite combination of fiberglass and carbon fiber, ensuring that it's not just highly protective; it's also incredibly lightweight (about 1.8lbs). Paired with a liner made from 360-degree Hed Armour cushion padding, Merlin anti-bacterial fabric, and natural calf leather, it makes for quite the premium on-head experience. As with the above pick from Bell, it comes DOT and ECE certified, so you're good to rep it wherever your travels take you.
Arai Concept X
Founded in 1926, Japanese-based Arai Helmets got its start with caps, after which it switched to military headwear before it finally entered the racing helmets game. Since that time, they've emerged as one of the leading manufacturers of motorcycle helmets, routinely ranking amongst the best in terms of build quality and all-out safety. And the Concept X is a model that ticks all the right retro boxes. For instance, its design pulls straight from the '80s, with a smooth outer shell from brow to base. Coupled with a 6-grilled chin bar and a pair of rear openings, it's also surprisingly breathable for such a throwback lid. And when it comes to protection, Arai has demonstrated their dominance as per usual. Made with an outer shell design that distributes impact more effectively, as well as a Variable Axis System visor (essentially lowering the mounting points for improved shock-resistance), the Concept X is a proven performer that meets Snell, DOT, and ECE specs.
The 24 Best Café Racers You Can Buy Off The Lot
If you're looking to upgrade your ride to something that's sure to impress, check out our guide to the best café racers you can buy off the lot. Just make sure you have the proper gear to look the part.