Typically associated with basketball, high top sneakers have a versatile design blending classic looks with comfort. Many of the classic high top sneakers are athletic, yet there are plenty out there you can slip into and not look like you're trying to rack up a triple-double at the nearest park. These days, high top sneakers can be worn with casual clothes or even something a little more dressy with suits being their only real limitation. It's truly all about getting the right pair for the right occasion.
Dating back to the 1910s, high top sneakers are a timeless style trend. Originally, they were made for professional basketball players, providing them with ample ankle support, but today they can be worn just about anywhere. Modern high tops have cut down on the bulky look from the 80s for a sleeker design for your soles. In our search for the best high top sneakers on the market, we gathered a mix of classics, casual iterations, and everything in between to give you a pair of high tops for every occasion. Of course, no matter what high tops you're rocking, you'll always feel like you can run a fast break for a monster jam.
P.F. Flyers Sandlot Center Hi
Everybody remembers the classic family movie The Sandlot. And if you don't, you should get that squared away real quick. The P.F. Flyers were Benny "The Jet" Rodriguez's secret weapon, allowing him to reach the status of legend in his neighborhood. These basketball style sneakers are designed to be simple and durable with rubber soles, canvas uppers, lace-up entries, vertically ribbed toes, and metal eyelets. Topping them off are the posture foundation inserts, a distinct treaded outsole, and retro branding. Legends never die.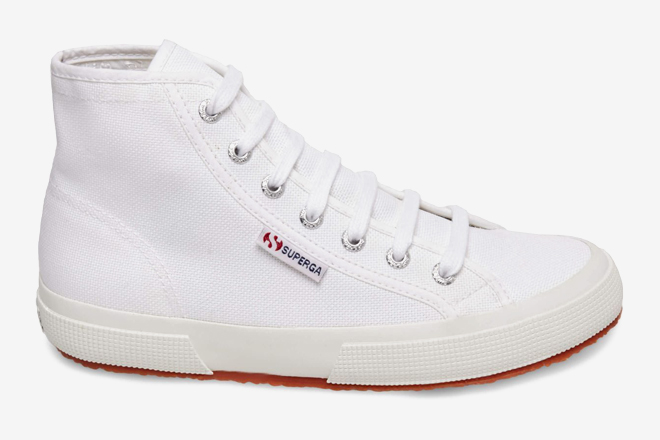 Superga 2795 Cotu
With a clean design that's easy on the eyes, Superga's 2795 Cotu high top sneakers go with just about any outfit you throw on. These lace-up sneakers have a tough unlined cotton canvas upper, a lightly cushioned footbed to massage your feet with each step you take, and natural rubber outsoles for long-lasting durability. These sneakers will support your soles on any surface, keeping them comfy all day long. Get them in black, blue, or tan suede.
People Footwear The Phillips Classic
High Tops never looked as smooth as People Footwear's The Phillips Classic sneakers. These kicks feature reinforced canvas uppers, removable and washable 'SuperCush' sock-liners, and redesigned 'Skylite' outsoles for unrivaled comfort you'll be thankful to have. The Phillips Classic are high-performance leisure shoes that are lightweight and perfect for any activity you choose to do. People Footwear strives to provide the next generation of casual footwear and these high tops are leading the way.
Adidas Pro Model Shoes
Going way back to 1972, the Adidas Pro Model Shoes debuted as professional basketball footwear. Over the years these vintage high tops became a fashion staple, as people continue to rock this silhouette whenever they can. You can use them as they were originally intended on the basketball court or wear them casually wherever life may take you. The shoes have full leather uppers, rubber outsoles, and Adidas' signature protective rubber shell toes.
Novesta Star Dribble Felt
These Star Dribble felt high top shoes mix the classic design with a bit of Slovakian style. Keeping things simple with minimalist branding, Novesta's kicks are wrapped in felt uppers for warmth and comfort, in addition to reinforced shell toes, in case you need to get down and dirty. They also have rubber soles, vulcanized midsoles, and woven tongue labels. Handmade in Slovakia, these high tops are an attractive, subtle twist to a retro design.
Vans Sk8-Hi
When Vans' Sk8-Hi broke into the world in 1978, their new ankle design changed the game by helping to protect skaters from sprains or breaks when they took a spill. Four decades later, they're still being put to good use, protecting ankles while skaters push the action sport beyond the wildest 1970s imaginations. The legendary lace-up high top sneakers are made from a rugged canvas and have suede uppers, reinforced toe caps, padded collars for superior support and flexibility, and their signature waffle outsoles.
Nike Air Force 1
The Nike Air Force 1 High Tops are an obvious choice and for good reason. They are the first pair of Nike's to feature the iconic air cushioning system, leading legendary sports apparel brand to advertise them as "Air in a box." Designed by Bruce Kilgore and named after the aircraft of the president of the United States, the Air Force 1 sneakers are the most popular Nike's of all time. These legendary basketball sneakers have non-marking rubber outsoles for traction and resiliency, padding at the collar, and perforations to provide ventilation.
Converse Chuck Taylor Comme Des Garçons
Chuck Taylor shoes are high top heroes, but the collaboration between Comme Des Garcons PLAY and Converse shake things up with the original design. These street-ready sneakers feature quirky peekaboo hearts for a little more flavor. The new graphics on the shoes come from the imagination of New York graphic artist Filip Pagowski and Comme Des Garcon designer Rei Kawakubo. And, with textile uppers and lining along with rubber soles, these shoes are up for any adventure.
Nike Blazer Mid
Bursting onto the basketball scene in 1972, the Nike Blazer Mid sneakers were designed to go up against the Converse and Adidas sneakers that were dominating the NBA hardwood. They feature a simple design with a dominating swoosh logo and comfortable outsoles fused to the uppers. These shoes are perfect for casual days, but with excellent ankle support you can still take on a few obstacles with these kicks on your feet.
Clae Bradley Mid
Clae's Bradley Mid shoes take the classic high top design and revise it to be minimalistic and even suitable for semi-casual events. Created with fine leather and neoprene details, the Bradley Mid sneakers blend function and style impeccably. The shoes also feature waxed suede uppers, flat nylon laces, and molded EVA footbeds on modern rubber cup soles for fantastic breathability. These sleek suede shoes are the most formal iteration of high tops on the list by far.
Shoes Like Pottery 01JP High
Made in a similar way to how Japanese pottery is fired, the Shoes Like Pottery (SLP) 01JP High sneakers are heated up in a 120° C kin for 70 minutes. The special ka-ryu process helps SLP produce some of the world's best vulcanized shoes. These black canvas high tops kicks have durable toe caps, wax stamp details, and are built to high Japanese standards. If you're looking for high tops are slick and strong, grab a pair of these sneakers.
Buddy Happy Bull Terrier Hi Night
Taking the retro design of high top sneakers and stripping them down for a neat, simple look, Japanese company Buddy Happy produced a fashion champion. The shoes are lined with cow leather, cambrelle, and smooth Velour suede for natural comfort. They also have outsoles made from durable, natural rubber and have leather patches made from vegetable-tanned leather aka Tochigi leather.
SeaVees Mariners Boot
If you're looking for more function in your high tops, look no further than Seabees Mariners Boots. These high top sneakers are waterproof and made from genuine Ventile duck canvas, which is a tough material to keep you comfy and dry. It also features a gusseted tongue for extra protection, a sealed seam construction, and a contoured footbed lined with soft cotton canvas for ideal airflow. Also, it has SeaVees signature herringbone grip lock rubber outsoles so you'll be sure-footed on land or sea.
Greats Royale High
For a little more flair than the norm, Greats' Royal High sneakers are just what you need. With a raised upper and a faded collar, these high top sneakers will do wonders for your outfit. They have full-grain leather uppers lined with genuine calfskin and a plush footbed that's meticulously sewn onto Margom soles. The shoes are finished off with waxed cotton laces that develop a unique patina, growing along with you.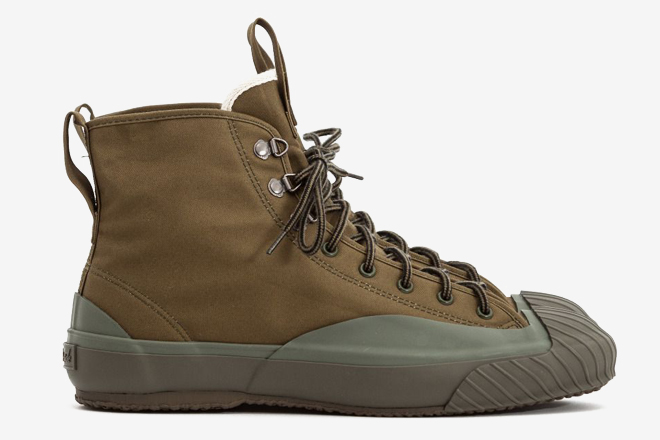 The Hill-Side & Hickoree's All-Weather High Top
Sewn and assembled all by hand, these high top sneakers come straight from a 140-year old factory in western Japan. They're constructed utilizing a traditional vulcanization process that uses rubber the factory produces in-house. The shoes feature high-traction rubber outsoles, Hill-Side MizuTech weatherproof cotton, custom gusseted tongues, and super rugged toe caps and toe guards. They also have a comfortable lightweight cotton terry cloth lining and pull tabs at the tongues and heels for your convenience.
Filling Pieces Classic Boot Ripple Andes
The Classic Boot Ripple Andes by Filling Pieces gives the high top silhouette a dapper remix. These shoes have a clean toe box, minimal padding on the heels for a more formal aesthetic, and waxed suede uppers. Furthermore, it has glossy stainless steel lace hooks and eyelets with matching tonal laces and subtly ripped custom soles. They're in between boots and sneakers, utilizing the high top design in a unique way.
Koio Primo Luna
Koio's signature Primo Luna sneakers work well for the fashion-forward man with wanderlust. Constructed with pebble-grain leather and calfskin suede accents, these high top sneakers use only the finest Italian materials available. Stylish, but understated, these handmade shoes are durable, lightweight, and extremely comfortable, as they're lined with butter-soft calfskin leather. These high tops are ready for casual or formal occasions, as they can pair well with most attire.
Air Jordan 1 Retro High OG Banned
The red and black Nike Air Ship, which were the prototype for the Air Jordan 1, were banned by NBA Commissioner David Stern for having a minimal amount of white on them. This led to the Air Jordan 1 shoes to be released with colorways featuring more white. This model was worn by Michael Jordan in his rookie season, where he won Rookie of the Year and made his first All-Star game appearance. The shoes are made from a mix of leather and synthetic leather uppers for extra support on the hardwood floor, rubber soles with pivot circles to attack the rim, and Nike Air cushioning in the heel for lightweight comfort.
The 18 Best Men's Selvedge Denim Jeans
Now that you've got a few pairs of high tops in mind to grab, it's time to think about jeans to complement them. Check out our picks for the 18 best men's selvedge denim jeans on the market.