Compared to every other sport in existence, running requires the least amount of gear. That's not to say it isn't important to make sure that you have the correct gear for the job. However, because it's just you and the ground you're running upon, the criteria for choosing what's best will get a bit more granular and specified. Casual runners might not be aware of the stark differences between pounding the pavement around your neighborhood and jogging through the unpaved terrain of the forest or hillside. But what happens when you want to go from your front door to the woods and back? Changing shoes along the way defeats the purpose of the activity to begin with. Plus, who wants to run around with a second pair of sneakers?
That's where hybrid — or road-to-trail — runners come in. Hybrid runners also provide you with options when traveling and make it so you don't have to pack more than one pair of shoes in your luggage. Admittedly, there aren't a lot of decidedly road-to-trail options available, so this guide will not only help you pick the best of the bunch but will inform you as to how you should shop for a new pair.
Road Vs. Trail
Striking A Balance
In order to understand what makes up a good hybrid shoe, it's important to know the difference between road- and trail-running shoes. Here's what you should be looking for:
Lugs/Outsoles Lug size is the biggest differentiator when comparing road to trail runners. Like hiking boots, trail-running shoes will have larger lugs to help gain traction on rougher terrains. They add weight to the shoe and unnecessary heft if you were to transition to running through town. Alternatively, the outsoles on road-running shoes will often wear down much faster if taken through the dirt. The best hybrid options will strike a balance between lug size and evenness.
Midsoles Road shoes will have softer cushioning and support since pavement is much harder than a dirt trail. Likewise, you don't run as big a risk of stomping on uneven terrain and rocks when jogging through town. Trail runners will often come equipped with plates underneath the foot for protection due to the frequency at which you will find yourself stepping on rocks and sticks in the wilderness.
Uppers For trail shoes, the uppers will be significantly more durable to protect the integrity of their construction against anything you will be kicking up along the way. As such, road-running sneakers can afford to be more breathable up top.
New Balance Fresh Foam X 880v12
New Balance's Fresh Foam collection utilizes 3D motion capture on athletes to map out significant points of pressure and force to better provide softness in the right places. The 12th generation of the brand's 880 model for daily runners balances a soft impact with energy retention from toe to heel thanks to the dual-layered midsole that features an extra layer of foam underneath. The reinforced mesh uppers are equally supportive while providing breathability for longer runs.
New Balance Fresh Foam X 880v12
A great entry-level pick that can go the distance.
Pros
Good for distance running
Super soft
Cons
Very low lugs
Better for lighter trails
The North Face VECTIV Enduris II
Few brands understand the outdoors like The North Face. Debuting just last year, its VECTIV technology was built to maximize energy during even the most rigorous treks. The Enduris II uses this technology and applies it to one of the most heavy-duty trail runners with rockered midsole cushioning and a 6mm drop. That's not to say these won't be fitting on asphalt as well, with surprisingly mild 3.5mm lugs and breathable air-mesh uppers that make these quite versatile.
The North Face VECTIV Enduris II
An attractive choice that might favor the road a bit more.
Pros
Mild lugs
Firm yet adaptive
Breathable
Nice appearance
Altra Outroad
Altra's Outroad is a hybrid shoe in the most literal sense and intentionally designed as such. Made from ripstop mesh, the uppers are built to be lightweight and breathable. Meanwhile, the MaxTrac outsoles have the grip to handle asphalt and are chunky enough to withstand the wear brought on by the trail. You'll also notice the 0mm drop, which gives more of a midsole strike to help you trek longer while also providing nonpartisan versatility. Although some runners may want more of a heel-to-toe drop. As a plus, the claw design underneath is a nice touch.
Altra Outroad
These flat runners built for road-to-trail running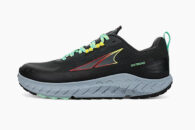 Pros
Made to be a hybrid
Attractive
Zero drop
Merrell Agility Peak 4
You can't go far on the trail without spotting a pair of Merrell hiking boots. However, the brand's trail runners are nothing to sneeze at. Like Altra's Outroads, the Agility Peak 4 looks like a standard road runner from the breathable jacquard uppers alone, but the chunky Vibram MegaGrip outsoles might look like they're from an entirely different shoe altogether. The 5mm lugs underneath aren't domineering yet have a really fantastic grip on multiple terrains, whether wet or dry, and the integrated lacing system ensures a snug fit wherever you take them.
Merrell Agility Peak 4
A heavier choice from an acclaimed brand.
Pros
Breathable
Super sturdy yet flexible
Cons
Rock plate underneath might be uncomfortable for some road runners
On the heavier side
Hoka Speedgoat 5
Despite the over-10oz weight, HOKA's Speedgoat 5 seems to disappear on your feet when running. The Vibram MegaGrip with Traction Lug and compression-molded foam midsole balance one another to effectively handle any terrain without either one feeling out of place. Performing another balancing act, the breathable double-layered jacquard mesh is complemented by a protective toe cap. As HOKA's flagship runner, the Speedgoat is one of the best running shoes on the market, period.
Hoka Speedgoat 5
One of the best all-around running shoes available.
Pros
Lightweight feel
Balances road and trail evenly
One of the best running shoes available
Arc'Teryx Norvan LD 3
Although the Arc'Teryx Norvan LD 3 is a trail-running shoe first and foremost — with a large toe box, a toe cap for protection, and shock absorption for the heel and forefoot — it can adapt easily to jogging around town with a breathable yet super durable upper made from a single-layer mesh. Meanwhile, the Vibram MegaGrip outsole provides fantastic traction with a decent 4mm lug size while being paired with a Vibram Litebase sole for a lighter weight that's optimal for distance running.
Arc'Teryx Norvan LD 3
Sleek and roomy hybrid shoes.
Pros
Lightweight
Breathable
Very roomy
Cons
Lace housing can be hard to use
inov-8 Parkclaw G 280
Despite the high price, inov-8's Parkclaw G 280 was designed to be a hybrid shoe, with deep yet even lugs and a breathable upper. Not to mention, there's a nice appearance to the silhouette as well. However, the real star here is graphene built into the sole. Pound-for-pound one of the strongest materials in the world, the graphene ensures that the Parkclaw can give you versatile support wherever you go while also lasting you for years to come. The 4mm lugs benefit as well — all 98 of them — for an uncompromising grip. Likewise, the G-FLY midsole and 8mm drop team up for an incredible energy return throughout your journey.
inov-8 Parkclaw G 280
Graphene-infused for strength, these runners were made to be hybrids.
Pros
Incredibly durable
Designed as a hybrid shoe
On Cloudultra
Only 12 years old, On ventured out to innovate the running world, and it's done just that. Amongst its renowned range, the Cloudultra is perhaps its marquee silhouette for its versatility and high performance. Featuring breathable dual-layer mesh uppers that are TPU-reinforced, the Cloudultra is a trail running shoe with the tech of a road runner. The flexible Missiongrip outsoles perform on any terrain, while the twofold midsole combines Helion foam and Cloudtech cushioning for maximum comfort and a springy bounce.
On Cloudultra
Maximizes its versatility to perform equally well on both road and trail.
Pros
Very tech-driven
Super comfortable
Arguably the most versatile running shoe available
Cons
Pricey
The holes in the outsole can clog