For those of us who have been victimized by a sudden downpour, slight drizzle, or obnoxious spill, it's a lesson that we've learned the hard way. Luckily, there's a way to ensure that you'll never have to worry about soaked-through shoes again: the waterproof boot. In today's market, there are more manufacturers to choose from than ever. Once you've got a style, trait, or type in mind, it's easy to find the water-resistant offering that'll fit your preferences. This is doubly true for the heritage boot genre, which is the most likely to offer waterproof, weather-ready examples to wearers. Below, we introduce a handful of favorites that have helped to turn even the bleakest rainy days around and send them packing.
The Best Waterproof Boots for Premium Protection
The Starter

Wolverine Floorhand Waterproof Work Boot

The Safest Bet

Dr. Martens 1460

The Upgrade

Red Wing Shoes GORE-TEX Moc

The Premium Pair

Filson Uplander Boot

The Best Sustainable Waterproof Boots

Nisolo All-Weather Andres Boot

The Best Waterproof Boots for Sneakerheads

New Balance x ALD Rainier Boots

The Best Waterproof Chelsea Boots

Blundstone #584 Thermal Chelsea Boots

The Best Duck Boots

L.L.Bean Original Boot GORE-TEX

The Best Technical Waterproof Hiking Boot

Nike ACG Air Zoom Gaiadome GORE-TEX

The Best Vintage-Inspired Waterproof Hiking Boot

Danner Mountain Light GORE-TEX
What to Look For
Calm Before the Storm
One-Piece Uppers: Any shoe constructed using a single piece of leather (or any material for that matter) typically makes them far more durable across the board. Still, it specifically assists in repelling rainfall and providing full-on puddle protection. In addition to their superior construction, this method naturally offers fewer openings for water to seep through.
Outsoles: While single-piece uppers are typical on most weather-ready silhouettes, more often than not, a waterproof stomper's top half will retain the particular silhouette's traditional look, be it a Chelsea or work boot. What matters just as much as the upper is the outsole beneath it and how it's constructed. Does the brand use waterproof rubber? Are the soles slip-and-oil-resistant? These are elements you want to consider for your safety rather than that of your new boots.
Lining: After all, it's what's on the inside that counts, and a trusty waterproof lining through a boot's interior is where any pair's effectiveness gets tested. For example, the Nike ACG Gaiadome that we highlight on our list boasts a GORE-TEX lining that's part-breathable, part-cushioned, and fully waterproof, assuring you're protected from the elements inside and out. And while the pair you opt for doesn't necessarily have to be GORE-TEX, it's something to consider.
Waterproof vs. Water Resistant
Yes, There's A Difference
Considering they clearly have two very different names, you'd think it this would be obvious to understand — think again. In order for something to be waterproof, it must be fully seam-sealed, ensuring no water gets in or out, although it shouldn't be there, to begin with. For a more thorough explanation of this age-old debate, our in-depth guide provides everything you should consider.
Wolverine Floorhand waterproof Work Boot
Pros
Versatile enough for wearing casually
Affordable!
Cons
Cement construction isn't the sturdiest
Breaking in takes some time and can be pretty uncomfortable in the process
The Starter: These work boots are a great place to start, as Wolverine places the Floorhand silhouette atop a slip-and-oil-resistant outsole that guarantees your safety in any form of spillage. And while the cement construction may be a call for concern when it comes to durability, the boot's lightweight appeal may sway you toward the more affordable method. Plus, if you're looking for bolstered protection all around, Wolverine sells a steel-toed iteration of the Floorhand that offers all the same waterproof properties as this one.
Dr Martens 1460
Pros
An icon-turned-waterproof
Goodyear welt construction
Cons
They will test your patience at first, but they're worth it
The Safest Bet: While Dr. Martens' offerings are far more metropolitan, the expertise that they've garnered over the years isn't squandered. Instead, boots like the waterproof 1460 provide capable respite from the masses of stylish leather examples within their catalog, bridging the gap between fashion and functionality. The introduction of the waterproof 1460 model came almost 60 years after the icon's first manufacturing run, but that doesn't stop it from capturing all of the unique intricacies of the original. A twin heat-sealed welt joins with the boot's air-cushioned sole, breathable DryWair bootie, and oiled leather material to stand up against harsh spills, puddles, and rain. Lastly, the shoe's DMS tread pattern, yellow stitching, and two-tone sidewall are still instantly recognizable.
Red wing Shoes Gore-TEX Moc
Pros
Reinforced storm welt delivers remarkable protection
Goodyear welt construction
Surprisingly comfortable from the start
Made in the states
Cons
Yes, they're expensive, but they're Red Wings
The Upgrade: While the iconic Classic Moc has taken on different roles over the years, it's stayed true to Red Wing's original design, incorporating heritage-inspired traits, up-and-coming materials, and an exceptional outdoor design that's allowed the brand to adapt throughout the years. The most topical example of the boot arrives as a moc toe equipped with a GORE-TEX bootie for offering weather-readiness that doesn't sacrifice comfort. Additionally, the brand adopts Puritan triple stitching methods and uses a reinforced storm welt for unprecedented water resistance. If you're looking for an iconic piece of footwear that'll take on the flooded trail with ease and work as well on a construction site as they do in any casual outing, the Red Wing Classic Moc GORE-TEX is for you and always will be.
Filson Uplander Boot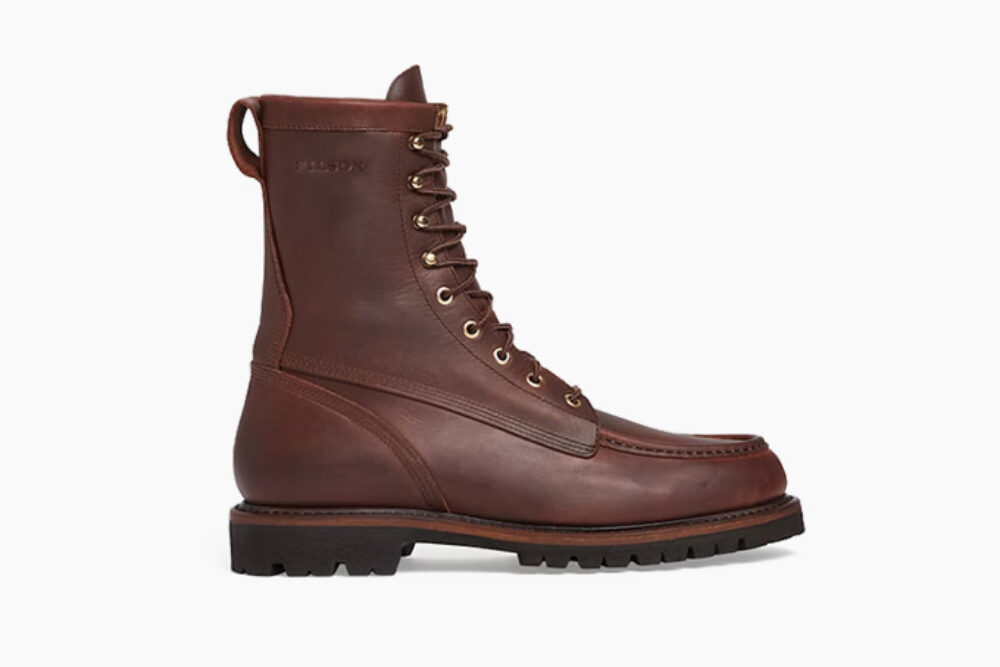 Pros
10″ height for thorough protection
Goodyear welt construction
Cork insole is comfortable and contouring
Cons
Will take some time to grow into
The Premium Pair: Filson's Uplander boot was built to take on the PNW's forested regions, so you can bet that it's got some form of waterproofing. To battle the rugged, wet environment, each boot adopts a heavyweight, full-grain leather, a foot-conforming cork insole, and a grippy Vibram outsole for traction on moist surfaces. Like others on this list, it features fully-sealed seams, staving off water from its exterior before it penetrates to the layers below. As a result, your feet are guaranteed to stay dry, warm, and comfortable. Once the boots start to fall apart, you'll be able to re-sole them, thanks to the Uplander's included Goodyear welt. If that's not an attractive long-term investment, we don't know what is.
Nisolo All-Weather Andres Boot
Pros
The carbon footprint is smaller than the prints you'll leave on the ground
Gusseted tongue for extra protection
The Best Sustainable Waterproof Boots: Sustainable fashion is always something we look to highlight, and Nisolo is a brand that maintains its admirable mindset from top to bottom. Aside from the functional boots having an undeniably dapper look, they were scored across 200 metrics that determine just how much of an impact they have from a social and environmental perspective, earning an A- when it comes to how the craftspeople are treated and how the manufacturing process treats the planet. Outside of that, the lace-up trench boot is equipped with a breathable, weather-ready leather upper and gusseted tongue for enhanced resistance.
New Balance x ALD Rainier Boots
Pros
Cordura canvas accents
A quality bridge between streetwear and utilitarian gear
Cons
Extremely narrow fit — consider sizing up
The Best Waterproof Boots for Sneakerheads: While New Balance certainly didn't need too much help in doing so, Aimé Leon Dore managed to help the brand become a mainstay among sneakerheads, and this handsome pair of boots is bound to serve them well. Boasting a waterproof GORE-TEX lining, enviously plush collar, and Vibram Megagrip outsole, the collaborative set of stompers assure protection from heel to toe. Most of all, its upper is constructed using waterproof suede and Cordura canvas accents, so longevity isn't even a question.
Blundstone #584 Thermal Chelsea Boots
Pros
Cozy shearling footbeds
Thinsulate insulation
Cons
$250 is alot for cement construction
The Best Waterproof Chelsea Boots: Six pairs in, we've already mentioned several archetypal brands in the space, so it's no surprise Blundstone was bound to come around. The Australian bootmaker's iconic #584 Thermal Chelsea Boots are constructed using premium waterproof leather and then finished with latex seams to ensure no moisture works its way in. And while that's bound to help keep your feet warm, they're equipped with a removable sheepskin footbed and thermal insulation. Moving to the lower end, they feature a slip-resistant outsole for guaranteed grip.
L.L.Bean Original Boot GORE-TEX
Pros
The duck boot that started it all
Made in the states
Thinsulate insulation for extra warmth
Cons
No complaints — these are as classic as they come
The Best Duck Boots: With all duck boots already offering weather protection, the smartest way to spotlight this branch of footwear is with the silhouette that started it all. The Maine-bred brand's attention to detail comes into full effect with this symbolic design, boasting all the integral elements to taking on a tough forecast. These include Thinsulate insulation for enhanced warmth, a chain tread outsole for optimum traction, and, as their name suggests, a trusty GORE-TEX lining. Most importantly, they feature a steel shank for maximum support and stability on any terrain.
Nike ACG Air Zoom Gaiadome GORE-TEx
Pros
Ultra deep lugs for maximum traction
Immensely comfortable
The Best Technical Waterproof Hiking Boots: For a brand adept at making just about anything, Nike's beloved outdoor sublabel predictably delivers a premium pair of hikers. ACG's use of GORE-TEX and heavy-duty materials practically make this a near-perfect option from a function perspective, all the while Nike's signature style deems them unique enough to wear around town if you're ever so inclined. For advanced traction, the Gaiadome's outer compound is fitted with ultra-deep lugs for premium traction across several forms of terrain, as the performance stalwart kept steep mountain slopes in mind when designing these stompers.
daNNER mOUNTAIN lIGHT GORE-TEX
Pros
Vibram Kletterlift outsole is a big upgrade
Stitchdown construction
U.S.A-made
The Best Vintage-Inspired Waterproof Hiking Boots: Once an icon, forever an icon. Danner's famous Mountain Light silhouette is practically the pinnacle of hiking footwear, and the GORE-TEX-bolstered iteration only managed to up the ante. The timeless silhouette boasts a full-grain, one-piece leather upper to eliminate any openings that could cause water to seep in. But, on the off chance it does, the GORE-TEX liners do away with droplets completely, all the while offering idealized breathability, so your feet don't begin to heat up. The stitchdown stompers are placed atop Vibram's Kletterlift outsole to deliver the ideal balance of shock absorption, stability, and comfort.
The Best Steel Toe Boots To Keep You Protected
If you're in need of protection from more than just the weather, check out our guide to the best steel toe boots.