It might be a bombastic claim — no pun intended — but one can easily argue that the bomber jacket is the most iconic piece of outerwear in the world. Though its roots began in the military, like many fashion staples, the bomber transcended its original arena and made its way worldwide as different subcultures adopted it for its versatile and stylish looks. The bomber's many different permutations throughout its storied history have made it all the more appealing to own as they go with virtually any style. Whether you own one that's truer to its military roots or one that's been reinterpreted by a designer, a good bomber is a must-have item for any man's wardrobe.
Best Bomber Jackets Breakdown
Best Starter Jacket

Everlane The Bomber Jacket

Best Sherpa Collar Jacket

Levi's Aviator Bomber Jacket with Sherpa Collar

Best Nylon Jacket

Bonobos The Boulevard Bomber

Best Organic Cotton Bomber

Taylor Stitch The Bomber Jacket

Best Bomber Overall

Alpha Industries MA-1 Bomber Jacket Heritage

Best Down Jacket

Todd Snyder Italian Quilted Down Snap Bomber

Best Leather Jacket

Buck Mason Bruiser Leather Bomber Jacket

Best Classic Jacket

The Real McCoy's Type MA-1

Best Premium Jacket

Golden Bear Suede Bomber Jacket
Bomber jacket history
As its name suggests, the bomber jacket (also known as a flight jacket) was the garment of choice for pilots during WWI. At that point in history, bomber planes didn't have cockpits, so pilots had to wear a warm, insulating jacket to keep from freezing while flying at high altitudes. The first standard flight jacket, the Type A-1, was introduced to the U.S. Army in 1927. It was made of sheepskin, horsehide, or goatskin leather and had a knit collar and cuffs to better insulate the pilots.
Flight jackets would have several different permutations as time progressed until the B-series jackets came along. These jackets were made for high-altitude flights and served as the template for the bomber we all know and love: the MA-1. Designed by Dobbs Industries (which would later become Alpha Industries), the MA-1 was introduced in 1949 to the U.S. Army and offered a lightweight construction and a wool knit collar that allowed soldiers to wear it in warmer weather. The bomber's versatility, simplicity, and accessibility immediately made it a sought-after garment around the world.
In Asia, the bomber became popular in post-WWII Japan as the Sukajan (souvenir jacket), which was inspired by the bombers worn by servicemen stationed in the naval base city of Yokosuka. In England, the bomber's rugged silhouette was first adopted by the blue-collar skinhead subculture in the 1960s. As the skinhead movement became increasingly radicalized and homophobic, near the late '70s, London's LGBTQ+ community adopted the bomber in protest to the skinheads' hyper-masculine agenda. In all three settings, the bomber was a symbol of counterculture before becoming a fashion staple. It was also a stateside symbol of counterculture, as it was the preferred jacket of the grunge movement in the '90s and the hip-hop movement of the early 2000s.
what to look for
Material: The most popular materials for a bomber jacket include nylon, leather, and cotton. The original jackets were made of leather and lined with fur, so if you want the classic look, then go for a leather jacket (nylon jackets are quite classic as well, however).
Fit: Bomber jackets should fit a lot like a trucker jacket, falling just at your hip, and having a more tailored look. But you should still have enough space to wear something underneath.
Lining: If you want the old-school look or live somewhere cold, a fur lining may be for you. On the other hand, quilted lining is more sustainable and also great at keeping you warm
Design: Most classic bombers will come in black, green, or brown, but you can shake it up with a pattern or something more modern if that's your speed.
Everlane The Bomber Jacket
Pros
Great quality for the price
Sustainably-made
Magnetic closure pockets
Best Starter Jacket: Everlane's bomber jacket is a fixture on any "best bombers" guide for good reason. This particular option offers a more modern interpretation of the famous garment with a water-resistant, recycled polyester blend construction, magnetic closure pockets, and a two-way zipper. Its silhouette still retains the classic bomber shape, and the sleeve pocket is an appreciated nod to its military roots. Add to that its lean price, and you've got a must-have bomber.
Material: 68% cotton, 32% recycled polyester
Lining: Unlined
Fit: Regular
Levi's Aviator Bomber Jacket with Sherpa Collar
Pros
No gimmicks
Loads of pockets
Retro style
Best Sherpa Collar Jacket: When it comes to pieces rooted in American heritage, it's virtually impossible to overlook any offerings from Levi's as the perfect entry-level piece. The iconic clothier produced a modern bomber jacket with a silhouette that parallels its traditional, '40s-era predecessor. From the polyurethane shell and sherpa collar to the bevy of utilitarian secret pockets, Levi's new-age offering stays true to its military roots, offering a well-assembled piece of outerwear that provides far better durability than its price suggests. That said, the heritage brand's construction and quality have fallen off since its mid-century heyday, but pieces as timeless as this arguably look better with proper aging.
Material: 100% polyurethane
Lining: Polyester
Collar: Polyester
Fit: Regular
Bonobos The Boulevard Bomber
Pros
Low-key rib collar
Single welt hand pockets
Perfect fall jacket weight
Cons
Slim fit may not be for you
Best Nylon Jacket: With a bomber as stylish and well-made as the Boulevard, it's hard to believe that Bonobos started out making pants. The Boulevard offers a classic silhouette with an understated yet classy design. It's slimmer fitting and has a really smooth, matte texture that evokes a modern vibe. Bonobos' offering features single-welt hand pockets with snaps to secure your belongings, a cotton and nylon construction, and an array of four colors to choose from.
Material: 60% cotton, 40% nylon
Lining: Fully-lined
Fit: Regular
Taylor Stitch The Bomber Jacket
Pros
Sustainably-made
Dark horn buttons
Finish feels like suede
Best Organic Cotton Bomber: When it comes to blending proper warmth and timeless style, the folks at Taylor Stitch outdid themselves when making its bomber jacket. The Bay Area-bred brand used 13.5 ounces of cotton moleskin to make a responsibly built bomber with fully sustainable construction. Its 100% organic moleskin build gives it a suede-like look and feel, and it's finished with dark horn buttons. All things considered, the bomber is as good for the environment as it is for your wardrobe, deeming it one of our favorite pieces from top to bottom.
Material: 13.5 oz 100% organic cotton moleskin
Lining: Unlined
Fit: Not listed
Alpha Industries MA-1 Bomber Jacket Heritage
Pros
Boasts a traditional construction
Reversible design for versatile wear
Super versatile
Cons
None — it doesn't get more genuine than this
Best Bomber Overall: It should come as no surprise at all that the maker of the original MA-1 Bomber would make it on this list. As mentioned in our introduction, the brand pioneered this incredible style, so, obviously, it manufactures one of the best bombers on the market, as has been the case for decades. Just like its field jackets, Alpha Industries' design has a more rugged silhouette while evoking a fashion-forward yet militaristic vibe. Compositionally, its bomber boasts a mid-weight flight nylon construction and Ottoman knit cuffs; plus, the piece is reversible, so it's arguably the most versatile option you'll find in this comprehensive guide.
Shell: 100% flight nylon
Lining: 100% nylon
Fill: 100% polyester
Fit: Core fit (see site)
Todd Snyder Italian Quilted Down Snap Bomber
Pros
Made with Italian nylon
Inspired by mountaineering jackets from the '60s
Warm down filling
Best Down Jacket: Leave it to Todd Snyder to find a way to elevate the bomber to an even more stylish and practical level. Todd Snyder's Italian Down Quilted Snap Bomber combines the warmth and versatility of puffer jackets with the rugged silhouette of a traditional bomber. This modern interpretation of a classic has a construction made of 100% Italian diamond-quilted nylon, snap pockets, and an added chest compartment. Plus, the added insulation will keep you warm and stylish in the frigid winter weather.
Material: 100% nylon
Fill: 650 fill power duck down
Fit: Not listed
Buck Mason Bruiser Leather Bomber Jacket
Pros
Bemberg lining keeps things lightweight
Lambskin undergoes a two-stage dye process to guarantee a great patina
Garment washed and waxed
Cons
Zippers could be a bit stronger
Best Leather Jacket: By fusing two menswear essentials into one impeccable garment, Buck Mason managed to up the ante with its Bruiser Bomber Leather Jacket. The handsome piece of outerwear packs a punch with its streamlined design and semi-vegetable-tanned lambskin construction that undergoes a unique two-stage dye process, with the second dye ensuring a fantastic patina. Then, it's rounded out with traditional zip pockets and moisture-wicking Bemberg lining. Despite its rough-and-tumble design, the Bruiser's partially eco-conscious build makes it more flexible than traditional calf leather, translating to a comfortable fit on its first wear.
Material: Lambskin leather
Lining: None
Fit: Vintage
The Real McCoy's Type MA-1
Pros
Old-school style
Made in Japan
Wool ribbing
Best Classic Jacket: Japanese boutique The Real McCoy's takes tons of inspiration from old-school American designs, leaving us in awe of its unique Type MA-1. It serves as an eye-catching bridge between the iconic bomber and premium knitwear. This Japanese-made piece is cut and shaped like a traditional bomber jacket; it features a nylon shell with wool pile lining, wool ribbing, and a talon sleeve zipper, making it clear The Real McCoy's is far from the prototypical brand.
Material: 66 nylon shell
Lining: 66 nylon shell
Fit: Not listed
Golden Bear Suede Bomber Jacket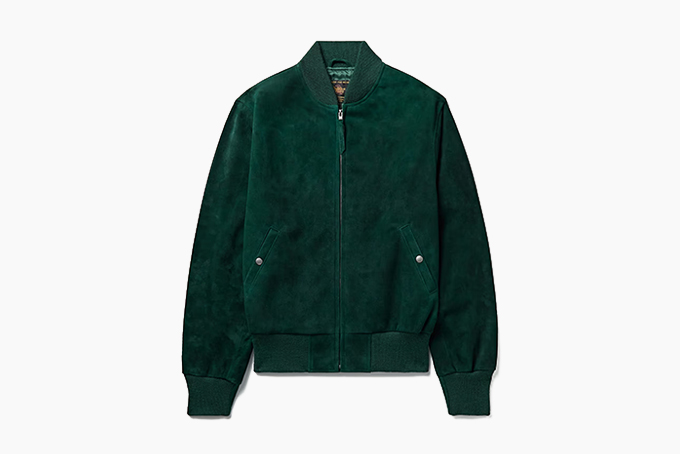 Pros
Supple goat suede construction
Built to last for years to come
Made in the U.S.A.
Best Premium Jacket: Few American heritage brands hold as cherished an ethos as Golden Bear, and timeless investment pieces such as this are a premier example of why. The California clothier's suede-crafted bomber is constructed from pure goat suede, one of the textile world's most supple materials by a mile. Moving on to its cozy trim and interior, the jacket's wool and polyester-made satin composition ensures nothing but rugged longevity and unapologetic coolness for years to come. And while this isn't Golden Bear's only example of a bomber, the deep green-colored option is undoubtedly one of its finest.
Material: Goat suede
Trim: 85% wool, 15% polyester
Lining: 100% polyester
Fit: Regular
The Best Trucker Jackets for Men Right Now
Familiarize yourself with another wardrobe essential with our guide to the best trucker jackets.