We know just how irritating it can be to pay resale for the shoes you want, but maybe that's just the test to see how much you truly want them. From online marketplaces to trading stations, the fact that there are this many platforms for sneakerheads to choose from says more about the subculture's progression than anything else. All that said, we've narrowed down the best sneaker apps on which to pick up your kicks right now, whether new or old.
Best Sneaker Apps

Why should you use a sneaker app?
If there's any subculture that's become an absolute supernova over the past decade, it's the sneakerhead community. The shoe game is constantly shifting, and there are countless people (and pairs) to thank for that. Well, to the chagrin of its traditionalists, the scene is as popular as it's ever been and has had the unfortunate side effect of making it nearly impossible to nab a pair of coveted kicks at retail. Be that as it may, that's just the way things go in our current constant state of hype culture, but saving the day is a wide variety of sneaker apps that have cropped up to help you land that elusive pair.
Word to the Wise: Beware of fakes
In the world of sneakers, fake shoes have been circulating since the first Jordans hit the court. And when online retailers began hosting these shoes (and allowing users to buy and sell them), it opened up an entire market of fake sneakers. Nike even ended up suing StockX, a sneaker marketplace, last year because they were selling counterfeits. For this guide, every app includes some kind of verification process, like eBay has with its Authenticity Guarantee, to make sure the sneakers you're buying are the real deal. Sure, you can risk it on another site, but with the modern protections we have now, there's really no need to.
ADIDAS CONFIRMED
What It's Best For
This one is a bit obvious, but adidas confirmed is the best place to stay up to date on the latest adidas drops.
Kicking this list off is one of the sneaker world's biggest brands, and whether you credit that to Kanye or Kareem, fans of the two, among others, can gain access to picking up some of the three stripes' most coveted kicks. Since hitting the scene in 2020, adidas CONFIRMED has offered unique collaborations, first-run sneakers, and rare colorways directly from the source. Most importantly, CONFIRMED is bot-free to ensure everyone has access to at least a fair chance at any pair they want upon release.
Authenticity Verification?: adidas' own retail site
COPDATE
What It's Good For
This particular sneaker app serves as part-release day calendar and part-raffle entry platform.
Copdate works in cooperation with countless sneaker shops, in addition to the brands themselves. Its user-friendly interface helps you have a chance at copping the pieces you want, whether it's sneakers or streetwear. Simply enter your information to have a shot at reserving your specific size, and cross your fingers until you get any updates. For those willing to pay a little more, but still looking to avoid resale listings, you can purchase a BOOST, which will upgrade your entry for additional access, potentially improving your shot at nabbing any new pairs.
Authenticity Verification? Products sold from stores or brands themselves
EBAY
What It's Good For
eBay has been one of the classic sneaker sites for years, and now the shoes are backed by the Authenticity Gurantee.
The self-proclaimed OG sneaker marketplace gave us no choice but to give it the recognition it deserves. eBay set the template for a handful of apps that appear here, in addition to game-changing platforms like Grailed and TheRealReal, granting people the ability to sell and buy products further backed by the trustworthy site's guarantee. The site's sneaker selection has garnered a worthy makeover in recent years, primarily as a result of the rising popularity of other options. Moreover, the Silicon Valley-bred company's sneaker-specific Authenticity Guarantee entails a physical authentication process and simple return policy, ensuring you are getting the best product possible.
Authenticity Verification? Authenticity Guarantee (checked by a professional then given a token)
GOAT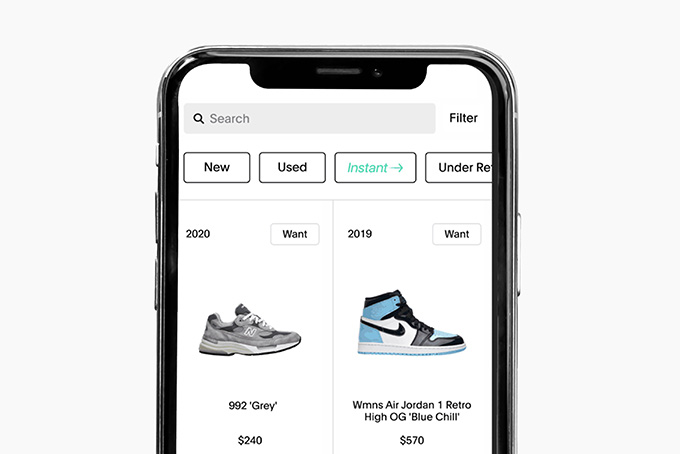 What It's Good For
GOAT is a true worldwide authority in the space, hosting not just sneakers, but other apparel from noteworthy brands.
From archival partnerships with pro ballers to one of the largest catalogs you can ask for, GOAT has become commonplace among the sneakerhead community. Thanks to its authentication process, buyers can rest assured that they're getting the real thing and nothing but. With an endless number of pairs to choose from, you're sure to find something up your alley on here, and the same can go for everyone — and we mean everyone. Moreover, the famed marketplace has become the official sponsor of Paris Saint-Germain, going to show that its world-renowned prowess is no joke.
Authenticity Verification? Assurance of Authenticity (GOAT uses thousands of data points and specialists to verify its shoes)
KIXIFY
What It's Good For
Kixifiy has a wide variety of sneakers that aren't limited to the usual stuff (Jordans, adidas, etc.).
As far as tenure is concerned, Kixify has been around for quite some time and has provided nothing short of a community built around the culture's genuineness. Having come around in 2013, the small team of sneakerheads arguably laid down the foundation for many of these resale-oriented websites, with the majority of other notable peer-to-peer services following suit in the years that followed. Plus, when it comes to a wide catalog, it's hard to compete with the New York-bred site, with everything from Sperrys to Ewing Athletics on hand — as we said, it is based in New York.
Authenticity Verification? Buyer Protection (can return shoes if they're fake, and those selling them will be banned)
NTWRK
What It's Good For
This app is for more than just buying sneakers, as it features art and other collectibles, while also covering upcoming releases.
NTWRK is somewhat of an anomaly in this space, serving as 25% media company, 25% sneaker shop, and 50% QVC for all things pop culture. The app primarily revolves around its unique, live shopping experiences from some of the leaders in collectibles, be it art, coveted trading cards, or towering Bearbrick figurines. That said, if we're talking about pop-culture staples, you have to mention the insanely rare sneakers, many of which are available to purchase via various shows throughout the day by well-equipped collectors with countless options from which to choose.
Authenticity Verification? Requires sellers to apply
SNKRS
What It's Good For
Much like adidas Confirmed, SNKRS is the spot for all the lates Nike releases.
Arguably the most obvious pick of the bunch, it's safe to assume that you already have this installed if you're reading this. As the one-stop-shop for all of Nike's most anticipated drops, the SNKRS app basically serves as the Swoosh's parallel to the aforementioned CONFIRMED; however, it's worth noting that this one first came about in 2015. Moreover, as its innovative history would often imply, Nike pushed the needle entirely with this app, which grants everyone with a smartphone the chance to reserve a pair of new releases within the given time window. Whether you luck out or strike out, the phenomena behind SNKRS is undeniable.
Authenticity Verification? Nike's own retail site
STADIUM GOODS
What It's Good For
For those interested in rare finds, Stadium Goods is bound to have something rare and off the beaten path.
Stadium Goods first set up shop in 2015 with a brick-and-mortar store in New York but has ultimately become one of the most accessible apps on which to find insanely limited silhouettes and colorways. While the shop does sell other items, including streetwear brands' latest collections and vintage tees, the real standout element is its sneaker catalog. On occasion, you might need to pay an arm and a leg for the hottest pairs of Dunks and Jordan 1s, but that's just how it goes nowadays. Nevertheless, you're bound to find a steal here at one point or another.
Authenticity Verification?10-point verification system
STOCKX
What It's Good For
If you're looking to track prices and make a quick buck, StockX is the place to be.
Serving as the go-to parallel to GOAT, this platform has become world-famous and as accessible as any. Its unique take on a stock market-like clothing platform is one of a kind and also offers valuable insight as to what products people have purchased in the past — more importantly, it tells you how much they sold for at the time, too. Conveniently enough, StockX even has a pair of drop-off stations on both coasts and across the pond, so there's no need to worry about any hassle at your local post office (provided that you're in NY, LA, or London).
Authenticity Verification? Shoes are checked at StockX's verification centers
TRADEBLOCK
What It's Good For
If you're an avid collector who cares more about the collection than the price, Tradeblock is for you, offering a simple user experience and a convenient trade-in option.
Rounding out this collection of apps is an option tailored toward collectors rather than resellers, which is an extremely appropriate way to close out the list. Tradeblock is as user-friendly as it gets: simply list your shoes, find the pair you want, and offer a trade in an effort to avoid the lofty resale prices we've grown beyond accustomed to seeing.
Authenticity Verification?: Tradeblock uses experts, quality control, and two-factor authentication to make sure the shoes aren't fake
The Best Classic Sneakers That Are Always Stylish
With Nike and adidas arguably sitting head and shoulders above the rest of the sneaker community, it's no surprise that they find themselves on our list of the best vintage sneakers guide, too.