Sep 12, 2019
Category: Gear
Swapping out apps and sleek high-definition screens for sunshine and fresh air every so often brings much-needed balance to life. We should embrace both the digital and natural world, as anything in excess will most likely become toxic. So, anytime you get to pause your 100mph life for a moment, break out of the confines of the city and dive into nature. Not only will you give those eyeballs a breather, but you'll also be getting some cardio done with a side of incredible views.
If you start your weekend with a party, try ending it with a revitalizing hike. There are plenty of trails you can try out if you do some digging on the web. Go with a small group and bring a compact camera to capture some memories along the way. And don't forget to dress the part, which means you'll need a rugged pair of hiking shorts, especially if you're traversing the backcountry terrain in warmer weather. You may think it's a piece of cake to search for a pair of hiking shorts, but once you start your search, you'll find that your search engine will drown you with an overwhelming amount of options. To help you get out there faster, we created a list of the best hiking shorts to tackle the trails.
Construction Counts
Picking The Right Pair
If you slip into an old pair of basketball shorts for your hike, you'll soon find out that all shorts aren't created equal. To hang out in Mother Nature's playground, you'll need something tougher than your average pair of gym shorts, especially if you're doing longer, more difficult hikes. Before you sink your teeth into our list, we'll give you some pointers on what to look out for when choosing the ideal pair of hiking shorts. First, make sure the shorts are made from stretchable fabric, such as spandex and polyester, to ensure comfort and mobility on your route. Next, make sure the shorts have ample pockets, so you can bring all your essential hiking EDC gear. Last, try to find a pair of shorts made with moisture-wicking material and some UPF sun protection. If you stick to those standards, you'll find your way to a durable pair of go-to hiking shorts.
REI Co-op Active Pursuit Shorts
For taking on switchbacks under the blazing sun, REI's polyester and spandex Active Pursuit shorts are perfect, as they allow you to move naturally on difficult pathways. The moisture-wicking pair provides you with UPF 50 sun protection and has a wide waistband, hand pockets, and a hidden zippered rear pocket for your keys and cash. It also has a flat-seam construction to prevent chafing.
Roark Revival Layover Shorts
Not only is this a solid pair of travel shorts, but their lightweight and durable construction also make them ideal for hiking. It has a back yoke vented mesh for breathability, drawstring closure waist for adjustability, extended zipper pockets to hold all your EDC essentials, and back stash pockets with button closures. Step off the plane, and you'll be ready to hike to loosen up those muscles after a long flight.
Outdoor Research Ferrosi Shorts
Built for hiking and backpacking, Outdoor Research's Ferrosi shorts are made from nylon and spandex 90D stretch woven ripstop. These durable shorts adjust to your natural stride, assuring you feel comfortable throughout your journey. And with a sleek minimalist design, they're stylish for enough to wear walking around the city too.
Patagonia Quandary Shorts
Go from the trail to town with Patagonia's Quandary shorts constructed from lightweight stretch-woven nylon with a DWR finish. Stay comfy in this apparel thanks to a curved waistband, gusseted crotch, and a classic fit. They feature handwarmer pockets, two rear pockets, and a zippered right-thigh pocket, so you can carry all your compact gear.
The North Face Paramount Trail Convertible Pants
Mother nature can be spontaneous, so for more versatility on the trail, the Paramount Trail Convertible pants fit the bill. The water-repellent nylon fabric pants convert easily into 10-inch shorts if the heat gets turned up outdoors. These UPF 50 hybrid pants feature a gusseted seam and zip-close cargo pocket for secure carry of your compact goods.
Filson Trail Shorts
Filson's always a reliable source for outdoor gear, and their Trail shorts are no exception. The 100% cotton Superdry water-resistant construction makes these shorts perfect for hiking, swimming, or wading. They're built with an elastic waistband, front and rear patch pockets, and a convenient drawcord. Made for the outdoorsman, these hiking shorts are no stranger to the wild.
Triple Aught Design Nautilus AC Short
Inspired by '60s James Bond movies and original Underwater Demolition Teams, Triple Aught Design's Nautilus AC shorts are ready for any trail. These hiking shorts feature a 6.5-inch inseam, DWR nylon construction, triple and double-needle stitching for durability, and a gusseted crotch. They also have two classic hand pockets with integrated loops and one rear pocket with velcro closure for safe storage.
Prometheus Design Werx ATAR Shorts
Designed for the intrepid adventurer, the ATAR hiking shorts are built from Prometheus Design Werx's All-Terrain Cloth with C6 DWR finish and custom nylon hardware. They possess the technical properties for various terrains, such as zippered pockets, including a Hide-Away Pocket, internal drawstring, full "U" gusset panel, and bar-tack reinforcement construction.
GORUCK Challenge Shorts
If you want to conquer the trails, GORUCK's Challenge shorts a must-have for your attire. Made in the USA, these shorts feature ToughDry two-way stretch fabric, cargo pockets with interior drain holes, a diamond gusset for extra flexibility, and a curved waistband for a comfy fit. And they're abrasion-resistant to survive more challenging paths that you encounter.
Prometheus Design Werx Odyssey Cargo Short ATC
Inspired by WWII American Paratrooper combat pants, these hiking shorts are ready for any mission on the field. The submersible shorts are made from All-Terrain Cloth with a DWR finish and durable nylon threat construction, bar-tacks to reinforce stress points, and a three-point cargo flap closure system. Not to mention, they're made right here in America.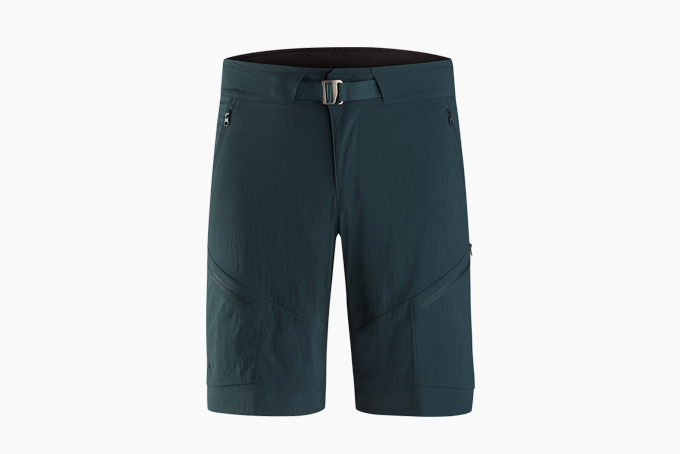 Arc'Teryx Palisade Short
Combining technical TerraTex nylon blend fabric and ergonomic patterns, the Arc'Teryx Palisade shorts are perfect for warm-weather hiking and trekking. These moisture-wicking shorts have a streamlined and stretchy fit with a gusseted crotch to allow freedom of movement to overcome steep grades and variable terrain. And they have carefully placed cargo pockets with a volume pleat for efficient storage.
Vollebak 100 Year Shorts
Made from fireproof military-grade material, Vollebak's 100 Year shorts are extraordinary in every sense of the word. They're highly abrasion- and tear-resistant with a four-way stretch throughout for ideal torsion and stretch capabilities. Also, they have two large side pockets with reinforced lining, as well as one waterproof zippered pocket. Based on the quality of the material, we trust they'll live up to their name.
How To Buy Hiking Boots
You're going to need capable footwear to go along with your rugged hiking shorts. However, the options for hiking boots can be overwhelming. Use our guide on how to buy hiking boots to assist you in finding the perfect pair for your feet.
HiConsumption is reader-supported. When you buy through links on our site, we may earn an affiliate commission. Learn more