More and more, people are waking up to the fact that Earth is the only home we humans (and the millions of other species we share it with) have. And, unfortunately, we've gotten to the point where we've done sometimes-irreparable damage to certain parts of the environment. And, from the look of things, that only appears to be getting worse. But there are also plenty of people trying to do their part to limit and sometimes reverse that damage. And some of those people have implemented that ethos into the functionality of the businesses they have founded and/or run.
Take a careful look around the world of gear, especially when it comes to outdoor-focused offerings, and you might start to notice that more and more brands are implementing sustainability into their day-to-day operations through eco-conscious manufacturing processes, material recycling, and even company-wide cleanup events. And when the gear landscape is overcrowded with brands that don't do anything to give back, even the littlest bit counts. That's why we've rounded up the following list of 20 sustainable gear brands you should know.
Askov Finlayson
The first brand on our list, Askov Finlayson, has been in operation since 2011. However, they recently did something pretty inconceivable: they temporarily shut down operations to phase out 3rd-party brands in their store and shifted their manufacturing practices to make themselves the world's first climate-positive outerwear brand. For reference, that means that every piece of gear — from their winter parkas down to their simplest baseball caps — has a negative carbon footprint, resulting in an overall positive impact on the environment. In fact, they give "110% to support leading-edge solutions to the climate crisis each and every year." We hope others follow their example.
Bellroy
From the beginning, Bellroy has built sustainability into their business practices. This can be seen most immediately in their decision to use only environmentally-certified leathers in their wallets, phone cases, backpacks, etc. And while that commitment is definitely a solid contribution to sustainability, they just upped the ante even further with their Recycled collection. Essentially, what this new collection offers is the same superb everyday carry goods Bellroy has always made, but crafted from recycled plastic bottles. And it's not just a couple of items here or there — it's a full collection. And the brand is so committed to the program, they've pledged to save more than 7 million bottles by 2021 by making 90% of their woven products from natural or recycled fabrics.
BLUESIGN
Technically speaking, BLUESIGN is not a gear brand. That is to say, they don't make and market their own items for sale. Rather, they work closely with many brands, large and small, to incentivize suppliers, manufacturers, and the brands themselves to utilize textiles with the smallest environmental impact possible. They also advocate both for workers and consumers alike and they're especially concerned with the damaging effects caused by harsh chemicals. According to their site, the organization has, since its inception, helped to replace hundreds of tons of hazardous chemicals with safe alternatives. So, if you see a piece of gear that mentions BLUESIGN materials used in its construction, you can rest easy knowing that the item was built with the planet's health in mind at least more than a passing consideration.
Columbia
Columbia has been around for the better part of a century, dating back to 1938. And in that time they've solidified themselves as one of the world's favorite go-to brands for outdoor apparel of all sorts. While they're a more obvious addition to our list, their contributions to sustainability are no less important, especially because they are so visible in the eye of the public. That includes using fabrics like recycled polyester in their manufacturing processes, their Rethreads program that lets customers trade in old gear for discounts on new gear, and a hefty amount of donations made to charitable organizations — including The Conservation Alliance and The Ocean Foundation, amongst others.
Cotopaxi
Like many of the brands on our list, Cotopaxi has sustainability and charity fused to its very core. Not only does this B Corporation donate 1% of all profits toward addressing poverty and community development, but they've also offered 42 grants across six different countries to help improve the lives of people living there. Of course, that's all tangential to their bigger contributions — including the use of ethically-sourced materials, the incorporation of recycled fabrics and scraps that might otherwise be discarded into the manufacturing process, and more. And just to put an exclamation point on that, all their gear is designed with a 61-year guarantee, helping to keep more of it out of landfills.
Everlane
While you might not think they are directly related, factories that offer things like fair wages, reasonable hours, and a positive environment to their employees also tend to be on the more environmentally-friendly side of things as well. And it's Everlane's policy to only work with factories that meet their standards. They've also built all of their products from the finest materials so that you'll keep wearing them for decades — including denim made by a factory that recycles 98% of their water used, relies on renewable energy for power, and repurposes their byproducts. And if that's not enough, they've also gone to great lengths to make themselves extremely ethically responsible by being one of the most radically-transparent brands around. If you want to know how much they spent to build a particular garment versus how much you pay for it, the information is all right there in front of you.
Fjallraven
The Scandinavian craftsmen behind Swedish brand Fjallraven make some of our favorite outdoor-focused apparel, gear, accessories, and more. However, they're also dedicated to their own (and the world's) betterment at every step of their business practice. And while they are self-admittedly imperfect, their dedication to constant improvement is admirable. Of course, they're doing a whole lot more than simply admitting to their flaws. In fact, their long list of sustainable practices includes purposeful designs made to limit unnecessary waste and last for a lifetime of use or more, low-impact construction materials and a refusal to use unnecessarily-damaging chemicals in their construction, fully-traceable down (a byproduct of the food industry that would otherwise be waste), and transparency with all of this. If you want to know more, all you have to do is visit their site.
New Balance
A lot of the bigger-name brands on our list aren't just incorporating sustainable practices into their companies, they're also leading by example. And perhaps one of the more important names in that regard is sneaker giant New Balance. In fact, they have dedicated a healthy amount of environmental education time to their product design, development, and manufacturing teams. They've also established a team of employees dedicated to watching out for hazardous chemicals before they ever get into factories, helping to ensure that restricted substances never make it into their shoes. Plus, they've made a habit of utilizing both recycled and sustainable materials into their shoe releases on a consistent basis.
Osprey
If you're in the market for a solid outdoor backpack, Osprey should 100% be on the shortlist of brands you can trust. And as an added bonus to their comprehensive catalog of outdoor-focused offerings, they also happen to be committed to continually improving their sustainable practices and their impact on the world that surrounds them. Amongst the many things they're doing to manage that, they use recycled and recyclable packaging materials (including 100% recycled content shipping boxes), they have a list of chemicals they refuse to use in the creation of gear, they limit waste in their production line, and more. And if you want to know about any of this, they also boast a hefty amount of transparency — meaning you see all this information out in the open on their site or reach out for more.
Outdoor Voices
One of the biggest offenders of wastefulness and negative environmental impact is the exercise apparel industry — one in which performance is almost always the priority. And within that industry, Outdoor Voices is a bright and shining example of how that doesn't have to be the case. In fact, their sustainability starts before their garments are even prototyped, by considering the longevity and environmental impact in their very design. And while they build everything to last a lifetime, they're also working on solutions for repurposing, repairing, and recirculating our used product. Furthermore, they've been working on swapping out fabrics and packaging — which makes up 70% of their environmental impact — for far more sustainable alternatives, like recycled and BLUESIGN-certified textiles.
Outerknown
Of any of the founders of the brands on our list, Outerknown's Kelly Slater — 11-time World Surf League Champion — should be one of the most in-tune with the message of sustainability. After all, he's traveled the world and seen, firsthand, some of what we're doing to our oceans and, by proxy, our planet. And wouldn't you know it, that's exactly the case. In fact, sustainability is built into this lifestyle brand's ethos on every level on which they do business — from product innovation, to complete transparency as to their practices, to using recycled fishing nets to craft textiles, to paying their worldwide employees and factory workers fair livable wages, and so much more.
Parley
Like BLUESIGN, Parley isn't technically a gear brand. But they do have an impressive number of collaborations with some of the biggest manufacturers and brands in the world — including the likes of Adidas, Intel, Corona (yes, the beer), and so many more. In essence, what Parley does is bring together some of the greatest minds in science, technology, engineering, art, and math and gets them to collaborate on ways to help clean up the environment — most specifically, by removing plastics from the oceans in clever, innovative, and sustainable ways. That means, if you see a product as being advertised as a Parley collaboration, it was crafted using recycled plastic waste taken from the Earth's waterways. They're also campaigning to eliminate single-use plastics entirely, and they help empower brands to start making positive, impactful, sustainable choices on every level of business.
Patagonia
Of all the brands on our list, Patagonia is most definitely one of the largest and has also made great strides in being one of the most sustainable brands around. And to manage that, they've taken a multi-pronged approach to their endeavors. That includes things like using only renewable energy to power their HQ and retail locations, shifting 100% of their supply chain so they're only using sustainable materials by 2025 (they're presently at 69%), sourcing only renewable fibers for the creation of fabrics, and so much more. On top of all that, they have also helped donate a whopping $20 million to grassroots organizations fighting the climate crisis. If more brands were as dedicated to sustainability as Patagonia, we might not be in as much trouble as we appear to be in.
Rareform
Rareform was quite literally borne of the idea of sustainability. You see, they were started by a pair of brothers who, while living in El Salvador, discovered their friends and neighbors were using vinyl billboard advertisements as roofing — which is not traditionally recyclable. That meant most billboard ads ended up in landfills. Instead, they chose to take that vinyl once the billboards were taken down and transform them into hard goods, like duffel bags, backpacks, and more — thus keeping them out of the landfills. As of this writing, they claim to have "rescued" 2,650,038 lbs of billboards that would have otherwise added to our already daunting amount of unnecessary waste.
Recycled Firefighter
While the ultra-durable gear used by firefighters is largely responsible for keeping these heroes safe, the materials used in their construction, by nature, are not exactly renewable or eco-conscious. But that's where Recycled Firefighter comes in. Started by an actual firefighter, Jake Starr, this company takes decommissioned firefighter gear — like their heavy-duty hoses — and transforms them into a collection of ultra-durable, well-built, everyday carry gear. More specifically, they craft wallets, bags, belts, and accessories out of materials that would otherwise be thrown away — adding a bit of longevity to what would instead become waste. As of this writing, they've repurposed over 15,000 feet of decommissioned fire hose from around the United States.
REI
Whereas most major retailers are interested in turning a quick buck and figuring out easy ways to increase profits, REI has a very different outlook on how a company should run. A major part of that includes sustainability, eco-conscious business practices, and employee-friendly policies. Amongst their many contributions, their policies include instating sustainable requirements for all brands they sell, a focus on using sustainable and renewable sources across their suite of products, a refusal to utilize leather from the Amazon biome or virgin wool from non-humane sheep farms, refusing to use damaging chemicals in the creation of fabrics, and much much more. If you're looking for a prime instance of a company leading by example, look to REI.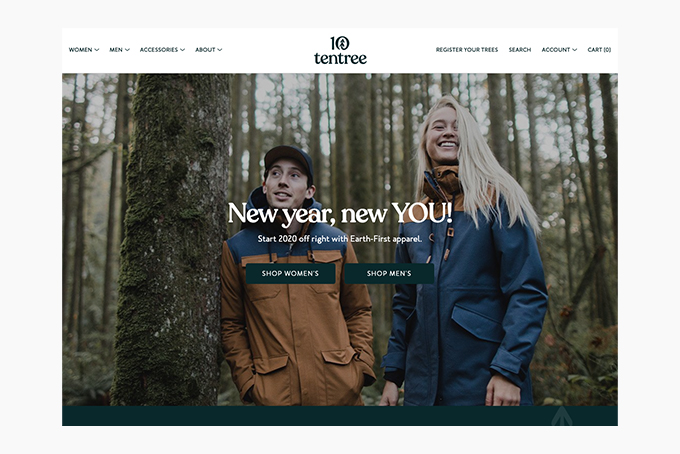 Tentree
Focused on creating handsome, durable, and long-lasting apparel, Tentree's dedication to sustainability it so deeply ingrained that it's even built into their brand name. You see, it literally means that for every purchase big or small, they go out into the wilderness and plant a total of ten new trees. In fact, as of this writing, they've planted over 35,314,580 trees and have pledged to plant a billion by 2030. And, while that's enough to earn them a spot on our list, they also have been careful to use sustainable fabrics in the design and manufacturing of their goods, because they believe the ethos should apply to all facets of what they do.
The North Face
Undoubtedly one of the most well-known outdoor and apparel brands in the world, it shouldn't come as a surprise to see The North Face on this list. In fact, since 2010, this brand has effectively eliminated the equivalent of over 212 tanker trucks of chemicals and saved over 470 Olympic swimming pools of water by adjusting their supply chain. They're also putting an increased focus on renewable materials, actively advocating against climate change and doing their best to offset their carbon footprint, and both founding and contributing to some of the world's most impactful environmental non-profit organizations. They've even started a program they call "Renewed," in which they'll actually buy back used gear from their customers to resell them as discounted secondhand gear — helping keep plenty of garments out of the landfills of the world.
United By Blue
Sustainability is built into the very DNA of the folks at United By Blue. In fact, it's their company policy that, for every single product sold, they'll go out and remove an entire pound of waste from the waterways of our planet. They also help organize community cleanups around the country, they're removing all single-use plastics from their supply chain by spring of 2020, and they're dedicated to using materials with as little environmental impact as possible. They even have a suite of gear designed to replace all your single-use plastics, so you can take an active part in doing away with the unnecessary wastefulness in your own life.
Zeal Optics
Everyone needs a good pair of shades to help get them through the sunnier days of the year. But if you buy from Zeal Optics, you're actually helping limit the negative impact on the environment. That's because 1% of the entirety of their gross sales is donated directly to supporting environmental causes. That includes investing in the National Forest Foundation, Protect Our Winters, and the dZi Foundation. As if that's not enough, they also build their eyewear — which ranges from glasses to snowboarding goggles and accessories — from plant-based materials. And that helps tremendously when it comes to keeping our wild spaces safe and protected.