Since the dawn of the automobile, a handful of regions have developed distinct reputations for their interpretations of the car, from America's proclivity to large-bore engines and muscle to Germany's world-famous reliability and engineering. But when it comes to outright aesthetics, no country on earth can hold a flame to the automotive designs that have come out of Italy over the last 125 years. Penned by some of the most iconic automotive marques and coach builders in existence and backed by equally-exotic powertrain configurations, classic Italian car designers represent some of the most valuable vintage specimens on earth and continue influencing the design of contemporary auto offerings.
From two-door roadsters to monoposto endurance racers to full-on supercars, there's no shortage of genuinely noteworthy and wholly iconic Italian car designs. There are, however, a handful of models that stand above the rest, and it's this creme-de-la-creme of the Italian auto world that we'll be exploring today in this guide to the most iconic Italian cars of all time. Below, we'll not only explore a selection of these vehicles and pour over their powertrains and specs, but we'll also delve into the history of the Italian automotive industry and what factors lead to the country ultimately producing some of the most beautiful and legendary cars ever.
Italian Auto History
How Italy's Car Industry Took Shape
On the surface, it may appear that Italy being responsible for so many prestigious motoring brands is merely a coincidence, though the reality is that there's a myriad of factors that have given way to the nation's world-class reputation for producing some of the finest, most beautiful cars on earth.
The first main factor at play here is Italy's unparalleled appreciation for craftsmanship, mastery of a field, and attention to detail. For literally hundreds of years, the region has been well-known for its exacting standards in manufacturing, and whether its fine leather boots, firearms, musical instruments, or purses, the country's tendency to focus on fit and finish to an almost obsessive level has undoubtedly played a key role in shaping its automotive industry and said industry's sterling reputation.
Art and expression have also been fundamental aspects of Italian culture going back centuries. The nation has historically been a cultural hub for fine art, placing an enormous value on aesthetic beauty and not letting form take a backseat to function amidst the design process. And this tradition has carried over, from the renaissance era to more contemporary times, with Italy's partiality towards beauty and aesthetics remaining very much intact today and playing a guiding role in the country's creations and exports, automotive or otherwise.
The Motor Valley
Home Of The Italian Exotic
Passion and tradition are also abundantly present elements that permeate Italian culture. Italians seldom just get into the automotive industry in hopes of simply paying the bills, but are rather driven by a fierce passion and love for cars, their beauty, performance, and what makes them tick. And while this trait is shared by several other nations — at least to an extent— Italy contains numerous mechanical hotbeds, where tinkering and wrenching on engines and a deep love for cars and motorcycles are both deeply ingrained in the culture and have been for generations.
In particular, Italy is home to the Emilia Romagna region, a locale in the northern part of the country that's better-known to motorsport and automotive enthusiasts as "Motor Valley" as it contains the provinces of Bologna and Modena. The monicker is owed to the fact that in this area lie the factories and headquarters of many of the world's most elite automotive operations including Maserati Ferrari, Lamborghini, De Tomaso, and Pagani, as well as Ducati Motorcycles, Moto Morini, and FB Mondial, just to name a few. Then there's the city of Turin that's home to legendary Italian outfits like Lancia, Alfa Romeo, Fiat,
And while this applies to some firms more than others, when most British, American, and Japanese manufacturers shifted towards mass production over time, a handful of the most iconic Italian car brands instead stayed rooted in tradition and maintained boutique operations, trading in low-volume, high-dollar exotics.
Engineering & Design
Redeeming Shortcomings Through Stellar Design
The reliability and mechanical engineering of the vehicles coming out of Italy have hugely improved over the last few decades, though for a decent street of time, the country had a, let's say "less-than-stellar reputation" for dependability — especially pertaining to electrical systems and components. At certain points in time, Italy's automotive manufacturers were readily aware that they lagged behind some of their foreign competitors in terms of technology or mechanics (not to say they were making bad products, just not cutting-edge ones).
One avenue through which the country could always distinguish itself from the rest of the automotive world, however, was its exotic aesthetic designs and as a result, this has become an integral part of the Italian car industry's core identity. Interestingly, there's a single institution that played a guiding role in shaping the exotic reputation of the Italian car industry, and that would be the Scuole Tecniche Bolognesi Aldini Valeriani (or the "Technical College Aldini-Valeriani-Sirani").
The School Of Beautiful Car Design
The Technical College Aldini-Valeriani-Sirani
The school was founded in 1844 when Bologna — which was largely dependent on its silk industry — was hit by an economic crisis and intended to help diversify the region's local industries and exports. Initially, the academy planned to take advantage of the industries springing up on the heels of England's industrial revolution, but when the car and motorcycle industries began to take shape, the Northern Italian technical school pivoted to embrace the new mediums, eventually leading to the institute's world-class reputation for vehicle design.
Based on the school's location, it attracted a great many young local motorsport enthusiasts, before later attracting some of the best and brightest minds in design that the country had to offer. Over time, a large number of what would eventually be recognized as some of the world's most eminent automotive designers would come to call the Scuole Tecniche Bolognesi Aldini Valeriani their alma mater.
Post WW2 Italy
How A Post-War Italy Birthed A Leading Auto Industry
Another noteworthy factor was the state of affairs in Italy directly following Word War Two. With limited financial means and a dire need for economical transportation to get Italy back to work and to rebuild its economy, a massive number of small motorcycle, scooter, microcar, and delivery vehicle manufacturers sprang up to meet the need for the hugely increased demand after the war.
What's more, the Treaty of Peace with Italy in 1947 stipulated that, among a slew of other restrictions regarding Italy's army and navy, that the country's air force was limited to only a few hundred aircraft and was barred from owning or flying bombers. On top of that, its ranks were reduced to just 25,000. Consequently, Italy's sharpest and most promising mechanical minds pretty much all entered the automotive or motorcycle industry, as working in the field of aviation wasn't really an option.
16 Rolling Icons
The All-Time Most Iconic Italian Cars
Obviously, there are other contributing factors that affected how Italy became the world capital for exotic car design and production, but we've now touched on what are widely considered to be the most pivotal aspects in the creation of the Italian automotive industry. So, now that you have a decent grasp on how Italian auto design took shape over the last century, let's delve into some of the all-time most legendary vehicular specimens ever to come from the European country.
Alfa Romeo 33 Stradale
Based on the Turin marque's Tipo 33 endurance racer, the Stradale 33 is as visually stunning as it is rare, with only 18 specimens ever produced. The car's Peraluman H350 alloy bodywork was penned by Tuscan automotive design legend, Franco Scaglione, and shrouded an advanced chassis with a Campagnolo-built magnesium-alloy subframe accommodating the vehicle's 90° V8 engine and double-wishbone suspension. The 33 Stradale was also the first car to feature dihedral (or "butterfly") doors that open curving upward and outward from hinges on the A-pillars—a trait that's commonplace on modern supercars today.
First Released: 1967
Engine: 2.0L DOHC V8
Horsepower: 227hp
Torque: 152ft-lbs
Alfa Romeo GTA
Alfa Romeo was tremendously active in motorsport competition through its racing division, Autodelta, which produced an A-spec (with the "A" standing for "Alleggerita", Italian for "lightweight") of the popular road-going GT (or "Giulia Sprint") production car. With its minimal size and a weight curb weight of under 1,750lbs, and a healthy double-ignition cylinder head equipped 1.5L engine, the GTA was an impressive performer with nimble handling. Unlike the regular steel-bodied GT, the GTA was draped in lightweight aluminum alloy bodywork designed by Bertone.
First Released: 1965
Engine: 1.5L Twin Cam Inline-Four
Horsepower: Up to 300hp
Torque: N/A
De Tomaso Pantera
A hugely influential vehicle design and one of the earliest examples of a bonafide supercar, the Pantera was penned by American-born designer Tom Tjaarda and was built around a (then) cutting-edge steel monocoque chassis. At the heart of the mid-engined four-wheeler was a 330hp Ford Cleveland V8 that, when coupled with the car's sub-3,200lb curb weight, allowed for a top speed of nearly 175mph.
First Released: 1971
Engine: 5.8L V8
Horsepower: 330hp
Torque: 344ft-lbs
Ferrari 250 GTO
Designed by Giotto Bizzarrini with help from Sergio Scaglietti and Mauro Forghieri, the Ferrari 250 GTO is an automotive icon through and through, standing as one of the most coveted and sought-after vehicles in history—so much so that it's actually the most expensive vehicle ever to be sold at auction, with a 1962 250 GTO by Scaglietti specimen fetching over $48M when it went under the gavel at an RM Sotheby's sale in 2018.
First Released: 1963
Engine: 3.0L SOHC V-12
Horsepower: 296hp
Torque: 217ft-lbs
Ferrari 330 P4
Though it closely resembled its 330 P3 sibling, the 330 P4 was a decidedly different machine, thanks to a largely reworked three-valve-headed V-12 engine redesigned by the great Franco Rocchi. Adorned in lightweight Berlinetta-type bodywork and weighing just under 1,750lbs, the 330 P4 generated an enormous 444hp (or 113hp per cylinder), allowing it to achieve a 200mph top speed, and a plethora of illustrious race wins, including a historic 1-2-3 finish at Daytona.
First Released: 1967
Engine: 4.0L V-12
Horsepower: 450hp
Torque: 385ft-lbs
Ferrari F40
The 1980s were arguably the most exciting years in the supercar sector and this golden era gave way to numerous iconic models such as the Ferrari F40. Created to mark the 40th anniversary of the Prancing Horse marque, the F40's angular design was a product of Pininfarina and was primarily built from state-of-the-art composites. A race-derived chassis and a powerful 471hp twin-turbocharged 2.9L 90° V8 together afforded phenomenal performance metrics, with approximately four-second 0-60mph times and a top speed exceeding 200mph.
First Released: 1987
Engine: Twin-turbocharged 2.9L V8
Horsepower: 471hp
Torque: 426ft-lbs
Fiat 500 ('57-'75)
The immense need for affordable utilitarian means of transportation in post-WW2 Italy was met by a slew of microcar models, though few if any were as successful as Fiat's 500, of which nearly 3.9 million units were built in its nearly two-decades in production. The successor to the 500 "Topolino," the pint-sized, two-door four-seater was incredibly simple and minimalistic, with a half-liter air-cooled twin-engine providing enough oomph for basic commuting duties, allowing the mighty little 500 to thrive in urban environments.
First Released: 1957
Engine: 0.5L Twin-Cylinder
Horsepower: 18hp
Torque: 22.1ft-lbs
Iso Grifo
Taking aim squarely at luxury touring models from the like of Ferrari and Maserati, the Iso Grifo combined Italian design with American power, bestowing the Giotto Bizzarrini-engineered, Giorgetto Giugiaro-penned GT car with US-made engines from Ford and Chevy. In 1970, the Bresso-based manufacturer unveiled the Grifo Series II which saw a host of major updates and changes, though in total, only 413 examples with ever produced, with 330 Series I models and 83 Series II specimens ever leaving the factory.
First Released: 1963
Engine: 7.0L OHV V8
Horsepower: 395hp
Torque: 460ft-lbs
Lamborghini Countach LP 400
Known as the LP 400—with the "LP" denoting "Longitudinale Posteriore" (aka the engine's longitudinal layout)—the first generation Lamborghini Countach was designed by Marcello Gandini and would set the stage for the increasingly sharp, aggressive, and futuristic hypercars produced by the exotic auto marque in the following 47 years. Only 151 LP 400 examples were built between 1974 and 1978, making specimens incredibly valuable today, especially those with few original miles.
First Released: 1974
Engine: 4.0L DOHC V12
Horsepower: 370hp
Torque: 266ft-lbs
Lamborghini Miura
When Lamborghini first debuted the Miura—originally code-named 400TP—it legitimately redefined the high-performance sportscar sector. Not only was the Miura the world's first mid-engined, rear-wheel-drive, two-seater supercar—a formula that's now the standard in the supercar and hypercar segments—but it was also the world's fastest production car upon its release with a top speed of 63mph and a 6.3-second 0-6mph time. Later versions of the Marcello Gandini-designed classic offered even better performance such as the SV-spec.
First Released: 1966
Engine: 4.0L DOHC V-12
Horsepower: 360hp
Torque: 295ft-lbs
Lancia Aurelia B24 Spider
Lancia's first post-war car model, the B24 Spider version of the Aurelia is a Pinin Farina-designed masterpiece that perfectly encapsulates the elegance of mid-century road-going Italian car design. Released in 1954 and produced for only two years, the B24 Spider separated itself from the base model with a wraparound windscreen, two-part chrome bumpers, and removable side screens.
First Released: 1955
Engine: 2.5L OHV V6
Horsepower: 118hp
Torque: 127ft-lbs
Lancia Delta Integrale
The Lancia Delta HF Integrale is a Group B icon that surprised the rally world with its immense performance prowess. In its first year of competition, the Delta HF Integrale won some eight out of the eleven rounds of that year's World Rally Championship, ultimately winning that year's title before repeating the feat in '88, and '89, and then again in '91.
First Released: 1987
Engine: Turbocharged 2.0L Inline-Four
Horsepower: 165hp
Torque: 192ft-lbs
Lancia Stratos
Widely considered to be the first-ever car developed from the ground up for the express purpose of competing in the World Rally Championship, the Lancia Stratos is arguably the most legendary Group 4 rally car of all time. Another stunning work of Bertone's Marcello Gandini, the Stratos featured a mid-mounted Ferrari V6 engine mated to a five-speed transmission. Built as a homologation special, only 492 specimens ever left the factory, making surviving examples—even of the barn find variety—typically worth north of half-a-million dollars.
First Released: 1973
Engine: 2.5L V6
Horsepower: 187hp
Torque: 165ft-lbs
Maserati 250F
Campaigned in the 2.5-liter Formula One class between 1954 and 1960, the 250F was a monoposto racer from Maserati that was successfully raced by some of the world's most legendary drivers such as Juan Manuel Fangio and Sir Stirling Moss—the latter of which called the 250F "the best front-engined F1 car" he'd ever driven. Co-designed by Gioacchino Colombo and Valerio Colotti, only 26 specimens of the 250F were ever produced across its entire seven years in competition.
First Released: 1954
Engine: 2.5L Straight-Six
Horsepower: 220hp
Torque: 221ft-lbs
Maserati A6GCS Berlinetta
One of, if not the most prestigious and sought-after Maserati model of all time and the final Trident-branded car to be designed by Pinin Farina, the A6GCS Berlinetta was an open two-seater race car. Though half-a-dozen frames were built, only four were fitted with bodywork and engines, all of which survive and are accounted for today. In terms of performance, the 170hp 2.0L straight-six-powered vehicle was also objectively ahead of its time with an approximately 150mph top speed.
First Released: 1953
Engine: 2.0L Straight-Six
Horsepower: 170hp
Torque: 143ft-lbs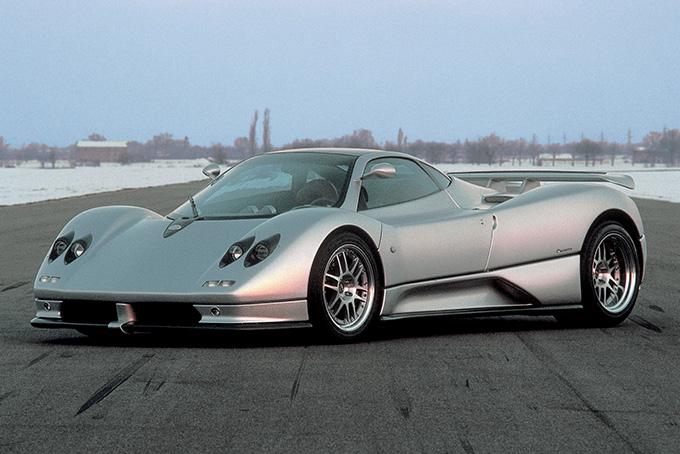 Pagani Zonda C12
First debuting at the 1999 Geneva Motor Show, the Pagani Zonda C12 is a high-performance mid-engined supercar powered by a potent Mercedes-Benz-sourced 6.0L V12 engine. The inaugural offering from the boutique Modena marque, the Zonda C12 was capable of four-second 0-60mph times and could reach speeds in excess of 200mph. Liberal and extensive use of carbon fiber allows the Italian supercar to tip the scales at under 2,800lbs at the curb, too.
First Released: 1999
Engine: 6.0L V-12
Horsepower: 444hp
Torque: 472ft-lbs
25 Concept Cars We Wish Made It To Production
Want to check out another selection of highly-esteemed automotive designs? Well, our guide to the best concept cars features more than two dozen of the most unique cars ever created, never to see the light of production.