It would appear that with every new dawn, another outdoor apparel brand is born. And frankly, we're not entirely in disagreement with this notion. The past decade or so has brought a myriad of versatile and niche boutique outdoor brands into the spotlight – some of which have worked to truly push the envelope in the technological makeup of such gear and apparel.
Since we've surrounded ourselves with these quality boutique names for years now, we present to you a handful of smaller outdoor brands that may not resonate with a huge audience but do produce some killer outdoor gear with the branding to back it up. Some, you'll find, have been around for half a century. Others, just a few years. All of which, however, stand by their goal of producing high-quality gear for the outdoorsman. And boast the products to back it up.
Best Outdoor Brands Breakdown

The Rise of Boutique Outdoor Gear
Even just a couple of decades ago, boutique outdoor gear brands were relegated to online forums and word of mouth, with the trailside and campsite being riddled by more ubiquitous names.
The rise of boutique outdoor brands has coincided with their accessibility; better chances of reaching target audiences with the rise of social media have created both a more democratic pursuit by the consumer and the desire to have loyalty for brands that aren't necessarily "mainstream." Speaking of social media, the realm of influencers has also played a role in increasing awareness for many of these brands.
Now, as outdoor enthusiasts have become more interested in innovative construction techniques, unusual materials, and meticulous designs, the brands have taken note of this. Even big-name brands like adidas and Arc'Teryx have created their own sub-labels to match what the smaller brands are doing.
techwear vs. gorp-core
Techwear and gorp-core are very much two sides of the same coin, and really a matter of context. However, a (loose) consensus could be made that gorp-core focuses on the function of outdoor gear while techwear is more design-forward. However, many brands specialize in both – balancing form and function – and omit any delineation between the two.
And Wander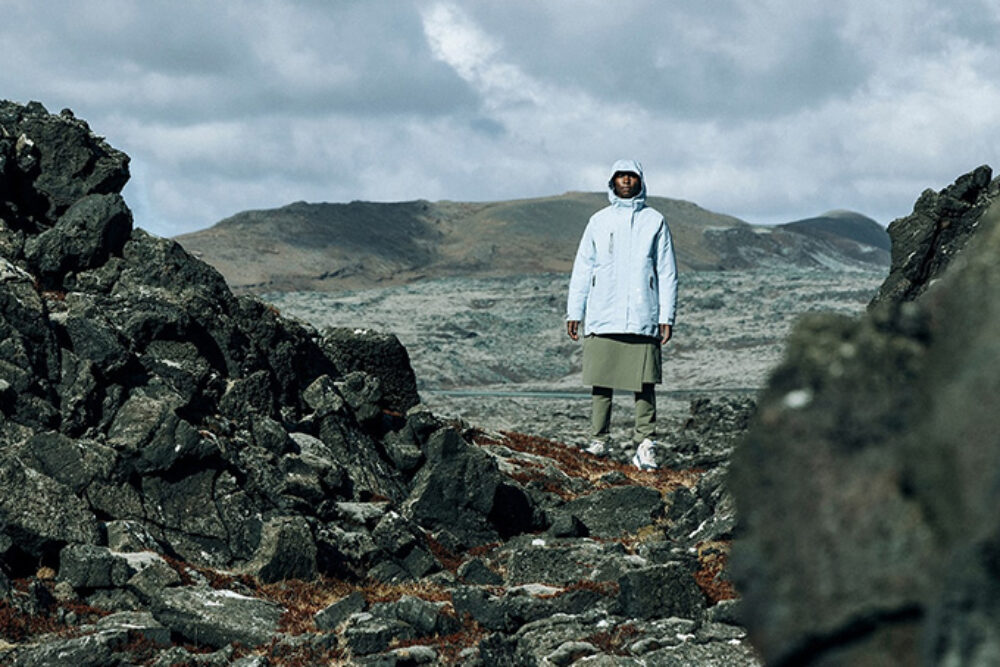 why it made the cut
An outdoor brand with a streetwear sensibility, and wander is known for its high-profile collaborations and style-forward aesthetic.
These days, the worlds of outdoor gear and fashion have never been closer. And few brands signify that connecton more than and wander. From the minds of Keita Ikeuchi and Mihoko Mori, two designers who earned recognition for their work at Issey Miyake, and wander got its start in 2011 out of Tokyo and has become famous for its high-profile collaborations, putting its unique spin on products from the likes of adidas Terrex, Nike, and streetwear staple Salomon. The brand's reach extends to clothing, shoes, bags, and accessories, with a focus on hiking.
Founded: 2011
Location: Tokyo, Japan
Founder: Keita Ikeuchi & Mihoko Mori
Duckworth
why it made the cut
The world's only source-verified, single-origin merino wool brand made 100% in the USA, Duckworth aims its line towards skiiers and the like.
Self-proclaimed as the world's only source-verified, single-origin merino wool company that's 100% made in the USA, Duckworth Co. certainly has something to be proud of here. The Montana-based company was founded to provide solutions for those between ski runs on snow-capped mountains. For them, it's all rugged wool-based clothing built to handle the tough day-to-day of outdoor occupations. Not to mention, playing a part in resurrecting the lost art and craft of American wool is an important responsibility. Its product range includes shirts, pants, and outerwear like jackets, hoodies, and vests.
Founded: 2014
Location: Bozeman, MT
Founder: Rob Bernie Bernthal
Foehn
why it made the cut
With modern takes on timeless styles, Foehn commits to sustainable solutions in the worlds of running, cycling, and climbing.
Another brand with a mission to be a "different type of outdoor brand," Foehn aims to blend form and function with its modern take on classic styles. Founded by Ingrid Sirois and Anthony Boronowski, the Quebec-based independent brand is one of the newer names on our list, opening its doors in 2017, but becoming a formidable presence in the outdoor style world. Committed to sustainable solutions as well, Foehn specializes in technical clothing for runners, cyclists, and climbers, with a timeless style at their core.
Founded: 2017
Location: Quebec, Canada
Founder: Ingrid Sirois & Anthony Boronowski
Goldwin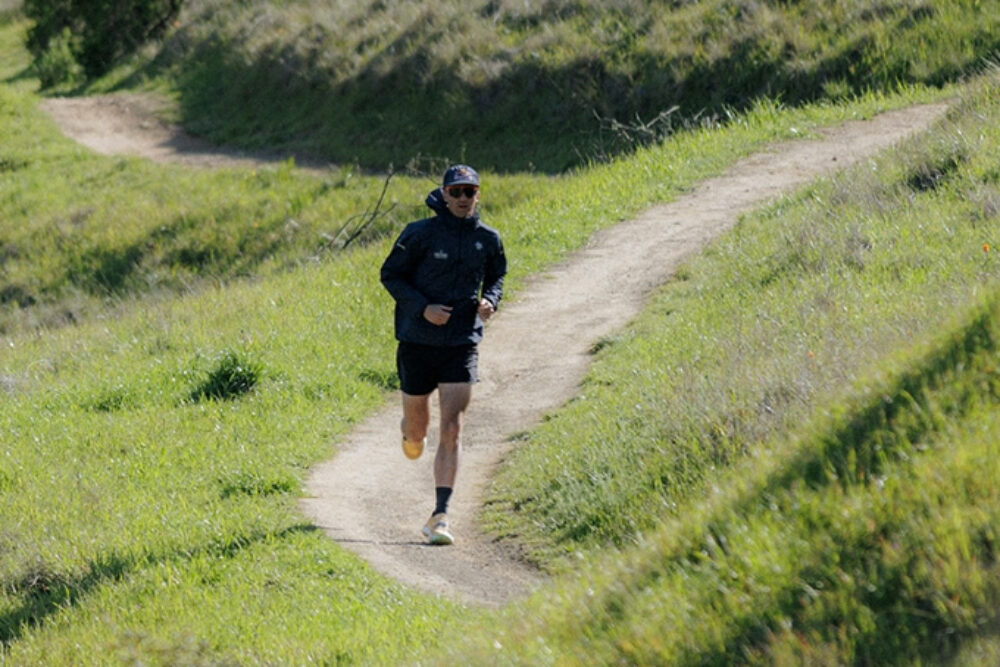 why it made the cut
Since 1950, Goldwin has been one of the biggest outdoor boutique brands, now with innovative lines like Goldwin 0 at the forefront.
Working in conjunction with the skiing lifestyle since 1950, Japanese outdoor brand Goldwin began its storied career in a small knit fabric factory in Toyama. It wasn't until the end of the decade when they pivoted towards manufacturing sporting goods. Since then, they've grown into a dependable brand that builds high-end apparel and gear for both life in the city and on the slopes – even providing wears for fellow international ski teams over the years, and is even the official uniform supplier of the Swedish National Team. Today, aside from its flagship product lines, it also has its C3fit line of compression gear and Goldwin 0, an experimental purpose-based sub-label focusing on high-end materials and innovation.
Founded: 1950
Location: Toyama, Japan
Founder: Tosaku Nishida
Gramicci
why it made the cut
Founded by a hard-core rock climber, Gramicci made the first-ever true climbing shorts and sill continues to innovate.
Launched in a garage in Ventura, California, Gramicci was brought to prominence in the '80s and '90s but has remained a small outdoors brand with a global appeal. Born from the Stonemasters, a ​​new generation of rock climbers around the Yosemite area in the 1970s, Gramicci came from passion by a Stonemaster himself, Mark Graham (Gramicci was his moniker), who set out to make the first-ever purpose-built climbing shorts. Over 40 years later, the brand is still going strong, continuing to innovate without losing its original spirit.
Founded: 1982
Location: Agoura Hills, CA
Founder: Mark Graham
HEIMPLANET
why it made the cut
Known for its own unique design language, Heimplanet specializes in inflatable geodesic tents, meticulous contstruction, and gear that's fun to use.
Inspired by the thrill of traveling, Heimplanet is a relatively new brand that builds and innovates – first and foremost – inflatable tents as well as outdoor-centric gear and accessories with sustainability in mind. They're most well-known release, dubbed The Cave, stepped onto the scene back in 2011 as the industry's first inflatable tent. Its sleek futuristic design, recognizable for its geodesic shape, and ability to stand up to the elements allowed it to become a staple for all subsequent Heimplanet gear, namely their Monolith luggage series, as time wore on. Focusing on meticulous construction that make the niceties of the outdoors easier to endure, Heimplanet is a brand to watch as they continue to gain recognition.
Founded: 2010
Location: Hamburg, Germany
Founder: Stefan Clauss & Stefan Schulze-Dieckhoff
Hyperlite Mountain Gear
why it made the cut
Focusing on ultra-lightweigh solutions, Hyperlite taps Dyneema for a lot of its bags and tents.
Mountain gear, above all else, needs to seamlessly function and function well. Meaning, oftentimes there's no room for all the bells and whistles – the nonessential gimmicks often found on non-mountaineering gear. Hyperlite looks to continue that notion, building stripped-down high-performance mountain gear intended to meet the requirements of those meant to use it. It's this philosophy that's held in high regard across all their verticals, including packs, shelters, and accessories. Specializing in ultra-lightweight bags that benefit from Dyneema construction, the Maine-based outfit has been a staple for serious adventurers since 2010.
Founded: 2010
Location: Biddleford, ME
Founder: Herb O'Brien
Klättermusen
why it made the cut
The Swedish brand has been around since the '70s and tests its apparel and gear in harsh real-world conditions.
Situated in the wintery landscape of Northern Sweden is the small mountain town of Åre. Naturally, it's here where outdoor activities such as skiing, fishing, and hiking reign supreme. It's also where Klattermusen has worked to develop durable outdoor gear purposed to stand up to the unforgiving elements of the region since 1975. Testing its gear in real-world conditions, the Swedish outdoor brand specializes in apparel such as jackets, tees, bags, and accessories, focused on durability, versatility, and safety, minimizing its ecological footprint in the process.
Founded: 1975
Location: Are, Sweden
Founder: Peter Askulv
Norda Run
why it made the cut
In just a few years, Norda has made a name for itself for trail running shoes made of innovative materials and techniques.
Not every running company makes their gear with the outdoors specifically in mind. However, Norda is a definite exception. Specializing in trail running shoes, among other styles, the Montreal-based brand escehews mass-production techniques in favor of hand-stitched, laser-cut shoes that just wear better than the others. Launched rather recently in 2020, Norda has already established quite the following. It builds its stylish sneakers from its 001 and 002 based models, with innovative construction, head-turning materials, including Dyneema, Cordura, and graphene, and even a hand-painted midsole variant.
Founded: 2020
Location: Montreal, Canada
Founder: Nick and Willamina Martire
Peak Performance
why it made the cut
Born on the slopes, Peak Performance eschews loud skiing gear in favor of minimalist yet ultra-functional designs.
Like other brands in this guide, Peak Performance is rooted in life on the slopes. Its founders, Peter Blom and Stefan Engström, decided to launch their own brand in 1986 while on a chairlift. A family-and-friends outfit for the first few years, Peak Performance emphasized simple, yet stylish designs with inherent function, rather than the trendy patterend outfits that were cachet at the time, among real enthusiasts and those just following the trend. Throughout the years, the company has blossomed nicely and now caters not only to skiers but hikers, golfers, runners, and those who just want some extra layers on their commute.
Founded: 1986
Location: Are, Sweden
Founder: Peter Blom & Stefan Engström
ROA
why it made the cut
This streetwear favorite has some of the most stylish hiking boots around, which specialize in the use of exotic materials.
Hiking boots with a sportwear flair, ROA's quickly-bloomed popularity and crossover onto the streetwear scene is for a reason. Founded in 2015 in the Italian town of South Tyrol and birthed from the pedigree of Slam Jam, the brand taps experimental techniques and remains unapolagetic in its footwear designs, such as its Mary Jane, a hybrid loafer tailor-made for the outdoors, or the Andreas hiking boot, which is arguably the most stylish option on the market. ROA also specializes in exotic and alternative version of classic materials such as long-haired suede, kudu skin, and Vachetta leather.
Founded: 2015
Location: South Tyrol, Italy
Founder: Maurizio Quaglia & Luca Benini
Snow Peak
why it made the cut
Snow Peak makes some of the best high-end camping gear and cookware, with an emphasis on titanium construction.
It's hard to believe that Snow Peak is still considered boutique, but the Japanese brand is still very much in that category, even after 65 years. In 1958, amidst the rubble of World War II, founder Yukio Yamai found solace in the cliffs of Mt. Tanigawa, so much so that he decided to launch his own climbing gear brand with a unique design language and a focus on minimalism. Today, that ethos still holds true, with Snow Peak pivoting its focus to camping and general outdoor goods. It also remains at the top of the list in terms of titanium-based goods, with its range spanning from lightweight camping grills to tents, and everything in between.
Founded: 1958
Location: Niigata Prefecture, Japan
Founder: Yukio Yamai
Topo Designs
why it made the cut
Blending form and function as well as anyone, Topo Designs has an assertive design language and brilliant use of color.
Few outdoor brand blend form and function like Topo Designs, whose designs embody the spirit of the company right down to the evocative logo. Jedd Rose got to work from a sewing machine in 2008 while his co-founder Mark Hansen did the legwork to get funding and manufacturers. Today, Topo's bags, apparel, and even suitcases recall that original DIY mentality and the transparent brand image continues to move forward as the industry evolves. The Denver-based firm imbues style into its designs with its color choices, so you can spot them immediately out on the trail, while its dedication to quality aims for heirloom status.
Founded: 2008
Location: Denver, CO
Founder: Jedd Rose & Mark Hansen
Vollebak
why it made the cut
The most experimental brand on our list, Vollebak sports a high-end range of wildly out-of-the-box ideas and creations.
If there's any outdoor brand out there that's technologically ahead of their time it's Vollebak. Not only is every new release a style-forward option, but the ingenuity that goes into the R&D phase of each piece simply sets them apart from your traditional outdoor gear brand. For instance, we're talking about a hoodie designed to last 100 years (yes, seriously), a solar jacket that illuminates after dusk, the world's first ceramic clothing system, and hoodies scientifically proven to help you relax. In recent vintage, the UK-based clothing firm has been experimenting with sustainable materials such as hemp and dyes like black algae and blueberries. However, as great as these items sound, they'll cost you a pretty penny if you want to try any of them out.
Founded: 2015
Location: London, UK
Founder: Nick and Steve Tidball
White Mountaineering
why it made the cut
A style brand with an emphasis on outdoor utility, WM's high-end line looks like it came right off the runway.
A lot of the brands we've listed have outdoor-focused utility with an emphasis on fashion. However, White Mountaineering, more than any, is the other way around. Some of the Tokyo-based brand's outfits look like they came straight from the runway. However, there's an technical wear edge to their high-end pieces that you don't find anywhere else. Founded in 2006, WM makes it easier for you to disect its range with several sub-labels broken up by purpose, such as Repose Wear, an everyday-wear line for relaxing, and perhaps its most oudoor-based segment, W.M.B.C (White Mountaineering Base Camp), a camping-focused apparel line.
Founded: 2006
Location: Tokyo, Japan
Founder: Yosuke Aizawa
The Best Techwear Brands You Should Know
If style-based brands are more your cup of tea, check out our guide to the best techwear brands you should know.