When purchasing a watch, there are many things one has to take into consideration. One is the price, obviously, as it's important to stick to your budget. Another is the movement: do you prefer the convenience of quartz or the romance of mechanical? Size is another big one; as, if you're not careful, you could end up with a watch that's too big. And then there is a watch's water resistance rating. Understanding what your watch's water resistance rating really means is essential when it comes to determining how you'll be able to use the watch, and it's a spec that should never be ignored.
A lot of the time, a watch's style will give you some clues as to how it performs in the water. For example, if it's a dive watch, then chances are pretty good that you'll be able to swim with it. If it's a dress watch? Eh, not so much. But there are still a lot of factors at work that determine what makes your watch water-resistant, how its water resistance rating is determined, and what that rating means in real-world situations. So if all of these unknowns have you feeling underwater (sorry), then allow us to explain what's really going on with your watch's water resistance rating.
Not Waterproof
It's A Legal Thing
Back in the mid-century when watches were first being developed for use in the water, there was one word that consistently popped up on their cases and in their advertisements: "waterproof." But these days, you're unlikely to find that word on many modern watches (Rolex is a notable exception). Instead, you'll see the decidedly less hardcore "water-resistant." As a consumer, this certainly looks like a downgrade. After all, which would you rather wear in the rain: a pair of waterproof boots, or a pair of water-resistant boots? We thought so. So why did the watch industry make the change?
They did it for the same reason that your McDonald's cup of coffee carries a warning label telling you that it is indeed hot: fear of litigation. The truth is, there's no way to guarantee perpetual waterproofness in a watch. Water-resistant watches are able to stay airtight when submerged thanks to a series of rubber or plastic gaskets, usually found inside the caseback, below the crystal, and inside the crown assembly. These gaskets break down due to time and temperature, and once degraded, the water resistance of your watch goes kaput. When that happens and a "waterproof" watch springs a leak, a litigious watch owner could sue the manufacturer of their watch for claiming that it was waterproof when, in reality, there's no such thing. But a watch that's simply water-resistant offers no implied guarantees that it will keep water out — only that it will resist it, and so this legally safer term has become the industry standard.
There are various ways manufacturers and watchmakers test a watch for water resistance, and surprisingly, they sometimes don't use water at all — and they certainly don't actually submerge watches down to 200 or 300 meters or whatever claimed water resistance they possess. Instead, watches are subjected to pressure tests to determine their water resistance rating. This involves placing the watch inside a pressurizing tank. For a manufacturer, this tank may be filled with water. If it's a watch repair shop fixing up your watch, the tank will likely be filled with air. In both cases, air pressure will be added to the tank, raising the level of pressure in the tank's water or air to the desired level of resistance (e.g. the equivalent pressure of a 100m depth). Once the pressure level reaches this level for a sustained period of time, the pressure is brought back to neutral. If the watch has been properly sealed, then the pressure inside the watch will not have changed with its surroundings, and it will have stayed neutral the entire time. If it has a leak, then the air pressure inside the watch will have increased with the surrounding pressure, and once that surrounding pressure is brought back down, the pressurized air inside the watch will look to find a way out, signifying the leak.
These pressure tests are measured in atmospheres, with one atmosphere being roughly equal to Earth's atmospheric pressure at sea level. Various watch manufacturers use different terminology when declaring their watch's water resistance (or, rather, pressure resistance). Some stick with atmospheres, usually written as atm, while others use "bar," another unit of pressure measurement that is equal to 0.986923 atm. But more commonly, manufacturers will put their rating into measurements that are easier to understand for most people, such as meters or feet (1 meter is around 3' 3"). Roughly 10.33 meters equals 1 atm, and you will generally see watch brands equivalate the ratings as follows: 100m = 10 bar = 10 atm.
How Low Can You Go?
Probably Not As Low As You Think
So, you've got your watch and it has a nifty pressure rating of 30 meters. Certainly, this must mean that you can immediately dive down to about 100 feet, right? Wrong. If you do that, you're almost certainly going to damage your watch. There is a big difference between having a watch tested for 3 atm of pressure in a controlled air tank and having it on your wrist in the ocean, where it's subjected to shock, temperature fluctuations, and actual (and perhaps lengthy) submersion.
The exceptions to this rule are professional dive watches that have been subjected to ISO 6425 standardized testing. These tests are much more thorough than standard water-resistance tests and are only done on watches rated 100m and above. They do a much better job of simulating real-world situations and involve extensive submerging tests, tests that measure condensation, temperature fluctuations, and shock-resistance, and pressure tests that subject the watch to conditions 25% greater than their rating.
Here's how you can expect common water resistance ratings to translate in real-world situations:
30 Meters: Considered splash-proof. It will hold up to light rain and indirect splashes from handwashing. But you don't want to run it under your faucet, and you definitely shouldn't swim with it.
50 Meters: A 50m watch should be OK for some light submersion, such as swimming in shallow water, but it shouldn't be taken deep underwater. Some will tell you that this is the lowest-rated watch that you can shower with, and while it's true that it would likely be watertight in the shower, the truth is that you really shouldn't shower with any watch as the heat can cause damage to the movement.
100 Meters: If you're looking to swim with your watch without worrying about it, then 100m is where it's at. A watch with this rating will certainly hold up to swimming and even freediving, but if you're going to be scuba diving, you'll need something with a higher rating.
200+ Meters: 200-meter water-resistant watches are likely tested to ISO 6425 standards, and they are made for diving. You honestly don't need to worry about these types of watches in the water as long as your crown is screwed in and you don't try to operate any crown or pushers underwater… and as long as your gaskets don't need replacing.
Go Deep
OK, That's Too Deep
While 200m is certainly a high enough water resistance rating for virtually anyone (the Guinness World Record for deepest dive is only 332m), some watchmakers have created watches with absolutely absurd water resistance ratings to show off their engineering prowess. These watches are completely unnecessary — but they sure are fun. We've gathered up ten of the deepest diving watches you can buy below.
Omega Seamaster Ploprof
The Ploprof is a bona fide classic, having debuted as Omega's deepest diver in the late '60s. It's also probably the weirdest watch that Omega makes. Known for its oversized and bizarre shape that includes a large bezel-activating button and left-sided crown, the modern iteration of the Ploprof is as much a luxury timepiece as a professional diver's tool thanks to its Grade 5 titanium construction, lacquered dial, ceramic bezel, and METAS-certified Master Chronometer co-axial movement.
Water Resistance: 1,200m
Case Size: 55 x 48 mm
Movement: Automatic
Doxa Sub 1500T
Dive watch brands don't get much more iconic than Doxa. The Swiss brand established itself as a leader in the space back in the mid-century — Jacques Cousteau was a known fan — and they're just as much of a big deal today. Rated at 1,500m, the 1500T is the deepest diving watch that Doxa makes. And that best part is that it looks just like every other Doxa diver, with the brand's iconic silhouette and available "Professional" orange dial color.
Water Resistance: 1,500m
Case Size: 45mm
Movement: Automatic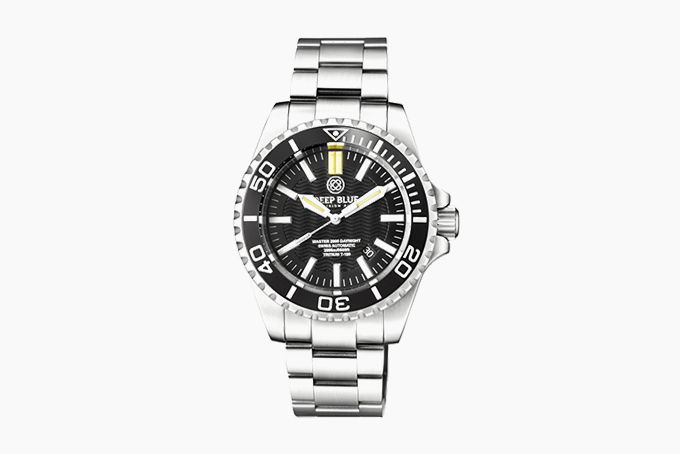 Deep Blue Master 2000
If you're looking for a mix of classic dive watch looks and absurd dive watch performance, then have a gander at the Master 2000 from microbrand Deep Blue. The watch blends timeless styling — crown guards, sword hands, 120-click unidirectional dive time bezel — with a whopping 2,000m water resistance. It also throws in plenty of other niceties like tritium gas tube lume, a ceramic bezel, and an AR-coated sapphire crystal to give you a stylish modern diver that happens to be one of the most capable in the world.
Water Resistance: 2,000m
Case Size: 46mm
Movement: Automatic
Bremont S2000
With their propensity for making official watches for the UK's Ministry of Defence, Bremont has a reputation for making some rough and ready watches. And when it comes to the British brand's divers, they don't get any more rough or ready than the S2000. Water-resistant to 2,000m, the watch boasts a chronometer-certified automatic movement that's protected by an inner soft iron anti-magnetic Faraday cage and an anti-shock movement mount, making this handsome diver resistant to far more than just water pressure.
Water Resistance: 2,000m
Case Size: 45m
Movement: Automatic
Zelos Abyss 3
Microbrand Zelos likes to do the unexpected. The Singapore-based watchmaker is responsible for the world's first titanium Damascus watch, the first meteorite bezel, and this, a beefy 3,000m diver that costs under a grand. And while the Abyss 3 is certainly a large watch at 43mm in diameter and 18.5mm thick, it's actually very wearable for a watch that's capable of withstanding pressure equivalent to nearly two miles underwater.
Water Resistance: 3,000m
Case Size: 43mm
Movement: Automatic
Rolex Deepsea
Rolex's deepest-rated diver, the Deepsea offers Submariner-like looks in a package that boasts a water-resistance rating that's more than ten times greater than that of its famous sibling. The watch was created to honor film director and Rolex ambassador James Cameron's record-setting solo dive to the bottom of the Mariana Trench. That mission's vessel had an experimental Deepsea watch strapped to the outside, while the version you can buy has a gradient dial that changes from blue to black to signify Cameron's journey to Earth's deepest depths.
Water Resistance: 3,900m
Case Size: 44mm
Movement: Automatic
UTS 4000M GMT
Independent German watchmaker UTS makes two versions of their 4,000m-rated dive watch: a standard diver, and this version that boasts a dual-time GMT movement, making it the world's deepest-rated GMT. You know, for those times you need to know the time in Chicago from the bottom of the ocean floor. The 17.5mm-thick case is milled out from a solid block of German stainless steel, and the 6mm sapphire crystal is held in place by a stainless steel plate. This thing isn't messing around.
Water Resistance: 4,000m
Case Size: 45mm
Movement: Automatic GMT
Sinn UX EZM 2 B Hydro
German watchmaker Sinn has a reputation for making some of the toughest tool watches on the planet, so it makes sense that they would also make one of the deepest divers. This watch's case is made from the same amagnetic steel as German submarines — a Sinn hallmark — and it's been filled with oil, which helps it hold up to pressure and makes the dial more readable underwater. The movement is water-resistant to an impressive 5,000m, while the case sans movement is rated to an incredible 12,000m.
Water Resistance: 5,000m
Case Size: 44mm
Movement: Quartz
Helberg CH1 Bronze
If you're looking to go a little old school with your absurdly deep diver, then why not go for this vintage-style diver from Helberg? Thanks to its bronze case and massive bubble dome sapphire crystal, the nearly-28mm-thick watch looks like something out of a Jules Verne novel. The watch is rated to an astounding 6,000m, but if you're looking to show off the Swiss-made ETA movement inside, you can opt for a sapphire display back and still get a rating of 3,000m.
Water Resistance: 6,000m
Case Size: 42 x 57mm
Movement: Automatic
CX Swiss Military Watch 20,000 Feet
Well, here it is, the Guinness World Record holder for the mechanical watch with the highest depth rating. This Swiss-made military watch is rated at 6,000 meters, but it's also been tested to ISO 6425 standards, meaning it's actually been cleared for 7,500 meters. As if that wasn't bonkers enough, this is a mechanical chronograph watch, which means it has two pushers — i.e. two more places where water can get in. Measuring a whopping 28.5mm-thick — and 10mm on the crystal alone — it's quite the machine.
Water Resistance: 6,000+m
Case Size: 46mm
Movement: Automatic Chronograph
The 20 Best Pilot Watches
As we've established, a watch's water-resistance rating is one of the most important things to consider when purchasing a new timepiece. But not all watch types prioritize such things. One style that traditionally doesn't make as big of a deal over water resistance is pilot's watches. After all, these are watches that are made for flying 30,000 feet above sea level, not venturing 300 meters below it. And if you dig this kind of high-flying style, then have a look at our guide to the best pilot watches.