Aug 28, 2019
Category: Style
There are some who believe that the idea of "minimalism" is to strip something down to its basest elements until only functionality remains. And while paring down unnecessary and extraneous accouterments is certainly a part of minimalism, it's not the only thing. In fact, it requires a hefty measure of craftsmanship and a good grasp of sound design in order to do it right.
Perhaps nowhere is that more apparent than in the horological world. Watches seem like a simple concept: wearable devices that tell you the time. But they're actually quite complex and even some of the finest craftsmen have a hard time making ones that are both aesthetically pleasing and uncomplicated. Furthermore, a watch doesn't have to be completely free of alternative functions in order to be considered minimalist. In fact, our list of the 25 best minimalist watches includes ones that do nothing more than tell the time, chronographs, moon phase timekeepers, and more.
Timex Fairfield Watch
About as reliable and recognizable as a budget-friendly brand gets, Timex is not without a measure of top-notch styling, as is evident in their Fairfield watch you see here. Free of almost all distractions while still being eye-catching, this watch comes with a simplified dial, a quartz movement, a stainless steel case, and a handsome and comfortable leather strap.
Movement: Quartz Analog
Case Material: Brass
Case Size: 41mm
TID Watches Limited Edition 005
A part of their "A moment in time" collaboration with Builders Club — a London-based creative studio founded by Julien Simsäuser and Jonas Hegi — TID's Limited Edition 005 is a perfect example of Bauhaus sensibilities with a bit of flourish. Designed to illustrate how emotive a single, concentrated instant can be, this beautiful watch comes with a translucent case, a simplified dial, tri-colored hands, and a silicone band. There are even more minimal, less colorful options if that strikes your fancy.
Movement: Miyota 2035 Japanese Quartz
Case Material: Transparent TR90
Case Size: 38mm
Miansai M24 II Watch
It's impressive when a brand can do so much with so little, as is the case with the Miansai M24 II watch you see before you. At a glance, this watch looks remarkably simple. But peel back the layers and you can see mastery at work. From the pared-down markings that perfectly match the width of the hands to the off-set crown. It would be easy to take the subtle styling cues and design genius of this watch for granted, but we guess that's kind of a part of the point.
Movement: Seiko Japanese
Case Material: Stainless Steel
Case Size: 39mm
Rossling & Co. Continental Watch
You might think that a watch with even a single sub-dial is decidedly non-minimalist. But We're confident that Rossling & Co. has proven that sentiment incorrect with their stunningly-beautiful Continental Watch. Powered by a Swiss movement, this watch is free of distracting symbology, opting instead for simple tick marks — both on the main dial and simplified smaller seconds dial. This one also benefits from an ultra-thin case and, most uniquely, a tweed strap.
Movement: Swiss Quartz
Case Material: Stainless Steel
Case Size: 40mm
Instrmnt T-42 Watch
One of the struggles of creating a minimalist watch is balancing paring down the details while still making the timepiece readable at-a-glance. And the Instrmnt T-42 does an absolutely wonderful job of managing just that. Matching the dark dial with a vegetable-tanned leather strap helps beautifully tie it together, but the subtle dial markings and Arabic numerals mean it can still be easily read. And, as an added bonus, it gets a tiny date window for extra time-tracking.
Movement: Swiss Ronda 585 3H Quartz
Case Material: PVD-Coated 316L Stainless Steel
Case Size: 40mm
Stock Watches S001
Just because one of the main tenets of minimalism is "less is more," that doesn't mean that design cues can't be added to help a particular piece stand out. Such is the case with the Stock Watches S001. Exceedingly simple in its design with little more than a circular dial, minute and hour markings, and a trio of hands. This Swiss quartz timepiece, however, has a splash of color in the form of a vibrant second hand. It's subtle, yet effective and helps earn this watch a spot on our list.
Movement: Swiss Quartz
Case Material: 316L Stainless Steel
Case Size: 36mm
Grovemade Watch 01
An entirely unique spin on the way time is illustrated, Grovemade's minimalist take on a wristwatch has a lot going for it — especially considering just how pared-down it actually is. You see, this watch not only has no traditional markings — opting instead for twelve small cutouts in the dial face behind which a duo of colored discs rotate: orange for hours and gray for minutes. But that's not all; this watch also boasts wood in its construction, helping to set it apart even further.
Movement: Miyota 5Y26 Quartz
Case Material: Oregon Claro Walnut & Stainless Steel
Case Size: 39mm
Brathwait Automatic Minimalist Wrist Watch
Proof that even a seemingly traditional timekeeper can be both minimalist and unique, the Brathwait Automatic Minimalist Wrist Watch features a stainless steel case, a pared-down dial, a date window, and a trio of hands. Those hands, however, are one of the things that help this watch stand apart — boasting a unique spearhead shape and a vibrant red second hand. Paired with its understated mesh bracelet, this is a dress watch that says a lot with very little.
Movement: 9015 Automatic
Case Material: AISI 316L Stainless Steel
Case Size: 40mm
Tsovet JPT-CC38 Watch
Headquartered out of Huntington Beach, California, Tsovet is a brand that has proven that — even with minimalism — there are a huge number of design possibilities. And their JPT-CC38 watch, one of the best in their impressive catalog, illustrates just that. Unique from its brethren, this is a chronograph that doesn't skimp at all on the additional complications, as noted by its duo of sub-dials and date window. Yet it still features subtlety in its markings and two-tone colorway.
Movement: Miyota Japanese Quartz
Case Material: 316L Stainless Steel
Case Size: 38mm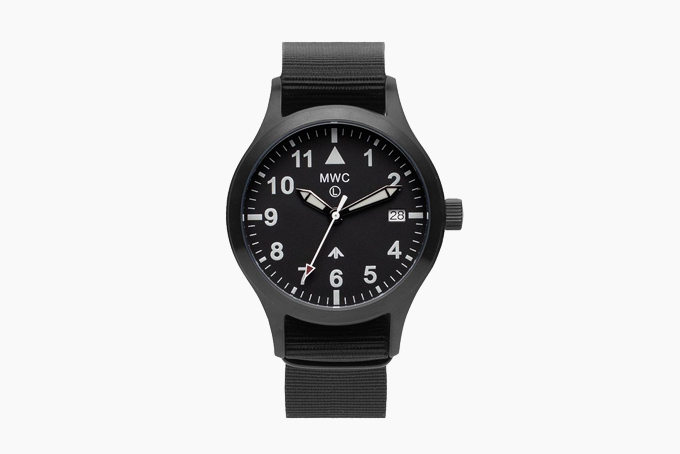 MWC MK III NATO Military Watch
It should come as no surprise to horological fanatics that a pilot-style field watch would make it onto our list. After all, the utilitarian nature of vintage-styled military gear almost requires minimalism as an ethos. Built to match 1950s NATO specs, this recreation features an automatic movement, a PVD-coated stainless steel case, a NATO nylon strap, and even has a built-in hacking function. The markings are a touch busy compared to some of the others, but we still think it's deserving of its spot.
Movement: 24-Jewel Automatic
Case Material: PVD-Coated Stainless Steel
Case Size: 38mm
Eone Bradley Watch
Sometimes, in the hands of clever designers, a concept like minimalism can be approached in entirely novel and impressive ways — the Eone Bradley watch is one such example. In fact, this watch is so minimalist in its design that you don't even need to look at it in order to read the time. That's because the dial, which is free of a crystal over it, has a tactile surface that includes raised markings and a silver ball-bearing that rotates around to indicate the hour. Of course, glance at it for even a moment and you can see just how gorgeous it is, as well. There are some very unique timepieces on this list, but this one might take the cake in that regard.
Movement: Swiss Ronda Quartz
Case Material: Titanium
Case Size: 40mm
Kitmen Keung LD 1.0 Watch
While GMT watches are quite handy, their complicated movements and messy bezels tend to keep them out of the realm of being considered minimalist. But that doesn't mean nobody has figured out how to create a multi-time zone watch. In fact, that's exactly the case with Kitmen Keung's Long Distance watch you see here. Foregoing a traditional dial in favor of dual sub-dials — one for your local time and another, even simpler one for a secondary zone — that let you track the time in two separate places at once. It's a clever design we've not seen elsewhere and certainly deserves recognition.
Movement: Japanese Quartz
Case Material: Stainless Steel
Case Size: 39mm
Throne Ramble 1.0 Watch
Incorporating 24-hour timekeeping into a minimalist watch is no easy feat, but the folks at Throne managed it brilliantly. Rather than putting both 12- and 24-hour markings around the dial, they opted to just do it on the cardinal points, each boasting two numbers to reflect both types of time-telling. They matched that design to a simple stainless steel case, a handsome leather strap, and even still managed to fit in a seconds sub-dial without making things messy. And we're certainly not going to scoff at the fact that this watch is named after a song from one of the greatest bands of all time, Led Zeppelin.
Movement: Swiss Ronda 1064 Quartz
Case Material: Stainless Steel
Case Size: 40mm
Braun BN0265 Classic Chronograph Watch
No minimalist watches best-of list would be complete without an offering from Braun. After all, the brand was at the forefront of the Bauhaus movement with some of the movement's leading contributors helping to design all manner of gear for the company. This new offering harkens back to that time and even garnered the brand a Red Dot Design Award for 2019. The BN0265 is proof positive that you can never go wrong on the minimalist front with something from Braun.
Movement: Quartz Chronograph
Case Material: Stainless Steel
Case Size: 40mm
Mondaine Helvetica No1 Bold Watch
Glance at the Mondain Helvetica No1 Bold Watch and you might think it another field watch inspired by those used in the World Wars. But look a little closer and you'll find that, while it does share some commonalities, this minimalist watch is a different beast. It's two most unique features are probably its seconds hand — done up in a matte black that matches the dial but contrasts against the white markings — and the raised minute markings. This is one of those pieces of gear that just gets better the longer you examine it.
Movement: Quartz
Case Material: Stainless Steel
Case Size: 38mm
Uniform Wares M40 PreciDrive Date Watch
Even with minimalist watches, most still hinge on traditional watchmaking techniques — like the incorporation of case lugs to which the strap is attached. But the Uniform Wares M40 watch does away with them entirely, integrating the strap into the case nearly seamlessly. It also boasts simplified markings, a date window, and houses an automatic movement that never needs a battery replacement.
Movement: Swiss ETA F05.411 PRECIDRIVE
Case Material: 316L Stainless Steel
Case Size: 40mm
Defakto Vektor Standard Watch
Elegance and simplicity are likely the two tenets Defakto approached in the creation of their Vektor Standard watch. And we'd like to congratulate them for hitting both squarely on the head. This three-handed watch is about as simple as it gets without making it difficult to read, it looks like something you could wear to a formal occasion, and they didn't skimp on the internals — including a Japanese automatic Miyota movement.
Movement: Miyota 9015 Automatic
Case Material: Stainless Steel
Case Size: 39mm
Hamilton American Classic Intra-Matic Watch
Hamilton has been around for long enough and has had plenty of experience to ensure that they know exactly what they're doing whenever they try to approach a particular watch stying. In fact, their American Classic Intra-Matic is even more minimalist than similar offerings due to one decidedly non-minimalist factor: it boasts a brushed steel dial. While it seems outwardly minimalist that the dial itself is the same color as the surrounding case, it was almost certainly a careful and purposeful addition. And it's the thing that makes this watch stand out the most. Of course, everything else about this subdued timekeeper is excellent, as well.
Movement: ETA 2892-2
Case Material: Stainless Steel
Case Size: 42mm
Junghans Max Bill Automatic Watch
Junghans is certainly a proven entity in the horological space — with a long history marked by a number of stupendous offerings. In fact, their Max Bill lineup is one of their most storied and sought-after, which is easy to see when you consider this one before you. Simplified in its appearance but exceedingly handsome and handy, this watch has contrasting hands and markings that are easily read at-a-glance, the bonus of a simplified date window, and a PVD coating on the case for even more durability.
Movement: J800.1 Automatic
Case Material: PVD-Coated Stainless Steel
Case Size: 38mm
Nomos Reference 319 Watch
There's really not much to say about Nomos' Reference 319 watch, but that's actually a good thing in this particular case. Yes, it's undeniably beautiful. But it's also insanely simplified — boasting little more than a pair of hands and tick marks to indicate hours and minutes. Mated to its stainless steel case and soft velour leather strap is a reliable in-house movement with a power reserve of up to 42 hours that's almost a work of art itself. Pared-down beauty is the name of the game with this timepiece.
Movement: Alpha.2 Manual
Case Material: Stainless Steel
Case Size: 32.8mm
Sinn 1736 St I 4N Automatic Watch
Like the Hamilton watch a few watches prior, the Sinn 1736 St I 4N watch was made with a brushed dial made to match the stainless steel case in which its housed. But it does differ in some pretty big ways, helping it stand apart. That includes striking gold-colored hands and matching dial markers, a Swiss-made automatic movement, and a comfortable and beautiful leather strap.
Movement: ETA 2892-A2 Automatic
Case Material: Stainless Steel
Case Size: 36mm
Georg Jensen Koppel Watch
Originally debuted back in 1978, the Koppel watch was an immediate hit in the horological world and, to this day, is still highly coveted. Luckily, Georg Jensen is still making several different versions of it. While they differ slightly, there are a few consistencies between them — like a pared-down numeral-free dial, a subtle date window, a stainless steel case, and a reliable automatic movement.
Movement: Automatic
Case Material: Stainless Steel
Case Size: 41mm
Rolex Oyster Perpetual 39 Watch
One of the most legendary watches of all time, the Rolex Oyster Perpetual 39 is an exercise in both refined beauty and restraint. This particular one is made from a proprietary Oystersteel — which offers tremendous corrosion resistance and durability — features a dark, brushed Rhodium dial, and has 18ct gold detailing to add to its elegance even further. Mate that to its reliable automatic movement and matching link band and you've got one of the best watches ever made — minimalist or not.
Movement: 3132 Automatic
Case Material: 904L Oystersteel
Case Size: 39mm
Ochs Und Junior Day Night Watch
Possibly the most unique watch on our list, this minimalist timepiece manages to stay pared down while still offering a tremendous amount of style and functionality. That includes things like a case made with titanium, a brass dial, and a gorgeous leather strap. It also features a standard time-telling dial, a date window, and day/night markers that rotate around the dial. Truly, you'll not find another watch quite like this one anywhere.
Movement: Automatic
Case Material: Titanium
Case Size: 40mm
Nomos Reference 935 Watch
Another absolutely masterful, unique offering from Nomos, this minimalist watch is elegant not just in its appearance and materials, but in its functionality. You see, this is actually a manual-wound watch — meaning you'll have to actively wind it every 84 hours to keep it ticking, which is a kind of homage to watches of the past. It also features an 18ct white gold case, a Horween leather strap, and rhodium-plated hands. It's expensive, but that's what you pay for horological perfection.
Movement: DUW 1001 Manual
Case Material: 18ct White Gold
Case Size: 42mm
What's The Difference: Mechanical vs. Quartz Movements
You may or may not know that some watches require periodical battery replacements, whereas others never do. Learn about the difference between two of the major different types on our post covering the difference between quartz and mechanical movements.
HiConsumption is reader-supported. When you buy through links on our site, we may earn an affiliate commission. Learn more