Few men's accessories are as useful and telling as a good wristwatch. Not only are they a great way to keep track of the time without having to rudely pull out your smartphone, but they can often do a good deal more — like function as a dive timer or help you calculate velocity — and are a superbly fashionable addition to any wardrobe.
And while you can find watches from around the world that are handsome, handy, and reliable, few watchmakers stand up to the same rigorous standards and remarkable craftsmanship of those made in Switzerland. Along with political neutrality, chocolate, and the Swiss Army Knife, the small European country is beloved around the globe for their watches. In fact, they've set the benchmark time and time again for the rest of the industry. If you're looking for a superb wearable timepiece you can count on for potential generations, you'll find it here on our list of the best Swiss watches for men.
Picking The Right Watch
Our Criteria
Trying to pick the absolute best Swiss-made watch is a lot like choosing a favorite child: it's nearly impossible and not a decision anyone should have to make. For our purposes, however, we've managed to narrow it down to just 15 selections. That being said, we're not bold enough to single out specific sub-models and leave out the rest. As such, our list is comprised primarily of overarching models rather than pinpoint-specific trims. These watches are historically significant, masterfully crafted, and often have many variants offered — so there's a lot of variety to be had once you start digging a bit deeper.
Victorinox I.N.O.X. Professional Diver Watch
Victorinox, the same brand that has been building the official Swiss Army Knife for more than a century, has a long and storied history of making excellent watches. Their I.N.O.X. lineup itself has more than a few superb variants, but our favorite of them all might just be the Professional Diver. Interestingly, "I.N.O.X." isn't actually an acronym, but rather a stylistic alternative version of "inox," a French-derived term for stainless steel. And while one of these watches features cases built from the metal, the rest are offered in titanium. This particular trim also comes with dive-certified quartz movements — that are good for dives of depths up to 200m — and are offered with either a rubber or paracord strap, both of which are designed to fit over a wetsuit. You don't have to be a diver to enjoy and appreciate these watches, but they're ready for the job if you are.
TAG Heuer Monaco Watch
There are a lot of iconic Swiss watches out there, but the TAG Heuer Monaco might be the most uniquely impactful. And that's not just because of its instantly-recognizable square-shaped case with its matching sub-dials or the fact that it was the world's first automatic watch. Rather, it's because of the history surrounding the timepiece. You see, this watch — which was introduced back in 1969 — was actually created to celebrate the Monaco Grand Prix. But, just three years later in 1971, Steve "The King of Cool" McQueen chose the TAG Heuer Monaco to accessorize his character in legendary car film Le Mans. Since then, this stylish and singular timepiece has become synonymous with all things automotive. It's also available in a variety of styles — including several limited editions that recently came out to celebrate the watch and its heritage across the decades.
Oris Big Crown Propilot Watch
In contrast to the submersible watch above, Oris' Big Crown Propilot watch series was made specifically to take to the skies. And this is evident in its styling — boasting big, easy-to-read markings and a signature oversized crown that can be used even if you're wearing the kinds of leather gloves an ace pilot might wear while in flight. A direct reflection of the brand's aviation history — they made their first pilot's watch way back in 1910 — these Swiss watches are the perfect example of just how well fashion and function can mesh together when done right. There is also a lot of variation to be had in regards to available offerings — including your basic pilot watch, GMTs, tachymeter and altimeter watches, and even special editions made to pay tribute to specific parts of aviation history. Best of all, they all bost automatic movements, so you'll never have to wind them or replace a battery.
Tissot Heritage Navigator Chrono Auto 1973
Whereas most of the other watches on our list are overarching models and not specific sub-variants, we couldn't look past the beauty and history that went into creating the Tissot Heritage 1973. As you might have guessed from its name, this Swiss timepiece is a part of the brand's Heritage lineup — a collection of watches that pay tribute to Tissot watches of the past. This particular one harkens back to 1973 and brand's F1 racing history, as apparent in its tachymeter bezel and oversized racing-style tonneau case. Pair that with its striking panda dial, matching leather rally strap, and an ultra-reliable 48-hour reserve automatic movement and it's easy to see why this watch ranks amongst the best. And while this timepiece is clearly a racing-inspired one, it's also good for 100m of water-resistance — in case your driving adventures take you near the ocean.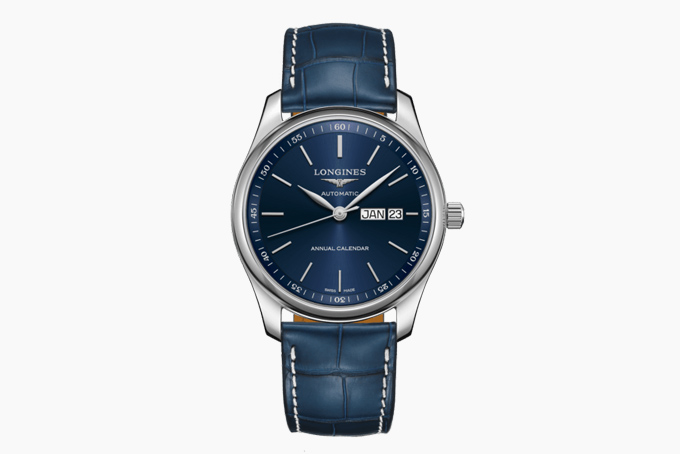 Longines Master Collection L2.910.4
In 2005, Longines first introduced their Master Collection as a premium line marked specifically by self-winding movements and high-end craftsmanship. And, to the watchmaking brand's credit, they've stayed true to that ethos for well over a decade. And while the line ranges from complex chronograph watches to elegant moonphase watches, our favorite of the bunch might just be the simple-but-not-simplistic L2.910.4 models. These absolutely stunning day/date watches are as elegant as they are well-built and manage to somehow stand apart from the wide variety of similar luxury options on the market. Whether you want big and bold markings or something more subtle, a classic stainless steel case with a matching link band or a strikingly blue dial with a matching strap, you can find it here.
Tudor Black Bay Watch
For a whopping sixty years, Tudor has been making diving-ready timepieces. And they've taken all of their expertise acquired over that time and distilled it into this modernized version of their legendary Black Bay watch. In fact, this greater model has transcended its original form entirely and now the brand offers a whopping 63 different variants that range from straightforward divers to hardcore chronographs and everything in-between. Some are stylish and minimalistic — perfect for formal occasions — and others are beefed up and boast features like rotating dive bezels, tachymeter scales, shielded screw-down crowns, and there's even a pilot-style one with its own leather bund strap. An iconic and important part of horological history, Tudor's Black Bay lineup might be the brand's magnum opus.
Bell & Ross BR 03 Watch
There are a lot of really great pilot watches on the market. But most of them look like, well, watches. Bell & Ross, founded in 1992 by two lifelong friends, took their inspiration a bit more literally in the creation of their BR 03 series of watches. Rather than making them look like every other watch that had come out up to that point, they opted instead to make their version look like the instrument gauges you might see inside an aircraft. And in doing so, they created one of the most iconic watches of all time. Today, there are literally dozens of different sub-variants of varying types, materials, colorways, and more. That includes things like traditional chronographs, simple day/date watches, and even an F1-inspired option with a tachymeter bezel. If you want a Swiss watch that stands out against the pack, this is it.
Jager-LeCoultre Reverso Watch
Jaeger-LeCoultre's Reverso watch is nothing shy of legendary and is still a staple icon of the men's style industry. And it all dates back to a unique challenge toward the beginning of the 1930s. You see, at that time, British Army troops were still stationed in India, one of Britain's now-former colonies. The officers of the British Army wanted to be able to play polo but didn't have watches that were tough enough to survive the rigorous sport, as the crystals would become scratched and/or broken. So Jaeger-LeCoultre came up with the ingenious idea of creating a watch that could simply turn around when it needed to be protected, and thus the Reverso was born. Now it comes in a variety of styles, materials, colorways, and even sizes — all of which are gorgeous and impressive examples of Swiss watches that are near-compulsory additions to the horological collections of any and all serious fanatics. They come with a hefty entry fee, but that's what you pay for ownership of a legend.
Zenith PILOT Type 20 Watch
Created in 1865, Zenith has won over 2,000 chronometry prizes for their superbly reliable watchmaking prowess. Yet, here in the United States, they're a relatively unknown brand for one simple fact: they were overshadowed by a separate, unrelated technology brand of the same name. That being said, any true horological fan can tell you that they're a brand to be respected and admired, especially after Jean-Claude Biver — the Swiss watchmaking industry's closest analog to Steve Jobs — took the helm. Today, they've become a bit more well-known — which is likely thanks to their PILOT Type 20 watches, like the one you see above. With all the hallmarks of an excellent pilot's watch, these timepieces still manage to stand out against the pack, especially those that are equipped with that unique oversized crown. And with 23 different options across five available variants, there's one for everyone.
Omega Speedmaster Moonwatch
Omega's Speedmaster holds the distinction of being the watch that went to the moon with Apollo 11. That in itself makes it a legendary timepiece — or it would if it wasn't already legendary. That being said, the Speedmaster now has an entire subcategory of chronographs known as the "Moonwatch" thanks to its inclusion by NASA on all manned space missions. For us, that means that this particular variant is even more desirable than the already-impressive wristwatch. Complete with a tachymeter bezel, iconic dual sub-dials at the 3 and 9 positions, and a date window at 6 o'clock, this watch is both a horological beauty and a tool that's up to snuff for NASA's astronauts — making it a double-threat if there ever was one. And while the standard editions are plenty formidable, there's also an exceedingly opulent special edition created to celebrate the 50th anniversary of Apollo 11 — but that one will cost you $34k.
Patek Philippe Calatrava Watch
If you recognize the brand name Patek Philippe, you're probably also painfully aware of just how pricey this company's offerings can get. Unfortunately, that's just the hurdle you have to jump if you want to own any of their pieces. But if you can stomach such a high sticker price, you'll probably want to become acquainted with their legendary Calatrava series of watches. Uncomplicated in their construction — both figuratively and literally speaking as, with the exception of date windows and a few models with a single sub-dial, these watches are remarkably straightforward in their time-telling capacity — these watches are widely regarded as one of the hallmarks of round wristwatches. Timeless and understated, they're also one of the horological achievements of which the brand is most proud. And even a cursory glance can tell you that, thanks to the many available variants, there's a Calatrava watch for everyone — everyone that can afford it, that is.
Audemars Piguet Royal Oak Watch
While the dials of Audemars Piguet's iconic Royal Oak watches are round, these timekeepers set themselves apart at a glance courtesy of their instantly-recognizable octagonal case — modeled after the helmets worn by old-timey divers, like those you might imagine from 20,000 Leagues Under the Sea. In fact, it's the one defining characteristic that ties the whole lineup together. Whether an opulent tourbillon, a hardcore chronograph, or a simple day/date watch, each and every one of these watches still shares that beautiful, angular shape. Originally unveiled back at the 1972 Baselworld convention, this Swiss watch is actually considered to be the world's first luxury sports watch, though it's certainly a debatable claim. Whatever the case, there's no denying the impact this timepiece has had on the world of watches and just how beautiful, reliable, and timeless each and every single one is.
Blancpain Fifty Fathoms Diver's Watch
There are some very major reasons Blancpain's Fifty Fathoms dive watch deserves to be on this list. For starters, it's the watch the noteworthy brand is known for, but it's also got a good deal of history behind it. You see, it was originally produced back in 1953 in collaboration with the French Navy's combat swimmers and was the watch of choice for fabled oceanographer Jacques Cousteau. As if that wasn't enough, starting in 1958, this was also the timepiece of choice for the American Navy's SEALs. In fact, the brand claims that it was the very first "modern diver's watch." Today, there are a number of different variations but they all hinge on the same principles as the original: that they are built specifically for and with the input of divers, scientists, and underwater photographers. Sure, it's not as famous as, say, the Rolex Submariner, but that has absolutely zilch to do with its quality and capabilities.
Vacheron Constantin Patrimony Watch
Like Patek Philippe's Calatrava series, Vacheron Constantin's Patrimony collection isn't so much an exercise in horological prowess, but rather a distilling down of the brand's ethos and overall style into a pure, minimalist package. It's not to say that there aren't horological experiments therein, as they have plenty of oddball creations within this collection — namely, the esoteric Retrograde Day-Date — but even therein these watches are remarkably clean in their styling cues, markings, etc. Inspired by the brand's offerings from the 1950s, these watches are deliberate in their lack of accouterments and trappings, opting instead to showcase all the best parts of the brand's history and everything they've learned in that time.
Rolex GMT-Master II Watch
Rolex has, time and time again, released horological icons that tower above the competition — including everything from dive watches, to day/date timekeepers, to the legendary racing-inspired Daytona, and so much more. But if we're talking exclusivity, uniqueness, and class-topping beauty, we're drawn to their 2019 GMT-Master II. A new take on one of the brand's most significant offerings, this exceedingly opulent travel watch boasts a number of the brand's signature notes — including their Oyster dial, Pepsi bezel, and distinctive dial markings. But it also has plenty of new additions — like a brand-new automatic movement. Of course, it's not just a showpiece, as it also is water-resistant to 100 meters and has a scratch-resistant sapphire crystal. While we would probably not suggest you take this watch out for a dive, it's definitely an absolute stunner and would make an exceptional addition to any serious collection — Swiss or not.
The 25 Best Luxury Watch Brands
Not every high-end timepiece was built by Swiss hands, though you will find that plenty are. Learn all about them and their worldwide counterparts on our list of the best luxury watch brands.