Up until the mid-1960s, the Big Three (Chrysler, Ford, and General Motors) dominated the American automotive industry, commanding as much as 90% of the market share. However, in the years that followed, imports increasingly gained favor amongst the public's mounting distrust of big business and the global economy's fallback from rising gas prices. It's a reversal that's only become pronounced as time has gone on, with many subbrands folding due to their declining sales volume. In fact, it's gotten to the point that, these days, Ford, GM, and the artist formerly known as Chrysler make up less than 50% of the U.S. market.
As such, there's been an enormous push to buy domestic in order to support local manufacturing and provide jobs for the American people. But here's the catch: it's no longer as simple as purchasing a vehicle with a Blue Oval or a Golden Cross atop the hood. On the contrary, the market has become decidedly more complex in recent years, with a lot of U.S. automakers outsourcing much of their production. To make matters worse, many foreign car manufacturers build their vehicles right here in the States, so even if it's a Honda, it could very well be more American than a Dodge. In order to help you see through the noise, we've rounded up 15 of the most American cars you can buy, looking to the American-Made Index (AMI) as a baseline and exercising some of our own judgment as well.
How Does The AMI Work?
Star-Spangled Clarity
Each year, Cars.com compiles a report of the most American cars sold in the United States. Ranked on a 100-point scale, each vehicle is considered for its final assembly location, percentage of U.S. parts, country of origin for engines and transmissions, as well as the number of domestic manufacturing employees relative to the automaker's footprint. Thus, cars that are more American-made will earn a spot higher up on the list (closer to #1), with those that are less so falling further down (closer to #100). For our guide, we've arranged the vehicles in ascending price order, also providing the AMI rating for your comparison.
2021 Honda Accord
While it might not look like it on the outside, the Honda Accord is very much an American vehicle. In fact, the Marysville, Ohio plant has been building the platform stateside since 1982, with main components such as the engine and transmission sourced from other factories around the country. And besides, the Accord is the quintessential car of American millennials, hugely popular for its sensible styling, incredible gas mileage, and impressive tech integration. Though Honda is inclined to sell you the Hybrid, we'd have one in its turbocharged 2.0L four-cylinder guise.
Final Assembly: Marysville, Ohio
AMI Ranking: 17
Engine Options: Turbocharged 1.5L 4-Cyl, Turbocharged 2.0L 4-Cyl, PHEV
Max Horsepower: 252hp
Max Torque: 273lb-ft
2021 Chevrolet Colorado
If you're looking for a compact pickup built by one of the Big Three, you can't go wrong with the Chevrolet Colorado. Produced at the GM location in Wentzville Missouri since 2014, it offers everything you'd want in a smaller truck, including an affordable base price, a wide range of engine choices, and a refined, tech-forward interior. Moreover, it's incredibly capable for its size, boasting up to 7,700lbs of towing capacity, a 1,550lb max payload, and as much as 369lb-ft of torque. At $41,600, the ZR2 spec is definitely on the pricier side, but it's more than worth the premium when you consider all of its many off-road upgrades.
Final Assembly: Wentzville, Missouri
AMI Ranking: 14
Engine Options: 2.5L 4-Cyl, 2.8L Turbodiesel, 3.6L V6
Max Horsepower: 308hp
Max Torque: 369lb-ft
2021 Ford Mustang
The Ford Mustang basically bleeds red, white, and blue, given that it's been made right here in the States since 1964. And here's the thing: it's got the numbers going for it too, as over 77% of the pony car's parts are sourced from across the country. The four-cylinder EcoBoost technically has the edge on the V8s when it comes to American componentry, but the latter undoubtedly makes for a much better soundtrack. All in all, this is a car that offers something for everyone, whether you're cruising along under the power of 310 horses or shredding tires with a whole herd of 760.
Final Assembly: Flat Rock, Michigan
AMI Ranking: 2
Engine Options: Turbocharged 2.3L 4-Cyl, 5.0L V8, Supercharged 5.2L V8
Max Horsepower: 760hp
Max Torque: 625lb-ft
2021 Jeep Cherokee
And, by the same token, we'd argue that it's only fitting that a Jeep makes the cut (the off-road brand did play a pretty important role in WWII, after all). Netting a number four spot on the AMI rankings, the compact Cherokee is statistically the most American 4×4 on this list. Not only that but it also makes for a pretty adept ride away from the pavement, with the top-tier Trailhawk sporting a locking rear diff, rugged suspension, and a set of 17-inch wheels shod in all-terrain tires. Be sure to spec it with the trailer tow package, though, as that takes total pulling capacity up to 4,500lbs.
Final Assembly: Belvidere, Illinois
AMI Ranking: 4
Engine Options: Turbocharged 2.0L 4-Cyl, 2.4L 4-Cyl, 3.2L V6
Max Horsepower: 271hp
Max Torque: 295lb-ft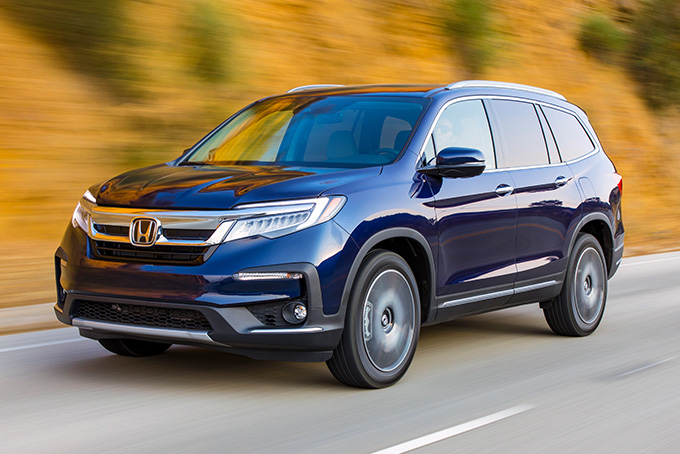 2021 Honda Pilot
Honda makes a host of larger cars at its plant in Lincoln, Alabama, including the Pilot we have featured here. It fairs far better than other three-row vehicles in terms of ranking, and we'd argue that its star-spangled status comes in large part from its incredible popularity amongst crossover shoppers. With its spacious interior, respectable ground clearance, and smooth optional 9-speed transmission, the Pilot makes for one of the preeminent family-friendly rides. If you've had your eye on a minivan but you can't stomach the styling, this is one option well worth a look.
Final Assembly: Lincoln, Alabama
AMI Ranking: 8
Engine Options: 3.5L V6
Max Horsepower: 280hp
Max Torque: 262lb-ft
2021 Jeep Grand Cherokee
As the best-selling Jeep in the United States, the Grand Cherokee is a vehicle that's oozing with American favor. And it's not without good reason. On-road or off, the SUV is an admirable performer, offering refined driving behavior for daily use as well as ample grunt for tackling tough terrain. However you choose to spec it — from the economical Laredo all the way up to the off-the-walls Trackhawk — the Grand Cherokee is sure to offer something for everyone. So, while it might not boast some of the modern tech conveniences of its competitors, it's far easier to find something that suits your needs.
Final Assembly: Detroit, Michigan
AMI Ranking: 16
Engine Options: 3.6L V6, 5.7L V8. Supercharged 6.2L V8, 6.4L V8
Max Horsepower: 707hp
Max Torque: 645lb-ft
2021 Toyota Tundra
Back in 1999, the Tundra became the first full-size truck Toyota built stateside — a testament to its American market promise. What's more, it's been nominated for Truck Of The Year on multiple occasions, and it's currently the only full-size pickup manufactured in Texas. Sure, it doesn't come with the most refined interior, and it's not particularly fuel-efficient, but those are issues that are easily overlooked thanks to its impressive off-road potential. As such, we'd recommend speccing it with Toyota's TRD Pro package, because the underbody protection, tow hooks, and trail-tuned dampers really allow you to make the most of its 381hp V8.
Final Assembly: San Antonio, Texas
AMI Ranking: 10
Engine Options: 5.7L V8
Max Horsepower: 381hp
Max Torque: 401lb-ft
2021 GMC Acadia
Though the Acadia has fallen from the top spot it held just a couple of years ago, it's still one of the more American cars you can buy. Built at the GM factory in Springhill Tennessee, it comes with tons of family-friendly features, including seating for up to seven, 4,000lbs of towing capacity, and an abundance of tech like USB ports and a WiFi hotspot. For those who are after the best bang for their buck, the middling SLT trim makes for an obvious winner. Just be sure to get the optional adaptive dampers along with its all-wheel-drive — they really improve the ride.
Final Assembly: Spring Hill, Tennessee
AMI Ranking: 23
Engine Options: Turbocharged 2.0L 4-Cyl, 3.6L V6
Max Horsepower: 310hp
Max Torque: 271lb-ft
2021 Honda Ridgeline
Believe it or not, the Honda Ridgeline is actually the most American-made truck you can buy, leapfrogging the likes of the Chevrolet Tahoe, the Ford F-150, and the Ram 1500 to a number six spot on the AMI. Obviously, it's a very different pickup compared to its competitors, given that it's largely based on a minivan and it'll tow no more than 5,000lbs. But what it lacks in brute force, it more than makes up for in versatility, as it comes with handy additions like an in-bed trunk, 60/40 folding seats, and a multi-position tailgate. Although the HPD package adds tons of cool aesthetic touches, even the base sport model will serve you well.
Final Assembly: Lincoln, Alabama
AMI Ranking: 6
Engine Options: 3.5L V6
Max Horsepower: 280hp
Max Torque: 262lb-ft
2021 Acura TLX
Like its Honda-badged brethren, final assembly of the TLX takes place at the facility in Marysville, Ohio, with some 70% of its parts sourced from the domestic market. It's a sedan that's allowed Acura to recapture its sporty roots, as it'll hit sub-six 60mph times even with the base 272hp turbocharged 2.0L four-cylinder. Granted, the TLX is a bit heavier when compared to some of the competition, but its chassis is nevertheless plenty responsive for spirited drives on twisty roads. If absolute performance is your priority, the Type S will undoubtedly be the right call. However, for most people, the base model provides a far better value proposition.
Final Assembly: Marysville, Ohio
AMI Ranking: 13
Engine Options: Turbocharged 2.0L 4-Cyl, Turbocharged 3.0L V6
Max Horsepower: 355hp
Max Torque: 354lb-ft
2021 Tesla Model 3
For 2021, Tesla took the top spot on the AMI with its lowest-priced offering, the Model 3. As the first EV to earn a #1 in the ranking's 16-year running, it's no small feat, and, if anything, we see it as a sign of what's to come. By far one of the best budget-friendly all-electric cars you can buy, it's an enjoyable ride in any of its trim levels, be it the base, the Long-Range, or even the Performance edition. For those who are coming from a more traditional vehicle, though, the interior could prove quite a shock; it's almost spartan in its simplicity, with nearly everything controlled by the large touchscreen sitting center stage. That said, it's surprisingly spacious because of the low floors and comfortable reclining seats.
Final Assembly: Fremont, California
AMI Ranking: 1
Engine Options: RWD, Dual-Motor
Max Horsepower: N/A
Max Torque: N/A
2021 Ford Expedition
Up until 2009, Ford built the Expedition at its Wayne, Michigan location, after which it moved production to the Kentucky Truck Assembly in Louisville alongside the F-Series Super Duty. A true-blue American-made family vehicle, it boasts a spacious eight-seat interior with up to 9,300lbs of towing capacity. In other words, it can confidently get you and the kids wherever you need to go. Over the years, it's gotten a great deal softer than how it was originally designed, so, if you're hoping to be wowed with rugged off-road performance, it's in your best interest to look elsewhere. What's more, if you find yourself considering the upper trim levels, your money will be better spent on the Lincoln Navigator we have featured below.
Final Assembly: Louisville, Kentucky
AMI Ranking: 11
Engine Options: Twin-Turbo 3.5L V6
Max Horsepower: 400hp
Max Torque: 480lb-ft
2021 Tesla Model Y
Even with just a year of production, the Model Y scores pretty highly when it comes to American makeup, falling just behind the Ford Mustang. Moreover, the compact EV crossover has proven wildly popular since its debut — despite some production faux pas — due to the practical 326-mile range and the advanced autonomous driving mode. It's worth noting that, while it and the Model 3 are technically built on the same platform, they're very different vehicles on the road. That is to say, the Model Y Performance may be capable of rocketing to 60mph in just 3.6s, but its higher-riding SUV body makes it comparatively ungainly.
Final Assembly: Fremont, California
AMI Ranking: 3
Engine Options: Dual-Motor
Max Horsepower: N/A
Max Torque: N/A
2021 Chevrolet Corvette
While other American icons like the Charger and the Challenger are nowhere to be found on the AMI's top 100 list, thankfully, the Corvette joins the Mustang as the last of the old guard. Of course, purists will decry the current mid-engined C8 as heresy. However, if you're willing to look past the relocated powerplant, it's sure to impress you with its performance, both on the track and over long stretches of road. In fact, with its naturally-aspirated 490hp 6.2L V8 and eight-speed dual-clutch automatic gearbox, it'll best most supercars on the market, springing to 60mph in a mere 3.3s.
Final Assembly: Bowling Green, Kentucky
AMI Ranking: 5
Engine Options: 6.2L V8
Max Horsepower: 490hp
Max Torque: 470lb-ft
2021 Lincoln Navigator
Rounding out our list is the Lincoln Navigator, Ford's upscale counterpart to its large Expedition SUV. It's an offering that's got American style in spades, as it sports one of the most spacious third rows on the market, along with 30-way-adjustable massaging front seats, beautiful wood trim, and copious amounts of cargo room. This isn't an SUV that'll wow you with its driving dynamics, though, because the sheer size of the thing makes it cumbersome in and amongst other cars. Then again, those who are looking into a Lincoln aren't after a lively ride, but rather something that's plush and luxurious — areas in which the Navigator excels.
Final Assembly: Louisville, Kentucky
AMI Ranking: 20
Engine Options: Twin-Turbo 3.5L V6
Max Horsepower: 450hp
Max Torque: 510lb-ft
The 16 Best Resurrected Comeback Cars
As American automakers have come and gone over the years, there've been a number of models that have made a triumphant return. If you're looking for a full roundup of such vehicles, head on over to our guide to the best resurrected comeback cars.