Upon their introduction into the automotive world, hybrids were exclusively marketed as environmentally-conscious alternatives to large, inefficient SUVs. With soft body lines, mediocre performance specs, and a certain stigma about them, the Priuses of the world were largely seen as a black mark against the auto industry. Threatened by an emerging technology that made the venerable internal combustion engine (ICE) increasingly obsolete, motoring enthusiasts everywhere viewed hybrids as something akin to heresy. All that is to say — they weren't too excited about what the future promised.
Now, however, hybrids aren't just some eco poster child — far from it, in fact. Rather, they are among some of the fastest, most powerful cars in the world, bar none. Having discovered the incredible untapped potential of electric motors, auto manufacturers have since used them to take the performance of their petrol-powered supercars to new heights. Enabling instant torque availability, improved turbocharger performance, and capable all-wheel-drive, the hybrid drivetrain makes for a powerful one-two punch. So while all of these cars could hold their own against their petrol-exclusive counterparts, it's fairer to the internal combustion engine to compare them against one another. What follows is a list of the fastest hybrid supercars, organized in ascending order of their quoted 0-62mph time.
How Do Hybrids Work?
General Principles
While every hybrid drivetrain is unique, they share a lot of the same principles. Known as plug-in hybrid electric vehicles (PHEVs), these cars typically rely on a combination of an electric motor and an internal combustion engine working in tandem. PHEV batteries can be charged in a number of ways, whether that's through a wall outlet, a charging station, regenerative breaking, or even the engine itself. Their use of electric power can vary wildly on the vehicle, with some relying on the motor until the battery is depleted, and others restricting its use to low speeds.
In any case, hybrid supercars allow for the best of both worlds. Thanks to their electric powertrain, they have an unrivaled amount of torque at their disposal, enabling near-instant acceleration off the line. Once the car reaches higher speeds, the petrol-powered engine then takes over, providing the top-end performance needed to reach its absolute maximum speed. But electric motors are also good for keeping turbos spooled (preventing the dreaded turbo lag) and making up for the gaps in the engine's torque. What's more, hybrid supercar drivetrains are essentially all-wheel-drive systems, with one or more electric motors powering the front wheels, and the ICE driving the rear wheels, sometimes with the assistance of a further electric motor. As a result, these cars boast some incredible handling in addition to their lightning-quick 0-60mph sprint times.
2020 Ferrari SF90 Stradale
2.5s
Sharing its name with the famed SF90 Formula One car, the SF90 Stradale is the fastest car ever made by the experts at Marinello. It's powered by three electric motors — two found at the front axle and one mounted between the engine and the transmission — good for a combined output of 217hp. What's more, it also houses a powerful 4.0-liter twin-turbocharged V8 engine that lays down a staggering 769hp and 590lb-ft of torque on its own. And with its 7.9kWh li-ion battery mounted just behind the passenger compartment, it can reach a top speed of 84mph and cover a distance of 15.5 miles in all-electric mode. But the hybrid drivetrain isn't just some cheap party trick. Rather, it makes the SF90 Stradale the first-ever mid-engine Ferrari supercar to feature all-wheel-drive. Apart from enabling a blistering 0-60 time, this means that the electric motors are capable of real-time front-axle torque vectoring. In other words, it's not just fast, it also handles like it's on rails.
Top Speed: 211mph
0-124mph: 6.7s
2021 McLaren Speedtail
2.5s
The successor to the iconic McLaren F1, the Speedtail features a unique finned design inspired by Le Mans-style racers. The Speedtail's 1,036hp drivetrain — essentially a modified twin-turbo V8 taken from the 720 and coupled to a parallel system eMotor — gives it the highest top speed of any production McLaren ever. Like its predecessor, the Speedtail positions the driver centrally, with the two passengers at each flank. Fitted with electrochromic glass, the Speedtail's windscreen darkens at the push of a button. What's more, McLaren hasn't given the car any door mirrors — instead, relying on a set of front-mounted HD cameras that extend when the ignition is turned on and retract when in "Velocity mode". Essentially an exercise in drag reduction, the Speedtail comes with features such as carbon fiber static covers on the front wheels and hydraulically-actuated active rear ailerons. As a result of its wind-cheating features, the Speedtail is not even street legal.
Top Speed: 250mph
0-124mph: TBA
2013 Porsche 918 Spyder
2.6s
Billed as the spiritual successor to the iconic Carrera GT, the Porsche 918 Spyder was made over an uber-limited 21-month run with just 918 examples in total. Upon its debut, the hypercar claimed the then-Nürburgring lap record for the fastest production car with a time of six minutes and 57 seconds. Powered by a naturally aspirated 4.6-liter eight-cylinder engine and a pair of electric motors, it puts out an impressive combined total of 894hp and 944lb-ft of torque. The larger 154hp electric motor is mounted at the rear axle, driving the wheels in parallel with the engine and also acting as the main generator for the hybrid system. At the front, the smaller 127hp motor drives the front wheels and can be decoupled by an electric clutch when not in use. With its 6.8kWh liquid-cooled li-ion battery, the 918 Spyder is good for about 19 miles of range. It'll also lay down a pretty respectable 0-60mph in electric-only mode, taking just 6.1 seconds.
Top Speed: 214mph
0-124mph: 7.2
2013 Ferrari LaFerrari
2.6s
At the time of its unveiling, the LaFerrari represented the pinnacle of Ferrari's engineering know-how. (If you need further proof of the Italian brand's commitment to this car, its name literally translates to "the Ferrari".) Taking race-proven hybrid tech from its Formula One program, Ferrari coupled a 788hp 6.3-liter V12 with a 161hp electric motor. What resulted was the first-ever Ferrari to feature a hybrid drivetrain — and its most powerful naturally-aspirated one at that. In order to make the car extremely efficient under load, Ferrari incorporated technology known as Kinetic Energy Recovery System (KERS). In practice, this means that the electric motor makes itself available at any speed, and under light acceleration, it borrows power from the V12 in order to keep itself charged. Should you need to put the pedal to the metal, the total system output kicks in, unleashing every one of its 949 horses. Limited to just 499 units in its first wave of production, Ferrari eventually came out with an open-top Aperta version in 2016.
Top Speed: 217mph
0-124mph: 7.0s
The third member of the holy hybrid hypercar trinity — a group that also features the 918 and the LaFerrari — the McLaren P1 signaled the British automaker's return to glory. Featuring a twin-turbocharged V8 engine good for 727hp and an in-house electric motor producing 177hp, the P1 was an engineering marvel. Where other hybrid supercars rely on their electric motor for instantaneous torque and immediate acceleration, McLaren's variant has another trick up its sleeve. That is, when left in automatic mode, the car's ECU will use its Instant Power Assist System (IPAS) in order to get the electric motor to "torque fill" the turbo lag gaps in the petrol-powered engine's output. In practice, this means that the P1's powertrain has an effective powerband reaching almost 7,000rpm. What's more, the McLaren P1 also featured other Formula One-derived technologies, such as a KERS for improved efficiency and a Drag Reduction System (DRS) rear wing for all-out straight-line speed.
Top Speed: 217mph
0-124mph: 6.8s
2016 Koenigsegg Regera
2.8s
Packing a whopping 1,100hp 5.0-liter twin-turbocharged V8 and three electric motors for a combined output of 1,797hp, it's only fitting that this Koenigsegg's name comes from the Swedish verb "to reign" or "to rule". So the story of the Regera's development goes that founder Christian von Koenigsegg purchased a Tesla Model S. Having been so impressed by the instantaneous acceleration and intuitive driving experience, he decided to take the best aspects of the electric powertrain and couple it to an internal combustion engine. What resulted was the Regera, a car designed to be a more practical and luxurious alternative to the rest of the Swedish hypercar manufacturer's lineup, trading absolute on-track performance and weight reduction in favor of a smooth power curve with instant torque delivery. The smallest of its three motors is mounted to the crankshaft, effectively acting as a starter motor and also making up for any turbo lag. Its two larger 241hp electric motors drive each wheel, responsible for managing traction and providing torque vectoring. With its 4.5 kWh, 800V battery pack, Koenigsegg claims the Regera to have the most power-dense battery pack of any production car ever built.
Top Speed: 250mph
0-124mph: 6.6s
2020 Lamborghini Sián FKP 37
2.8s
Not only the first hybrid car Lamborghini has ever made but also the most powerful car Lamborghini has ever made. Based on the Aventador SVJ, the Sián FKP 37 borrows its 774hp 6.5-liter V12 and pairs it with an electric motor integrated into the gearbox. Powered by a supercapacitor — a unit that can store three times as much charge as a conventional Li-ion battery of the same capacity — the Sián has a total output of 807hp 561lb-ft of torque. In contrast to some of the other cars featured on this list, the Sián's electric motor plays a much smaller part in its drivetrain, only kicking in at lower speeds and also to support gentle deceleration. Featuring an electronically controlled all-wheel-drive system and a self-locking rear diff, this Lamborghini is not only fast — it also handles exceptionally well on the track.
Top Speed: TBA
0-124mph: TBA
2021 Porsche Panamera Turbo S E-Hybrid Sport Turismo
3.0s
As a four-door wagon, the Porsche Panamera Turbo S E-Hybrid doesn't exactly qualify as a supercar; nevertheless, it boasts some blistering performance figures befitting one. Using tech similar to that of the 918 Spyder, this hybrid Panamera features a 4.0-liter twin-turbocharged V8 mated to a 134hp electric motor. With a combined output of 689hp and 642lb-ft of torque, it's the second most powerful car Porsche makes, just 61hp down from the Taycan Turbo S. And for 2021, Porsche updated the Panamera Turbo S E-Hybrid with a new 17.9kWh battery — an increase in capacity by some 30%. What results is a car that can hold its own on the track and take you home in quiet, fuel-efficient comfort.
Top Speed: 196pmh
0-124mph: 10.9s
In 2007, Acura announced that it would have a next-generation NSX model in production by 2010. Despite building a series of prototypes for production testing, the project was shelved until 2011. However, it would be four more years before the production model would receive its debut, finally going on sale in 2016. The wait for an NSX successor well worth it, though. Powered by a 3.5-liter twin-turbocharged V6 and a set of three electric motors, the next-gen NSX is capable of 573hp. Mounted in parallel to the engine, one electric motor helps drive the rear wheels, while the two further motors individually power each front wheel. As such, the NSX effectively has an all-wheel-drive drivetrain, providing precise power delivery and crisp steering through the turns. But that's not all — the NSX also makes for a great day-to-day supercar. For instance, it comes with a Quiet mode in which the exhaust is funneled through a set of silencers, making it virtually noiseless. And rated for 21mpg through the city and 22mpg on the highway, it also boasts pretty respectable fuel efficiency.
Top Speed: 191mph
0-124mph: 11.3s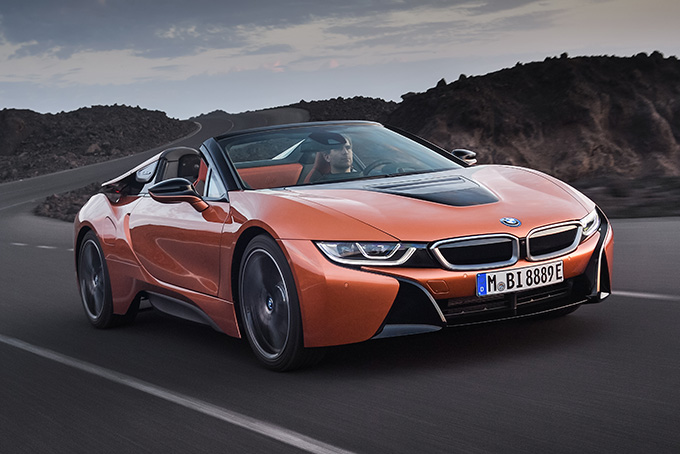 First introduced as the Vision EfficientDynamics concept at the 2009 International Motor Show in Germany, the BMW i8 kicked off the era of the hybrid supercar. The plug-in hybrid system is comprised of a 1.5-liter three-cylinder TwinPower turbo petrol engine supplemented by a synchronous eDrive electric motor, resulting in a total of 369hp. At the front, the motor drives the wheels via a two-speed automatic gearbox; at the back, the engine's power is funneled to the rear wheels through a six-speed Steptronic automatic transmission. What results is a capable hybrid-specific all-wheel-drive system with tons of grip and instant torque response. Made with sustainable Carbon Fiber Reinforced Plastic (CFRP), the i8 is exceptionally lightweight and aerodynamic. And because of the central placement of the motor, engine, and li-ion batteries, it has a near-perfect 50/50 weight distribution as well as a low center of gravity.
Top Speed: 155mph
0-124mph: 14.4s
The 20 Most Powerful Cars You Can Buy
Sure, fast 0-62mph sprint times and high top speeds are great, but they're not the only performance figures putting supercars in a league of their own. If you're looking for more high-octane reading, have a look at our guide to the most powerful cars you can buy.