It's no secret that pickup trucks are objectively the most utilitarian genre of vehicle in the automotive sector, offering practical features and amenities that lend themselves to everything from off-roading and backcountry exploration to job site duties and cargo hauling. And though there's a myriad of crucial metrics to take into account when shopping for one of these four-wheeled workhorses, few are as important or telling as a pickup's towing capacity. This is largely because a given truck's towing capacity offers a more tangible, real-world application and translation of a pickup's engine size, power output, drive system, and curb weight, thereby affording a much better understanding of what a model is capable of.
Advancements in the powertrain realm, coupled with the advent of a host of new cutting-edge technologies and features, have ultimately given way to what are not only the most capable and powerful towing pickups in history, but also the most sophisticated, competent, and easiest to drive models ever produced. With this in mind, we've scoured the market to deliver this guide on the best pickup trucks for towing currently in production. However, rather than simply counting down the pickups with the highest towing capacity, we've generated this list of the all-around best trucks for towing, taking the overall competence and performance of each model into account, along with its bang-for-your-buck, and how it stacks up to other competitors in its segment, as well as a few of the most pivotal aspects to think about when shopping. So, without further adieu, let's drop the hitch, release the brake, and get into our picks for the best trucks for towing.
Towing Capacity, Payload, & Pound-Feet
The Six Most Important Areas To Consider When Buying A Truck For Towing
In addition to the sheer weight it can haul behind it, there are a handful of supplementary areas that should also be considered when browsing the pickup market for a capable machine. Below, we'll briefly touch on the half-dozen most crucial elements to factor into your decision before eventually pulling the trigger on your final purchase.
Towing Intentions: If you're looking at trucks specifically for the purpose of towing, then there's an extremely high likelihood that you have at least a rough sense of how much poundage you'll typically be shlepping behind you. This should give you a sense of the minimum towing capacity that you'll need, which should help to narrow down your search.
Powertrain, Output, & Towing Capacity: As previously mentioned, factors such as weight and drive-type/system will admittedly play a role determine towing capacity, though more than anything else this metric boils down to the engine at the heart of the vehicle, and its size and configuration. So, on top of a model's maximum towing capacity, it's also very much worth your time to thoroughly explore what's under the hood of each truck. What's more, a great many of the pickups on this list are offered in numerous trims, and with multiple powertrain options.
Payload Capacity: If maximum towing capacity is a guiding factor in your search, then chances are you'll also be pretty concerned with a model's maximum payload capacity (i.e. how much the truck can carry in its cabin and bed as opposed to its towing capacity which is how much weight it can pull behind it). Like the power output of a truck's engine or its towing capacity, a pickup's maximum payload will pretty much always be a readily advertised metric in brochures and on manufacturers' websites.
Towing-Friendly Features: In addition to bestowing trucks with the horsepower and torque needed to competently tow ample amounts of mass, manufacturers have also been treating modern pickups to a variety of features that make towing easier. This includes appointments such as four-wheel steering, trailer sway control, electronic transfer cases, and 360-degree, birdseye view, and backup cameras, just to name but a few. Quite a few companies also offer their own proprietary tow-friendly features such as Ram's "Digital" (i.e. rear-facing camera-feed-enabled) rearview mirrors.
Comfort & Amenities: One area in which towing-capable pickups can hugely differ is their interior, with some trucks sporting extremely spartan, minimalistic, and utilitarian cabins while others boast plush, thoroughly luxurious interiors that are brimming with all of the creature comforts, amenities, and technology that one would expect in high-dollar SUVs and grand tourers. There are also models that are designed to lend themselves to working on a job site such as built-in generators and power banks, integrated tool storage, and tailgates that can convert into utilitarian workbenches.
Value: While the trucks with the most generous and capable towing capacities will almost always cost more than their smaller counterparts, there are a number of models that afford far better bang-for-your-buck than others, often without sacrificing on performance or reliability. With that said, this may mean having to explore a foreign-made brand from outside the US — something that can admittedly be very tall ask for a lot of American truck owners, a demographic with some fiercely passionate brand loyalty.
Chevy Colorado
Built around the same rugged from as the slightly more expensive GMC Canyon, the Chevy Colorado is a well-rounded and immensely capable midsize pickup option with an impressive 7,000lb maximum towing capacity that's supplemented via a 1,432lb payload. While slightly down on power compared to the Ford Ranger, the Colorado does come equipped with a host of high-end, high-tech features such as proximity keyless entry, a Bluetooth-connected infotainment system with Android Auto, Apple CarPlay and in-car WiFi. The Colorado is also offered with the available ZR2 package, which transforms the pickup into a surprisingly competent off-roader.
Engine: 3.6L V6
Power: 308HP & 275FT-LBS
Curb Weight: 4,252LBS
Max Payload: 1,432LBS
Max Towing Capacity: 7,000LBS
Ford F-150 XL
When equipped with the 400hp 3.5L EcoBoost V6 engine option, Ford's beloved F-150 is unequivocally one of the most potent and competent towing vehicles on the market, punching well above its weight with a whopping 14,000lb towing capacity — a figure that bests more than a few full-size pickup models with more cylinders and twice the displacement. It doesn't end there, however, as the latest F-150 also boasts a slew of noteworthy features such as flat-reclining seats and an onboard battery generator. Dollar for dollar, the F-150 is — beyond a shadow of a doubt — the best value on the market in the towing class.
Engine: 3.5L V6
Power: 400HP & 500FT-LBS
Curb Weight: 4,574LBS
Max Payload: 3,250
Max Towing Capacity: 14,000LBS
Ram 1500 Tradesman
A rugged and immensely capable workhorse with the plushest cabin in its class, the Ram 1500 is a more premium pickup that offers a unique balance of work-focused features and luxury with an interior that boasts a HUD, a 12" touchscreen, and soft leather upholstery, while under the hood there's a mild-hybrid 5.7L HEMI V8 that affords almost 13,000lbs of towing capacity, plus nearly an additional tonne of payload. Winner of MotorTrend's 2021 Truck of the Year as well as the 2020 IIHS Top Safety Pick, the latest Ram 1500 is also offered in a number of upgraded trims and with numerous up-specced packages.
Engine: 5.7L V8
Power: 395HP & 410FT-LBS
Curb Weight: 4,975LBS
Max Payload: 1,743LBS
Max Towing Capacity: 12,750LBS
Toyota Tundra SR5
Sneaking in at just under the $40,000 mark, Toyota's Tundra SR5 is a relatively affordable and incredibly versatile full-size pickup model that's produced in half a dozen trims. Sold performance and Japan's typical bulletproof reliability are both very much characterizing qualities of the Tundra, as is its more than 10,000lb towing capacity and 1,600lb payload. Riding on 18" wheels and sporting seating for six, the Tundra SR5 is also offered with the Japanese automaker's TRD Off-Road and TRD Sport packages.
Engine: 5.7L V8
Power: 381HP & 401FT-LBS
Curb Weight: 5,340LBS
Max Payload: 1,660LBS
Max Towing Capacity: 10,100LBS
Nissan Titan XD
Nissan's full-sized Titan has played an instrumental role in converting a slew of American truck enthusiasts into Japanese brand loyalists, with above-average performance, technology, and safety standards at an exceedingly affordable price. The XD variant does come better equipped than the base model, though admittedly does lack some of the bells and whistles present on models from its competitors. With that said, if you're looking for a comfortable, reliable pickup with plenty of cargo space, cabin room, and towing capacity, then the Titan is a stellar choice.
Engine: 5.6L V8
Power: 400HP & 413FT-LBS
Curb Weight: 6,402LBS
Max Payload: 2,390LBS
Max Towing Capacity: 10,990LBS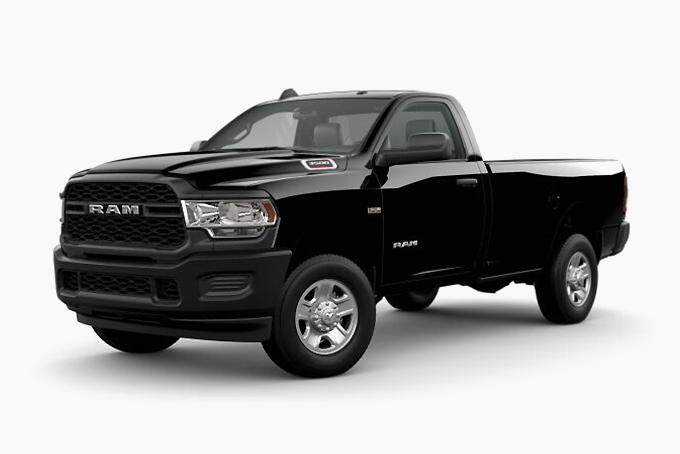 Ram 3500 Tradesman
Here we have the most powerful truck for towing on our list with the mighty Ram 3500. Under the hood, this 3.2-tonne behemoth packs a massive 6.7L Cummins Turbo Diesel engine that generates 420hp and well over 1,000ft-lbs of torque — enabling the 3500 to haul a class-leading 37,100lbs of cargo in its wake while schlepping around an additional 3.285-tonnes in its bed. Add in "Digital" rearview cameras, a 360° Surround View Camera with Cargo View, and a massive infotainment touchscreen system, and you've got what is undoubtedly one of, if not the very best full-size truck for towing on the market.
Engine: 6.7L Turbo Diesel I6
Power: 420HP & 1,075FT-LBS
Curb Weight: 6,407LBS
Max Payload: 6,570LBS
Max Towing Capacity: 37,100LBS
Chevy Silverado 1500 RST
While it admittedly doesn't come cheap, Chevy's Silverado 1500 is a full-sized American pickup that excels across a myriad of different areas, with a comfortable and well-appointed cabin, a rugged and work-ready exterior, and a potent powertrain consisting of a 6.2L V8 with a ten-speed transmission and a Max Trailering Package that allows for a healthy 13,300lb towing capacity while still offering up to 33 miles per gallon, which translates to a range of more than 725 miles on a single tank. It's also worth mentioning that the base model Silverado 1500 starts at around $30,000, and is also available with an optional DURAMAX 3.0L turbo diesel engine that squeezes out 460ft-lbs of torque.
Engine: 6.2L V8
Power: 420HP & 460FT-LBS
Curb Weight: 4,970LBS
Max Payload: 2,080LBS
Max Towing Capacity: 13,300LBS
Ford Super Duty F-450 XLT
Ford's aptly named Super Duty F-450 XLT is a slightly more expensive counterpart to the Ram 3500 with an extremely similar maximum towing capacity of 37,000lbs — which, while 100lbs less than the Ram is by no means a figure to scoff at. On top of its monstrous pulling power, the F-450 XLT also comes equipped with a host of high-tech features such as a blind-spot detection and information system, pre-collision assist with automatic emergency braking, lane-keep assist, a high-mounted rearview camera, an exterior backup alarm, LED lighting throughout, trailer reverse guidance, and a remote start system, just to name a few of the several dozen amenities on this roughly $50,0000 vehicle.
Engine: 6.7L Turbo Diesel V8
Power: 475HP & 1,050FT-LBS
Curb Weight: 7,712LBS
Max Payload: 7,850LBS
Max Towing Capacity: 37,000LBS
The 12 Best High-Performance Pickup Trucks
Interested in checking out a selection of less work-oriented models built for high-speeds and off-road thrills? Then be sure to cruise on over to our guide to the best high-performance pickup trucks for twelve of today's most potent, adrenaline-inducing turnkey rigs sold fresh off the lot.