No matter if it's a vintage roadster or an old-school off-roader, a classic car is undeniably more special to drive than its modern-day counterpart. Because it's true: they really don't build 'em like they used to. However, what that means in practice can be totally different depending on whether you're the misty-eyed onlooker or the frustrated owner who's faced with the car's constant headaches. For as much as we like to romanticize classics for their beautiful styling and their raw road feel, all it takes is one breakdown to realize that, yes, there's a reason why automotive technology has continued to evolve. Of course, there's something to be said for originality, but wouldn't it be nice if you didn't have to keep AAA on speed dial?
Enter restomods. Combining timeless visual appeal with state-of-the-art componentry, such cars retain all of the good things about classics whilst updating their engineering to the standards of today. It's the ultimate automotive indulgence, for along with upgraded performance, they also bring improved reliability and greater peace of mind. Whether that's as a daily driver or as a track toy, restomods offer a far better ownership experience than an original car of the same era. Naturally, then, these kinds of creations have become incredibly sought-after over the years, first popularized by shops like Singer and ICON, and subsequently emulated by operations the world over. But don't just take our word for it; read on to see what we consider to be the 20 best restomods you can buy.
What Is A Restomod?
A Wolf In Sheep's Clothing
"Restomod" is a portmanteau of the words "restoration" and "modified." As such, it's best to think of these cars as something of a renovation. For though they may look like a classic on the outside, they're far from a stock vehicle under the hood. That is to say, restomods attempt to capture as much of the original appearance and feel as possible, though they make exceptions when it comes to things like performance, safety, and in-cockpit experience.
Expedition Motor Co. Mercedes-Benz 250GD Wolf
New Jersey-based Expedition Motor Co. works with one vehicle and vehicle alone: the Mercedes-Benz G-Wagen. And it's not out of any lack of auto-mechanical skill. Rather, the team's specialization means that it can transform tired old G's into true works of utilitarian art, fully customized at the buyer's discretion. In the case of the Wolf we have featured here, Expedition invested over 1,000 hours into the build, tearing apart everything from the engine to the transfer case to the suspension and steering. Though the end result is undoubtedly impressive, it's just one amongst many looks the team is capable of completing.
David Brown Automotive Classic Mini Oselli Edition
While David Brown Automotive offers several different classic, coachbuilt, custom Minis, this Oselli Edition is easily our favorite. Handbuilt in Silverstone, England, it comes powered by an overbored 1,450cc engine fitted with a pair of SU carburetors and a five-speed manual gearbox. Accordingly, DBA also gives the Oselli both upgraded brakes and suspension, including AP Racing four-pot calipers, Bilstein dampers, and some lowered springs. Rounded out by some sports exhaust and a limited-slip rear diff, it's no wonder that just 60 of these beauties will ever hit the road.
Classic Recreations Shelby GT350CR
However you want to restore your first-generation Mustang, Classic Recreations is easily your best bet — they offer everything from a period-correct 'Classic' model all the way up to a carbon-bodied GT500. We like the GT350CR in particular, though, because of its modernized, Shelby-endorsed essence. Under the original 1960s body, it hides a 490-545hp Coyote crate engine, along with a new coilover suspension setup, a six-speed Tremec transmission, and a power rack and pinion steering conversion. And that's not all; inside, the details are as authentic as they come, with Carroll Shelby highback seats, gauges, and floormats being just some of the many available trim options.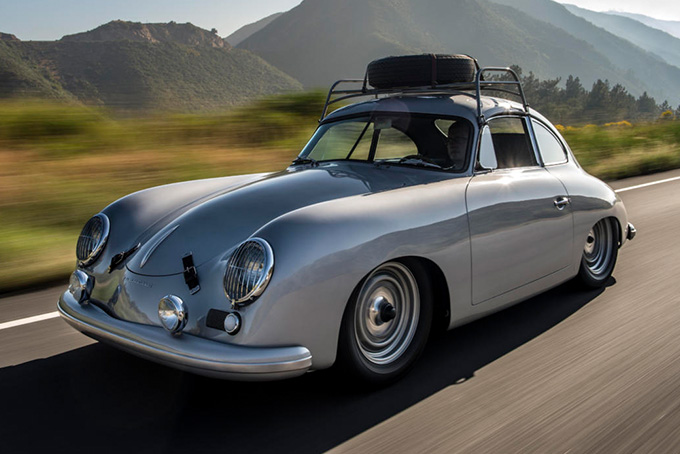 Emory Outlaw Porsche 356
As a third-generation tuner and the son of Gary Emory, Rod Emory started working on Porsches as early as age 14. These days, his eponymous Emory Motorsports is easily one of the most recognized outfits in Stuttgart's air-cooled community, both for its astounding output (175 cars and counting) as well as its incredible attention to detail. Each of the shop's builds is completely made-to-order, allowing for virtually limitless customization in both open-top and coupe flavors. Typically taking about 12-18 months for completion, Outlaws (like the one you see here) undergo a full nuts-and-bolts restoration, receiving some modified 911 suspension and an in-house Emory-Rothsport four-cylinder engine.
E.C.D. Land Rover Series IIA
If old Land Rovers are your thing, E.C.D. Automotive is the shop for you, as the Kissimmee, Florida-based operation has built its entire operation around vintage Defenders and Range Rovers. This Series IIA is an ideal option for the classic off-road enthusiast, restored to factory 1960s specifications and fitted with a host of aftermarket upgrades. In creating the car, E.C.D. leaves a lot of the decision-making up to the customer, meaning you can keep it old-school with a Cummins 2.8 Diesel or spice things up with a 5.3L Chevy V8. Inside, too, the shop's builds balance their originality with modern amenities, retaining their dash and seats whilst gaining a hidden eight-speaker sound system and some backup parking sensors.
Chieftain Range Rover Classic
Not wanting to be caught up in a market deep with Defender customs, Jensen International Automotive launched its Chieftain Range Rover Classic outfit back in 2018. A completely re-engineered vehicle from bumper to bumper, it rides on an all-new, updated chassis, fully independent double-wishbone suspension, and a set of later model 17″ alloy wheels. Good thing, too, considering Chieftain shoves a massive 430hp GM-Sourced LS3 into the engine bay, an addition that allows for sub-six 0-60mph times and 130+ mph top speeds. Left up to us, we'd go for a coat of mustard yellow paint, but their customizer is chock full of eye-catching options.
The FJ Company Toyota Land Cruiser G40
What the titular FJ Company lacks in vehicular variety, it more than makes up for in quality of execution. Case in point: the G40. Beginning with the steel body of an original Land Cruiser, each FJ build undergoes a ground-up overhaul in which it receives front coil suspension, anti-lock brakes, traction control, and even power steering. As if that wasn't enough, though, the FJ Company then adds a slew of off-road-ready upgrades, including a torquey 4.0L Toyota V6, some automatic hubs, front and rear locking diffs, as well as a set of chunky BF Goodrich M/T tires. Add to that a fully modernized interior, and you have something that's as much a restomod as it is a labor of love.
Legacy Classic Trucks Dodge Power Wagon
When nothing but a rugged, uncompromising adventure vehicle will do, Legacy Classic Trucks has you sorted. With their Dodge Power Wagon Conversion, for instance, you're getting a 1,000-hour build that includes a boxed steel chassis, some Saginaw power steering, and a set of DANA axles with ARB locking differentials. And, in order to move the 7,000-pound beast along at a lively pace, Legacy gives you a choice of four different engine options — from a 170hp Cummins turbo-diesel all the way up to a 620hp supercharged Chevrolet LSA. Of the many exquisite appearance upgrades, our favorite is easily the gorgeous mahogany wood used in the bed lining.
Classic Ford Broncos Bronco
CFB frontman Bryan Rood has been designing and building classic Broncos since 2005, so, needless to say, he's got his process down pat at this point. Though the Ohio-based shop offers both new and pre-owned examples, we'd highly recommend a custom on account of the impressive eye for detail. Toeing the line between period correct and performance-improved, each build comes on a factory original 1966-1977 Ford Bronco frame, with a licensed all-steel body, a vintage aircon system, and modern upgrades like an Atlas II transfer case and some Bilstein shocks. The best part of the CFB experience, however, has to be the engine, as the 5.0L Coyote V8 makes for a significant bump in power.
ICON 4×4 BR
Having honed his restomodding expertise running the TLC Land Cruiser Service center, Johnathan Ward then proceeded to found ICON in order to bring his own innovations to life. In the case of his BR build, you're getting a top-to-bottom redesign of a classic Ford Bronco, retrofitted with 12″ travel Fox Racing coilovers, Brembo brakes front and rear, and a thundering Ford GT Coyote V8 (amongst a long list of other upgrades). More than anything, though, it's the sheer amount of available options that make ICON's services so desirable. Keep it classic with one of their Old School design packages or spice it up with a New School appearance; with two-door, four-door, soft-, and hard-top body styles, the end product can be practically anything you want it to be.
Twisted Automotive Land Rover Defender NA-V8
If you've ever wondered what a Defender could do when upgraded with an engine from a Corvette, Texas' Twisted Automotive has your answer. Making some 525hp courtesy of its 6.2L LT1 engine swap, the NA-V8 is a vehicle that's designed for high-powered off-road hoonage. As such, it also gains a modernized GM 8L90 eight-speed automatic transmission, a performance-built driveshaft, along with some stainless steel fasteners and fittings. Obviously, such a spirited powerplant requires some top-dollar engineering to keep things in check, so Twisted also fits each truck with braking and suspension components from the likes of Alcon, Bilstein, and Eibach.
Vigilante 4×4 Jeep Grand Wagoneer
Sure, Jeep may have brought back the Grand Wagoneer nameplate for the first time in nearly 30 years, but Vigilante 4×4 understands that some buyers prefer to keep it classic. And here's the thing: their restomod will run rings 'round the new guy, as it can be specced with a 1,000hp Hellephant Hemi V8. Naturally, then, it also comes with the suspension to suit, a setup comprised of Eibach coil-overs, adjustable Fox Racing shocks, and Baer 6 piston brakes. Riding on a proprietary Vigilante platform (that's been re-designed for improved strength and handling), the result is a Jeep that honors the past whilst making a massive leap forward in automotive performance.
Alfaholics GTA-R
Leading Uk-based Alfa Romeo expert Alfaholics puts over 3,000 hours into each one of its GTA-R builds, and the craftsmanship certainly shows in the final product. Designed to be the ultimate expression of the legendary 105 series, it combines enduring character with updated components in a package that's as timeless as it is nimble through the turns. Under the hood, the classic 2.0L Twin Spark generally gets bored out by a further 1/3 of a liter, whilst the rest of the package is left up to the customer's budget. However, assuming that six-figure purchase price sounds a bit steep, Alfaholics also sells a grip of restored components on its website.
Mechatronik M-SL
Mechatronik's M-SL is an exercise in German attention-to-detail, restored down to the smallest bolt to ensure absolute automotive perfection. With the refresh comes a marked increase in performance, as the roadster trades its inline-six for a 4.3L M113 sourced from a C43 AMG. In practice, such a swap means that it'll do 60mph in a respectable 6.5s (and it'd continue too, were it not for the 145mph limiter). Of course, the '60s componentry wouldn't be able to handle the added power, so Mechatronik also fits the car with modern brakes in addition to ABS and traction control. But to retain the spirit of the original, it rides on softened KW dampers and uprated springs.
Eagle E-Type
Eagle's E-Type is a vehicle that needs no introduction; Jeremy Clarkson himself once called it "the most beautiful thing [he'd] ever seen." And it's for good reason, as the brand works tirelessly to create cars that look to the past whilst adding something completely unto their own. No matter which variant you choose — the E-Type, the Speedster, the Low Drag, the Spyder, or the Lightweight — you're getting a ride that's utterly bespoke and incredibly thrilling to drive. Were it our choice, we'd take one in British Racing Green on tan. As you should.
Kimera Automobili Evo37
Okay, so this one is technically more of a modern reimagining than it is an out-and-out restomod, but the 037 is a rally car that's too cool to pass up. And besides, with 500hp and 406lb-ft of torque on tap, Kimera's creation keeps with its roots whilst bringing something a little extra (read: a lot) to the table. Crafted with a mix of carbon, kevlar, titanium, and aluminum, it remains reminiscent of its stylistic inspiration yet is slightly modernized with smoothed angles and exposed weave. Sure, the asking price might seem a little eyewatering, but that's what you pay when there will only ever be 37 in existence.
Gunther Werks Porsche 993 Coupe
Gunther Werks creates cars with performance in mind above all else, honing each vehicle to an ultra-refined driver's tool. The West Coast outfit's 993 Coupe, for example, starts its life as a classic air-cooled 911, after which it's fitted with a crop of carbon fiber parts, a 430hp Rothsport Racing engine, and a Getrag G50 six-speed manual box. Weighing a scant 2,600lbs courtesy of its custom widebody kit, it's a machine that takes everything Porsche's are known — handling, lightness, feedback — and elevates it to the standards of the present day.
Ares Design Panther ProgettoUno
Ares Design's Panther Progettuono is a coachbuilt custom based on De Tomaso's '70s Pantera supercar. In order to maintain its iconic exhaust note, it's still powered by a naturally-aspirated V10, an engine that makes 650hp and 413lb-ft of torque — enough to catapult it to nearly 202mph. However, elsewhere, it's been thoroughly modernized, built with LDF four-wheel drive, double-wishbone suspension, and a full carbon body. Rolling on some forged aluminum wheels, it's made only better by the tailor-made audio system and interior shod in Nappa leather, Alcantara, and, of course, even more carbon fiber.
Redux E30 BMW M3
This E30 M3 restomod perfectly captures the essence of BMW's '80s touring car dominance, subtly refined to give it an added performance edge. Thoroughly inspected prior to tear-down, each build is then reworked in its entirely, with the 2.3L four-cylinder M engine bored out and the suspension swapped for some EXE-TC Competition dampers. Assuming you want even more power, however, Redux can also turbocharge the S14 in order to make as much as 387 horses and 390lb-ft of torque. How the interior is specced is ultimately left up to you, be it something track-ready with a roll-cage or something road-friendly with leather.
Porsche 911 Reimagined By Singer
Rounding out our list is Singer, a shop whose Porsche-customizing proficiency has set the standard for restomods worldwide. And it's not without good reason — the California-based outfit's cars are true pieces of art, builds that command hefty sums and lengthy wait times quite unlike anything else on the market. Exclusively working with the 964-gen 911, Singer finishes each Porsche with a swooping widebody kit, tasteful woven finishes, and one-of-a-kind paint combinations. More than a mere visual upgrade though, there are plenty of performance improvements, too, including carbon paneling, custom air intakes, KW coilovers, and a variety of different engine options.
The 12 Best Electric Classic Car Conversions
Restomods aren't limited to petrol-powered cars alone — not hardly. Rather, as EV technology has continued to become more accessible, many shops have started dropping battery-powered drivetrains into vintage vehicles as well. If you'd like to learn more about the concept for yourself, be sure to check out our guide to the best electric classic car conversions.