Unlike regular off-roading which is typically comprised of shorter all-terrain stints, overlanding is a more long-term endeavor that sees participants take on markedly longer, multi-day expeditions. As such, the activity's long-term format necessitates a unique array of outdoor gear that blurs the line between camping kit, survival items, and off-roading equipment. What's more, not only are overlanding enthusiasts trusting these pieces of gear with their lives, but they're also typically utilizing them deep into off-grid territory — at times literally days away from help, assistance, or rescue — making it absolutely vital that they can properly function without easily breaking or failing.
Using these realities to form our parameters, we've searched high and low, thoroughly scouring the camping, survival, and off-road gear segments and handpicking the latest and greatest offerings in the sector in order to deliver this list to the best pieces of overlanding gear and essentials. From go-anywhere vehicle upgrades to tools to gadgets off-grid accommodation, this curated buyer's guide contains practically everything needed to dive headfirst into overlanding — short of the vehicle itself.
Uncharted Supply Co. The Athena Power Bank
Tipping the scales at less than 2lbs, the Uncharted Supply Co. Athena Power Bank is an ultra-compact off-grid power supply that comes in an ultra-compact 7.25" x 3.85" x 1.69" package. Sold with an included carrying case, the Athena Power Bank contains a 16,000-mAh Lithium-polymer battery that boasts enough juice to jumpstart a 6.0-liter diesel truck. Additionally, the power bank can also charge up mobile devices and gadgets via one of its USB-A or USB-C ports, plus features an integrated LED flashlight.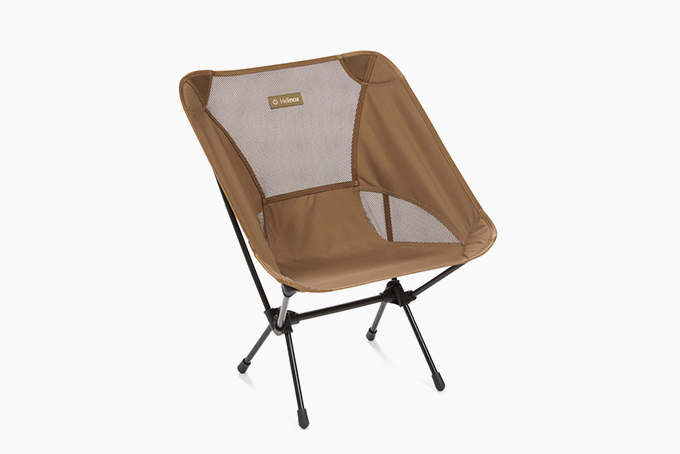 Helinox Chair One
While there's no shortage of companies producing outdoor-specific camping chairs, Helinox is almost certainly the undisputed leader in this space. The brand's flagship Chair One model is a collapsible seat that weighs only 2.125lbs and can support up to 320lbs. The Chair One is constructed around a lightweight frame that's crafted from DAC's proprietary aluminum alloy and draped in a rugged textile with reinforced panels and durable stitching. Backed by a five-year warranty, the Helinox Chair One is also offered in ten different solid color and pattern options.
WARN Epic Modular Duffle System
Founded in 1948, WARN Industries is undoubtedly best-known for its market-leading winches, however, in 2019 the Oregon-based outfit deviated from its typical MO to deliver a collection of overlanding-specific trail packs. Boasting a modular design with integrated MOLLE-compatible PALS webbing, these duffle-style bags are made from 600-denier CORDURA nylon and heavy-duty vinyl and feature double-weave handles and D rings that together allow for a wide range of attachment and mounting options. Equipped with a removable divider, the main bag is also supplemented via two smaller removable accessory pouches.
RotopaX 4-Gallon Gasoline Pack
Supplementary fuel packs have long been an overlanding and off-roading essential. And when it comes to producing these items, nobody does it better than RotopaX. Measuring 34.5″L x 13.25″W x 3"H, this extra-large Fuel Pack can accommodate four gallons of fuel and can also be stacked onto other fuel packs using RotopaX's Pack Mount Extension. Sporting a rotomolded construction, this item also features an ECO Spout and a sure-seal gasket. Alongside also selling packs for water, RotopaX also sells its Gasoline Pack in smaller 1, 1.75, 2, and 3-gallon sizes. It is, however, worth noting that the RotopaX mounting system is sold separately.
Savage UTV Offroad First Aid Kit
Sold in a lockable, IP67-rated, fully dust and waterproof, UV-resistant, injection molded plastic case, the Savage UTV Offroad First Aid Kit contains more than three dozen FAK essentials including a tourniquet, ten fabric bandages, half a dozen antiseptic wipes, two pairs of nitrile gloves, four sterile gauze pads, three packs of triple antibiotic ointment, an Ace wrap, an emergency survival blanket, a triangle shoulder bandage, burn gel, trauma sheers, a first aid guide, a Krelix wrap, and multi-trauma dressing, just to name a few. This FAK is also sold with a mounting kit that easily attaches to any roll cage.
Hi-Lift Jack X-Treme 48″
Without the benefit of paved, manicured roads, overlanding can often lead to vehicles getting stuck and needing to be recovered. And without the ability to easily call up a tow truck, the vast majority of enthusiasts opt to bring along recovery gear items — with one of the most popular and commonly-used being a recovery jack. Good for lifting, pushing, pulling, winching, and clamping, the Hi-Lift Jack X-Treme 48″ features a 5,000-pound weight rating, an all-cast construction, a charcoal metallic powder-coated finish, gold zinc-coated hardware and handle, and a special top winch-clamp-spreader attachment.
HalGuard Clean Agent Car Fire Extinguisher
In the same way overlanders can't typically ring up an ambulance or tow truck, they also can't easily call on the help of a local fire department, which is why many enthusiasts opt to carry a fire extinguisher. Rated for Class B and Class C fires, the HalGuard Clean Agent Car Fire Extinguisher is fully-rechargeable and boasts a high-quality steel cylinder mated to an all-metal valve construction. Equipped with a 6' to 8' range, this item comes protected by a six-year warranty and is sold with a two-strap, steel mounting bracket. Best of all, the use of a clear liquefied extinguishing agent gas enables this item to extinguish flames from hard-to-reach places, plus it doesn't cause any thermal shock to electronics or damage a vehicle's finish.
Solostove Bonfire 2.0
Measuring 14" tall, 19.5" in diameter, and weighing 23lbs, the Solostove Bonfire 2.0 is an updated take on the brand's already popular smokeless fire pit. Benefitting from Solostove's 360° airflow technology, the Bonfire 2.0 is crafted from rugged 304 stainless steel and can be used for cooking or making memories around the campfire. Sold with an included carrying case, this second-gen item also now features a removable base plate and ash pan that makes cleanup easier than ever before. On top of offering smokeless fire pits in several smaller sizes, Solostove also sells a variety of accessories and add-ons for the second-gen Bonfire.
Messermeister Adventure Chef 6 Piece Summit Set
Made specifically for off-grid adventures and exploration, the Messermeister Adventure Chef 6 Piece Summit Set contains five full-sized, folding cutlery staples including a 6" chef's knife, a 6" flexible fillet knife, a fork, spoon, and knife combo, a peeler and parer with a fish descaler, and a rugged thermoplastic elastomer cutting board. Sold in a waxed canvas carrying case, this entire set also features blades composed of premium 1.4116 German steel and handles made from hardwearing canvas Micarta. Messermeister also sells this camp cooking set in OD green or coyote color options.
DMOS Delta Pro Shovel
Whether making a camp latrine or digging out a 4×4, a shovel is another bonafide overlanding essential, and while there are plenty of choices on the market, few if any brands do it better than DMOS. Made in America, the DMOS Delta Pro Shovel offers a trio of blade modes as well as a shaft that can be adjusted to three different lengths (24″, 37″, 51"). Weighing just 3.5lbs, this shovel can also withstand 1,000lbs of force. The use of an anodized aluminum construction also makes this item impervious to rust. Able to collapse down to a 24″ x 11″ x 2.75″ form, this shovel can also be mounted using an available vehicle mount (which is sold separately).
MAXTRAX MKII Signature Orange Recovery Boards
Your first line of defense when getting a vehicle unstuck, the MAXTRAX MKII Signature Orange Recovery Boards are purpose-built items that can be placed beneath a vehicle to afford traction. Made in Australia, these recovery boards are composed of a proprietary, UV stable, fiber-reinforced, engineering-grade nylon construction that's heavily resistant to wheelspin. Half a dozen built-in handles also make it incredibly easy to handle these items while integrated shovels on each end enable it to scoop out dirt, sand, or snow. Backed by a lifetime warranty, these recovery boards are also equipped with leashes for easily pulling them out from beneath a truck or overlanding rig.
LifeSaver 18.5L Jerrycan 20000UF Water Purifier
A survival filter and jerry can in one, the LifeSaver 18.5L Jerrycan 20000UF Water Purifier is an 18.5-liter cell that contains a built-in pump and filter system that is capable of removing 99.99% of viruses and 99.9999% of bacteria and parasites from water at a rate of four liters per minute. Outfitted with a replaceable activated carbon disc, this filter can also clean up to 5,280 gallons of water before needing its filter disc replaced. Boasting a BPA and BPS-free, mil-spec construction, this item can also be paired with an optional shower attachment.
Factor 55 Owyhee Vehicle Recovery Kit
Touted as being the industry's first vehicle recovery kit featuring all made-in-America components, the Factor 55 Owyhee Vehicle Recovery Kit contains a host of essential items needed for getting a vehicle unstuck while off-grid. This includes a second-gen HitchLink, a standard-duty soft shackle, a Crosby ¾ shackle, a standard-duty tow strap, and a strap wrap — all of which neatly stows away in a Paraffin waxed canvas carrying case that can unzip and fold flat. In total, this kit weighs just 17lbs, including the weight of the case. Designed for use in non-winch recovery situations, this kit also takes its name from the overlanding hotspot in the mountain ranges of Idaho.
Baja Designs Squadron-R Pro Black LED Auxiliary Light Pod Pair
The Baja Designs Squadron-R Pro Black LED Auxiliary Light Pod Pair are super rugged off-road lights that pack a whopping 4,600 lumens while only drawing 40 watts of power — and being able to do so for some 50,000 hours of burn time. Waterproof up to 9', pressure-washable, IP69K-rated, and exceeding MIL-STD810G standards, these off-road auxiliary lights feature hard-anodized and powder-coated cast aluminum housings with machined billet aluminum bezels and hard-coated polycarbonate lenses. Offered in clear or amber colors and with four different light pattern options, these lights are also equipped with built-in overvoltage protection and Cree LED emitters that afford 20% more each than standard LEDs.
Yakima RoadShower
Perfect for both showering or cleaning off gear when in the backcountry, the Yakima Roadshower is an ultra-capable camp shower with a unique patented design and a welded aluminum construction fortified via a durable powder-coated finish. The shower boasts a 15.1-liter tank that can be pressurized through its Schrader air valve using a hand or an electric pump. Good for up to 55psi of pressure, this item also sports a built-in pressure relief valve and a garden hose adapter. Covered by a one-year warranty, this shower is also sold with included stainless steel universal mounting hardware, plus is compatible with several Yakima roof racks and crossbars.
weBoost Drive Reach Vehicle Cell Signal Booster
The further you venture off-grid, the less likely you are to have cell service, however, this problem can be mitigated using a device like the weBoost Drive Reach Vehicle Cell Signal Booster. Capable of supporting the latest 5G technology, this gadget is also compatible with all major carriers including Verizon, AT&T, and T-Mobile. Best of all, once you're back in civilization, this handy item can continue to bolster your smartphone's cell signal while in your vehicle.
Overland Vehicle Systems Cargo Box With Slide Out Drawer & Working Station
Overlanding requires individuals to bring all the necessary clothing, food, and gear needed to live for days at a time. As such, it's crucial to have some sort of organization system for all of your kit. One of the most popular solutions for overlanders are slide-out drawers like this item from Overland Vehicle Systems. This slide-out drawer system features a powder-coated stainless steel construction that's lined with mildew-proof marine-grade carpeting. What's more, this drawer system also boasts an oversized paddle lock, an integrated high-density polyethylene plastic workstation, marine-grade stainless steel hardware, and stainless steel mil-spec bearings.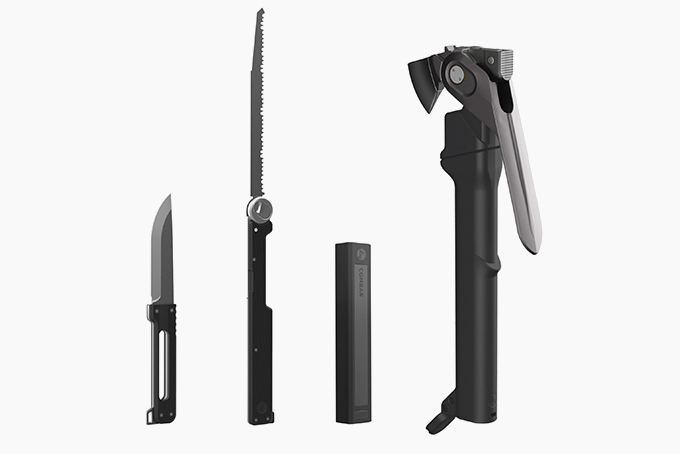 Aclim8 COMBAR Pro Titanium
Built to stand up to some of the world's most hostile conditions, the Aclim8 COMBAR Pro Titanium is a ridiculously rugged, Red Dot Design Award-winning multi-tool that's made from a hardwearing combination of 6AL-4V titanium, hard-anodized aluminum, and 420J2 stainless steel. This item is comprised of a camp axe with a folding head and a hollow, glass-reinforced polymer shaft that contains a folding pruning saw, a fixed blade knife, and an internal storage magazine for housing additional gear. Alongside the axe, saw, and knife, this tool also sports a hammer and a spade, as well.
ARB 12V Twin Motor Portable Air Compressor
Whether adjusting pressure for crawling applications or simply refilling a punctured tire, an onboard air compressor is yet another definitive overlanding essential. This model from renowned outfit ARB features a 12-volt twin motor dual cylinder design that allows for ample performance in a compact package. The ARB 12V Twin Motor Portable Air Compressor also comes loaded with a ducted IP55 sealed brushed DC cooling fan, anodized aluminum motor mounting brackets, an integrated aluminum air tank and pressure switch that allows the system's pressure to be adjusted anywhere from 135 PSI and 150 PSI. On top of an inflator, blow gun, a 20' air hose, and the twin-motor compressor itself, this item is also sold with a mountable waterproof carrying case made from an ultra-impact-resistant polymer.
Roofnest Roofnest Litewing Awning
Unlike most overlanding awnings that pull straight out, the Roofnest Roofnest Litewing Awning deploys in multiple directions to provide 270 degrees of coverage. Capable of being fully set up in just 90 seconds, the Litewing Awning features carbon fiber radius arms and a compact aluminum housing. In addition to universal mounting hardware, this awning is also sold in 70 square foot and 100 square foot sizes — that weigh just 30lbs and 40lbs, respectively — plus is offered in driver's or passenger's side versions. This awning is also compatible with rooftop tents.
WARN 87800 M8000 Self-Recovery Winch
Made by what's unequivocally the most renowned winch brand in existence, the WARN 87800 M8000 is a trusted self-recovery winch that boasts an 8,000lb rating and the ability to draw in 42' of line per minute. Weighing 55lbs, this winch also has a three-stage planetary geartrain, a 4.8-hp Series Wound motor, a sliding ring gear clutch, and an automatic direct drive cone brake system. Drawing just 435 amps from a 12-volt connection, the WARN 87800 M8000 Self-Recovery Winch also comes equipped with 100′ of synthetic Spydura rope that's fed through a polished aluminum Hawse fairlead.
Dometic CFX3 75 Dual Zone Powered Cooler
Measuring 35.1" x 19.5" x 18.6", the Dometic CFX3 75 Dual Zone Powered Cooler is a mobile refrigerator and freezer combo with seperate compartments with independent temperature controls. Weighing 61lbs, the CFX3 is crafted around a lightweight ExoFrame construction with fender frame–protected edges. This item also boasts spring-loaded aluminum handles, connectivity to the CFX3 app, a three-stage dynamic battery protection system, a high-resolution color display and soft-touch buttons, and 75 liters of storage space — which is enough to accommodate 113 12oz cans. The use of VMSO3 compressor cooling technology also affords this powered hard cooler the ability to achieve deep freezes as cold as -7°F.
Garmin Tread XL Overland Edition
Winner of a 2022 CES Innovation Award, the Garmin Tread XL Overland Edition is an off-road-specific GPS system with an IP67-rated 10" color touchscreen display. Sold with a locking magnet-assisted mount, this off-road GPS system comes loaded with turn-by-turn trail navigation, live weather readings, satellite imagery, trail difficulty ratings, on and off-road maps, points of interest, a built-in altimeter, barometer, compass, and pitch and roll gauges, and the ability to access U.S. public land boundaries for national forests, Bureau of Land Management, and other wilderness areas. This gadget can also be paired with a variety of available accessories from Garmin such as a range extender, a Group Ride Radio, and a dog tracker.
Biolite BaseCharge 1500
The Biolite BaseCharge 1500 affords overlanders the ability to charge up their various tech and devices while off-grid. Equipped with AC, DC, DC Barrel, USB-A, USB-C, and USB-C PD ports, this immensely-potent power bank packs a 1,521-watt-hour, lithium-ion battery with a maximum output of 1200 watts. Biolite has also bestowed the BaseCharge 1500 with a top deck with built-in wireless charging and an LCD display that provides real-time station status. This off-grid power bank can also be paired with Biolite's SolarPanel 100 system which enables it to receive a solar-powered recharge in as little as four hours.
iKamper Skycamp 3.0
Designed for use atop SUVs, long sedans, and truck bed racks, the iKamper Skycamp 3.0 is a third-generation, four-season, four-person, hard-shell rooftop tent that tips the scales at just 165lbs. Outfitted with a telescopic ladder, the Skycamp 3.0 boasts a locking double-layered fiber-reinforced plastic shell that's stuffed with 1″ air insulation, breathable, black-out, 300gsm poly-cotton canvas tent walls, a waterproof DWR-coated polyester 75D ripstop rainfly, and insulating honeycomb aluminum floor panels capped off with a nine-zone, 2.5-inch-thick insulated polyfoam mattress. Best of all, the entire rooftop tent can be set up or broken down in just one minute.
The Ultimate Guide To Overlanding
New to the world of overlanding? Then be sure to check out our ultimate guide to overlanding for a deep explanatory dive into long-format off-roading.