For many people, the biggest barrier to working on their car is not poor patience or even lack of knowledge but insufficient equipment. First of all, if you can't take the time to do things right, you shouldn't be picking up a wrench in the first place. And besides, these days, the Internet can walk you through pretty much any problem you'll encounter, be it something as simple as a spark plug swap or something as intensive as a timing belt replacement. However, if you don't have the right tools for the job, you'll either be brought to a halt or forced to make do with what you have. If you opt for the latter option, you might very well get lucky and have things go off without a hitch. Then again, it's just as possible that your ad hoc attempt could end up making the issue even worse.
All that is to say: it's incredibly important that you outfit your garage with the right means to accomplish your repair. But let's face it. Apart from a few basics — screwdrivers, pliers, and safety glasses — your average handyman's toolbox isn't likely to be equipped for automotive applications. As such, you'll have to build out your setup based on the demands of your fix and the particular standards of your vehicle. With the potential for electrical work, oil changes, and any number of other routine maintenance tasks and unexpected problems, the list of tools you need can stretch for miles. Rather than attempting to manage it all for yourself, do yourself a favor and check out our handy guide. Drawing on our own experiences getting our hands dirty and turning wrenches, we've rounded up a list of 20 essential tools that we feel that every DIY car mechanic should have. From catch pans to breaker bars to jack stands, we've got it all — read on and have a look-see.
Brakleen Cleaner
Spills and other messes are inevitable when working on your car; it's a part of the job. But rather than wasting your time with ineffective household cleaners, just get a can of Brakleen instead. Because it's designed for scrubbing brake rotors, it cuts through grease and grime like nothing else, and it even evaporates without leaving a trace. However, it's incredibly caustic stuff, so be careful about what you use it on, and always be sure to don some eyewear like the ones we have listed below.
3M Safety Glasses
Between splatters, sparks, and sharp objects, wrenching on your ride has the potential to do some serious harm to your eyes. As such, safety glasses are non-negotiable any time you're in the garage. Sure, this pair from 3M isn't exactly "stylish," per see, but they're made with lightweight frames, soft silicone nose pads, and anti-fog lenses. And, at the end of the day, you can't beat 'em at just 10 bucks a pop — especially given how often these things are going to get lost.
Lisle 57030 Standard Oil Filter Wrench
Changing your oil alone isn't enough to keep your car's engine happy — you also have to swap out the filter. Thus, you're going to need a specific wrench like this one from Lisle. Although there are universal plier tools that can also get the job done, we prefer the closed design because it allows for even tension. And because the handle swivels more than 180 degrees, it's far easier to use in tight, confined spaces. (Just try turning a set of pliers when you can barely keep them gripped.)
Zip Ties
Zip ties are one of those game-changing items that are virtually endless in their application, great for everything from fastening cables to repairing bodywork. In other words, it's to your advantage to keep a bag of these kicking around in your toolbox, as you never know when you'll need to whip one out for a job. If you're anything like most auto enthusiasts, chances are pretty good that your "quick fix" will eventually become a permanent repair — unintentionally, of course.
Milwaukee Hook & Pick Set
When hoses, bushings, and other thicker-grade rubbers need a-movin', a hook and pick set will save you from a lot of frustration and your fingers from a lot of pain. We like this four-piece set from Milwaukee Tools because it includes a straight pick, an o-ring hook, an offset hook, as well as a 90-degree hook, giving you a range of options to help you tackle all of your automotive repairs.
Bayco SL-425 Incandescent Work Light
Having the right tools will be of little help if you can't even see what it is you're doing. Unless you're working out in the direct sun, we'd suggest picking up one of these incandescent work lights from Bayco. Affixing to the latch on your hood via its integrated hook, it comes with a metal guard to protect it from errant knocks and a swivel so that you can also set it down on its base. As an added bonus, it even features a built-in outlet, meaning it effectively doubles as a 25-foot extension cord.
Nitrile Gloves
We touched on it above, but working on your car can expose you to any number of different caustic contaminants, so you should always wear a pair of gloves if you think a job has the potential to get messy. Disposable options like these ones made from nitrile are preferable to reusable work gloves because they ensure that you have a fresh starting point for every fix. Otherwise, you'll be fighting an impossible battle to keep them clean, likely dirtying your engine bay (along with anything else you touch) in the process.
FloTool 16qt Catch Pan
Oils, coolants, and transmission fluids are an absolute nightmare to get out of porous surfaces — they stain pretty much for good. Whether you're trying to keep your security deposit or you just don't want to track anything in the house, a catch pan can be a godsend in preventing messes. We especially like this 16-quart option from FloTool because it features a sealable, leak-proof design that can be stored upright or flat, along with an integrated handle for easy carrying.
Neiko ½" Drive 24" Breaker Bar
During those times when a little extra oomph is needed to get that stuck fastener free, you'll be glad to have a breaker bar in your home mechanic's toolkit; they make the process practically effortless because of the added leverage. Never use a torque wrench or any other kind of precision measuring tool to remove a bolt or knut. They're calibrated instruments with delicate ratchet systems that are likely to fail under load. These, however, are made to take a beating.
Irwin Vise-Grip Wire Stripper Set
While you're more than welcome to strip your wires with whatever you can find (preferably not your teeth), having a dedicated tool will make your life a hell of a lot easier. This set of Irwin strippers comes with a self-adjusting model as well as a plier-like multi-tool. Capable of crimps, cuts, and strips, they're essential for any mechanic who dabbles in his own electrical work.
Craftsman T-Handle Hex Key Set
T drivers are far superior to standard Torx, Allen, and hex keys, because their handles allow for a stronger grip and their bits seat more securely. Ever the gold standard in affordable hand tools, Craftsman offers both 14-piece and 25-piece sets, with the former including popular SAE and metric sizes, and the latter adding star keys and a convenient folding case. Bonus points if you can manage to keep them all organized and together for more than a single afternoon.
Tekton ½" Drive Click Torque Wrench
If you're not already securing bolts to proper spec using a torque wrench, we'd hazard a guess that you're doing some serious damage to your car's components. In fact, between stripped threads, broken fasteners, and stuck washers, there's a lot that can go wrong when tightening things down solely by 'feel.' Save yourself the headache and get a torque wrench like this one from Tekton. It comes within 4% accuracy and supports measurements from 10 to 150ft-lbs, ensuring consistent torque settings every time.
Klein Tools MM400 Digital Multimeter
Even if you're only doing minimal electrical work on your car, a multimeter is incredibly helpful to have around the house. From finding faulty switches to testing batteries to identifying hot wires, you'll be surprised at just how much use you can get out of one of these handy little devices. While you don't need to spend that much to get a good one, we'd recommend an auto-ranging option like the MM400 from Klein — it handles a lot of the troublesome data sorting for you.
Kobalt 12-Piece Screwdriver Set
Most of us already keep a set of screwdrivers for the odd home repair, but you may need to round out your arsenal with a couple of additional sizes. For instance, a hard-to-reach spot might require an offset screwdriver such as one from this 12-piece Kobalt set. Delicate electronics, on the other hand, will likely need the smallest Phillips you can find. You certainly don't have to spring for an entire set, but it's generally more cost-effective than taking a piecemeal approach.
Irwin Vise-Grip Plier Set
In addition to the above wire strippers, we also suggest that you get a set of high-quality pliers (assuming you don't already have some of your own) like this one from Irwin. Between needle-nose, slip-joint, groove joint, and diagonal designs, you'll be armed with everything you need to cut, reach, and grip your way out of any tricky repair. It even comes with its own tool roll for compact, convenient storage.
Torin Big Red 3-Ton Steel Jack Stands
Unless you're blessed with the luxury of having a lift, you'll probably be working under your car using a creeper. Never, ever rely on a service jack for anything other than getting your vehicle off the ground. With 2-3 tons suspended just inches above you, it's vital that you use jack stands for their stable base, heavy load capacity, and locking pins. The added security (read: your life) is more than worth the expense. Also, it's pretty obvious, but please be sure to check how much your vehicle weighs before ordering.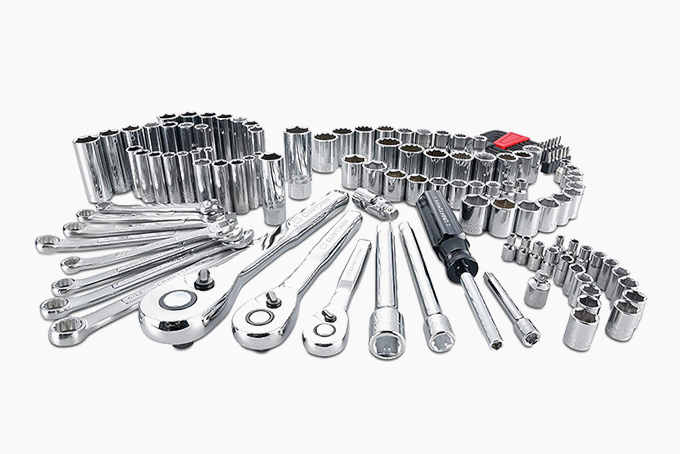 Craftsman 135-Piece Mechanic's Tool Set
Okay, so in all likelihood, you'll be adding to your wrenches and sockets on a regular basis — every vehicle has its own idiosyncracies — but you'll need a good starting point to get you off on the right track. Depending on what type of car you currently have (i.e., classic or modern, domestic or import), this 135-piece metric toolset from Craftsman should do just the ticket. With eight combination wrenches, three 72-tooth ratchets, nearly 100 different sockets, and an assortment of specialty tools, it can tackle almost any garden variety fix.
Dewalt XTREME Impact Wrench
Use an impact wrench once and you'll understand why these are essential for any DIY auto mechanic; they're a true game-changer in the garage. In addition to saving you the tedium of having to fasten screws by hand (thereby making your workflow far more efficient), they also reduce the effort required to remove tight nuts and bolts from areas that are liable to rust. And that's not even mentioning the wide variety of attachments available, including everything from drill bits to polishing pads to cutting tools.
Blackhawk B6350 Service Jack
In order to get your car mounted on the above stands, you'll first need a service jack to raise it to a sufficient height. We'd recommend buying this one from Blackhawk because it comes with a built-in internal safety valve, a convenient swiveling saddle, and a generous 3.5-ton lift capacity. Just be sure to check your ground clearance first; if you have a low-slung sports car, the 5.5-inch starting height might make it under your chassis.
Makita MAC210Q Quiet Series Electric Air Compressor
Last but not least we have an air compressor. Ideal for carb cleanup, tire inflation, and powering devices such as nail guns, angle grinders, and paint sprayers, they make for one of the more versatile additions to your DIY mechanic's toolkit. If you've previously been put off by the thought of using a noisy air compressor, be sure to check out the Quiet Series from Makita. With its lower running speed and excellent sound insulation, it operates at a mere 60dB, or as loud as a typical conversation.
The 20 Best Budget Project Cars
Having armed you with the knowledge of everything that you need to properly work on your ride, it's now time for you to find a suitable candidate to practice your repairs. Head on over to our guide to the best budget project cars where you'll find some excellent enthusiast vehicles at some unbeatable prices.