Even if the extent of your handyman skills boil down to simply tightening some screws or hammering a few nails, you still need some tools to get the job done right. And, if you're like us, those tools will end up being less an end all be all and more like a gateway to acquiring more fixer skills.
But where does one begin in the vast world of tools, you might ask? Well, we have an answer: right here. While the Home Depots and Lowe's of the world can seem vast and increasingly intimidating, we've gone to great lengths to put together the following collection of what we believe are the 40 tools that every man should own. From hammers, to chisels, to chainsaws, and more, these are the devices both great and small no toolbox should be without.
Warner ProGrip Putty Knife
Lets say you accidentally punch a hole in your drywall (the reason isn't important). If you want to patch it up and have it looking like new, you'll probably need a putty knife to smooth out whatever it is you patched it up with. It's that or creating some kind of unsightly finger paint artwork.
Hakko Wire Cutters
You might not ever need to clip wires if you just like to do simple tasks around the house. But if you want to build anything that requires power, you'll quickly realize how desperately you need wire cutters. Like a lot of tools on this list, you won't think it's necessary until you absolutely can't get the job done without it. Skip the frustration and be ready instead.
Stanley Adjustable Wrench
A wrench set is a really great thing to have, but if you are tight on space or just want something a little more versatile, there's the adjustable spanner. Like an entire wrench kit in one tool, this is a super speedy and convenient device to keep in your tool box for all types of work, especially if you're plumbing or doing something mechanic-related.
Tekton Double-Faced Soft Mallet
A regular hammer is great for driving nails, but fitting wooden slats together requires a bit more delicate of a tool. Enter the soft mallet. This will give you the same striking power as a traditional hammer, but won't leave a bunch of dents in the surface you are hitting.
Sandpaper
For metalworking, woodworking, and pretty much every other 'handyman' task, sandpaper is an incredibly useful tool that everyone should have. This set comes with a number of different grits, so you can get all your surfaces as smooth or as coarse as you want them.
Irwin Vise-Grip Locking Pliers
The grip strength of even the strongest man is finite. The grip strength of this pair of locking pliers is practically infinite. It also keeps your hand out of the way of danger if, say, you use it for metalworking (like welding). Lock it up and forget about it; they won't let you down.
Newborn Bothers Caulking Gun
perfect for patching up nail holes, cracks in molding, and sealing in the bathroom, a caulking gun is a super simple tool that you won't miss until you need it. And trust us, if you do need it, nothing else will really do the trick.
Gorilla Duct Tape
If we had to pick just one tool to have from this list, it would likely be duct tape. Everything else is extraneous. With enough creativity, duct tape might actually be the ultimate tool. And this super tough version from Gorilla ups the ante even further – as it is water-resistant and won't break down under UV light.
Tekton Metal File
What a set of chisels and/or sandpaper is to woodworking, a metal file is to metalworking. Whether you need to smoothen some sharp angles or clean up a botched soldering job, you can make it happen with this metal file. It's also a great starting tool sharpener if you don't have a better option.
Husky Wood Saw
This age-old tool is an absolute necessity when it comes to woodworking. And it's a good deal cheaper than, say, a chainsaw. Sure, it's not as quick, but it's incredibly reliable. In fact, this particular one comes with a lifetime warranty – so you'll never have to worry about it doing what you need.
Komelon Measuring Tape
Just about any kind of handyman task you can think of is going to require some measure of… measuring. Make sure you're always getting an accurate gauge of distance with a tape measure. This one has a self locking mechanism for reliable usage, has a durable nylon-coated blade, and has an impact-resistant case – because you will inevitably drop it now and again.
Stanley Wood Chisel Set
Perhaps you want to start a hobby of carving bear statues out of tree stumps or maybe you just need to do some precision woodwork. Either way, you'll need a set of chisels to get the job done right. And it doesn't get better than these ones from Stanley. The also come with a limited lifetime warranty, so you can trust their quality.
NoCry Safety Glasses
Ear plugs are easy to come by and aren't always necessary unless you're using power tools. Same goes for a respirator. However, your eyes are always vulnerable. Avoid losing your sight by always wearing a pair of safety glasses. You might not always shoot sparks or splinters into your face, but is it worth the risk?
Tekton Hacksaw
A wood saw is great for cutting wood, but forget about shortening pipe if that's all you've got. For anything that did't come from a tree, you'll want to keep a hacksaw handy. This one features comfortable rubber grips, comes with one blade, but also has a hideaway space inside to store up to six replacement blades inside.
Vaughan SuperBar Crowbar
Whether you're just trying to pry off old crown molding or you need to wrench a door open, a crowbar is an indispensable device. And this one from Vaughan is the best of the best. Made from tempered steel and featuring a total of three different nail slots, this is the ultimate pry bar.
Stanley Screwdriver Set
Second only to perhaps the hammer, a screwdriver is an absolute must have for any tool box. You can't even put together IKEA furniture without these handy tools. And Stanley makes some of the absolute best. This set comes with both phillips and flathead, features handy magnetic tips, and has comfortable rubberized grips.
Swanson Tool Magnetic Torpedo Level
Good luck hanging anything on your walls that isn't crooked if you don't have a level. Seriously, it's practically impossible. And while this one will definitely make sure your Mondrian is parallel to both the ground and ceiling, it's also an excellent tool for plumbing and anything else that requires precision leveling.
Tajima Chalk-Rite Chalk Line
Great for hanging drywall, the chalk line is a must-have contractor's tool. Its biggest benefit is almost certainly its speed and convenience. Have one person draw lines by hand and have another throw down a grid with a chalk line and you'll see it's much quicker.
Estwing Claw Hammer
A hammer might be the most essential handyman tool there is, so it should come as no surprise that it's on our list. The claw hammer has an extra benefit of being able to extract, as well as drive nails. This one is also made in the USA, so that's an added bonus.
Bostitch Staple Gun
Even if you just use it to put up Christmas lights, like Chevy Chase in the Christmas Vacation comedy flick, a staple gun is still a wonderful thing to have. It's also really great for hanging wiring between walls or mounting insulation..
Neiko Digital Caliper
We're sure you've heard the common phrase, "measure twice cut once." Well, that becomes even more important the smaller the work gets. make sure everything you measure is exact down to the millimeter with these stainless steel digital calipers.
Ridgid Straight Pipe Wrench
Making seams between pipes water tight takes a lot of torque. It takes the same amount to loosen them up again. And since a regular wrench probably isn't up to task, we suggest you pick up this heavy duty straight pipe wrench from Ridgid. And not that you'd need to use it for such a task, but it also works as a handy self-defense weapon in a pinch.
Fiskars Bypass Lopper
You'll notice that further down the list, a chainsaw is also present. You might be wondering, "can't a chainsaw do what loppers do in half the time?" The answer: yes, but only if you're hoping to destroy the whole plant. These gardening shears are far more precise and will ensure that you don't completely destroy that tree that gives you much needed shade in the summer.
Milwaukee Fastback Utility Knife
Just as we believe everyone should carry a pocket knife with them daily, we believe a utility knife should be present in every single tool box. For any and all cutting tasks, this tool simply cannot be done without. This one also features a neat gut hook for quick cuts when the blade isn't even open – similar to emergency blades that first-responders use to cut seatbelts.
Tekton Hex Key Wrench Set
As huge proponents of everyday carry, we can tell your first-hand that hex bots are all over the place when it comes to pocketable gear. If you have any hope of performing maintenance on your EDC, you're definitely going to need a set of hex wrenches. Otherwise, you'll have to replace your pocket knife every time the pivot gets too stiff, and that can get expensive fast.
Wiss Industrial Shears
One of the most underrated tools of all time, scissors are a brilliant device to keep on hand for all sorts of work. Hell, even if you just use them to open the packaging of your other tool essentials, they're still invaluable. And these industrial-grade ones from Wiss are as tough as they come.
Bully Tools Round Point Shovel
Whether digging a garden or trying to find a pesky leak in your backyard sprinkler system, nothing will get that dirt moved quite like a good round point shovel. It's certainly not a precision instrument, but it's not intended to be. Move dirt, gravel, sand, and more with ease courtesy of Bully's fiberglass handled shovel.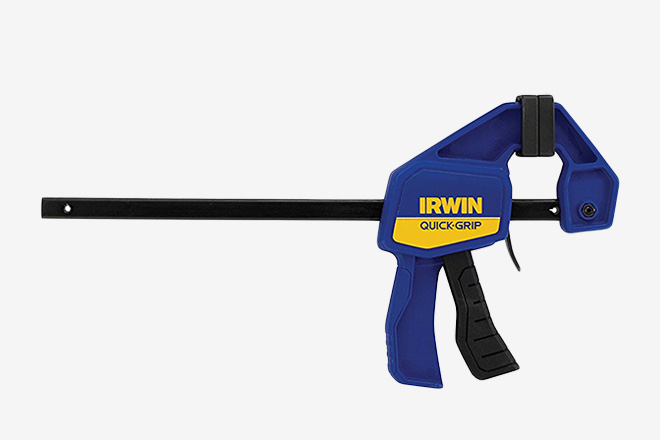 Irwin Quick-Grip Bar Clamps
Think of these bar clamps light lightweight and portable bench vises. And they're practically as helpful – especially if you're waiting for wood glue or a bonding agent to set. These ones also feature soft pads that won't leave marks on whatever you're clamping and can distribute up to 150-pounds of force evenly.
Klein Tools Needle Nose Pliers
Klein Tools' needle nose pliers are so popular amongst electricians and linemen that they'll actually refer to them as "Kleins." And that's a pretty hefty endorsement, if you ask us. Great for working with all manner of electrics, these tools are indispensable. They're also pretty handy if you have any interest in customizing your computing rig or when restringing your guitar.
Dremel Cordless Rotary Tool
Perfect for a number of precision tasks, a rotary tool is a wholly underrated device. It can be used to polish metal, sand complex woodwork, precision cut metal, engrave, and much more. This is one of those tools where we see it far too infrequently in the toolboxes of our friends and coworkers.
DeWalt Socket Wrench Set
We are firm believers that every man should know how to change his own oil, even if you don't actually complete the task on your own each time. And while we're sure you could find a way to MacGyver the drain plug off your oil tank, you'll find the job a lot easier with a socket wrench. And that's just one of the hundreds of things this set is useful for.
ProSensor 710 Stud Finder
Drywall can be surprisingly sturdy when hanging up photos and the like. But if you want to hang something a bit more precious and heavy – like an electric guitar – you'll want a stud finder to make sure you're anchoring your hanger properly. Unless you'd prefer your guitar to go from being a playable instrument to something more akin to modern art, that is.
Fiskars IsoCore Sledge Hammer
Few things in this world are quite as satisfying as demolition. But since not everyone can afford to rent a wrecking ball, a sledge hammer is the next best thing. Tear down that wall and open up your living room into the backyard. Shatter the unsightly concrete in your backyard and prep the space for a gorgeous wood deck. Whatever you do, just do it with this sledge hammer.
Leatherman Wave Multi-Tool
Even if you have every other tool on this list, we still suggest picking up a multi-tool, like Leatherman's Wave. Because this portable device packs a whopping 17+ functions into its compact form, making it a far more travel-friendly tool option. If you're doing maintenance on the go, a multi-tool is by far the best option.
Black+Decker Cordless Chainsaw
If you rent an apartment in NYC, you probably don't actually need a chainsaw. But if you have any measure of land and there also happens to be some vegetation on that land, a chainsaw can be an invaluable tool. Great for cutting down trees or even just cleaning up unwieldy branches, this tool is superb for all things wood-cutting. You can even use it to chop up firewood in a snap, if you're careful.
Bosh 120-Volt Jigsaw
Far more precise than, say, a circular saw, jigsaws are excellent when it comes to making meticulous cuts in whatever woodworking project you have. They're also a lot less cumbersome when it comes to hauling them around. Don't get us wrong, circular saws are great for large-scale work, but if we have to pick between the two power tools for which one we'll end up using more, it's the jigsaw hands-down.
Hitachi Angle Finish Nailer
If you're hanging a picture on a wall, you can probably get away with a regular hammer and nails. But if you find yourself mounting dry wall, building a cabinet, or erecting a home, you might come to realize a nail gun makes your life abundantly simpler. Just don't go American Psycho on us and this is an excellent for anyone tool to have.
Yost Bench Vise
If you're trying to do precision work to a small piece of, say, a car engine, then a bench vise is going to be your best friend. It'll hold whatever you're working on tight and secure. It's also great for holding things together while the glue between them dries – freeing up you to get started on other work.
DeWalt Cordless Impact Driver
Unbelievably helpful when it comes to constructing furniture (yes, even from IKEA), mounting things on your walls, performing maintenance on your car, and a bevy of other things, a cordless driver is a complete boon to just about any handyman. And this one from DeWalt is at the top of the heap. It's also offered in a number of combo packages that can knock a couple of your tool must-haves off the list.
Little Giant Velocity Ladder
You could have all the necessary tools in the world to make a repair on your ceiling or roof, but if you don't have a ladder, you might be out of luck. Skip out on creating a tilting tower with whatever you have in your house and opt instead for this versatile and super stable multi-purpose ladder.