Well, we've but barely entered the age of electrification, and already the car as we know it is beginning to change in a big way. For one, drivers are plagued by range anxiety as often as they are road rage, since charging stations are still very much an infant innovation. What's more alarming, however, is the general insulation we're seeing out on the streets. That is to say — as autonomous systems continue to become more commonplace, we'll only be increasingly disconnected from the driving experience, all but muted from what's going on around us. A nightmare, then, for those with petrol coursing through their veins.
The only cure? A proper manual transmission, of course. Because let's face it: there's no better way to take control of your car than by banging through the gears and hearing the buzz of each upshift. It's an engagement that's ever-satisfying, and, at times almost poetic. While everyone else is rolling along on their phones, you can take heart in the fact that your vehicle is entirely at your hands, unadulterated by outside influence. Keeping this in mind, we've looked high and low for some more affordable examples of cars featuring row-your-own gearboxes. With a price cap of $10,000 set to make things interesting, here are what we consider to be the best cheap cars with manual transmissions.
Disclaimer: All used car prices shown reflect Kelley Blue Book values for "Good" condition cars purchased through a private seller and showing average mileage based on the model year.
1984-1991 Honda CR-X
While the CR-X used to be a car that you could snag for little more than a thousand bucks, it's since experienced a significant rise in value. And for good reason. Hugely popular with everyone from illicit street racers to amateur autocross enthusiasts, the plucky little Honda hatch offers an ideal platform for performance driving. That's because, even though it originally boasted a meager 105-horsepower output, the car featured a short-throw manual transmission and a sub-2,000 lb. curb weight. And besides, with Hondas being known for their superior tunability, a stock CRX is merely a means to an end. Be sure to give these a good once-over if you're considering buying one for yourself; there's no telling what's been done under the hood.
Engine: 1.6L 4-Cyl
Max Power: 150hp & 108lb-ft of torque
0-60mph Time: 7.6s
Price When New: $9,400+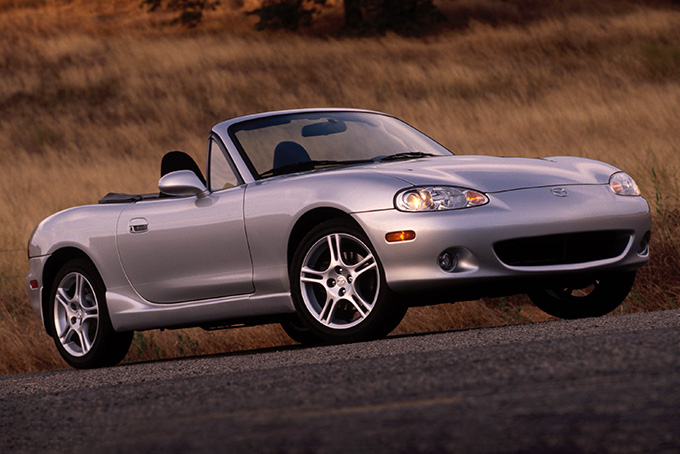 1998-2005 Mazda Miata
If you're looking for cheap, affordable fun, and an engaging manual gearbox, you'd be hard-pressed to do much better than a Miata. The small JDM icon encapsulates the best of British roadster capabilities — low and punchy, light and quick-handling — whilst adding some of Mazda's storied build quality. In our opinion, the second-gen NB models made from 1998-2005 are the best of the lot, as they bring the perfect balance of power (140 hp), weight (2,348 lb.), and open-air enjoyment. Sure, it won't wow you with its straight-line speed or exotic looks, but the Miata is still very much a car worth your consideration.
Engine: 1.8L 4-cyl
Max Power: 140hp & 116lb-ft of torque
0-60mph Time: 6.4s
Price When New: $19,770+
1994-2001 Acura Integra
With the launch of the new Integra on the horizon, now is the time to be picking up one of the OGs for your garage. While your particular styling preferences will, obviously, ultimately dictate your decision, we'd go for the third-gen platform DB6-DB9, DC1-DC2, and DC4 models. In its most powerful Type-R guise, the 1.8L VTEC B18 made a staggering 195 hp and 130 lb-ft of torque, allowing the Integra to sprint to 60 mph in just a little over 6.0 seconds. Of course, these premium Honda performance coupes are few and far between (making them quite pricey), so your best bet is to score one of the RS, LS, or GS trims on the low.
Engine: 1.8L 4-cyl
Max Power: 195hp & 130lb-ft of torque
0-60mph Time: 7.2s
Price When New: $20,950+
1984–1989 Toyota MR2
As one of Japan's earliest attempts at creating a sports car, the mid-engined MR2 is a vehicle that proved the country could hang with the big boys. Powered by a 112 hp 1.6L inline-four (the same as in the fabled AE86) with a 44:56 weight distribution, the wedged Toyota ran rings 'round its competition at the time of its debut. Along with besting the Pontiac Fiero's 0-60 mph time by a full 0.5s, it also blazed past the Fiat X1/9 by a full 2.5. And here's the thing: when Toyota supercharged the first-generation MR2 to produce some 145 horses, its performance was nearly on par with that of the period's Ferraris.
Engine: 1.5L 4-cyl, 1.6L 4-cyl
Max Power: 145hp & 137lb-ft of torque
0-60mph Time: 6.5s
Price When New: $10,999+
1981-1991 Isuzu Trooper
We keep a first-generation Trooper around at the office ourselves, so know that its endorsement comes from personal experience. A true dark horse amongst other boxy off-road classics, it's often overlooked in favor of more popular models like the Land Cruiser, the Defender, and the Bronco. But here's the thing: Isuzu's 4×4 is equally — if not more — capable than the rest of the market, boasting auto-locking hubs, independent front-wheel suspension, and a spacious 118 cubic feet of cargo capacity. Though they're a bit harder to find, the 120-hp 2.6L straight-fours offer an excellent balance of grunt, fuel economy, and day-to-day drivability.
Engine: 2.2L turbodiesel, 2.6L 4-cyl, 2.8L V6, 2.8L turbodiesel
Max Power: 120hp & 139lb-ft of torque
0-60mph Time: 13.1s
Price When New: $11,685+
2010-2014 Volkswagen Golf
Let's be honest: there's no other way to buy a Volkswagen Golf. Whether it's a MKI or a MKVIII, you're going to want a manual gearbox to really connect you with the car. Left up to us, we'd go for the sixth-gen as it was the last Golf to be built in Germany before VW moved to a more global manufacturing strategy. And that's not all; over the course of its production life, the sixth-generation Golf gained a number of improvements — like more robust timing tensioners and revised water pumps — in an effort to make it increasingly reliable. Should fuel economy be your primary criterion, try to find one of the TDIs. If you're after performance, however, a GTI is sure to please.
Engine: Turbocharged 2.0L 4-cyl, 2.0L TDI, 2.5L 5-cyl
Max Power: 200hp & 207lb-ft of torque
0-60mph Time: 6.2s
Price When New: $17,620+
1997-2006 Jeep TJ
Of the three past-generation Wrangler models, the middling TJ touts the best combination of compact simplicity and go-anywhere capability. A popular choice for 4×4 enthusiasts, it comes in a variety of different trim levels that suit all kinds of budgets. For those who want a Wrangler for rock-crawling, overlanding, and other adventure-minded activities, the top-tier Rubicon is an obvious choice. In addition to a robust 5-speed manual and a torquey six-cylinder engine, it also came with a host of off-road goodies like front and rear locking Dana 44 axles, a Rock-Trac 4:1 transfer case, and some diamond plate rocker panels. Rock it stock or mod it for mudding; either way, you can't go wrong.
Engine: 2.4L 4-cyl, 2.5L 4-cyl, 4.0L 6-cyl
Max Power: 190hp & 235lb-ft of torque
0-60mph Time: 8.5s
Price When New: $18,390+
2000-2007 Subaru Impreza WRX
It's not for nothing that the Impreza has developed a cult following — with its rally-ready roots, its robust build quality, and thrilling manual transmission, it's a car fit for even the most discerning of driving enthusiasts. After all, Subaru developed everything about the Impreza WRX in the pursuit of performance, fitting it with a simple, stripped-down interior, a sophisticated all-wheel-drive system, and a torquey turbocharged boxer flat-four. Making some 300 hp, it could gallop to 60 mph in a blistering 5.2s. These days, clean WRXs are increasingly difficult to find. Between aspiring rally racers and amateur autocross enthusiasts, most of them have been modded — and many with mixed results.
Engine: Turbocharged 2.0L 4-cyl, turbocharged 2.5L 4-cyl
Max Power: 300hp & 300lb-ft of torque
0-60mph Time: 5.2s
Price When New: $16,390+
1996-2004 Porsche Boxster
Older Boxsters can be a bit hit or miss, as late '90s models are notorious for their intermediate shaft bearing (IMS) failure that suddenly and unexpectedly results in total engine annihilation. Even still, the German compact convertible is a bargain these days, regularly appearing under $10,000 in the base 2.5L spec. Performance is pretty respectable on the earlier cars — 6.1s to 60 mph and 149 mph all-out — though you'll want to look into later models if you're after bigger thrills. Moreover, the Boxster's design changed slightly over the course of its lifetime, with pre-2000s models featuring softer edges and ambered "fried egg" headlights and post-2003 examples more resemblant of the 718 we know today.
Engine: 2.5L 6-cyl, 2.7L 6-cyl
Max Power: 250hp & 225lb-ft of torque
0-60mph Time: 6.1s
Price When New: $39,980+
2011-2017 Hyundai Veloster
In many ways, the Veloster was Hyundai's breakout vehicle, as it demonstrated to buyers that the Korean brand could, in fact, make a fun driver's car. If you have the patience to look and the room in your budget, go for a Turbo model. For even though the base vanilla Veloster is enjoyable enough as a commuter car, the added oomph (201 hp and 195 lb-ft of torque) from the turbocharged 1.6L engine turns it into a much livelier ride. It's worth having a mechanic give any potential Veloster purchases a solid look-through — earlier cars are prone to issues on account of their small displacement, direct-injection, turbocharged setups.
Engine: 1.6L 4-cyl, turbocharged 1.6L 4-cyl
Max Power: 201hp & 195lb-ft of torque
0-60mph Time: 6.9s
Price When New: $18,060+
2005-2014 Ford Mustang
Honestly, you can buy practically any generation of Mustang — including the OGs — for under $10,000 if you have the patience and know where to look. That being said, we'd recommend an S197 (produced from 2005-2014) on account of its retro-futuristic styling, improved cornering ability, and wide range of trim options. The base V6 is easily the most economical of the bunch, though it's far from a performance powerhouse at 210 hp and 240 lb-ft of torque. As such, you'll be far better off with one of the 4.6L DOHC V8s or even a 5.0L Coyote. With as much as 420 hp on tap, they're truly muscle cars made for the modern era.
Engine: 4.0L V6, 4.8L V8, 5.0L V8
Max Power: 420hp & 390lb-ft of torque
0-60mph Time: 3.5s
Price When New: $19,215+
2013+ Scion FR-S
No matter which way you spin it — Scion, Subaru, or even Toyota — the FR-S/BR-Z/86 is one of the best cheap cars you can buy with a manual transmission. Sure, it doesn't make any claims as far as all-out speed is concerned, but it's nevertheless an incredibly captivating vehicle because of its narrow tire profile, lively suspension setup, and responsive chassis. And, while it's not exactly the most refined of vehicles, it's one that skips on creature comforts in favor of uncompromising driver-focused furnishing. It's no wonder, then, that the sporty little coupe is hugely popular amongst enthusiasts of all kinds.
Engine: 2.0L 4-cyl
Max Power: 200hp & 151lb-ft of torque
0-60mph Time: 7.1s
Price When New: $24,200+
The Best Manual Transmission Cars You Can Still Buy Off The Lot
While we're big fans of affordable automobiles, we understand that some buyers want a more premium vehicle. If you're after a ride that rocks a row-your-own gearbox, be sure to check out our guide to the best manual transmission cars you can still buy.