Having been around for well over a century, motorcycles have experienced massive technological leaps and bounds over the course of their existence, with refinements in metallurgy, powertrain technology, and chassis engineering over the years allowing for the creation of increasingly capable machines. Even in modern times, this evolution continues, with the industry birthing quicker and quicker models year after year, culminating in today's crop of ultra-high-performance bikes. And, having witnessed a myriad of benchmark-setting models over the last few years, now seemed like the perfect time to unpack which generation of today's motorcycles are the fastest, and in what order.
While one would think putting this list together would be a fairly straight-forward task, the level of contradictory information and false claims floating around online complicates things greatly. So, to sort through all the misinformation out there, we've reached out to technical directors and media reps from the manufacturers of today's fastest bikes to bring you a definitive and concrete guide to the fastest production motorcycles that you can buy right now.
The Fastest Motorcycles Rundown
Top Speed: 195+MPH

10. Ducati Streetfighter V4 S

Top Speed: 198.8MPH

9. Aprilia RSV4 Factory 1100

Top Speed: 198.8MPH

8. Ducati Panigale V4 R

Top Speed: 200MPH (Claimed)

7. Damon Hypersport Premier

Top Speed: 200+MPH

6. Kawasaki Z H2

Top Speed: 200+MPH

5. Ducati Superleggera V4

Top Speed: 209+MPH

4. Kawasaki Ninja H2

Top Speed: 218.63MPH

3. Lightning LS-218

Top Speed: 248.5MPH

2. Kawasaki Ninja H2R

Top Speed: 273.4MPH (Claimed)

1. MTT 420RR
The Speed Wars
A Modern History Of The World's Fastest Motorcycles
While it's admittedly a function of a motorcycle that seldom gets used, top speed is nonetheless an intriguing metric, and one that manufacturers know helps sell bikes. Though it wasn't always like this. Since the inception of the modern motorcycle, the machine evolved over the years, with several watershed models popping up along the way that redefined the performance benchmarks in the industry. After the release of Suzuki's groundbreaking GSX-R750 in the mid-'80s, race replica machines became increasingly popular, as these track-derived models — which were essentially detuned race bikes with headlights — represented the pinnacle of performance on two-wheels, and for the first time were accessibly-priced, readily-available, and 100% road-legal.
Other manufacturers fired back at Suzuki, and the performance of sport bikes continued to evolve over the next half-decade or so until the dawn of the 1990s when manufacturers started releasing models specifically engineered for mind-blowing top speeds and little else. Model's like Kawasaki's ZX-11R was soon overtaken by Honda's CBR1100XX Super Blackbird in 1996, with each boasting a faster and faster top speed. A few years later, Suzuki clapped back at Big Red with the release of its even faster GSX-1300R Hayabusa — with the "Hayabusa" monicker being the Japanese word for "peregrine falcon:" a bird of prey that happens to feed on blackbirds.
It was becoming abundantly clear that speed was the name of the game, and increasingly breakneck speeds were becoming one of the primary focuses of sportbike manufacturers, especially in Japan. As the story goes, politicians and regulatory bodies in several of the western markets started becoming increasingly concerned over the safety issues posed by these triple-digit speed machines. When rumors of an outright ban in Europe reached the boardrooms in Japan, it was decided that something drastic needed to be done to avoid what could be a catastrophic blow to the Japanese motorcycle industry.
The answer came in the form of an informal gentlemen's' agreement between the main manufacturers, with each agreeing to govern and/or cap top speeds at 300km/h (or 186.4mph). This allowed these marques to focus on the development of other performance aspects and components, without having to worry about losing sales to a competitor solely due to one of their model's top speed. This agreement ultimately put an end to what became known as "the speed wars of the 1990s," though products of it still remain in existence today.
A decade later and fears of a ban had subsided, prompting a number of firms to start dabbling in models that violated the earlier gentlemen's agreement, first with sleds that could exceed 300km/h, but had their speedometer readings cut off after that number — a method that some companies still employ today – and then eventually with bikes that openly broke the 300km/h barrier. And while today, manufacturers are more focused on shaving down lap times, refining advanced electronics setups, and component and chassis development than they are outright speeds, the ridiculous level of power generated by modern machinery has allowed for some truly incredible top speeds.
What Makes A Motorcycle Fast?
Unpacking The Elements That Add Up To Speed
Below, we'll explore the primary factors that determine a motorcycle's top speed, both in terms of the bike itself, and the conditions its riding in.
Track & Weather Conditions: Though it doesn't play as crucial a role as the other factors here, track and weather conditions do still have a part in a scoot's top speed. Smoother tracks and surfaces allow for less friction and therefore more speed. Weather conditions can also affect top speed, as the thickness of or amount of moisture or humidity in the air can mean more resistance for the bike. Wind direction and precipitation obviously play a part, as well, and even your elevation starts to matter when you get high enough above sea-level (as gas-powered engines have less oxygen to work with).
Power: One of the biggest factors that goes into a motorcycle's top speed is its engine, and how powerful it is. While these figures don't directly correlate to hair-raising speeds by themselves, you'll notice a distinct pattern that every bike on this list lands at the higher end of the spectrum in terms of horsepower and torque.
Weight: While power is important, the speed it's able to achieve is limited by how much weight it has to carry, which is why a bike's power-to-weight ratio tells you much more than just its power or weight alone. And, not only does the weight of the bike affect its top speed, but so too does the weight of the rider and their riding gear.
Aerodynamics: When coupled with a power-to-weight ratio, designs with low drag coefficients typically allow for faster speeds, as the vehicle can cut through the air with less resistance and friction build-up. Previously, the world's fastest bikes were all of the full-faired variety, as these are the most aerodynamic, though the insane 200hp+ output of modern naked bikes have allowed a number of streetfighter-style bikes to make it onto this list. A rider being in a full race-tuck also allows for a bit of added speed, compared to a normal upright stance that catches markedly more wind.
Gearing: When discussing the top speed of a stock motorcycle, gearing is probably the single most important element — especially the height of the gearing in sixth gear (or whatever the highest gear is). Gearing can be adjusted to allow for better acceleration at the cost of a lower top speed or can be geared for higher top speeds at the price of poorer acceleration. As a result, the stock gearing on a bike plays a pivotal role in its speeds, as most OEM's bestow bikes with gearing that prioritizes acceleration and torque over top speeds, which makes sense considering faster acceleration is far more favorable (and practical) on the street.
A Quick Technical Disclaimer
Defining The Criteria For Qualification
The term "motorcycle" is a broad one, that encompasses all manner of motorized two-wheelers, including drag racing and land speed bikes. For the sake of this list, we'll be limiting entries to production models that are currently available for purchase from the current or previous model years. This also includes models from boutique makes, as well as homologation specials. And while these machines can obviously benefit from modifications and upgrades that make them markedly faster, this list will only be looking at motorcycles in their bone-stock form (i.e. exactly as they were when leaving the factory). So, without further adieu, let's get into it…
10. Ducati Streetfighter V4 S
Summed Up
An ultra-sleek & aggressive naked streetfighter version of Ducati's MotoGP-derived flagship V4 superbike.
Top Speed: 195+MPH: Ducati previously offered a naked version of its flagship superbike models in the mid-to-late aughts, though for the last few years it hasn't been part of the firm's lineup. So, not long after Ducati unveiled its MotoGP-derived V-4 platform, rumors immediately began swirling of a naked, Streetfighter version of the new fully-faired flagship. And, much to the delight of Ducatistas everywhere, the Bologna firm came through. Like the rest of Ducati's models, the S-spec represents the top-shelf version of the Streetfighter V4, and as such boasts Ohlins suspension, and a number of other top-shelf upgrades. And, while beauty is subjective, it's hard not to look at the Streetfighter V4 and see one of the most attractive motorcycle designs in recent years.
Engine: Liquid-cooled, 1,103cc, DOHC, 90° V-4
Power: 208HP & 90.7FT-LBs
Origin: Italy
MSRP: $27,795
9. Aprilia RSV4 Factory 1100
Summed Up
A range-topping aero-equipped Italian superbike offering near-MotoGP-levels of power, acceleration, & speed.
Top Speed: 198.8MPH: As a direct competitor to Ducati's world-famous superbikes, you can be sure Aprilia makes one hell of a motorcycle, and its flagship RSV4 is far from an exception. And while the RSV4 is incredibly potent in its base trim, the Noale firm nonetheless offers a top-of-the-line, race-derived Factory-spec of the Italian V-4 with a host of high-end upgrades including carbon fiber bodywork and a carbon heat-shield for its Akrapovic race exhaust, and integrated carbon fiber MotoGP-style aerodynamic winglets, among many others. And with a matte black livery completing the package, this is one modern superbike that ticks all the boxes: looks good; sounds great; and goes even greater.
Engine: Liquid-cooled, 1,078cc, DOHC, 65° V-4
Power: 217HP & 92.19FT-LBs
Origin: Italy
MSRP: $25,999
8. Ducati Panigale V4 R
Summed Up
A high-performance R-spec homologation special that's sold with a full race exhaust system boosting power to 234 horses.
Top Speed: 198.8MPH: When Ducati rolled out its 1,100cc Stradale V4 platform in 2017, it marked the first Ducati model in decades not to utilize the brand's hallmark L-Twin engine, though the 1.1L displacement barred the new Duck from WSBK competition. To skirt this issue, Ducati released a sub-1,000cc race-ready version of the bike with the Panigale V4 R superbike model. Sporting the sculpted bare-aluminum tank of previous Ducati homologation specials, this machine is one of the highest-performance motorcycles on earth, not just based on its top speed and power output, but on its ability to fire-off insanely impressive lap times. The V4 R's engine is also Ducati's most powerful (production) powertrain of all time, with a ludicrous 240.5hp on tap — when fitted with its optional track-only race kit and exhaust).
Engine: Liquid-cooled, 998cc, DOHC, 90° V-4
Power: 240.5HP & 87FT-LBs (w/ Race Kit)
Origin: Italy
MSRP: $56,000 (w/ Race Kit, $45,495 w/o)
7. Damon Hypersport Premier
Summed Up
A cutting-edge all-electric superbike with a host of advanced camera, Lidar, & AI systems that's also capable of 200-mph speed and sub-3-second 0-60 runs.
Top Speed: 200MPH (Claimed): Though it still has yet to hit showrooms, if Damon Motorcycles' claims come to fruition, the Hypersport Premier (and HS) will be one of, if not the highest-performing electric motorcycle on the market, with a claimed 200-mile range, three-hour charge times, a sub-3-second 0-60mph time, and integrated GoPro-style cameras and a 4G-connected smart auto-pilot system, all in a sub-440lb package that offers 200hp outputs and a supposed top speed of 200mph. If Damon manages to deliver on these promises, the Hypersport will be nothing short of a revolution in the electric motorcycle segment.
Engine: Liquid Cooled PMAC
Power: 148FT-LBS / 200HP+ (claimed)
Origin: Canada
MSRP: $40,000
6. Kawasaki Z H2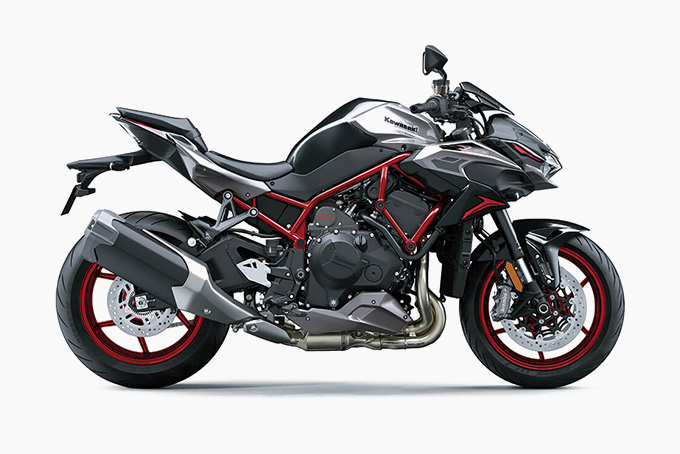 Summed Up
A more practical, naked Z superbike model derived from Kawasaki's fully-faired factory-supercharged H2 & H2R models.
Top Speed: 200+MPH: Kawasaki already offered a robust line of naked Z machines, all ranging in displacement and engine type while maintaining the flagship's naked aggressive looks. And this year, Kawasaki decided to add to that lineup with a forced-induction version, taking the supercharged four-cylinder engine from the NINJA H2 and dropping it into a new, naked package. With the benefit of a factory-installed supercharger, the Z H2 manages to deliver some insanely-impressive performance capabilities — made all the more impressive by the model's lack of bodywork and surprisingly accessible MSRP.
Engine: Liquid-cooled, supercharged, 998cc, DOHC, inline-four
Power: 197HP & 101FT-LBs
Origin: Japan
MSRP: $18,500
5. Ducati Superleggera V4
Summed Up
A road-legal, WSBK-derived, six-figure Ducati with a full carbon fiber frame & body that's limited to just 500 units worldwide.
Top Speed: 200+MPH: Ducati has managed to deliver the absolute pinnacle of superbike performance with the new Superleggera V4, taking the 234hp mill from the V4 R and stuffing it into a chassis made entirely from carbon fiber, before adorning it in all-carbon bodywork, and outfitting it with all-carbon wheels — all of which come together to allow for a superbike with the most impressive power-to-weight ratio ever seen. The liberal use of carbon fiber also adds a degree of lightness that enables the Superleggera to achieve even higher speeds than the V4 R. Italian for "Super Light", the Superleggera V4 is the epitome of two-wheeled exotica and moto-exclusivity.
Engine: Liquid-cooled, 998cc, DOHC, 90° V-4
Power: 234HP & 87.7FT-LBs
Origin: Italy
MSRP: $100,000
4. Kawasaki Ninja H2
Summed Up
A street-legal, headlight-equipped version of Team Green's factory-supercharged carbon-bodied liter-bike.
Top Speed: 209+MPH: Aside from the turbo wars of the 1980s — another worthwhile piece of motorcycling history that we'll have to save for another day — the motorcycle industry hadn't seen a turbo or supercharged model for decades. That was until Kawasaki released the NINJA H2 in 2015. On top of being decked out in a sleek, futuristic design, the H2 distinguished itself from the rest of the market by offering levels of performance that nobody else in the industry could come close to, with almost 100ft-lbs of torque and 200hp at the rear wheel.
Engine: Liquid-cooled, supercharged, 998cc, DOHC, inline-four
Power:  210HP & 98.5FT-LBs
Origin: Japan
MSRP: $31,500
3. Lightning LS-218
Summed Up
A fully-electric state-of-the-art superbike that's been used to achieve multiple land speed records & an Open Class win at Pikes Peak.
Top Speed: 218.63MPH: Electric motorcycles are widely recognized today for their stellar performance capabilities and unrivaled amounts of torque, and Lightning is in large part to thanks for that. Early on in the two-wheeled EV story, Lightning developed a bike that wouldn't just become the fastest electric bike upon its release, but the fastest motorcycle in the world, period. Named after its top speed of just over 218mph, the LS-218 is an ultra-high-performance machine, with one modified example previously being used to shatter the outright motorcycle record at Pikes Peak — though every unit is capable of a sub-2-second 0-60mph time while delivering a range of 188 miles. .
Engine: Liquid-cooled IPM electric motor
Power: 244HP & 220FT-LBs
Origin: America
MSRP: $38,988
2. Kawasaki Ninja H2R
Summed Up
A factory-supercharged, 310-hp track-only liter-bike with an ultra-aggressive aero-equipped suite of bodywork & performance capabilities that can put most modern hypercars to shame.
Top Speed: 248.5MPH: Alongside the road-legal NINJA H2, Kawasaki also unleashed an even more bonkers, track-only version of the supercharged scoot, known as the NINJA H2R. Uninhibited by road-going restrictions, the H2R is unlike anything else on the market in terms of raw performance, generating more than 300hp and 120ft-lbs of torque. Draped in all-carbon-fiber bodywork, the H2R sports a unique design with aerodynamic winglets that are needed to produce downforce when the bike is nearing its top speed. This one sounds as unique as it looks, too.
Engine: Liquid-cooled, supercharged, 998cc, DOHC, inline-four
Power: 310HP & 121.5FT-LBs
Origin: Japan
MSRP: $57,500
1. MTT 420RR
Summed Up
A quarter-million-dollar, American-made carbon-bodied superbike with a Rolls Royce Allison turbine engine that allows it to reach one-third of Mach 1 (i.e. the speed of sound).
Top Speed: 273.4MPH (Claimed): Marine Turbine Technologies — or MTT — first introduced its Y2K Turbine superbike around the turn of the millennium, though not content with the original model's 320hp and 250mph top speed, the American outfit has in recent times returned with an even more ludicrous turbine-powered two-wheeler with the MTT 420RR. With the 420 denoting its horsepower output and the RR being short for "Race Ready," this track-only machine packs an even crazier Rolls Royce Allison – 250-C20 Series gas turbine engine, as well as carbon fiber bodywork, and an aluminum alloy chassis. Tipping the scales at 500lbs, the claimed top speed of this race-ready American quarter-million-dollar motorcycle is theoretical, with the manufacturer's website listing its top speed as "Faster Than You Will Ever Dare To Go."
Engine: Rolls Royce Allison – 250-C20 Series Turbine
Power: 420HP & 500FT-LBs
Origin: America
MSRP: $249,900
The Fastest Cars In The World
Now that we've gone over the fastest motorized machines on two-wheels, why not check out the planets quickest four-wheeled specimens in our definitive guide to the fastest cars in the world.