When electric cars first began to experience an influx in popularity, the sector was largely comprised of novelty vehicles, touted for their more sustainable and environmentally friendly nature. Since then, however, the EV segment has seen tremendous technological leaps that have given way to a new crop of proton-powered rides that boast multi-hundred-mile range capabilities, world-class safety standards, and some of the fastest, most capable, and are without a doubt some of the most high-performance cars currently in production.
Though there were a handful of manufacturers that were reluctant to toss their respective hats into the EV ring, looming government mandates are forcing practically every major OEM on the plant to transition to a completely electric lineup within the next decade-and-a-half. As a result, a great many automakers have opted to get in on the action now in an effort to get a headstart in what will eventually be an all-EV market. This has ultimately resulted in the most abundant and robust electric car market in history, made up of practically every genre of automobile under the sun. To help shine a light on the finest options this sector now has to offer, we've compiled this definitive list of the best electric vehicles currently available on showroom floors.
EV Shopping 101
The Seven Factors To Consider When Looking At All-Electric Rides
Whether powered by petrol or electrons and protons, automobiles all serve the same basic function of shlepping drivers and their passengers from A to B. For this reason, there are quite a few commonalities between regular and electric cars and points of overlap in the shopping and buying experience. There are, however, a handful of factors that are entirely unique to the EV sector, and extremely important to take into account when browsing the market. With this in mind, we've pieced together this condensed guide on the seven most crucial factors to consider before purchasing a new electric car.
Range: One doesn't need to be an EV expert to know just how wildly important range is when looking at electric cars. While almost every model on the market will offer enough autonomy to tackle your average daily commute, some EVs boast significantly greater range capabilities, affording several hundred miles before needing a recharge. When looking at this metric, it's also important to note an EV's freeway range versus its city range (as well as its combined range).
Battery: As tremendously important as range is, there are other characteristics of an EV's battery that are well-worth exploring when shopping. This includes the type of battery, its size, how long it takes to charge, what kind of charger or chargers it's compatible with, and roughly how many charging cycles can it handle before the battery's life begins to noticeably degrade. And, because batteries are now the heaviest component in the vehicle, it's also worth looking into the battery's weight, and where it is located within the vehicle, as this latter area can hugely affect a car's center-of-gravity, and as a result, its handling and performance.
Motor(s): With petrol-powered cars, the vehicle's speed and acceleration are determined largely by its engine. On proton-powered rides, these feats are owed to its electric motor setup. For this reason, it's crucial to look into the motor configuration of any electric vehicle, which means delving into how many motors there are, how those motors are delivering power (i.e. drive setup), and what type of motors they are — with the two most common being alternating current induction motors and permanent-magnet direct current motors.
Power: There are numerous clear benefits to EV ownership such as a drastically reduced maintenance schedule and a complete lack of tailpipe emissions, though one of the biggest draws to going electric is undoubtedly the unparalleled gobs of torque afforded by electric motors. What's more, electric motors don't only put down obscene amounts of torque, but they also do so instantaneously, unlike traditional petrol-powered cars with a powerband and rev-range.
Technology: Today's fully electric powertrains are objectively cutting-edge, though they are far from the only cutting-edge piece of technology present on this proton-powered offerings. Even more so than high-end gas-powered cars, today's EVs often come equipped with a host of thoroughly modern technology, features, and bells and whistles such as lane-keep assist and auto lane-change, full auto-pilot, self-parking, and auto vehicle summoning. Many of these late-model EVs also boast WiFi connectivity and as a result can receive over-the-air firmware and software updates over time, affording them a degree of future-proofing.
Amenities: Whether gas or electric, late model cars have increasingly been bestowed with a host of amenities and features to enjoy while en route to your destination, such as the upholstery and trim, heated and/or cooled seats, large infotainment systems, surround sound speaker packages, Wifi hotspots, and connectivity to dedicated smartphones apps that offer real-time monitoring of battery life and allow the user to tweak certain settings or use geofencing capabilities. These bells and whistles do come at a premium, though they undeniably add a pretty substantial amount of value and/or convenience to the ownership or driving experience.
Manufacturer Support: More than just manufacturing battery-powered cars, many EV companies have been fundamentally changing the shopping and ownership experience that's traditionally been tied to the auto industry. This includes amenities such as door-to-door vehicle delivery and mobile mechanics and technicians that come to the client. There are also numerous manufactures that have installed robust charging networks across the globe, including Tesla which currently boasts more than 25,000 Supercharger stations around the world.
Mini Cooper Electric
First reintroduced around the turn of the millennium, the Mini Cooper is a bonafide automotive icon with a strong following that's resulted in a myriad of model variants, including the all-new EV-spec. With almost 200ft-lbs of torque and a sub-3,200lb curb weight, the EV model retains the petrol-powered version's immensely peppy and go-kart-like nature. However for more performance-hungry drivers, Mini is currently developing a John Cooper Works variant of the EV. And, because the EV variant shares the same physical dimensions as the petrol-powered model, quite a few body kits and other aftermarket upgrades for the standard Mini Cooper will be compatible with the all-electric version.
Range: 114 Miles
Power: 181HP & 199FT-LBS
0-60MPH: 7.3 Seconds
Weight: 3,144LBS
Chevrolet Bolt EV
Currently standing as the third most popular EV on the market (in terms of 2021 sales numbers), Chevrolet's Bolt is a fairly no-frills, utilitarian commuter car with a healthy, nearly 250-mile range. Despite its relatively accessible $31,000 MSRP, the Bolt comes loaded with a host of fairly impressive features such as connectivity to Apple CarPlay and a Chevy auto app, a dedicated Sport mode, Tesla-style one-pedal driving, and a full electronic safety assist suite with amenities such as lane-keep assist and blind-spot monitoring.
Range: 247 Miles
Power: 200HP & 266FT-LBS
0-60MPH: 7 Seconds
Weight: 3,715LBS
Opel Corsa-e
The Opel Corsa-e aims to recreate the raw thrills and exhilaration found in traditional petrol-powered hot hatches in a zero-emissions all-electric package. Winner of the German Golden Steering Wheel Award 2020 in the small car category, this EV was designed and engineered from the ground up to be something of the ultimate urban commuter car, while still affording its fair share of behind-the-wheel excitement. And while its range may be limited to just under 210-miles, the Corsa-e's battery pack can receive an 80% recharge in just 30-minutes.
Range: 209 Miles
Power: 134HP & 191.76FT-LBS
0-60MPH: 8 Seconds
Weight: 3,373LBS
Tesla Model 3 (Standard Plus)
Offering what's almost certainly the best value, most cutting-edge technology, and highest performance of any sub-$40,000 EV, Tesla's Standard Plus-spec Model 3 is a state-of-the-art electric car that's kicked along by a dual-motor setup that sends power to an all-wheel-drive configuration. In addition to a 15" central touchscreen display and 23-cubic feet of cargo space, the Model 3 is also equipped with a host of high-tech assists that are regulated via a 360-degree camera setup and a full dozen ultra-sonic sensors. Tesla also offers high-specced Performance and Long Range AWD variants of the Model 3.
Range: 263 Miles
Power: 283HP & 307FT-LBS
0-60MPH: 5.3 Seconds
Weight: 3,582LBS
Volkswagen ID.4
Winner of 2021 Car Of The Year at the most recent World Car Awards, Volkswagen's ID.4 is a sleek German-engineered fully electric SUV that punches well above its weight (or roughly $40K MSRP) with performance capabilities and features that rival that of luxury electric SUVs with double the price. The ID.4's exterior maintains VW's signature design language, though takes things in a markedly more sleek direction while the interior of the vehicle looks more in line with a Scandaivian supercar or boutique hotel than it does a traditional Volkswagen.
Range: 260 Miles
Power: 201HP & 229FT-LBS
0-60MPH: 7.4 Seconds
Weight: 4,559LBS
Ford Mustang Mach-E
Inspired by one of the most celebrated and iconic muscle cars of all time, the Ford Mach-E is equal parts sensible daily driver and thrill machine. As one might expect from its nearly $43K price tag, the Mach-E comes loaded with a host of modern tech and driver aids, as well as connectivity to a smartphone app. Ford also produces several additional, more high-end variants of the Mach-E, including a GT Performance Edition-spec that can clock 0-60mph runs in 3.5-seconds flat.
Range: 230 Miles
Power: 266HP & 428FT-LBS
0-60MPH: 5.2 Seconds
Weight: 4,394LBS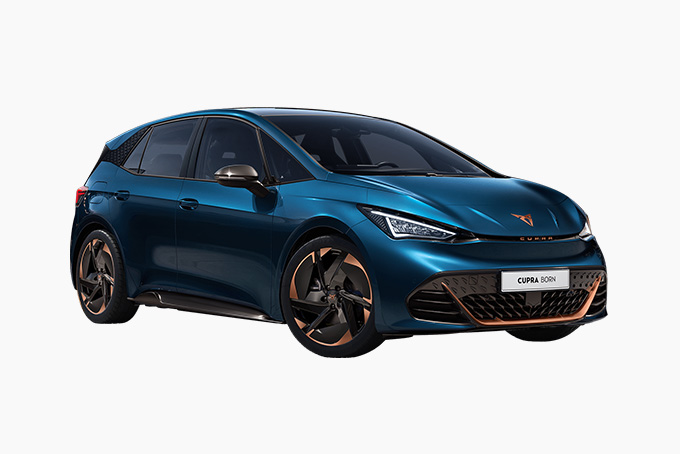 Seat Cupra Born
While not yet a household name in the United States, Cupra is a European manufacturer known for its small, potent, and sporty vehicles. When looking to break into the EV market, Cupra called on its parent company, the Volkswagen Group, borrowing VW's ID.3 platform and building a Spanish hot hatch using the Volkswagen's chassis and electric powertrain — the latter of which has been slightly re-tuned to achieve a greater horsepower output. We also expect to start seeing aftermarket upgrades appearing on the market for this model.
Range: 340 Miles
Power: 231HP & 229FT-LBS
0-60MPH: 7.5 Seconds
Weight: 3,765LBS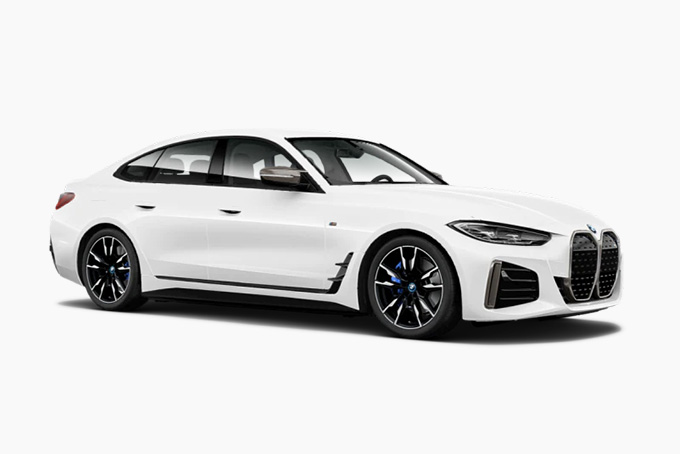 BMW i4
BMW has been producing hybrid and electric variants for a full decade, and though the German outfit has already debuted a hybrid-engined supercar with the i8 and a compact Euro-style EV commuter with the i3, the Bavarian brand had yet to unleash a so-called "regular" EV sedan model, though that's now changing with the introduction of the all-new i4. Taking aim squarely at Tesla, the i4 is expected to afford a range of around 240-miles and is powered by a proprietary EV motor that generates well over 500ft-lbs of instantly accessible torque.
Range: 240 Miles
Power: 335HP & 586FT-LBS
0-60MPH: 5.7 Seconds
Weight: 4,685LBS
Polestar 2
Based in Sweden, Polestar is another fledgling EV firm that's looking to take a piece of Tesla's market share with a line of thoroughly luxurious, high-tech, and elegant-looking electric cars that still retain premium performance capabilities. The Polestar 2's dual-electric motor, all-wheel-drive setup allows for an output of 408hp and 487ft-lbs of torque, which translates to 4.1-second 0-60mph runs and a top speed limited to 125mph. On the design side, the Polestar 2 sports a number of subtle yet noteworthy elements such as Pixel LED lights, panoramic glass roofs, frames mirrors, and sequential running lights.
Range: 233 Miles
Power: 408HP & 487FT-LBS
0-60MPH: 4.1 Seconds
Weight: 4,680LBS
NIO ET7
First released in early 2021, the NIO ET7 is unequivocally one of the most high-tech cars currently on the road, utilizing an ultra-advanced Qualcomm Snapdragon-equipped AI driver-assist and control system. And, just like with the Polestar 2, the ET7 manages to deliver ample luxury without sacrificing on raw performance, with 644 and 627ft-lb horsepower and torque output that puts it on par with many of today's fastest supercars. On top of all that, the NIO ET7 still maintains a range of more than 600-miles of autonomy on a single charge.
Range: 600+ Miles
Power: 644HP & 627FT-LBS
0-60MPH: 3.9 Seconds
Weight: 6,269LBS
Lucid Motors Lucid Air
Slated to enter production later this year, Lucid Motors is another new EV startup that's looking to take a piece of the Tesla pie with its thoroughly top-shelf Lucid Air model. The multi-motor setup in the Air allows for a 1,080hp and 2,950ft-lb power output that rockets the 5,000lb machine from 0-60mph in just 2.5-seconds and ultimately allows for a restricted top speed of around 170mph — though in unrestricted testing Lucid Motors managed to get the Air up to speeds of well over 200mph.
Range: 500+ Miles
Power: 1,080HP & 2,950FT-LBS
0-60MPH: 2.5 Seconds
Weight: 5,000LBS
Karma GS-6
Though Karma is probably best-known for unleashing its absolutely bonkers SC2 hypercar — which is currently one of the world's fastest EVs — the company has recently turned its expertise to churning out more affordable and utilitarian vehicular offerings that are still largely characterized by their immense luxury, wildly sleek aesthetics, and otherworldly performance capabilities. The battery packs in the GS-6 afford a range of 360-miles while requiring less than 35-minutes to receive a full recharge.
Range: 360 Miles
Power: 536HP & 550FT-LBS
0-60MPH: 3.9 Seconds
Weight: 5,062LBS
Audi e-tron GT
Whenever considering a new luxury car, it's always worth exploring the automotive offerings from Audi, and the brand's new fully electric e-tron GT is by no means an exception. Quite possibly better than almost any other electric vehicle on the road, the e-tron brilliantly combines comfortable and utilitarian traits of a daily driver — such as plush seats, ample tech, and a generous amount of cargo space — with track-focused performance capabilities. The e-tron GT can also have its battery pack replenished from 5% up to 80% in just 22.5-minutes when using a standard DC charger.
Range: 235 Miles
Power: 522HP & 472FT-LBS
0-60MPH: 3.9 Seconds
Weight: 5,060LBS
Porsche Taycan 4S
Petrol-powered engines have long been at the heart of Porsche's cars, though as the world continues shifting towards an all-EV future, the Stuttgart firm has tossed its hat into the EV ring, delivering high-performance and immensely sleek offerings that retain Porsche's quintessential qualities. The Taycan S is a thoroughly luxurious and high-end machine with active suspension that allows for a plush and comfortable ride, however, with launch control, Overboost Power, a 390kW (522hp) motor setup, and a top speed of over 160mph, this electric four-door still affords more than its fair share of behind-the-wheel thrills.
Range: 272 Miles
Power: 522HP & 479FT-LBS
0-60MPH: 3.8 Seconds
Weight: 4,771LBS
Tesla Model S Plaid
Representing the pinnacle of Tesla's performance-focused range, the Model S Plaid may have a somewhat unassuming appearance for a vehicle with such otherworldly performance capabilities. On top of its bevy of cutting-edge tech, the Model S Plaid features a tri-motor setup that puts down more than 1,000hp and over 1,000ft-lbs of torque, which translates to a sub-two-second 0-60mph time, 9.23-second 155mph standing quarter-mile runs, and a top sped of 200mph — all while maintaining a range of nearly 400-miles on a single charge. Other noteworthy elements including onboard wireless charging, a 960-watt 22-speaker audio system, and a massive central touchscreen display.
Range: 396 Miles
Power: 1,020HP & 1,050FT-LBS
0-60MPH: 1.99 Seconds
Weight: 4,766LBS
Tesla Roadster
The Model S Plaid may be the most high-performance machine that Tesla currently offers, though later this year this will change with the debut of Tesla's newest generation of Roadster. A thoroughly modernized and insanely high-performance take on Tesla's inaugural model, the new Roadster is an objectively bonkers all-wheel-drive hypercar with a spec sheet that speaks for itself with a 1.9-second 0-60mph time and a top speed exceeding 250mph — all while still offering a class-leading range of 620-miles. As soon as this model enters production, it will instantly hold a handful of world records.
Range: 620 Miles
Power: 7,375.6FT-LBS
0-60MPH: 1.9 Seconds
Weight: 4,409LBS
Aston Martin Rapide E
Despite having a history that's deeply rooted in tradition, Aston Martin was one of the first ultra-luxury carmakers to tap into the EV sector with its spare-no-expense Rapide E. While this model's performance capabilities have grown a little long in the tooth since its release, it's still a fantastic vehicle with objectively impressive performance with 3.8-second 0-60mph times and a power output of 610hp and just over 700ft-lbs of torque. The exterior of the call also maintains Aston Martin's world-class signature design and styling.
Range: 200 Miles
Power: 610HP & 700.7FT-LBS
0-60MPH: 3.8 Seconds
Weight: 4,718LBS
Drako Motors GTE
Cutting-edge advancements in the EV sector have increasingly been giving way to a host of all-electric supercars with performance figures that only a few years ago would have sounded ridiculous. One such example is Drako Motors' mind-blowing and hair-raising GTE model. On top of sporting a healthy 250-mile range, this EV's quad-motor setup generates a ludicrous 1,200hp and an utterly ridiculous 6,491ft-lbs of instantly accessible tire-shredding torque. Sadly, the company only plans to produce 25 examples of the GTE, each of which will carry an MSRP of $1.25M.
Range: 250 Miles
Power: 1,200HP & 6,491FT-LBS
0-60MPH: 2.9 Seconds
Weight: 5,300LBS
Rimac Nevera
The production version of the Rimac C Two, the Nevera is a thoroughly modern all-electric carbon monocoque-framed two-seater supercar, and though it has undergone some tweaks since its prototype phase, the Nevera has by no means been watered down with a 400-mile range, 1.85-second 0-60mph times, a more than 250mph top speed, and a power output of 1,878hp and 1,741ft-lbs of torque. With a nearly $2.5M MSRP, only a small and lucky handful of drivers will get to enjoy Rimac's new rolling adrenaline-inducer.
Range: 400 Miles
Power: 1,878HP & 1,741FT-LBS
0-60MPH: 1.85 Seconds
Weight: 4,740LBS
Lotus Evija
Far more than just a cutting-edge all-electric hypercar, the Lotus Evija represents the future of high-performance track-focused vehicles, giving us a glimpse into the next century of motoring. Penned by automotive design legend Russell Carr and taking ample visual from Le Mans-style racers, the Evija is touted as the world's first all-electric British hypercar — as well as being one of the fastest and most expensive with a more than 200mph top speed and an eyewatering $2,500,000 price tag. Production is limited to just 130 units, though sadly the Evija doesn't boast road-legal status on American shores.
Range: 250 Miles
Power: 1,973HP & 1,245FT-LBS
0-60MPH: 2.9 Seconds
Weight: 3,700LBS
The 8 Best Affordable Used Electric Cars
Want to get into EV ownership by aren't quite ready to shell out the five-to-six-figure MSRP for a brand new proton-powered ride? Then be sure to cruise over to our guide to the best used electric cars for more than half a dozen stellar second-hand EV options starting from as low as $5,400.