Whether equipped with two wheels or four, we possess a vast appreciation for a myriad of different types of vehicles and motorsports. As far as genres of vehicles built for off-the-beaten path activities go, there's one that is especially near and dear to our hearts: overlanders. A strange thing to explain to those not in the know, overlanding requires a very specific kind of vehicle. And no, it's not the same as your average off-roader – which can range anywhere from dune buggies, to side-by-sides, to old beaters, and more. If you're going to get into overlanding and you want to get your start with a brand new vehicle off the lot, the following 8 vehicles are the best overlanders you can purchase and drive off the lot today.
The Best Overland Vehicles Overview
Best Pickup Truck Pick

Toyota Tacoma Trailhunter

Best Overall Pick

Jeep Gladiator Rubicon

Best Luxury Pick

Land Rover Defender 130 Outbound

Best Turnkey Pick

Ford Bronco Raptor

Best Class 6 Pick

Mercedes Unimog U 4000

Best Adventure Van

Airstream Interstate 19X
Defining The Segment
What Exactly Is An Overlander?
Before endeavoring into the world of overlanders, it's important you know exactly what to look for in an appropriate vehicle. After all, overlanding isn't the same as off-roading for a multitude of reasons. For starters, overlanding is intended to be spent over a longer period of time (sometimes weeks or months), whereas off-roading is often limited to day trips or shorter jaunts. That means you don't just need a capable vehicle, but you need one that can hold enough gear to get you and the folks you travel with through it all.
Similarly, off-roading often entails trekking over dangerous terrain – pushing the limits of your vehicle in activities like bouldering, wall climbs, etc. While an overlander should be able to hold its own over rough ground, you wouldn't necessarily try to scale a 25% grade in one unless you had no other choice. Besides, that will likely send all your gear flying. At the end of the day, what makes the vehicles on this list different from standard 4x4s is that, along with being off-road ready, they also have to be well equipped to tackle long distances while hauling a wealth of gear.
An Ideal Overlander
What Factors Should I Consider When Buying An Overlanding Rig?
As machines that need to serve as bonafide off-roaders while simultaneously being the basis for a mobile off-grid dwelling, there are a lot of factors one can take into account when shopping around for an overlander. Having said that, there are a handful of attributes that stand above the rest in terms of importance — traits we'll be breaking down directly below.
Powertrain: As the heart and sole of any motorized vehicle, the powertrain is always of extreme importance, and overlanding rigs are no different in this regard. When looking at an overlander's powertrain, you'll want to look at engine size, number of cylinder, layout, and whether or not the engine benefits from the use of a hybrid drive unit (or units) or a forced induction system such as a turbocharger or supercharger. What's more, you'll also want to pay attention to the type of transmission being used. When looking at fully electric vehicles, you'll want to review the number of motors being used, along with the battery said motor or motors are drawing from.
Power Figures & Power Delivery: In a bid to provide a more objective sense of an engine's capabilities, auto manufacturers cite horsepower and torque figures — pivotal specs to review when shopping for an overlander. In addition to horsepower and torque output, you'll also want to explore how said power is being transmitted to the ground, as elements such as all-wheel drive and on-demand or full-time four-wheel drive massively bolster an overlander's go-anywhere capabilities compared to a standard FWD or RWD setup.
Off-Road Elements: As certain trucks and SUVs have grown increasingly popular amongst overlanders, more and more manufacturers have started producing off-road and overland-focused trim levels that come outfitted with factory-installed off-roading components such as steel bumpers, skid plates, snorkels, winches, headache racks, roof racks, lift kits, fender flares, aux lights, and a variety of other items offered as standard or as available upgrades.
Upgradability: While there's a decent number of available factory accessories currently being offered for today's most popular overlanders, there's an even greater number of aftermarket upgrades to choose from. And while there's no shortage of options for any model, it's worth pointing out that the older models and generations will almost always have a much wider range of aftermarket off-road bits — a fact that can make it markedly easier to piece together an overland build without having to modify components.
Off-Road Capabilities: Another monumentally important area to consider when purchasing an overlanding rig is undoubtedly the vehicle's go-anywhere capabilities. When reviewing this factor, you'll want to pay attention to specs including ground clearance, suspension travel, wading depths, and approach, break-over, and departure angles.
Mileage & Fuel Cell: Unlike regular off-roaders that are built for shorter adventures and journeys, overlanding rigs aim to offer extended trips into nature — a fact that makes these vehicles' mileage fairly crucial. And, while you can always carry extra RotopaX or jerry cans, the size of the vehicle's tank should also be closely considered. When coupled with the volume of an overlander's gas tank, fuel economy should provide some sense of the machine's range and autonomy.
Seating & Storage: Seating and storage are factors that are important when shopping for any truck or SUV, though when looking at models specifically for overlanding this element becomes even more crucial, as the vehicle's interior needs to house a wide range of systems, appliances, and gear for living off-grid. As such, we recommend paying close attention to not only the vehicle's number of seats and their accompanying foot and headroom, but also the rig's entire collective storage space — a metric typically measured in cubic feet.
Amenities & Creature Comforts: Though they aren't really vital — or even really needed — for overlanding applications, modern vehicles do feature a plethora of advanced technological bells and whistles, and other creature comforts that often play a substantial role in the model's pricing. This, coupled with the fact that amenities and creature comforts can actually have a pretty profound impact on the rig's overall user experience, this is another instrumental area to take into account when shopping.
Towing & Hauling Capabilities: Because overlanding rigs are loaded to the brim with the equipment, gadgets, and appliances needed for extended stays off-grid, these vehicles need to be able to accommodate and carry ample gear — a fact that makes a vehicle's payload capacity of monumental importance. Additionally, if you plan on towing any type of camper or trailer behind your primary overlanding rig, you'll definitely want to pay close attention to a given model's towing capacity, as well.
Driving Characteristics: No matter the genre, a vehicle's driving characteristics should always be factored into your decision when shopping as how the thing actually drives and handles is of monumental importance. Largely owed to the vehicle's chassis and suspension setup, driving characteristics can be difficult to determine merely from looking at a model online. As such, we suggests simply going and test-driving any overlanding rig that you're considering — though reading reviews can also be a great way to narrow down your search and help figure out which models are even worth your time to test drive.
Reliability & Build Quality: Considering overlanding rigs are routinely driven deep into nature, sometimes hours if not days away from civilization or assistance, reliability and build qualities are two more areas that should definitely be taken into account when shopping. This area can be a little difficult to get a decent sense of when dealing with new models, though most brands are fairly consistent in this regard, meaning you can typically look to the reliability of older, existing models in order to glean a sense of how a marque's latest model-year offerings will likely perform. 
Toyota Tacoma Trailhunter
Why It Made The Cut
A new range-topping trim level of a tried and true pickup that's been engineered specifically for overlanding.
Best Pickup Truck Pick: Toyota's range-topping TRD Pro lineup has long offered turnkey models with tremendous off-roading capabilities. As the Japanese brand begins to usher in the completely redesigned, all-new-generation Tundra and Tacoma pickup models, it's also introduced an all-new overlanding-specific trim level known as the Trailhunter. Spec'd similarly to the Tacoma TRD Pro, the Toyota Tacoma Trailhunter is powered by the brand's new turbocharged 2.4-liter i-FORCE MAX hybrid powertrain, which puts down 326hp and 465ft-lbs of torque. Helping keep everything in check is Toyota's Multi-Terrain Select with Crawl Control, as well as a stabilizer disconnect mechanism. The Trailhunter-spec Tacoma's impressive go-anywhere capabilities are afforded through a host of off-road upgrades such as high-clearance steel bumpers from ARB, underbody protection, frame-mounted rock sliders, an ARB headache rack, 33" Goodyear Territory R/T tires, flared fenders, a snorkel, bead-lock-ready wheels, and a top-of-the-line Old Man Emu suspension package with forge mono-tube position-sensitive shocks and a multi-link rear unit.
Engine: Turbocharged 2.4L Hybrid Inline-Four
Power: 326HP & 465FT-LBs
Ground Clearance: N/A
Total Storage Space: N/A
MSRP: TBD
Jeep Gladiator Rubicon
Why It Made The Cut
A highly-modular & thoroughly rugged overlander boasting a 4-door SUV cabin & a 60" bed. 
Best Overall Pick: Thanks to a highly rugged and incredibly modular design, incredible turnkey off-road prowess, a generously-sized four-door cabin, and the added benefit of a 60.3" x 44.8" bed, one would be forgiven for thinking that the Jeep Gladiator Rubicon was legitimately designed specifically for overlanding. Available with a six-speed manual transmission, the Gladiator Rubicon comes with a 3.6L Pentastar V6 engine affording solid payload and towing capacities of 1,200lbs and 4,500lbs, respectively, providing more than enough oomph to accommodate all your gear and appliances. And, though this four-wheel model is also offered with an enormous range of optional factory add-ons, a major part of what makes it special — and so highly conducive to overlanding — is the fact that its massive popularity has given way to an unparalleled number of available aftermarket upgrades, ranging from custom bumpers to slide-out kitchens to roof-top tents. It's also worth mentioning that this model happens to offer some of the best bang for your buck of any overlander currently in production, with an MSRP starting at just north of the $50,000 mark.
Engine: 3.6L V6
Power: 285HP & 260FT-LBs
Ground Clearance: 11.1"
Total Storage Space: 35.5Cu Ft (+ 33.9Cu Ft Cargo Box)
MSRP: $51,490
Lexus GX
Why It Made The Cut
A newly-unveiled generation of full-size SUV merging modern tech & luxury with Toyota's reliability & off-roading systems. 
Best SUV: Combining the bulletproof reliability of a Toyota with the plush interior and appointments of a Lexus, the GX has long been a popular choice amongst overlanding enthusiasts, however, with an all-new generation having just been revealed only weeks ago, this Japanese-made SUV is now an even more enticing option for long-range overland builds. Produced in an off-road-specific variant known as the GX550 Overtrail, the GX model packs a twin-turbocharged 3.4-liter V6 making around 350hp and 480ft-lbs of torque. Aptly described by Lexus as a "Sophisticated Utility Vehicle," the 2024 model year GX also gets an impressive towing capacity of up to 8,000lbs, plus a bevy of advanced tech and safety systems. What's more, in addition to approach, break-over, and departure angles of 26°, 23°, and 21°, this vehicle also benefits from the use of Toyota's proven Multi-Terrain Select, Crawl Control, Downhill Assist Control, and 3D Multi-Terrain Monitor systems — all of which come standard on GX Overtrail, along with an Electronic-Kinetic Dynamic Suspension System, an electronic locking rear differential, black accented over-fenders an aluminum skid-plate, and 18" wheels that come fitted with chunky 33" all-terrain tires.
Engine: Twin-Turbocharged 3.4L V6
Power: 349HP & 479FT-LBs
Ground Clearance: N/A
Total Storage Space: N/A
MSRP: $60,225 (For 2023 Model Year)
Land Rover Defender 130 Outbound
Why It Made The Cut
An incredibly luxurious full-size SUV using a host of advanced tech to achieve impressive go-anywhere capabilities. 
Best Luxury Pick: The largest model variant currently offered by the brand, affording the most storage space for equipment and gear, Land Rover Defender 130 Outbound boasts a unique combination of true luxury and go-anywhere capabilities. Alongside one seriously plush and high-tech interior, the Outbound-spec Defender 130 features an advanced electronic air suspension setup with adaptive dynamics that allows it to achieve a maximum 11.5" clearance, 35.4" of wading depths, and 37.5° , 27.8°, and 28.5° approach, break-over, and departure angles. This luxury sport utility vehicle also benefits from the use of a 3D surround camera unit , a wade sensing system, an electronic active differential, Land Rover's Configurable Terrain Response system, and live tire pressure monitoring. Kicked along by a turbocharged, mild-hybrid 3.0-liter P400 straight-six engine making around 400hp, Land Rover's Defender 130 Outbound has also been treated to roof rails, fog lights, LED headlights with automatic leveling, and 20″ Style 5095 wheels wrapped in advanced All-Terrain Tires. Land Rover also makes several off-road and overlandvng-focused upgrade packages that are available for the Defender 130.
Engine: Turbocharged Mild-Hybrid 3.0L Inline-Six
Power: 395HP & 406FT-LBs
Ground Clearance: 11.5"
Total Storage Space: 89Cu Ft
MSRP: $84,500
Ford Bronco Raptor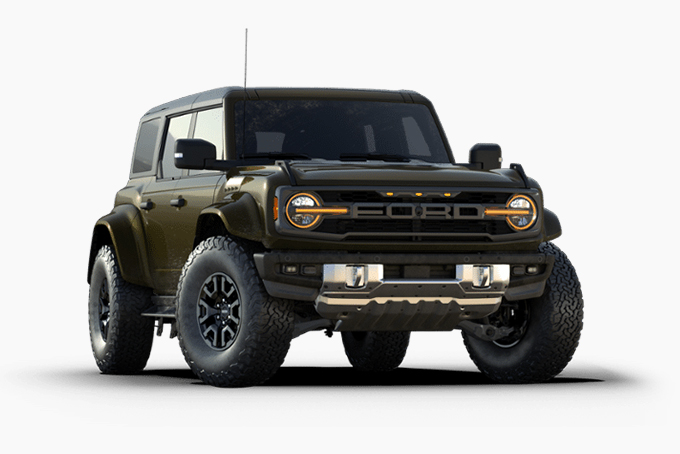 Why It Made The Cut
A spacious and seriously off-road capable SUV that makes for an incredible overlander right off the showroom floor. 
Best Turnkey Pick: With some of the most impressive go-anywhere capabilities in its stock form, coupled with a wealth of stellar optional factory upgrades that are perfect for overlanding, the Ford Bronco Raptor undoubtedly makes for one of the best turnkey options on the market, boasting pretty much everything needed for extended trips into the unknown — save for a cooler and power bank. Equipped with Ford's High-Performance, Off-Road, Stability, Suspension system with twin alloy A-arms, Bilstein Position-Sensitive Dampers, and FOX Live Valve 3.1 internal bypass semi-active shocks, the Raptor-spec Bronco offers 13.1" of clearance, 13" of travel up front and 14" out back, 37" wading depths, and approach, break-over, and departure angles of 47.2°, 30.8°, and 40.5°, respectively. At the heart of the rig is the Blue Oval's twin-turbocharged 3.0-liter EcoBoost V6 engine, which cranks out 418hp and 440ft-lbs of torque . Further differentiating the Raptor trim level from the already-capable base model Ford Bronco are a Raptor-specific "FORD" grille and taillights, a full skid plate, massively flared fenders, rock sliders, a special vented hood, and off-road-ready wheels shod in beefy all-terrain tires.
Engine: Twin-Turbocharged 3.0L V6
Power: 418HP & 440FT-LBs
Ground Clearance: 13.1"
Total Storage Space: 82Cu Ft
MSRP: $89,835
Mercedes Unimog U 4000
Why It Made The Cut
A Dakar Rally-proven go-anywhere Class 6 rig with unparalleled off-roading capabilities. 
Best Class 6 Pick: While one might not expect a vehicle of this sort from such an elite luxury brand, the Mercedes Unimog represents what's probably across-the-board the most rugged non-custom off-roader that money can buy. The Unimog is legendary – not just in off-road circles, but also amongst the industrial and military worlds. Originally released after WWII as an agricultural vehicle designed to haul and operate saws in forests and harvesting machines in fields, this massive truck has been operated on some of the most unforgiving terrain in the world. And it has done so with grace and without ever quitting. From deserts, to jungles, to mountains, and so on, there's no road this vehicle can't handle. Hell, the Unimog has even participated in the Dakar truck rally raids — ands achieved a slew of victories in the process. Not only does the latest iteration of this legendary model — the Unimog U 4000 — serve as a wildly-capable off-road, but it also unequivocally makes for the best possible platform for anyone looking to build out a container home-style camper rig. It definitely comes with an exorbitant price tag, but as far as sheer size and capability are concerned, the Mercedes Unimog U 4000 is second to none.
Engine: 4.8L Turbo Diesel Four-Cylinder
Power: 218HP & 597.4FT-LBs
Ground Clearance: 16.65"
Total Storage Space: N/A
MSRP: $142,499
Airstream Interstate 19X
Why It Made The Cut
A luxurious yet rugged off-road camper that offers the comforts of home from practically anywhere on earth. 
Best Adventure Van: Aiming to offer all the comforts of home in a compact, sub-20' package, the Airstream Interstate 19X is a rugged touring couch that's been engineered from the ground up for overlanding and off-grid adventure. Based on the proven Mercedes-Benz Sprinter 2500 4×4 platform, this high-end off-road camper van is powered by a 3.0-liter turbo-diesel V6 that makes 325ft-lbs of torque and allows for a 5,000-lb tow rating. Offered with either four wheel or all-wheel drive, this model also boasts load-Adaptive electronic stability and electronic traction control systems, as well as off-road wheels and tires, rock sliders, a front bumper equipped with auxiliary lights, fender flares, and special body cladding. Moving inside, this well-appointed roving basecamp comes loaded with a complete wet bath, a cleverly-designed space-saving storage system, a dinette that converts into a 74″ x 70″ bed, a galley kitchen with a built-in 0.7 cu-ft microwave and a 1,000-watt induction cooktop, and an onboard solar and energy array that includes a 2,000-watt inverter, a 30 AMP energy management system, dual 100-Ah Deep Cycle Lithium Battle Born Batteries, and 250-W of military-grade solar panels — all as standard.
Engine: 3.0L Turbo Diesel V6
Power: 188HP & 325FT-LBs
Ground Clearance: N/A
Total Storage Space: N/A
MSRP: $199,940
The Best Off-Road Trucks & SUVs For Go-Anywhere Adventure
Interested in a go-anywhere vehicle but don't need overlanding capabilities? Then be sure to cruise on over to our guide to the best off-road trucks and SUVs for another hand-selected list of adventure-ready rigs.