Generally speaking, motorcycles tend to be incredibly compact machines, especially when compared to the four-wheeled counterparts that they share the roads with. After all, these are little more than engines shoehorned into small frames on wheels. By and large, the regions of the world where two-wheeled travel is the most common tend to be occupied by riders that are markedly shorter in height than the average American citizen, meaning the diminutive proportions of most bikes can comfortably accommodate the majority of motorcyclists living outside of the United States. For riders exceeding 6' in height, however, shopping for a motorcycle can be a bit tricky, as overly cramped ergonomics can place an enormous amount of strain on one's wrists and back — something that makes daily commuting uncomfortable and long-distance touring nearly unbearable.
Fortunately, there are a handful of modern production models that lend themselves particularly well to taller riders, usually thanks to upright riding positions, roomy ergonomics, and towering seat heights. And it's this crop of scoots that we'll be exploring today in this guide to the best motorcycles for taller riders where, in addition to counting down our favorite two-wheeled specimens from a variety of genres, we'll also be delving into what traits make for good bikes for riders over 6', and what aspects to take into account when shopping. So, whether you're interested in an enduro model, a lightning-fast superbike, or a low-slung cruiser, this list has got you covered.
Stretched Out Street Bikes
What To Consider When Shopping For Motorcycles As A Taller Rider
While we very briefly touched on a few of these qualities above, there are a handful of additional areas that are well worth looking into when in the market for a proper tall-rider-friendly bike. Below, we'll be touching on some of the more pivotal elements to factor into your decision before selecting your new ride.
Bike Type: There is no one type of motorcycle that's universally ideal for tall riders, however, there are a few segments that tend to be much more conducive to non-vertically-challenged bikers. With long-travel suspension and comfortable riders triangles that have been calculated for both off-road and touring duties, dual-sports and adventure bikes tend to have some of the highest measurements of any class of motorcycle, making them an excellent option for riders over 6'. And, despite their aggressive tucked stance and rider position, the objectively tall seat heights of superbikes do make them a surprisingly good choice for taller riders.
Seat Height: While there are other important areas to consider, if you had to go by just one metric, you'd almost certainly want to look at seat height. This number — which is readily advertised by manufacturers no matter the genre, make, or model — instantly gives a decent sense of overall ergonomics. It's also worth mentioning that quite a few newer models come with adjustable seat heights and there's a slew of aftermarket companies that sell upgraded seats with different heights, as well.
Ergonomics & Riding Position: When talking about a motorcycle's ergonomics, we're looking at the "rider's triangle" — aka the position of the handlebars, foot-pegs, and seat. As previously mentioned, a bike's seat height plays a hugely important role, though riders always have the option of upgrading the bike and installing new aftermarket foot controls or higher-mounted handlebars (often set on risers) that will result in a roomier, more spacious and comfortable rider's triangle. Some stock models even offer fully-adjustable rider's position, too.
Suspension: A motorcycle's suspension plays a crucial role in determining its seat height (and overall height). Off-road-focused bikes tend to have the tallest suspension which also usually means the tallest seat heights. nd while this is true, it is important to note that bikes with long-travel suspension will compress under the rider's weight, resulting in what's referred to as a bike's "laden" seat height. While on the topic, it's also worth adding that suspension can often be adjusted, plus there are specialty shops that are capable of lengthening (or shortening, which is more common) a motorcycle's front fork or rear shocks.
Experience Level: When purchasing a motorcycle, your height should always take a back seat to your skill and experience level. Your first priority should always be finding a bike with the right level of power and weight for your skill level, as being tall is in no way an excuse to start your riding career on a full-size cruiser or superbike. As a rule of thumb, we'd urge any novice riders to opt for a bike with a sub-400cc displacement. And, with today's market offering a myriad of quarter-liter models with tall seat heights — albeit mostly in the dual-sport realm — there's no shortage of stellar options available for particularly tall new riders.
Suzuki DR-Z400S
Introduced in the first year of the new millennium, the Suzuki's DR-Z400 is a popular long-running dual-sport model that's obtained something of a cult status. Utilized by Austria's armed forces, the diamond block-framed DR-Z offers solid performance at an accessible price and is an immensely versatile bike, good for just about everything save for road race courses and long-range touring. Its 94mph top speed also means this model is freeway-friendly, though it is worth noting that the 398cc thumper at the heart of the bike does produce a ton of vibration at higher speeds. In typical Suzuki fashion, this Japanese-made motorcycle also boasts phenomenal reliability and will run damn-near forever if given basic maintenance. What's more, the popularity of the DR-Z400 has also resulted in an enormous amount of available aftermarket parts and upgrades, including crash protection, auxiliary lights, and other off-road bits, as well as supermoto kits — although Suzuki also sells a factory SM-spec of the DR-Z.
Seat Height: 36.8"
Style: Dual-Sport
Engine: Liquid-Cooled 398cc Single-Cylinder
Power: 39HP & 29FT-LBS
Curb Weight: 317LBS
Honda XR650L
They say if it's not broke then don't fix it, and that's essentially the ethos behind Honda's XR650L — a versatile and utilitarian dual-sport that's remained in production since its debut in the early '90s and has gone almost entirely unchanged aside from some tweaks to the bodywork and some redesigned liveries. In addition to the XR650L boasting a factory sump guard and an off-road-focused 21" front and 18" rear wheel sizes, the big XR features a generous 13" ground clearance supplemented by more than 11" of suspension travel front and aft, affording it a tremendous amount of competence when the tarmac ends. And, while it does come with some heavy vibration, the amply-sized 644cc displacement of the dual-exhaust-port single does enable the XR to take on some light touring duties. Furthermore, the stripped-down and lightweight nature of the XR, its immense off-road prowess, and affordable price — especially on the used market — collectively make the Honda a popular choice as a donor platform for custom scrambler builds, too.
Seat Height: 37"
Style: Dual-Sport
Engine: Air-Cooled 644cc Single-Cylinder
Power: 43.6HP & 38.2FT-LBS
Curb Weight: 346LBS
Yamaha Tenere 700
Over the last decade, the adventure motorcycle market has experienced an enormous influx in popularity, prompting manufacturers to deliver a growing number of ADV models with increasingly larger engine sizes each new model year. Wanting to break the mold and deliver a full-size adventure bike with genuine off-roading capabilities — in lieu of the more-than-liter-sized mounts that dominate and comprise the majority of the ADV market — Yamaha set out to design the Tenere 700. First breaking cover at EICMA in 2016 as the "T7," the Tenere 700 benefits from a host of features that were developed in high-level off-road competitions such as the infamous Dakar Rally, and as such is one of the sharpest and most dialed-on on and off-road models currently in production. With a seat height of nearly 34.5", the Tenere is also perfect for accommodating taller riders, though several aftermarket outfits also sell even higher seats should you require a bit more room.
Seat Height: 34.4"
Style: Adventure Bike
Engine: Liquid-Cooled 689cc Parallel-Twin
Power: 72.1HP & 50.15FT-LBS
Curb Weight: 425LBS
KTM 690 Enduro R
KTM initially released the first 690 Enduro back in 2008 (a year before launching the R-spec in 2009), though it wasn't until 2012 that the Ready To Race brand replaced the model's 654cc engine with a newly-designed 692.7cc LC4 mill that's become a staple of a platform in its lineup, utilized in a handful of other motorcycles from the Austrian outfit, as well as in Husqvarna's Vitpilen and Svartpilen 701 models. Dressed in unmistakably sleek and modern MX-style bodywork, the 690 Enduro R is a high-performance take on a dual-sport that's built around a powder-coated tubular chrome-molybdenum steel trellis space frame and outfitted with a host of top-shelf componentry and features. This includes WP XPLOR suspension, ride-by-wire throttle and multiple ride modes (including off-road, street, and rain modes), lean-angle-sensitive cornering and off-road ABS, a bi-directional quick-shifter, Brembo brakes, wheels with CNC-machined hubs and Mitas E07 tires, and a clever load-bearing 13.5-liter rear-located tank that doubles as the 690's subframe.
Seat Height: 35.83″
Style: Dual-Sport
Engine: Liquid-Cooled 692.7cc Single-Cylinder
Power: 74HP & 54.2FT-LBS
Curb Weight: 350LBS
Husqvarna 701 Supermoto
The Husqvarna 701 Supermoto is without a shadow of a doubt the most competent and high-end factory-made supermoto model currently available on showroom floors. Another top-shelf motorcycle built around KTM's tried-and-true LC4 engine platform — meaning it shares the same powertrain and power output as the 690 Enduro R seen above — Husky's 701 SuMo is an utterly exhilarating bike with razor-sharp handling, a svelte sub-350lb curb weight, and a set of black-anodized 17" street wheels shod in ultra-sticky Continental ContiAttack Supermoto rubber. On top of its towering 35" seat height, Husqvarna's Supermoto also comes outfitted with lean-angle-sensitive traction control and two-channel Bosch 9.1 MP ABS regulating four-pot Brembo stoppers, a TM Racing slipper clutch, a WP APEX 48 fork slotted in CNC-machined triples and paired with a matching WP APEX mono-shock with a Pro-Lever linkage, and one of the sleekest and most modern-looking bodywork designs of all time.
Seat Height: 35"
Style: Supermoto
Engine: Liquid-Cooled 692.7cc Single-Cylinder
Power: 74HP & 54.2FT-LBS
Curb Weight: 345.4LBS
Ducati Hypermotard 950 SP
In the early aughts, factory supermoto bikes were becoming increasingly popular. This prompted a slew of manufacturers to release factory-built SM-spec dual-sport models and inspired Ducati Motor to tap Pierre Terblanche to design the supermoto-themed sportbike known as the Hypermotard. Half sportbike and half dual-sport, this bonafide hooligan machine represents what is quite possibly the most fun and adrenaline-inducing motorcycles in history with a ridiculously potent, torquey, and at times license-jeopardizing engine that's backed by a full suite of state-of-the-art electronic rider aids and assists including Bosch Cornering ABS, Ducati Traction Control EVO, Ducati Wheelie Control EVO, multiple power modes, and a bi-directional Ducati Quick Shifter. Its 35" seat height means the Motard is largely reserved for taller riders, too. And, while the base model is admittedly a phenomenal bike, for an extra $4,100 Ducati sells the top-shelf S-spec which gains Ohlins suspension, forged Marchesini wheels, a unique livery, and a handful of carbon fiber components.
Seat Height: 35"
Style: Supermoto / Sportsbike
Engine: Liquid-Cooled 937cc L-Twin
Power: 114HP & 71FT-LBS
Curb Weight: 436LBS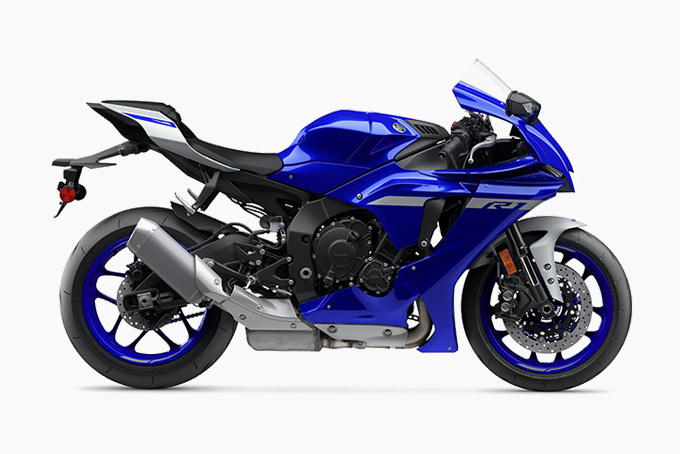 Yamaha YZF-R1
Yamaha's YZF-R1 is nothing short of a full-on race bike that just happens to possess a license plate, indicators, and a headlight. One of the most competent superbikes currently on offer, the R1 features an enormous number of parts and components that were derived directly from the Tuning Fork Company's factory MotoGP team, from the liter-sized cross-plane crank-equipped engine to its advanced frame to its unmistakable YZR-M1-inspired fairing and bodywork design. In typical superbike fashion, the R1 features a tall seat height paired with high-mounted rear sets and low-mounted clip-on handlebars that force the rider into an aggressive, attack-ready stance. This isn't the most comfortable of ergonomics setups — especially for daily commuting or touring — though it can accommodate taller riders — just as well as it does bikers that are more "vertically challenged" — and more importantly, puts its pilot into the right position to get a knee down in the corners.
Seat Height: 33.7″
Style: Superbike
Engine: Liquid-Cooled 998cc Inline-Four
Power: 200HP & 83FT-LBS
Curb Weight: 488LBS
Ducati XDiavel
Winner of a prestigious Red Dot Design Award, the Ducati XDiavel is both a more extreme version of the Italian manufacturer's regular Diavel model and a more conducive bike to taller riders. This is owed to a redesigned (and now exposed) trellis frame with a longer wheelbase that utilizes the retuned engine as a stressed member and the addition of forward controls. Despite sporting a slightly lower seat height, the revised ergonomics of the XDiavel allow the rider to comfortably stretch out over the bike in an upright seating position with their feet extending out to just under the Italian-made cruiser's 1,262cc L-Twin. In general, the Ducati offers a riding experience that's similar to a lot of other big-bore cruisers, albeit with noticeably higher performance and sharper handling. Aesthetically, however, the XDiavel is a far cry from your average cruiser bike, bestowing the classic low-slung genre of sled with q quintessentially exotic, Italian design language.
Seat Height: 29.7"
Style: Hyper-Cruiser
Engine: Liquid-Cooled 1,262cc L-Twin
Power: 152HP & 93FT-LBS
Curb Weight: 549LBS
The 8 Best Dual Sport Motorcycles
With their upright riding position and long-travel suspension, enduro models tend to make for stellar choices for taller riders. So, if you haven't found what you're looking for on this list, we suggest heading over to our guide to the best dual-sport motorcycles for an additional selection of bikes that are perfect for riders that are 6' or taller.