Following the island nation's defeat in the Second World War, Japan — along with the rest of the Axis nations — was banned from researching, developing, designing, or manufacturing aircraft for the better part of a decade. This forced seven-year hiatus would coincide with the rise of the jet engine, which allowed other nations to enter the modern age of air travel. As a result of Japan's best mechanics and engineers being prohibited from wrenching or working on airplanes, the country's sharpest minds focused their attention on the automotive and motorcycle realms. By the time the ban was lifted in 1951, Japan's aviation industry was years behind its competitors, prompting the country to double down on its efforts to be a global powerhouse in the road-going vehicles sector.
Having spent the last 75-years with its best and brightest mechanical minds tirelessly working away on developing chassis, suspension setups, and internal combustion engines, Japan is now able to deliver some of the most advanced and cutting-edge motorcycles on the planet, with extreme performance capabilities rivaled only by their almost otherworldly reliability. Since the introduction of the first production Japanese moto model in 1909, the island has produced an enormous number of utterly game-changing motorcycles such as Honda's CB750 in 1969 and Suzuki's GSX-R750 in 1985. And this grand tradition of churning out world-class two-wheelers has by no means wained in recent years, with the country unequivocally standing as one of the top producers of scoots on the planet. So, with this in mind, we've thoroughly pored over all available models from the island's four main manufacturers (or "Big Four") to bring you this guide to the best Japanese motorcycles.
Japan-Made Motos 101
The 10 Most Important Areas To Consider When Buying A Japanese Motorcycle
The factors to consider when purchasing a bike made by a Japanese brand are no different from the aspects that one should take into account when buying any type of motorcycle. Nonetheless, in order to help you narrow down your search, we've put together this condensed guide of the ten most crucial elements to think about when in the market for a new Japanese motorcycle.
Class & Intended Use: Whether buying a new or used motorcycle, your hunt for a new mount should always begin with considering your intended riding application(s), such as whether you plan on using the scoot for daily commuting, long-distance touring, or on and off-road riding. Using your intended use(s) as a jumping-off point, you can then start to narrow down your search by looking at models with traits and features that are conducive to your specific riding application(s).
Powertrain: As the heart of a motorcycle, its power plant is of extreme importance. When exploring engines, you'll want to be looking at displacement, the number of cylinders and engine configuration, the type of cam setup, the cooling system, the final drive system, and the fuel delivery system. Fortunately, three-quarters of a century of moto research and development has resulted in a contemporary market comprised of motorcycles with unparalleled reliability and solid performance, making it increasingly difficult to find a modern Japanese-made bike with a subpar engine.
Power Output: Bore, stroke, number of cylinders, configuration, and a myriad of other elements all come together to determine an engine's horsepower and torque output. When coupled with a motorcycle's curb weight (aka its mass when fueled up and ready-to-ride) these power figures give a much better sense of a bike's raw performance abilities. Lastly, horsepower and torque figures will also play an enormous role in a motorcycle's acceleration and top speed.
Size & Weight: The weight and dimensions of a motorcycle will also help give you a better sense of how it rides and performs. Heavier bikes will afford greater stability — especially at higher speeds — although the added bulk mitigates agility and handling. It's also worth noting that weight begets more weight, so a bike with a larger engine will also subsequently require a larger (and heavier) frame, bigger brakes, and more robust suspension — making them even heavier. It's also always worth checking on the seat height of any model you're considering.
Componentry: While a motorcycle's engine is responsible for making the thing move, a bike's braking and cornering abilities boil down to the components that it's equipped with. For this reason, you'll want to explore the suspension parts and braking hardware, along with other more minor but still important elements such as the rear-sets or foot-pegs, the handlebar (or clip-on) setup, lighting, and wheels. Aside from the engine, componentry plays a pivotal role in characterizing any given motorcycle and is also a tremendous area that separates today's most expensive motorcycles from more economical, budget-focused bikes.
Technology & Rider Aids: Over the last decade the motorcycle industry has seen some pretty enormous technological leaps being made in the form of state-of-the-art electronic rider aids and interventions. Initially developed and utilized in elite high-level motorsports before eventually trickling down to production models, these rider aids include wheelie, slide, and engine-braking control, cornering antilock brakes, and cutting-edge traction control and power delivery systems that help to keep the roughly 200 horsepower produced by Japan's most performance-focused models in check. Many of today's latest bikes also include full-color LCD or TFT displays, active suspension setups, and ride-by-wire throttle systems with multiple fuel maps (aka "ride modes").
Real-World Performance: Being armed with a given model's spec sheets will admittedly give a pretty decent sense of performance prowess thanks to figures such as power output, weight, and acceleration times, though at the end of the day there really is no substitution or replacement for first-hand riding experience. As such, we urge anyone and everyone to always test ride not only the specific model that you're considering but also other competitor's models in order to get a better sense of how a bike performs, as well as how it stacks up to the competition.
Rider Experience: With their sleek and aggressive appearances, it's not hard to see why so many people are attracted to high-performance late-model superbikes, though it's incredibly important to note that just because you can afford it and/or legally pilot it, does NOT mean that you should (or that it is in any way a good idea). In the same way, you probably wouldn't advise someone to learn to drive behind the wheel of a modern-day hypercar, we'd urge any rider not to attempt to begin their career on a full-size motorcycle, as these will not only be more dangerous, less forgiving, and harder to control but will also hinder your ability to grow and progress as a rider.
Price & Value: More so than the mounts produced in Germany, Austria, and Italy, the motorcycle's currently coming out of Japan tend to offer more bang-for-your-buck than their European-made counterparts, without having to sacrifice on performance. The sheer amount of motorcycle goodness you can currently get for $10,000 or less really is pretty astounding.
Aesthetics: Motorcycles are utilitarian tools built to function and serve a purpose. With that said, there's nothing wrong with being swayed by a bike's appearance, though this shouldn't be the guiding factor in your purchase and should take a backseat to the intended use (and rider experience). And, as important as a motorcycle's livery is to its overall aesthetic, you can always easily opt for a vinyl wrap that can be removed at any time (therefore not diminishing or hurting the value of the bike).
The Big Four's Best
Today's Greatest Production Japanese Motorcycles
Now that you're all caught up on how and why Japan became such a dominant force in the moto industry and you know what to look for when shopping, let's dive into our choices for the eight best motorcycles currently being produced in Japan.
Honda Rebel 300
First introduced in 1985, the Honda Rebel (or CMX) 250 is a pint-sized cruiser motorcycle that's long been an entry-level staple. In 2016, Big Red treated the Rebel to an increase in displacement and a complete visual redesign that resulted in a markedly more modern appearance. The 300's ultra-low 27.2" seat height, 365lb wet weight, and 58.7" wheelbase make for a fantastic city bike or daily commuter that's nimble enough to easily slip through traffic. Powered by a counter-balanced, liquid-cooled, and fuel-injected single-cylinder engine with a double-overhead-cam setup and equipped with a slipper clutch, the Rebel 300 is also offered in larger 500 (471cc) and 1100 (1,084cc) versions.
Style: Urban Cruiser
Engine: Liquid-Cooled 286cc Single-Cylinder
Power: 27.5HP & 20FT-LBS
Top Speed: 90MPH
Curb Weight: 364LBS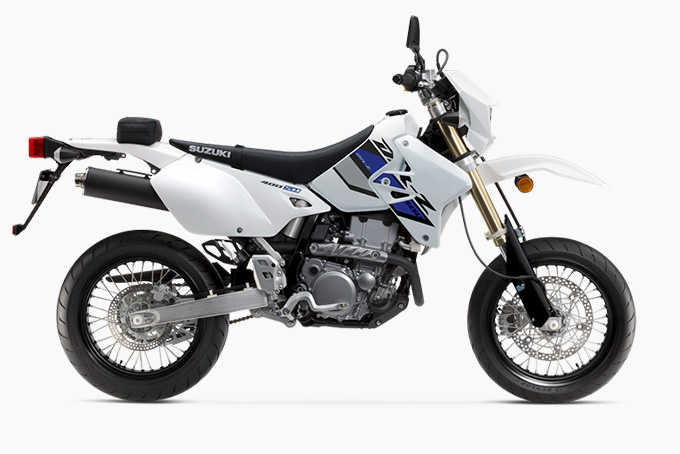 Suzuki DR-Z400SM
The Suzuki DR-Z400 is an immensely popular dual-sport model that initially hit the market just after the turn of the millennium, and has since enjoyed something of a cult status thanks to its solid performance, accessible price, and bulletproof reliability. In 2005, the Hamamatsu marque rolled out a factory-built Supermoto variant, bestowing the enduro bike with tighter adjustable suspension, a retuned liquid-cooled thumper, and a set of smaller wheels shod in sticky street tires. On top of making for a thrilling commuter option, the DR-Z400SM is incredibly versatile and can take on off-road riding with a simple swapping of the wheels and tires.
Style: SuperMoto
Engine: Liquid-Cooled 398cc Single-Cylinder
Power: 39HP & 29FT-LBS
Top Speed: 94MPH
Curb Weight: 322LBS
Kawasaki ZX-25R
Due to restrictions on engine displacement capped at 400ccs, the Japanese motorcycle market previously produced ultra-high-performance small-displacement multi-cylinder superbikes. And while those days are now far in our rear-view mirror, Kawasaki recently revived this style of JDM supersport with the debut of the ZX-25R. Unlike anything else on the market, this quarter-liter Ninja features a liquid-cooled inline-four that spins at up to 17,000RPM — for reference, that's about 2,000RPMs faster than a modern Formula One car. Despite its diminutive displacement, the 25R comes equipped with a host of top-shelf features that are typically reserved for high-dollar liter-sized models such as a slipper clutch, Kawasaki's adjustable electronic traction control system, a WSBK-derived chassis, and Showa's top-of-the-line Separate Function Fork – Big Piston fork.
Style: Supersport
Engine: Liquid-Cooled 250cc Inline-Four
Power: 43.5HP & 15.6FT-LBS
Top Speed: 117MPH
Curb Weight: 405LBS
Yamaha Tenere 700
First revealed in concept form as the "T7" at EICMA in 2016, Yamaha's Tenere 700 was unquestionably one of the most highly-anticipated models in recent years, shoehorning the MT-07's proven "CP2" parallel-twin engine into a purpose-built adventure bike platform. Unlike many of the adventure motorcycles currently on the market, the Tenere 700 doesn't just look the part and was legitimately engineered for hardcore off-roading. It's also probably worth mentioning that the T7 just happens to be the latest successor to the Yamaha XT500 — the motorcycle that was piloted to victory at the first two runnings of the now-legendary and infamous Dakar Rally.
Style: Adventure Bike
Engine: Liquid-Cooled 689cc Parellel-Twin
Power: 72.1HP & 50.15FT-LBS
Top Speed: 130MPH
Curb Weight: 452LBS
Yamaha YZF-R6
Prior to the global recession in 2008, the 600cc race-replica supersport class was one of the most popular segments in motorcycling, prompting manufacturers to invest in major model updates every few years. In 2006, Yamaha released a new version of the YZF-R6 that is about as close to perfect as a bike can get. As such, aside from the addition of newly-designed bodywork and some modern rider aides in 2017, the current R6 remains almost identical (from a mechanical and engineering standpoint) to the 2006 model — which again, was damn-near perfect. The R6 admittedly isn't a very practical daily rider or urban bike, though it is without a shadow of a doubt the most potent and competent track weapon across the entire mid-sized supersport class.
Style: Supersport
Engine: Liquid-Cooled 599cc Inline-Four
Power: 118HP & 45.5FT-LBS
Top Speed: 163MPH
Curb Weight: 419LBS
Kawasaki Z H2
Despite being commonplace in the automotive world, forced induction powertrains haven't really been present on motorcycles, at least not since the motorcycle "Turbo Wars" of the 1980s. This changed with the introduction of Kawasaki's supercharged Ninja H2 in 2015. While undeniably a watershed model, the H2's $29,000 MSRP made it accessible only to an elite few. So, needless to say, it came as major news when Team Green announced it would be releasing a more economically-priced naked version of the supercharged-equipped superbike with the Z H2. In addition to an output of more than 100ft-lbs of torque and 200hp, other highlights on this model include electronic cruise control, multiple power modes, Kawasaki Cornering Management Function, launch control, smartphone connectivity, a slipper clutch, and top-shelf Showa suspension including the brand's SFF-BP fork.
Style: Naked
Engine: Supercharged Liquid-Cooled 998cc Inline-Four
Power: 200HP & 101FT-LBS
Top Speed: 163MPPH
Curb Weight: 527LBS
Suzuki Hayabusa
A decade after the so-called "Turbo Wars," the motorcycle industry played witness to what was dubbed the "Speed Wars," a brief period in which manufacturers prioritized increasingly hair-raising top speeds above all else. Kawasaki's ZX-12R was one-upped by Honda's Blackbird before Suzuki claimed the throne in 1999 with its Hayabusa (the Japanese word for "Peregrine Falcon," a bird that literally preys on Blackbirds). Since its release, the 'Busa has stood as a moto icon and a bonafide cult classic, praised for its stability and top speed. In early 2021, Suzuki unveiled the latest generation of the GSX-1300R, giving the 1.3L sport-tourer a complete visual redesign, a new chassis, and a robust suite of technology, connectivity, and rider aids.
Style: Sport-Tourer
Engine: Liquid-Cooled 1,340cc Inline-Four
Power: 187.74HP & 110.6FT-LBS
Top Speed: 186MPH (Electronically Limited)
Curb Weight: 582LBS
Honda CBR1000RR-R Fireblade SP
For the first decade of the new millennium, Honda was the brand to beat in the literbike class, though after 2010, the brand's superbikes grew increasingly long in the tooth. Using lessons and components derived from their world-famous MotoGP team — which has won seven Premier Class titles since 2011 — Honda has undeniably returned to form with the launch of its completely redesigned CBR1000RR-R Fireblade SP. This state-of-the-art homologation special is the epitome of a cutting-edge superbike, putting down almost 190hp, sporting sleek bodywork equipped with aerodynamic, downforce-generating winglets, and an advanced electronics suite of rider aids. While it might not come cheap, the CBR1K Triple R is one of the fastest motorcycles currently in production, with a top speed that exceeds 186mph (though the speedometer cuts off after said speed).
Style: Homologation Special Superbike
Engine: Liquid-Cooled 999cc Inline-Four
Power: 189HP & 83FT-LBS
Top Speed: 186MPH+
Curb Weight: 443LBS
The 12 Best Motorcycles You Can Buy Off The Lot
Interested in checking out a larger list of two-wheelers that aren't limited to models produced in Japan? Then be sure to head over to our guide to today's best motorcycles you can buy off the lot for a dozen late-model mounts from across every segment on the market.