Aug 16, 2019
Category: Rides
Motorcyclists are an interesting breed; they live for the weekend journey, yearn for the open road, and spend their lives atop powerful, two-wheeled beasts that wouldn't pass a second glance when it came to their personal safety. Yet, there's something about the freedom of these machines that continues to draw multitudes of individuals into the fray.
Whether you're an adrenaline junkie who's looking to burn some rubber after a hard day's work or an aspiring traveler who feels more at home on the open road than, well, your own home, there are a few vehicles that can fit your needs like a touring motorcycle. These large, cumbersome platforms were built for smooth handling, seamless performance, and easygoing cruises down the most prolific roadways on earth. These days, however, there are far too many viable machines to choose from, let alone ride. So, to make things a little easier, we've decided to create a guide to our favorite variants from 2019, and give you an inside scoop as to why they're the best touring motorcycles around.
Triumph Tiger 1200
The Triumph Tiger 1200 is a powerful tourer that's comfortable both on and off the road, making it a force to be reckoned with when it comes to capable performance. At 1200cc, this shaft-driven triple is no slouch in the power department and offers riders a healthy mixture of lightweight technicality, adaptable power options, and sleek aesthetics to keep owners on edge. You're able to choose between six different riding modes that have been tailored to specific styles of riding, calling upon the bike's modest 140-horsepower engine to help you traverse everything from rugged terrain, to smooth city streets.
Engine: 1200cc, Liquid-cooled, In-line 3-cylinder
Transmission: 6-Speed
Weight: 534 lbs
Fuel Capacity: 5.2 gallons
BMW R 1250 GS
BMW's R 1250 GS is still relatively young, but since its introduction in 2018, it's become a favorite within the touring community. Not only does the bike call upon the spectacular lineage of the company's lauded GS Dual Sport lineup, but it also introduces an improved experience over its predecessor, the R1200, which was one of the industry's best-selling variants in 2017. The GS line was so popular that it's become a staple of the touring community, garnering fans and followers from around the world; so, to revamp the iconic series, BMW introduced a new bike with improved ShiftCam technology, brake systems, and software components. At 1254cc, this 136-horsepower monstrosity has no qualms breaking free of its tame, road-faring facade; but quality-of-life improvements like an open-air audio system, redefined bodywork, and contemporary styling have helped to truly set the bike apart from its competitors.
Engine: 1254cc, Air/Liquid-cooled, 4-stroke flat twin
Transmission: 6-Speed
Weight: 549 lbs
Fuel Capacity: 5.3 gallons
KTM 1290 Super Duke GT
It comes as no surprise that KTM's Super Duke has graced our list; after all, the 1290cc powerhouse is a definitive example of what a touring cycle should be. But this well-rounded superbike owes its success to more than just a prolific brand name — it's got the performance figures to back it up. It's based on the company's track-ready "Beast," and garners massive amounts of power at higher RPMs. In the same light, the Super Duke GT feels right at home at when it's dialed down, offering smooth handling, a calm composure, and reliable mechanical operation at lower speeds. If you're one for adrenaline-inducing speed, however, the KTM can't be beaten. It was even tested by Michael Rutter on the Isle of Man Mountain Course — and, needless to say, it outperformed nearly every other model that's available today.
Engine: 1301cc, LC8 V-Twin
Transmission: 6-Speed
Weight: 497 lbs
Fuel Capacity: 6.1 gallons
Ducati Multistrada 1260
No list would be complete without the inclusion of Ducati, and the Multistrada 1260 is the perfect catalyst for the company's admittance into our guide. As one of the most revered performance bike manufacturers on the planet, Ducati has earned a certain reputation among motorcycle enthusiasts — most notably, the sport-oriented crowd — for its ambitious displacements, technical prowess, and exceptional handling. Luckily, the cumbersome Multistrada doesn't stray far from the company's successful formula and offers riders a refined experience that isn't devoid of the manufacturer's rambunctious spirit. At 158 horsepower, there's no reason why the bike wouldn't steal the show on your favorite roadways, especially with its sporty, futuristic aesthetic, an improved Skyhook Suspension (DSS) Evolution system, and versatile ergonomics.
Engine: 1262cc, Liquid Cooled, L-Twin Cylinder
Transmission: 6-Speed
Weight: 461 lbs
Fuel Capacity: 5.3 gallons
Honda Gold Wing
Honda's Gold Wing motorcycle needs no introduction. As one of the most successful touring bikes to ever grace the industry, this staple platform has helped to set the bar for comfortable rides, intuitive operation, and steady use, making it a must-have on many a rider's bucket list. The Gold Wing is a true touring bike, offering adequate wind protection, articulate handling, and dependable automatic shifting, which allows users to focus on the beauty of the journey, instead of a complex operation. To shave weight from the model, as well as improve its handling, Honda opted to reduce the overall size of the bike for its 2019 release, making it impeccably agile in tight corners, expansive straight-aways, and curvy mountain roads.
Engine: 1833cc, Liquid Cooled
Transmission: 6-Speed + Overdrive
Weight: 787 lbs
Fuel Capacity: 5.55 gallons
Harley Davidson Electra Glide
Harley Davidson has been a mainstay within the motorcycling community for quite some time, and with various types, variants, and styles under constant renovation by the brand, it's no surprise to see one of the industry's finest touring bikes with their purview. The Electra Glide is one such cycle, offering riders an excessively powerful Milwaukee-Eight 107 engine that boasts a 1,746cc displacement, 111 ft-lb of torque, and Electronic Sequential Port Fuel Injection. If you're looking for an All-American cycle that's been popularized on the country's most iconic roads, you'll be hard-pressed to find one as aesthetic as the Electra, which harkens back to the company's time-tested past.
Engine: 1746cc, Pushrod V-twin
Transmission: 6-Speed + Cruise Drive
Weight: 877 lbs
Fuel Capacity: 6.0 gallons
Yamaha Venture Transcontinental
Yamaha's Venture Transcontinental is defined by its beautiful-sounding V-Twin, exceptional power delivery, and smooth traversal, courtesy of the bike's 1,854cc engine. But, what makes the cycle special is the inclusion of the company's expansive quality-of-life catalog, which includes heated seats and mirrors, Bluetooth capabilities, Sirius XM integration, and high-end speakers for gratuitous road use. It sports two different alternators to power everything from dual-zone audio, fog lights, and an integrated security system, all the way to the large, centralized screen behind the bike's fairing, giving riders the ultimate in experiential riding characteristics. With such a large silhouette, you'd think that the Venture would be relatively sluggish on the roadway — but, thanks to the bike's smooth torque delivery, seamless belt drive, and aerodynamic curvature, it handles like a dream for everything from common commutes, all the way to long-winded weekend getaways.
Engine: 1854cc, Air-cooled, OHV V-twin
Transmission: 6-Speed
Weight: 957 lbs
Fuel Capacity: 6.6 gallons
Indian Roadmaster
Indian's Roadmaster was once one of the industry's quintessential offerings, providing riders with market-leading power, exceptional handling, and an aesthetic that quickly became synonymous with America's most prolific tourers. After the company came back to the market under the umbrella of Polaris, it decided to revitalize its lineup with contemporary motors, cutting-edge components, and newly-devised design principles. Now, the Roadmaster is back with even more gumption than before, offering riders a powerful 1,811cc displacement, closed-loop fuel injection, and 119 ft-lb of torque for smooth acceleration throughout a variety of different terrains. But the bike doesn't live and die within its performance-oriented realm; it also offers the latest and greatest technologies when it comes to navigation, powertrain statistics, sound, and capable quality-of-life additions. Better yet, it provides one of the most comfortable rides around.
Engine: 1811cc, Thunder Stroke 111
Transmission: 6-Speed
Weight: 888 lbs
Fuel Capacity: 5.5 gallons
The 8 Best Dual Sport Motorcycles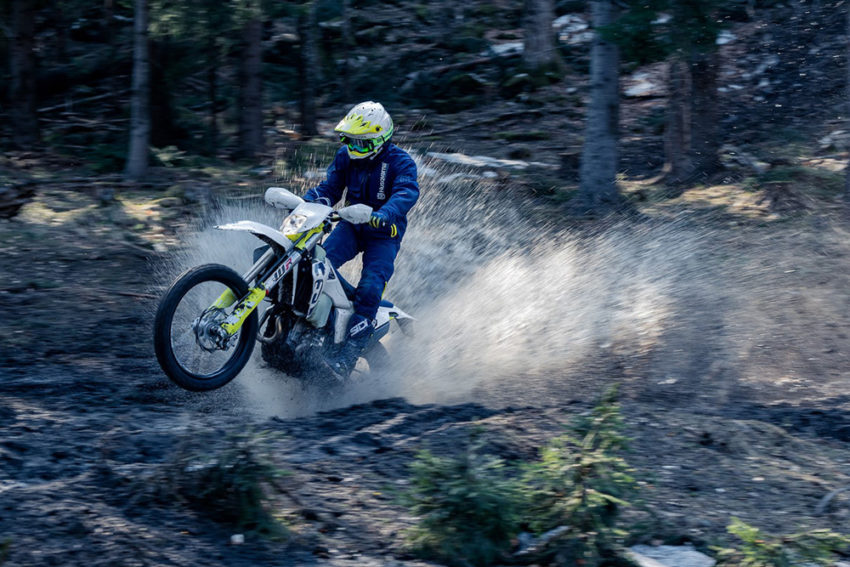 If you're infatuated with the freedom of motorcycling, but don't want to be confined to the blacktop, head over to our guide on the best dual sport motorcycles for a look into our favorite on/off-road machines.
HiConsumption is reader-supported. When you buy through links on our site, we may earn an affiliate commission. Learn more