As an avid motorcyclist, it's glaringly obvious that not every bike comes outfitted for off-road use. Aside from dirt-oriented cycles, the market for trail-ready platforms has remained relatively isolated from the rest of the industry's road-faring examples, making it harder than ever to buy a bike that can compete on and off the blacktop. Luckily, manufacturers came up with the dual-sport genre — a series of cycles that blend the best aspects of street-savvy commuters with the reinforced components of their off-road counterparts.
Finding a bike that can traverse both the city and the mountain can be moderately difficult, especially if you're picky when it comes to the performance and feel of your everyday commuter. However, in recent years, the motorcycling industry has taken great strides toward the unison of off-road-ready cycles with the characteristics of the street-ready moto, implementing aggressive styling, capable engines, and enhanced suspension systems to create the quintessential platform for trail and road use. Below, we'll outline the best dual-sport offerings you can buy right now; so, unless you're ready to take your everyday commuter to the next level, proceed with caution.
Our Picks
Twist The Throttle
Kawasaki KLX250
Kawasaki's KLX250 is a great beginner's bike — it's so well-rounded, in fact, that it's found its way onto our list of the best Dual Sport motorcycles despite being one of the smallest displacement options available. But, that doesn't mean it's short on performance; the plush platform is as dependable as they come, thanks to Kawasaki's commitment to exceptional architecture, and features an elaborate suspension system that garners up to 10-inches of travel in the front. In the rear, you'll be treated to a gracious 9.1-inches of travel, complementing the bike's 11.2-inch clearance, overall. Oddly enough, the KLX250 reigns supreme as the brand's largest dual-sport cycle, making it an attractive proposition for diehard Kawa fans. And to make things even better, this capable moto is insanely affordable, meaning you'll be able to spend the rest of your hard-earned money on additional trips, gear, and maybe even a second platform.
Engine: Single-Cylinder, DOHC, Four-Stroke
Displacement: 249cc
Fuel Capacity: 1.9 gallons
Yamaha WR250R
Yamaha's WR250R is a definitive example of the manufacturer's dominant reputation, boasting a powerful but well-balanced mixture of the company's WR off-road and YZ motocross platforms. As you can imagine, the WR250R is quite the powerhouse, implementing a race-oriented architecture and capable off-road qualities like 10.6-inches of travel, a fully-adjustable front fork, and linkage-mounted shock to the company's dependable chassis. Here, you'll find that the implementation of Yamaha's semi-double-cradle frame, alongside a slew of trail-savvy components that make the bike the perfect all-arounder for beginners, and pros alike.
Engine: Liquid Cooled, DOHC, Four-Stroke
Displacement: 250cc
Fuel Capacity: 2.0 gallons
Suzuki DR-Z400S
Suzuki's DR-Z400S isn't exactly new to the market, but with 15+ years of time-tested use on backtrails, mountains, and city streets, the platform has all the chops it needs to compete with the industry's best dual-sport cycles. Since the bike's first production run in the early 2000s, not much has changed in the way of architecture, meaning that its dependable chassis, heightened suspension, and 398cc carbureted engine are still among the best in the world. As contemporary platforms become more and more nuanced, Suzuki's minimalist approach to their flagship dual-sport is a breath of fresh air — reminding us that sometimes, the shiniest model isn't always the most fun.
Engine: Liquid Cooled, DOHC, Four-Stroke
Displacement: 398cc
Fuel Capacity: 2.6 gallons
Zero FX ZF3.6
Speaking of nuanced cycles, let's talk about the next bike on our list: the Zero FX ZF3.6. This electric dual-sport cycle is an absolute powerhouse, and thanks to its aggressive styling, body panels, and suspension, it's secured a place on nearly every moto-oriented list for 2019. In terms of power, the FX can stand up to any 450cc bike with ease, thanks to a small, modular battery system that can be swapped on-the-go. Selectable riding modes let you choose between performance, commute, and offroad-oriented power dispersal, ensuring that no matter where you are, you'll be prepared to take on whatever's around the bend.
Engine: NA (Modular Battery Technology)
Displacement: NA (20 kW/27HP)
Fuel Capacity: NA (3.6 kWh Battery)
Honda CRF450L
Honda's CRF450L is touted as one of the most well-rounded dual-sport bikes in the industry, and the company's fan base couldn't agree more. This street-legal cycle boasts a powerful architecture, enhanced suspension systems, and great looks, making it a valued platform among the motorcycle community. A fully adjustable front and rear Showa suspension system, 12.4-inches of ground clearance, and over 37 road-ready horses catapult the bike into the limelight as one of Honda's most capable variants, while also proving that the company can stand up to the industry-leading platforms offered by their more "experienced" contemporaries.
Engine: Liquid Cooled, Unicam OHC, Four-Stroke
Displacement: 449cc
Fuel Capacity: 2.01 gallons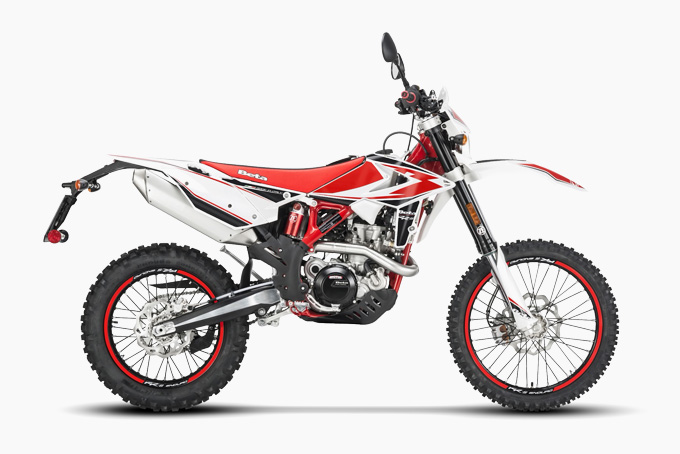 Beta 500RR-S
KTM has had a long reign as the king of off-road dual-sport cycles, but as of late, they've seen an emergence of worthy competitors who are primed to take the crown. Beta's 500RR-S is one such example. Boasting the largest displacement of the company's four cycles, the 500RR-S is no slouch when it comes to top-end performance components, with the implementation of Sachs ZF forks, fuel injection, a six-speed transmission, and a Trail Tech Voyager GPS that'll keep you on track as you navigate the world's most adversarial terrain. Better yet, the Beta 500RR-S claims to be one of the lightest variants on the market, thanks to its featherweight 247-pound orientation.
Engine: Liquid Cooled, Single-Cylinder, Four-Stroke
Displacement: 478cc
Fuel Capacity: 2.0 gallons
Husqvarna FE450
Husqvarna's legendary off-road cycles are a staple of the dual-sport community, and the FE450 is no exception. As the perfect middle ground platform in the company's long-running FE line, it boasts a capable composite subframe, Magura brakes, and hydraulic components that keep it running strong for extended periods of use. The addition of a specialized linkage between the shock and chassis helps to set it apart from the brand's other offerings, making this well-endowed romper a force to be reckoned with while out on the trail. Like its other FE contemporaries, the FE450 utilizes the company's dependable WP fork and shock, a larger bore and stroke, and the trusted oversight of KTM's finest technicians, bolstering its image as one of dual-sport motorcycling's premier platforms.
Engine: Single-Cylinder, Four-Stroke
Displacement: 450cc
Fuel Capacity: 2.25 gallons
KTM 690 Enduro R
Throughout the history of dual-sport, one company has reigned supreme — and as we move into the future, the standard for alternative off-road cycles has been continually raised, thanks to its influential presence. The outfit we're referencing is KTM, a generational manufacturer that's helped to define the genre of off-road and dual-sport racing, while innovating on the industry's most prolific platforms. The 690 Enduro R, for example, has remained one of the most capable cycles every created, with upgrades like a twin-plug ignition, ride-by-wire, and an updated single-cylinder LC4 engine that produces around 67 horsepower. A unique trellis frame and off-road knobby tires ensure the bike is prepared for anything — and with years of knowledge in the medium, you can be sure that KTM's exemplary platforms will continue to raise the bar for dual-sport platforms everywhere.
Engine: Single-Cylinder, Four-Stroke
Displacement: 690cc
Fuel Capacity: 3.2 gallons
The Best Motorcycle Rain Gear
If you're planning to head out on an adventure with your brand new dual-sport, head over to our guide on the best motorcycle rain gear to ensure that you're ready for inclement weather.