There are a few pieces of EDC gear we believe everyone should carry with them at all times. And that core group includes things like a wallet, keychain, flashlight, and — of course — a knife. Of course, not everyone has the ability to carry nor the room for a full-sized everyday carry blade. Still, it's an essential enough tool that we think finding alternative options is almost a necessity for those who can't reasonably haul a dedicated full-sized knife.
Thanks to some clever design and engineering, however, carrying a knife can be as easy as carrying your keys on a keychain. That's because there are numerous makers and brands out there that have crafted miniature versions of folding blades small enough to attach to even the most crowded of keyrings. Aptly dubbed keychain knives, these tiny titans offer the cutting power of their larger brethren in a package so compact, it's actually quite difficult to come up with excuses as to why you wouldn't want to carry one. We've rounded up 15 of our favorites on the following list of the best keychain knives for EDC.
The Benefits Of A Keychain Knife
Smaller Is Better
While not for everyone — especially if you've got room in your EDC loadout for a full-sized knife or you require a heftier performance-focused hard-use cutting tool — keychain knives are a superb alternative when space-saving is necessary. They're often a fraction of the size of their standalone siblings, made to fit on a keyring alongside your keys and any other keychain accessories you might own. And many of them offer plenty of cutting power, at least enough for typical daily tasks.
This is not their only benefit, however. You see, keychain knives — while superb as space-saving tools — are also a good deal more discreet than their larger counterparts, they tend to have fewer legal implications (larger knives, especially with automatic deployments, are often restricted or entirely illegal to carry), they're extremely lightweight (a byproduct of their compactness), and much more. If you're limited on space, you're not confident in your desire to carry a dedicated standalone blade, or you're just trying to minimize your carry as much as possible, a keychain knife is a difficult tool to beat in every regard.
Kershaw Cinder
Typically, budget-friendliness and quality don't always go hand-in-hand. Thankfully, Kershaw — the spectacular knifemaking brand — is basically always an exception to that. That's certainly true with their ultra-inexpensive Cinder keychain knife, which boasts a 3Cr13 stainless steel blade, glass-filled nylon scales, and a handy integrated bottle opener. Of course, that's fair and to be expected coming from a knife designer as spectacular as Rick Hinderer. For the price, this tiny titan is a spectacular value proposition.
SOG Brass Key Knife
As previously mentioned, discretion is one of the primary benefits of carrying a keychain knife. And perhaps nowhere is that more true than in the SOG Brass Key Knife. You see, when folded, this knife looks like just another key on your keychain carabiner. But it opens up into a fairly formidable folding tool boasting a 5Cr13MoV blade with a nail nick for easier deployment, a brass handle, and it even has an integrated lockback. If you want to carry a knife without looking like you're carrying a knife, go no further.
Opinel No. 4 Keychain Knife
Opinel has been crafting some of the most iconic pocket knives of all time for longer than a century. And while they offer a full catalog of full-sized (and even oversized) folding blades, they also offer the ultra-compact No. 4 you see here. It still boasts the same instantly-recognizable silhouette, Sandvik steel blade, and beechwood handle, but it's so small you can attach it to even the most crowded of keychains. The only downside: it doesn't include the brand's signature Virobloc Safety Ring — but that's the price you pay for compactness.
Gerber GDC Zip Blade
The Gerber GDC Zip Blade has been a mainstay of the keychain knife industry for a long time and doesn't look to be going anywhere soon — which can be credited largely to its extremely compact silhouette. In fact, its blade measures up at only 0.68 inches in length and the whole thing opens up to just 1.7 inches total. Yet the stout Wharncliffe blade ensures that it still has plenty of cutting power, despite its incomparably compact silhouette.
Victorinox Classic SD Swiss Army Knife
Almost no everyday carry knife best-of list would be complete without the addition of a Swiss Army Knife. And that rings true for this keychain knives article, as well. Small enough to stash on any keychain, available in far more colorways than any other offering around, and with a trio of useful tool inserts (a knife, scissors, and file), this SAK is an almost unbeatable keychain EDC multi-tool. And truly, no knife collection would really be complete without one (or at least one of its siblings). If you're a true EDC enthusiast, there's a good chance you already own a SAK. If not, the time is now.
Spyderco Bug SS Mini
Spyderco makes some of the most recognizable everyday carry and tactical folding knives around. Turns out, they also trade in one of the best keychain knives around — found in their Bug SS Mini you see before you. Completely free of extraneous detailing, this fully stainless steel folder is only about the size of a pinky finger, but still boasts all the quality and functionality we've come to expect from Spyderco. That includes a 3Cr13MoV leaf-shaped blade (complete with the brand's signature thumb hole), a slipjoint mechanism for a bit of security in and out of use, and more. Measuring up at just 2.875″ in total, this is one of the best ultra-compact keychain knives around.
Gerber Key Note
There's certainly something to be said for stout bulldog blades, like the one upon Gerber's Key Note keychain knife. They're small, sure, but they're also sturdy and good for even tougher cutting tasks as a result. This particular knife also doubles as a scraper, it has a liner lock for better security in use, and lightweight aluminum scales that are also durable and tough in their own right.
Buck Knives 0425 MiniBuck
The Buck Knives 101 Hunter is one of the most influential and important folding knives of all time. And while it's fairly compact, it definitely doesn't compare to the size of most keychain knives. Thankfully, the American knifemaking brand has pared that iconic design into their 0425 MiniBuck — which boasts a stout 420HC steel drop point blade, a lightweight Valox handle, and still has a sturdy lockback for added security when in use.
Cold Steel Micro Recon 1
Proof positive that some of the best tactical knives can be repurposed into more compact EDC-friendly options, Cold Steel has turned their iconic Recon 1 into a Micro edition keychain folder. What's even more impressive is that they haven't even had to compromise on the original construction. It still boasts a black-finished AUS 8A stainless steel blade, Griv-Ex Style G-10 handle scales, a back lock, and even jumping on the handle for better grip.
Everyman Porter Key Knife
While it doesn't have all the bells and whistles of some of its competition, the Everyman Porter Key Knife has perhaps the most discreet silhouette of all the knives on this list. The same size and shape as a standard key, this knife scissors open to reveal its 1.2″ 3CR13 stainless steel blade, an integrated bottle opener, and it even comes with a stainless steel keyring cable. For those who want to carry a blade but desire the most discreet format possible, this is it.
Boker Plus CLB Keycom
Designed by Chad Los Banos, the Boker Plus CLB Keycom looks a lot like a full-sized folder — if it weren't for the attached keyring, that is. And the truth is it functions much like a knife twice its size, thanks largely to its unique hybridized wharncliffe-clip point blade. Furthermore, it includes an FRN scale on one side of the handle for good grip while the other side boasts a stainless steel frame lock. And that makes this knife sturdier than a lot of its brethren and gives it the ability to punch well above its weight class.
Quiet Carry Bandit
Measuring up at just 3″ overall and with a silhouette and styling sure to please anyone with a flair for minimalism, the Quiet Carry Bandit is aptly named for its ability to blend in amongst your other keychain items, only coming out to play when you need it most. Pair that with a reliable and easy-to-maintain AUS-8 steel blade and sturdy titanium handle (complete with a lockback) and this keychain knife is a bargain even at its $40 price point.
StatGear Pocket Samurai
Let it be said that style is always an important factor to consider when choosing an everyday carry knife. That doesn't change a lick when you're seeking a much smaller keychain-friendly option, either. And if you happen to be a fan of Japanese culture and style, then you're sure to find something you like in StatGear's aptly-named Pocket Samurai. Made to look like a traditional katana sword, this knife has a 440C stainless steel tanto blade, titanium handle, frame lock, and somehow manages to clock in at less than an ounce in weight.
WESN Microblade
Exclusive to Gallantry, this all-black version of the WESN Microblade is an exceptional high-end folder with a minuscule footprint perfect for keychain carry. Both the AUS-8 blade and titanium frame lock handle boast a sturdy and durable PVD coating, it weighs just one ounce in total, and it measures up at 3.75″ when open. You might be skeptical spending $60 on a keychain EDC knife, but we promise: with this one, you will absolutely not be disappointed.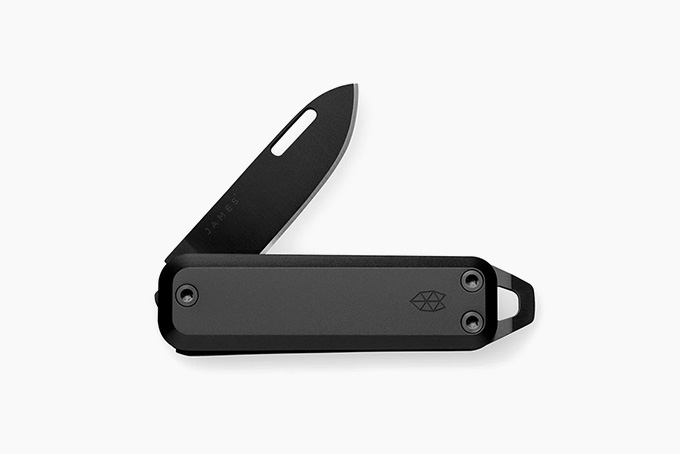 The James Brand Elko
Seventy dollars is a lot to ask for a knife that measures up at just 4.33″ when deployed, but if any brand can make sense of it in quality and style, it's The James Brand. Their Elko is, without a doubt, one of the best folding knives around today — keychain-sized or otherwise. With a Sandvik steel blade, aluminum handle scales, a slipjoint mechanism, and ultra-clean minimalist styling, this is a tool that begs to be both used and shown off.
The 10 Best Keychain Chargers For EDC
It's easy to keep your tech all charged up and ready to go, so long as you cater your everyday carry to that task. Thankfully, it's made even simpler, so long as you haul around one of the best keychain chargers for EDC.