For about as long as people have been wearing watches on their wrists, they have been wearing them on leather straps. And it's not hard to understand why. Leather is a natural material that is beautiful, classic, and gets better with age. Heck, it even smells great. But for roughly three months out of the year (more or less, depending on where you live), leather straps are not the best choice for your watch. In fact, they may be the worst. Leather doesn't breathe, and in hot weather, the material will turn your wrist into an uncomfortable and sweaty hellscape. Thankfully, there are plenty of alternatives available, which we have compiled in this guide to the best summer watch straps.
Best Summer Watch Straps
Best NATO Strap

Crown & Buckle Supreme NATO Strap

Best Perlon Strap

Eulit Perlon Baltic Strap

Best Budget Rubber Strap

StrapCode FKM08

Best Overall

Christopher Ward Hybrid Rubber Strap

Best Racing-Style

Original Tropic Strap

Best Leather Alternative

Artem Sailcloth Watch Strap

Best for Military Watches

Erika's Originals MN

Best Stainless Steel Bracelet

Forstner Rivet Bracelet With Stretch Links

Best Rubber Strap

Isofrane Dive Watch Rubber Strap

Best Mesh Bracelet

Staib Satin Finish Heavy Mesh Bracelet
How to Pick a Summer-Ready Watch Strap
There are a few things that the best watch straps for summer should do for you. First and foremost, they should breathe well and keep you cool. The inability to do this is leather's biggest drawback, and it's something that's accomplished far better by a multitude of other materials. Secondly, your summer watch strap should be waterproof — another feature that is lacking on most leather straps. Summer often means swimming and other water-related activities, but even if you're pool/lake/ocean-averse, you're still going to sweat in the summer, so a waterproof strap is a must. Finally, and this is optional, but a summer strap should be fun. Summer is a time for laying back and letting loose, and adding a colorful watch strap to your rotation between Memorial Day and Labor Day can really aid you in doing both. So have a look below to find out what kinds of materials to look for in a summer watch strap, and then see our picks for the best.
Types of Summertime Straps
When it comes to summer watch straps, you have no shortage of great options. Whether you're a fan of traditional rubber, a tactical NATO, or trendy steel mesh, all of them have something to offer when the mercury rises.
Rubber: The first choice for many watch enthusiasts in the summertime is a trusty rubber strap, thanks to its natural resistance to sweat and water. There is a wide range of rubber straps available, and not all are created equal. Some are stiff and require a significant break-in time, while others are soft and flexible right out of the box. Rubber straps come in many different formulas as well, each with its own strengths. Silicone and natural rubber offerings are affordable and soft but can be less durable, while vulcanized rubber and Fluoroelastomer are extremely resilient but expensive. Ultimately, how you'll use your strap will determine which material you should choose.
Nylon: Nylon is another go-to summer strap material thanks to its smooth feel, low weight, and breathability. Most frequently seen in single-pass NATO straps, nylon is also used in various two-piece straps as well, most notably in the braided strap style known as perlon that offers supreme ventilation and a 100% custom fit. Like rubber, not all forms of nylon are created equal. When it comes to NATOs, you should look for high-quality nylon — sometimes called "seatbelt nylon" — as it will feel much silkier and softer on the skin than lesser formulas. But just about any NATO or perlon nylon will not be 100% waterproof and will take some time to dry if you get it wet, so if you plan on taking your nylon strap swimming, opt for one made from a 100% waterproof nylon, like Cordura.
Canvas: A bit of a dark horse when it comes to strap materials, canvas certainly doesn't get as much play as either rubber or nylon. But it shouldn't be dismissed. Canvas straps often show up on field watches and other tactical-style timepieces due to their rugged durability, but there is another type of canvas strap that is particularly tailored to summer wear: sailcloth. Sailcloth straps are made from the same type of canvas as boat sails, giving them a bit of nautical history to go along with their renowned hard-wearing durability and resistance to saltwater damage. Sailcloth straps also make for a dressier option than rubber, NATO, or perlon straps, but make sure not to pick one up with a leather lining, as this partly negates sailcloth's effectiveness as a warm-weather material.
Stainless Steel: Finally, we have a strap material that your watch probably already came equipped with out of the factory. While your OEM stainless steel bracelet is definitely a better warm-weather option than a leather strap — especially if it has a quick-adjust clasp to allow for heat-expanding wrists — it's usually not the best option. That's because sweat can easily get in between your links and make for a grimy mess, and bracelets also have the tendency to leave their mark on you — literally — when the weather turns warm. But that's not the case with steel mesh bracelets. Whether you go for a dressy Milanese or a diver-approved shark mesh, stainless steel mesh bracelets are an excellent choice for hot weather, as they arguably offer the best ventilation of any type of strap along with the inherent coolness of their metal construction. The drawbacks are that they can be quite pricey, and not everyone is a fan of the way they look.
Crown & Buckle Supreme NATO Strap
Pros
Lots of color/pattern options
Stainless steel buckle
Soft against skin
Cheap
Cons
Website doesn't organize plethora of strap options well
Best NATO Strap: There are certain features you want to look for in a good NATO strap. You want quality reinforced stitching that isn't going to fray. You'll need smooth and soft nylon that isn't abrasive and feels good against the skin. And you'll want rugged and well-finished stainless steel hardware. Crown & Buckle's fan-favorite Supreme NATO offers all of those things while also looking amazing and boasting a competitive price.
Material: Nylon
Size Options: 19mm to 22mm
Eulit Perlon Baltic Strap
Pros
Very comfortable
Cheap
Water- and grime-resistant
Cons
Only available in 18mm or 20mm
Best Perlon Strap: While perlon straps are renowned for their softness, comfort, and tailored fit, their greatest asset may be their affordability. There aren't really any luxury perlons on the market, which means Eulit's ~$30 offerings are about as good as it gets. The German-made straps feature exquisite braiding along with a proprietary surface-sealing treatment that resists water, grime, and sweat — the mortal enemies of lesser perlons that often quickly become soiled and discolored.
Material: Perlon nylon
Size Options: 18mm to 20mm
StrapCode FKM08
Pros
Waterproof
Stainless steel buckle
Lightweight
Best Budget Rubber Strap: In recent years, high-end rubber straps have become more of a presence on luxury watches, and they often sell for hundreds of dollars — and that's if the brand even offers them separately. For a more affordable alternative, these straps from StrapCode are definitely worth a look. Made from the same Fluoroelastomer (FKM) as the straps of many luxury brands, these soft and durable straps offer a luxe look and feel without the high price tag.
Material: Fluoroelastomer rubber
Size Options: 20mm to 22mm
Christopher Ward Hybrid Rubber Strap
Pros
Rubber & Cordura nylon hybrid
Super tough and waterproof
Looks more expensive than it is
Very comfortable
Best Overall: Having trouble deciding between a rubber strap and a nylon one? Why not get both in one with CW's Hybrid strap? The underside of the strap is textured rubber executed in CW's "flag" motif that not only looks cool but offers great ventilation, while the outside of the strap is covered in ultra-tough and waterproof Cordura nylon. The addition of the woven and slightly glossy Cordura really classes up the typical rubber strap without sacrificing any comfort or durability, truly giving you the best of both worlds.
Material: Textured rubber and Cordura nylon
Size Options: 20mm to 22mm
Original Tropic Strap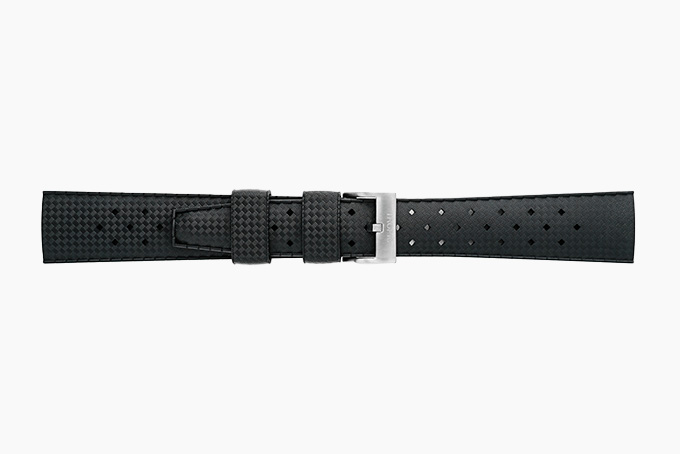 Pros
Good for chronographs and divers
Deeply channeled underside for air flow
Rugged
Lots of color options
Best Racing-Style: Vintage-style dive watches have been all the rage in the watch industry for a few years now, and wouldn't you know it, so have vintage-style dive watch straps. And the king of vintage-style dive watch straps is the Tropic strap. First invented in the 1960s when it was sold as an OEM strap alternative by dive watch brands like Rolex, the Tropic strap is renowned for its deeply channeled underside, its thin tapered design, its checkerboard pattern, and its rugged vulcanized rubber composition.
Material: Vulcanized rubber
Size Options: 20mm to 22mm
Artem Sailcloth Watch Strap
Pros
Several length options as well
Made of super strong sailcloth material
Waterproof
Ergonomically molds to your wrist
Best Leather Alternative: Nothing says "summer" like relaxing on a sailboat without a care in the world, so why not replicate that feeling all summer long with a watch strap that's made from the same material as your boat's sail? Artem's sailcloth straps are about as luxurious as a drift down the Amalfi Coast, as they're padded and stitched just like a fine leather strap. But they're not leather, they're crafted from a secret waterproof synthetic material blend that's been ergonomically designed to mold to your wrist.
Material: Sailcloth
Size Options: 20mm to 22mm
Erika's Originals MN
Pros
Stretchy
Easy to install
Lots of size options
Best for Military Watches: While it may look like a NATO at first glance, this is no mere NATO. Erika's Originals MN straps have a unique design that was inspired by the homemade elastic parachute straps crafted by French Marine Nationale divers for their military-issued Tudor watches in the mid-twentieth century. Erika's straps are handmade in Spain by Erika and her team from in-house woven elastic nylon webbing, and they feature a patented sliding clasp that allows you to micro-adjust for the perfect fit.
Material: Spandex elastic nylon
Size Options: 18mm to 22mm
Forstner Rivet Bracelet With Stretch Links
Pros
Wide range of sizes
Flex lets it grow when your wrist swells
Cons
Steel can still conduct heat in high temps
Best Stainless Steel Bracelet: When it comes to watch enthusiasts, some of you are just bracelet guys. Many people are not fans of straps of any kind and prefer the look and feel of a solid stainless steel bracelet. But steel bracelets are poor choices for hot weather when they lack some sort of expandability, with the potential to be overly constraining. Forstner has come up with a novel solution to this conundrum with their stretchy Rivet Bracelet which offers an old-school three-link style but with added flex that allows the bracelet to grow to accommodate your swelling wrist.
Material: Stainless steel
Size Options: 18mm to 22mm
Isofrane Dive Watch Rubber Strap
Pros
Lots of color options
Temperature-resistant
Best Rubber Strap: Rivaling the Tropic Strap in prestige, we have this classic from ISOfrane. Invented in the '60s as a more durable upgrade to the Tropic, ISOfrane's iconic rubber straps are made from Isoprene, the same extremely sturdy and temperature-resistant material used in tire production. Their incredible resilience, mixed with their trademark ladder-style arrangement of vents, made ISOfrane straps the top choice for divers… and, additionally, for anyone who plans to be around water in warm weather.
Material: ISOfrane rubber
Size Options: 20mm to 24mm
Staib Satin Finish Heavy Mesh Bracelet
Pros
High perceived value
Well-machined stainless steel material and finish
Cons
Only one size; Staib has other options available though
Best Mesh Bracelet: Without question, the top form of steel bracelet for warm weather is a mesh bracelet. Nothing beats mesh when it comes to ventilation, since it's literally full of holes, and when combined with the coldness of the metal, the straps do an excellent job of keeping your wrist cool while letting it breathe. Staib is the leader in third-party mesh bracelet manufacturing, as the German brand produces incredibly high-quality and well-machined straps that are thick, sturdy, and finished to a luxury level.
Material: Stainless steel
Size Options: 22mm
The Best Summer Watches
A watch strap isn't much good if you don't have a watch head to put it on, and we've got you covered with our guide to the best summer watches.