The watch industry is one of constantly evolving trends. Dive watches were all the range in the 1960s, chronographs had their moment in the sun in the 1970s, and by the time the Quartz Crisis rolled around everyone was rocking either integrated bracelets or two-tone setups. The market today is enmeshed in multiple trends, from vintage styling to green dials, but one of the more original that has come on in recent years is the prevalence of bronze watches.
The best bronze watches make use of their material's unique properties to create one-of-a-kind timepieces that will not only last the test of time but will do so by acting almost like a living, breathing organism. While it looks like gold or copper fresh out of the box, bronze watches begin oxidizing as soon as they are exposed to the air, and will keep doing so forever. For many watch fans, the idea of having a timepiece that uniquely ages alongside them is an appealing prospect, which is why we've gathered together a list of the best bronze watches for men that are currently on the market.
It's All About The Patina
Going Green
Arguably, the main reason why most people buy bronze watches is because of the patina that they develop over time. Bronze is an alloy containing large amounts of copper, and as a result, it is highly subject to oxidation. This is a chemical reaction that occurs when certain metals are exposed to oxygen, and it results in the formation of a thin layer of green or brown discoloration on the metal's surface that we call patina. You know how old pennies turn green? That's patina, a result of their copper coating reacting to the air. So why would anyone want patina on a watch?
There are a couple of reasons. One is aesthetic. A lot of people just like the way patina looks. It's similar to how many prefer the look of "patina" on aged leather to new leather; they simply prefer things that look like they've been used. Another reason why patina is popular is psychological. Many like that their watch is changing as it ages, earning its looks in a way. They also like how patina makes a watch unique, as no two watches will ever patinate in the exact same way. Now, just because a lot of people like it, that's not to say patinated bronze is all sunshine and rainbows. Bronze also oxidizes when it comes into contact with moisture, like on your skin, and certain bronze watches can pass that green patina onto you while you're wearing them. Because of this, most bronze watches will have a caseback made from a material other than bronze.
BOLDR Odyssey Bronze
BOLDR has made a name for themselves in the outdoor gear space by crafting rough & ready watches that objectively look best once they've been beaten up a little. So naturally, the brand's rugged Odyssey diver is the perfect vessel for fast-aging bronze. The angular case and relief bezel look excellent in the material, and the ultra-bright Lumicast 3D lume, 500m water resistance with helium escape valve, and in-house Druber fluoroelastomer rubber strap all add to the overall package.
Case Size: 45.5mm
Water Resistance: 500m
Movement: Automatic
Baltic Aquascaphe Bronze
French microbrand Baltic's Aquascaphe can seemingly do no wrong for the brand. It's a hit in its original vintage-style stainless steel form, the GMT version is one of the best sub-$2,000 travel watches on the market, and wouldn't you know it, the bronze version is an absolute killer mash-up of vintage dive watch styling with turn-of-the-century aquatic themes. A blue sunray dial, maxi hands, and distinct crown guards all help to further distinguish this bronze beauty from its stainless steel brethren.
Case Size: 39mm
Water Resistance: 200m
Movement: Automatic
Hamilton Khaki Field Mechanical Bronze
Hamilton's Khaki Field Mechanical is the definitive field watch, with its rugged build and utilitarian design tracing their roots to the watches worn by American soldiers back in The Big One. Recently, the now-Swiss-owned watchmaker released a variant of their most classic watch in the brand's first-ever bronze case, and it's a match made in heaven. The unique aging of bronze should mix perfectly with the Khaki Field's timeless architecture, creating a modern watch that will look like a proper WWII relic in as little time as a few months.
Case Size: 38mm
Water Resistance: 50m
Movement: Manual-Wound
Christopher Ward C60 Trident Bronze
As you've probably guessed by the early goings of this list, it was microbrands who paved the way for bronze to become a mainstream watch case material. And microbrands, as they exist today, probably wouldn't exist at all were it not for Christopher Ward, the original direct-to-consumer watch brand that debuted in 2004. CW has come a long way since then, but they're still a microbrand at heart, as evidenced by the stylish bronze treatment they've given their blockbuster C60 Trident diver. Not only will the case patinate in a unique way, but every hand-distressed blue dial is different, adding even more individuality to the piece.
Case Size: 40mm
Water Resistance: 600m
Movement: Automatic
Raven Bronze Trekker 39
Raven is yet another microbrand with an affinity for bronze watches, and they currently make a great one. The brand's Trekker 39 is an ideal GADA (Go Anywhere, Do Anything) watch with its crowd-pleasing 39mm case size, its wonderfully AR-coated box sapphire crystal, and its triple gasket-enhanced screw-down crown. And once you add bronze to the mix with a case and dive-time bezel made from premium CuSn8, a bronze alloy coveted for its high strength and excellent resistance to corrosion, you're really cooking with gas.
Case Size: 39mm
Water Resistance: 300m
Movement: Automatic
Yema Yachtingraf Bronze
Bronze has a centuries-old history of continuous nautical use thanks to its outstanding resistance to saltwater corrosion, which is what makes the material such a natural fit for aquatic-themed watches. A dive watch is the most obvious fit for bronze, but Yema goes the funkier route by casing an old-school yachting chronograph in the stuff. The Yachtingraf features a special chronograph register that's designed to track the countdown at the start of a regatta, and the traditional red and blue of the complication look great contrasted with the bronze.
Case Size: 40mm
Water Resistance: 100m
Movement: Automatic Chronograph
Longines Legend Diver Bronze
For even more retro nautical bronze goodness, we turn to Longines. The Swiss heritage brand has a megahit on their hands with their Legend Diver, a dual-crowned reissue of a mid-century supercompressor from the brand. Numerous variations of the Legend Diver now exist, but one of the most interesting has to be the bronze version. Combining a green fumé dial with a rose gold-hued bronze case and a gentle-on-skin titanium caseback, this is one of the more elegant bronze watches you're likely to come across.
Case Size: 42mm
Water Resistance: 300m
Movement: Automatic
Bremont Broadsword Bronze
Not all bronze watches are designed to be worn in water, you know. The material is plenty attractive for land use too, as Bremont proves with the Broadsword Bronze. In addition to its killer name, this watch also has some legitimate field cred behind it. It was developed in partnership with the UK Ministry of Defence and was created to be a modern version of the legendary "Dirty Dozen" field watches that were commissioned for the British Army during WWII. Bronze save the Queen.
Case Size: 40mm
Water Resistance: 100m
Movement: Automatic
Tudor Black Bay Fifty-Eight Bronze
For many watch collectors, it just doesn't get any better than the Black Bay 58. A 39mm case, a handsome mix of modern and vintage looks, and typical diver robustness and versatility all add up to a winner. But Tudor hasn't rested on its laurels with the watch, as they are constantly tinkering with the formula. Exhibit A of this phenomenon is the BB58 Bronze, which not only features a bronze case but Tudor's first-ever bronze bracelet. And the bracelet is more than just a pretty face, it also features the debut of a new quick-adjust clasp that's the spitting image of sister brand Rolex's acclaimed Glidelock system.
Case Size: 39mm
Water Resistance: 200m
Movement: Automatic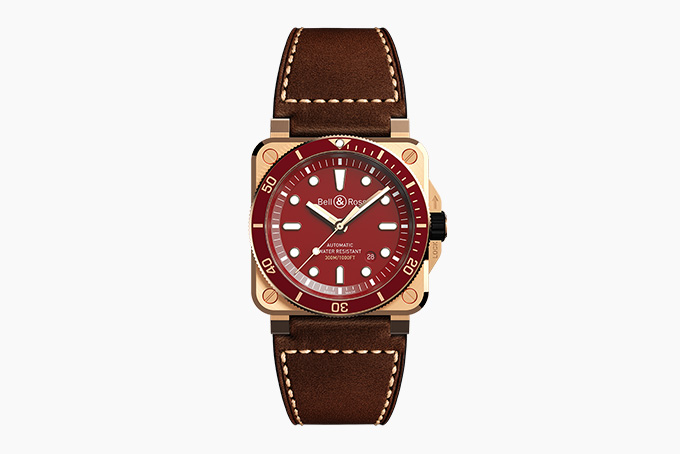 Bell & Ross BR 03-92 Diver Red Bronze
If you like your bronze watches to be big and bold, then you can't go wrong with Bell & Ross, a luxury brand that has made "big and bold" the two cornerstones of its identity. For this version of their trademark square-cased BR 03-92 diver, B&R blends bronze with a gorgeous shade of red along with gold-plated hands and indices to create a highly unique and eye-catching diver that's unlike anything else in the Seven Seas. An image of a deep-sea diver's helmet engraved on the caseback adds to the watch's plentiful character.
Case Size: 42mm
Water Resistance: 300m
Movement: Automatic
Oris Divers Sixty-Five Holstein Edition 2020
Out of the big Swiss brands, it's Oris who has embraced bronze cases the most. The independent Swiss watchmaker makes a number of bronze watches, from divers to pilot's watches, but our favorite has to be this special edition chronograph from 2020. Why is that? Well, just look at it. The retro bicompax layout, the full bronze bracelet, the relief bezel, the bronze-colored panda dial… everything about this watch seems special, which isn't always the case when it comes to limited-edition watches.
Case Size: 43mm
Water Resistance: 100m
Movement: Automatic Chronograph
Montblanc 1858 Geosphere Limited Edition
Thanks in part to their partnership with Swiss movement manufacture Minerva, Montblanc is able to craft some wildly inventive and impressive watches. Their best effort to date has to be the Geosphere, a unique spin (literally) on a worldtimer that features dual rotating globes that show the current time in both the northern and southern hemispheres. And the best Geosphere yet has to be this desert-themed edition that combines a bronze case and brown ceramic compass bezel with a gorgeous full color lasered relief of the Gobi Desert on the caseback.
Case Size: 42mm
Water Resistance: 100m
Movement: Automatic Worldtimer
IWC Pilot's Watch Chronograph 10 Years of MR PORTER Limited Edition
For this limited-edition piece, IWC collaborated with men's luxury goods experts Mr Porter to celebrate the latter's 10th year in business, and the resulting timepiece is certainly worthy of such an achievement. Here, IWC's ever-popular Pilot Chronograph is given the bronze treatment with a slightly textured case, a gritty black dial, and an animal-friendly faux suede strap. It's a statement piece that will only get better with age, and a fitting tribute to Mr Porter's impressive first decade.
Case Size: 41mm
Water Resistance: 60m
Movement: Automatic Chronograph
Omega Seamaster 300 Bronze Gold
Even though they are already one of the most storied Swiss watchmakers by far, Omega is always searching for new ways to innovate. Sometimes it's with their movements, such as with the invention of the METAS-Certified Master Chronometer, and other times it's with their materials. On this revamped Seamaster 300, it's both, as the Master Chronometer diver marks the debut of Bronze Gold — a brand new alloy invented by Omega that features a unique soft pink hue, a slower and more even aging process, and a high concentration of gold that makes it safe to wear directly against the skin.
Case Size: 41mm
Water Resistance: 300m
Movement: Automatic
Panerai Submersible Bronzo Blu Abisso
Panerai's dive watch already looked like something out of a Jules Verne novel, but this bronze version appears to have been designed by Captain Nemo himself. The brand's distinct porthole-shaped dial, cushion case, and oversized crown protector all look absolutely otherworldly in bronze, and the striking matte blue dial and rounded markers (including those funky miniature ones on the bezel) only add to this striking luxury watch's head-turning personality.
Case Size: 42mm
Water Resistance: 300m
Movement: Automatic
The Best Ceramic Watches
Bronze is just one of many unique materials that are used to construct watch cases. Ceramic watches offer some unique benefits due to the fact that they're nearly impossible to scratch. If you're new to the space, have a look at our guide to the best ceramic watches available.