Anyone with a collector's disposition knows that there's more to collecting than simply acquiring that which you are collecting. Confusing sentences aside, what we mean is that whatever you like to collect, you also undoubtedly also have amassed a stockpile of accessories to complement said collection. For example, if you collect cars, you need a garage, tools, parts, and maybe even some swag to show your allegiance. It's no different for watch collectors. The best watch accessories are necessary additions to any watch collection, and we've put together all you need to know about accessorizing your watches in this guide.
For our guide to the best watch accessories, we've split up our selection into three categories. The first is straps. Many watch collectors enjoy collecting straps just as much as they do the main event, and there are countless styles and materials of straps out there that will add a ton of character to your collection. Next is arguably the most critical category, storage, as you'll discover soon after you begin collecting that a safe place to store and/or display your watches is critical. Finally, we're also including some tools because nothing makes a watch owner feel more accomplished or closer to one's watch than by performing one's own minor repairs. So prepare to outfit your collection with some worthwhile companions by checking out the best watch accessories below.
Best Watch Accessories Breakdown
Best Rubber/Silicone Strap

Barton Elite Silicone

Best NATO Strap

Crown & Buckle Supreme NATO Strap

Best Leather Strap

ColaReb Siracusa Leather Watch Strap

Best Steel Bracelet

Staib Satin Finish Mesh Bracelet

Best Alligator Strap

Hodinkee Glossy Chestnut Brown Alligator Watch Strap

Best Small Watch Box

Glenor Co. 6 Slot Watch Box

Best Watch Roll

Barton Waxed Canvas Watch Roll

Best Watch Folio

Hodinkee Leather Mini-Folio

Best Large Watch Box

WOLF Windsor 10-Piece With Drawer

Best Watch Winder

WOLF Axis Single Watch Winder

Best Watch Cloth

Windup Microfiber Cloth

Best Scratch Buffer

Polywatch

Best Demagnetizer

Paddsun Demagnetizer

Best for Swapping Straps

Bergeon 6767-F Spring Bar Tool

Best Repair Kit

StrapsCo Watch Repair Kit
Types of Watch Accessories
Straps: One of the biggest joys of owning a watch is switching up its look through the use of various straps. Whether you go with leather, rubber, a classic NATO, or something else, they all offer great ways to completely alter the appearance and feel of your watch. Before purchasing any straps, though, make sure you know your watch's lug width — that's the space between the lugs, measured in millimeters — to ensure that your new strap will fit.
Storage: If you have more than one watch, you're going to need a place to store them. Keeping them in a pile on your dresser isn't exactly ideal, and storing them all in their respective boxes is far from convenient. In our guide, you'll find a selection of storage solutions that will keep your collection safe and tidy both at home and on the road.
Tools: Unless you're a watchmaker, you shouldn't be attempting major repairs on your watch's movement. But you can do a surprising number of minor repairs yourself, from sizing bracelets to swapping straps to buffing out scratches in your watch's crystal, and the tools we've listed below will help you do all of this and more.
How We Made Our Picks
For this guide, we've used our years of exposure and hands-on experience with watches and watch accessories to whittle the available options down to the best of the best. We've picked one item from each sub-category within the three above that we feel has proven to be essential for any watch lover or collector.
Barton Elite Silicone
Best Rubber/Silicone Strap: A rubber strap — or in this case, silicone — is one of the easiest and most dramatic ways to change up your watch. Great for warmer climates, rubber straps are remarkably comfortable, 100% waterproof, and all kinds of durable. Barton makes a great one with their bargain-priced Elite Silicone straps, as they boast a handsome pattern, convenient quick-change spring bars, and are available in a robust variety of sizes and color combinations.
Crown & Buckle Supreme NATO Strap
Why It Made the Cut
Available in tons of color and pattern types, this NATO strap sports stainless steel hardware and is incredibly durable with reinforced stitching.
Best NATO Strap: First debuting as functional military watch straps in the 1970s, with similar single-pass nylon straps existing earlier, as seen on the wrist of James Bond in Dr. No, NATO straps are constructed of nylon and feature an extra short piece of fabric that keeps the watch attached to your wrist should you lose a spring bar. In addition to this handy safety feature, NATOs also offer loads of style and are super comfortable. This version from Crown & Buckle is exceptional, as it features quality 316L stainless steel hardware, smooth seat belt nylon construction, and reinforced stitching.
Material: Nylon
Size Options: 19mm to 22mm
ColaReb Siracusa Leather Watch Strap
Why It Made the Cut
This classic leather band from Colareb is made from fine Italian leather and features attractive contrast stitching.
Best Leather Strap: There is no more classic pair of shoes for your watch than a quality leather strap. From the way it feels and smells to the way it looks and ages, leather is the quintessential luxury material, and it looks great on most watches — especially those of the dressier variety. But not all leather is created equal. You're better off getting a strap made of high-quality leather from a well-regarded brand, which is what we have here from fan-favorite Colareb. Crafted in Italy from fine pieno-fiore leather, this rustic strap features attractive contrast stitching.
Leather Type: Pieno-Fiore leather
Width Options: 22mm
Staib Satin Finish Mesh Bracelet
Why It Made the Cut
This well-machined bracelet from Staib has a high perceived value and a vintage-inspired aesthetic.
Best Steel Bracelet: While not everyone is a fan of stainless steel mesh bracelets, the style has been catching on in recent years. Some of their popularity may be due in part to Apple producing mesh bracelets for the Apple Watch, but the style also has a lengthy history in traditional watches as well, as illustrated by its use in recent vintage-style dive watches like the Omega Seamaster "No Time to Die" and Breitling Superocean Heritage. And when it comes to aftermarket straps, German brand Staib is the brand to beat. This example is reassuringly thick and heavy with expert finishing and an easy-to-dial-in fit.
Material: Stainless steel
Size Options: 22mm
Hodinkee Glossy Chestnut Brown Alligator Watch Strap
Why It Made the Cut
Made with tough reptile hide, this classy option is a great choice for higher-end luxury dress pieces, with the price to match.
Best Alligator Strap: Leather is nice, but if you're really looking to outfit your watch with the most decadent strap possible, then Alligator is the only choice. The tough reptile hide is considered the most formal of watch strap materials, and its trademark scales can often be found on ultra-high-end dress watches. Given its status, Alligator straps have a price to match, typically falling between $200 and $300. This one from Hodinkee is of supreme quality, with a gorgeous grain and not too much padding to keep it elegant on the wrist.
Material: Alligator hide
Width Options: 18mm to 21mm
Glenor Co. 6 Slot Watch Box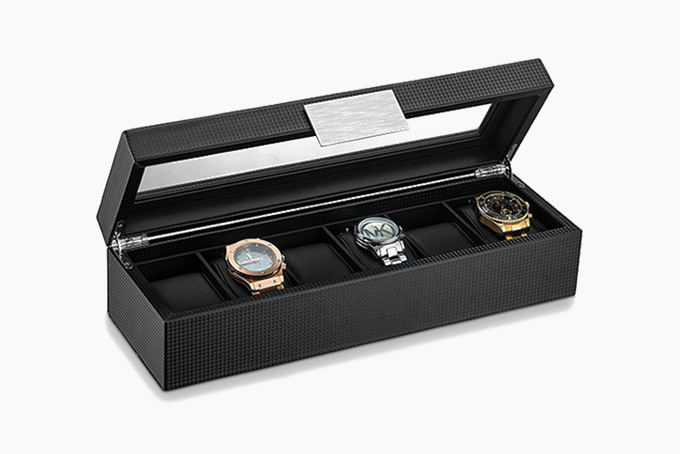 Why It Made the Cut
The perfect size for the casual watch collector, this 6-piece box keeps your watches safe while offering a beautiful display in the process.
Best Small Watch Box: If your collection is on the more affordable side, then there is no point in spending a ton of cash on a fancy box in which to store them. Sometimes all you need is a decently made watch box that keeps dust out and looks good displayed in your home. This example from Glenor does just that, with room for six watches and a real glass display window. Sure, you're not getting real leather or carbon fiber, but what you are getting is pretty impressive for just over 40 bucks.
Capacity: 6
Outside Material: Stainless steel
Barton Waxed Canvas Watch Roll
Why It Made the Cut
With this waxed canvas roll from Barton, which keeps your pieces protected in a compact fashion, you no longer have to choose just 1 or 2 watches to bring with you when you travel.
Best Watch Roll: If you're a watch collector, then you know how much of a struggle it can be to decide which watch to bring with you while on vacation. But if you have a watch roll, then you needn't limit yourself to just what you can wear on your wrist. Watch rolls offer a safe, easy, and compact way to travel with your watches, allowing you the opportunity to bring your collection with you wherever you go. This waxed canvas offering from Barton is super tough and water-resistant, with room for five watches and good looks to boot.
Material: 12oz Waxed Canvas & Genuine Leather
Capacity: 5 watches
Dimensions: 12.5″ x 10″ (unrolled)
Hodinkee Leather Mini-Folio
Why It Made the Cut
Keep your timepieces secure with this zippered leather pouch from Hodinkee, lined with suede to prevent scratching.
Best Watch Folio: While watch rolls are certainly the most classic and traditional way to travel with one's watches, they aren't the most secure option available. If you have pieces that are of especially high value, then you may not want to trust their safety to a layer of canvas and a leather knot. For those pieces, a watch folio is more appropriate. These types of cases, while pricey, offer a zippered closure, generous padding, and more secure housing for your watches. This Hodinkee mini-folio securely holds two of your most-prized watches in its supple suede interior and is handmade in Italy from the highest quality leather.
Materials: Leather exterior, suede interior
Capacity: 2 watches
Dimensions: 7″ x 3.5″ x 1.25″
WOLF Windsor 10-Piece With Drawer
Why It Made the Cut
For larger collections, opt for this beautiful display from Wolf, which holds 10 watches and an array of accessories.
Best Large Watch Box: The best place to store your watches at home is in a dedicated watch box. Ideally, a watch box will offer a scratch-free, dust-resistant interior for your watches, along with a locking lid to keep dust and debris outside. Ideally, bonuses like handsome looks, a glass display window, and room for accessories are all great to have, too. This box from WOLF, one of the top names in watch storage, boasts all of these features and more. Under its locking glass cover, the Windsor has a buttery smooth lining with room for 10 watches, as well as a valet drawer that's perfect for straps and accessories.
Capacity: 10 + straps and accessories
Outside Material: Vegan leather
WOLF Axis Single Watch Winder
Pros
This single-watch unit from the best name in watch winders looks phenomenal and lets you fine-tune your options.
Best Watch Winder: It's an age-old question among collectors: are watch winders really necessary? Regardless of which side of the debate you find yourself, there's no arguing that watch-wirders are inherently cool, whether they're actually needed or not. WOLF is far and away the most synonymous brand when it comes to watch winders, and their Axis keeps things simple with retro rock n' roll styling and room for one watch. The slow rotation of the winder will keep your automatic timepiece running on days when you aren't wearing it, and it'll look while awesome doing it.
Power: AC, battery
Settings: Rotational, directional, and power reserve
Multi Sizes Available?: Yes
Windup Microfiber Cloth
Why It Made the Cut
This microfiber cloth from the Windup Watch Shop wipes away smudges and grime without leaving lint or residue.
Best Watch Cloth: Watches, like anything else, get dirty. And since you're wearing your watch on your wrist and pouring sweat into it on a daily basis, it can sometimes get really dirty. A microfiber cleaning cloth is necessary for keeping your watch spotless, as it will wipe away smudges and grime without leaving lint or residue. Really, any microfiber cloth will do, but you might as well go with one that's intended for watches like this affordable option from Worn & Wound's Windup Watch Shop.
Material: Microfiber
Size: 8.75″ x 5.375″
Polywatch
Why It Made the Cut
This cream can remove scratches on plastic-based crystals while also offering a cleaning solution.
Best Scratch Buffer: If you collect vintage watches, then you're familiar with plexiglass crystals. Also known as acrylic or hesalite crystals, these plastic crystals were the industry standard, even on luxury watches, until around the 1970s and 1980s when mineral and sapphire crystals began to take over. Some new watches still feature plexi due to its "warmer" feel and aesthetically pleasing optical distortions, but the downside of the material is that it scratches very easily. However, those scratches can easily be buffed out — unlike on other materials — with a cheap tube of PolyWatch.
Material Compatibility: Acrylic, Hesalite, Plastic
Paddsun Demagnetizer
Why It Made the Cut
This demagnitizer keeps your watch running on time without requiring a trip to the repair shop.
Best Demagnetizer: Mechanical watch movements can be extremely finicky, and when something goes wrong, they are often very expensive to fix. But not all problems with your watch's engine require a trip to the watch repair shop. If your watch is running unusually fast out of nowhere, then there's a good chance it's become magnetized by your computer, speakers, microwave, or any number of other electronic devices. Thankfully, it's easy enough to demagnetize your watch with one of these inexpensive demagnetizers, potentially saving yourself hundreds in repair costs.
Power: AC
Duration: 5 to 10 seconds
Bergeon 6767-F Spring Bar Tool
Why It Made the Cut
Swap straps effortlessly with this spring bar tool, which also features a pin pusher to remove links.
Best for Swapping Straps: The most essential tool in a watch collector's arsenal is a spring bar tool, as it's used to change straps. This is a quality one from a professional-grade brand that's favored by watchmakers, and it will basically be your watch's best friend. One side of the tool contains a forked end that is used to grip and remove spring bars from an end link, allowing you to swap out your watch's bracelet or strap. The other side contains a pin-pusher that is used to remove pins in your bracelet's links, allowing you to resize any bracelet that uses a pin-and-collar system to fit your wrist.
Material: Steel
Length: 5.5″
StrapsCo Watch Repair Kit
Why It Made the Cut
Featuring 147 pieces in total, this zippered case hold tools for replacing straps, gaskets, batteries, and spring bars, among other things.
Best Repair Kit: If you're looking for a lot of bang for your buck, then this toolkit from StrapsCo has got you covered. Inside the zippered case, you'll find small anti-magnetic screwdrivers, pin-pushers, a spring bar tool, and other devices for bracelet adjustments and strap removals. You'll also get tools to open up a caseback for gasket or battery replacements, extra spring bars in case of emergencies, a hammer for putting the caseback back on, and tweezers for helping you handle all of those tiny watch parts.
The Best Men's Watches You Can Buy Under $1,000
Still need to build up your watch collection before acquiring a bunch of accessories? No worries, we've got you covered. Have a look at our guide to the best watches under $1,000 and discover great affordable timepieces that any collector should be proud to have in their rotation.