Drinking your favorite alcoholic beverage is one of life's many pleasantries, but when you're forced to head to the kitchen every time you want a refill, things can get dicey. For those of you who want to ensure that your favorite cocktail-focused ingredients, decanters, and utensils are readily available wherever you're at in your home, the bar cart might be the single most important item in your arsenal.
When the rollable bar cart was first introduced, its creator had the same kind of mindset. He wanted to be able to day-drink without the constant reminder that he'd have to leave his comfortable perch when libations were running low. To remedy this, he grabbed a presentable tray, placed it on rails, and attached some wheels, allowing him to transport his beverages from the kitchen to other areas in the home. Eventually, this caught on, can the bar cart was born. That might not be the most historically-accurate account, but the idea was certainly noteworthy — so noteworthy, in fact, that bar carts have become one of the most integral parts of interior design, especially in terms of utility and functionality. Whether you're the type that likes to entertain, or you're a solo sipper who enjoys his whiskeys, cocktails, and adult beverages as fresh as possible, we've decided to aggregate a handful of our favorite carts from throughout the space, bringing you one step closer to pure, ultra-efficient bliss.
IKEA NISSAFORS
IKEA's presence within the home design space is a godsend. What would we do without the Swedish company's robust collection of furniture, accessories, and goods? Our homes would be so drab that we'd likely resort to drinking. Coincidentally, the brand can help us out with that, too, thanks to its NISSAFORS bar cart. While it's not exclusively catered toward the provision and protection of your finest libations, this sleek essential is perfect for use alongside your favorite alcoholic beverages and tools. Within, you'll find enough storage space to keep all of your utensils, bartending containers, and liquids easily accessible. Plus, its durable, powder-coated steel construction ensures that it'll be around for the long haul.
VASAGLE Industrial
VASAGLE's Industrial cart pairs stylish, wood-imbued architecture with a thick metal frame to get the job done right. Its wood areas have been treated with a water- and wear-resistant finish, so you won't have to worry about accidentally spilling your beverage and ruining its aesthetic qualities, which is great when you're dealing with different bottles and ingredients on a regular basis. Whether you want the cart to remain static, or follow you from room to room, you'll be able to utilize it to its fullest potential, thanks to its rollable structure, three-tier storage capacity, and minimal footprint, making it an attractive proposition for those who are lacking space for a larger cart.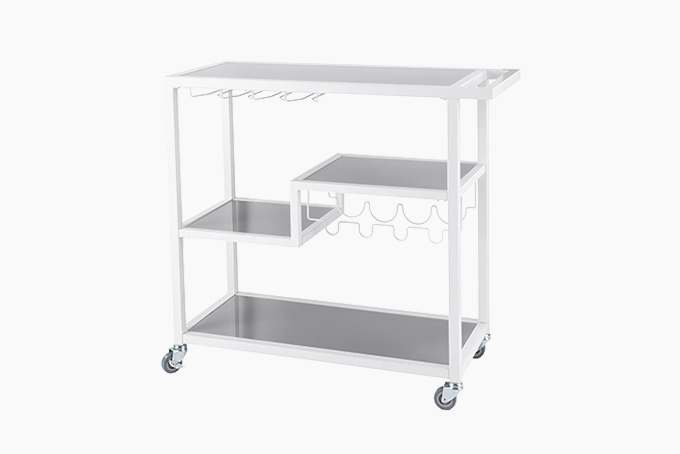 Holly & Martin Zephs
Target has a knack for the acquisition of some of the industry's finest in-home offerings, and the Holly & Martin Zephs bar cart is no exception. As the first "true" bar cart on our list, the Zephs already has a leg up on its competition, thanks to its quad bottle holder, eight-glass hanger, and smoked mirror accents. Of course, there's also an assortment of shelves and flat surfaces to keep your mixers/tools readily accessible, ensuring that this rollable model will protect your beverages to its utmost ability, while still providing enough space for you to house the "tricks" of your trade.
Ebern Designs Teter
Like Target, Wayfair's ability to procure and provide an array of tasteful interior decorations is second to none. They've even found a way to acquire Ebern Designs' Teter bar cart — a chic, low-profile offering that's reserved for only the most stylish for kitchens, studies, and living areas. This rollable cart features lockable wheels, a durable powder-coated metal construction, and perforated shelves, making it a viable example for both indoor and outdoor use. Buyers will be able to utilize its three-tier architecture in a variety of different ways, including display, storage, and transportation options for their favorite beverages. Plus, it features a UV-resistant finish, allowing it to take on long afternoons in the sunroom without fading or losing its luster.
Nathan James Carter Rolling Two-Tier
Nathan James' Carter Rolling Two-Tier cart is diamond in the rough. If you're looking for a tasteful cart that exemplifies a high-society style at an affordable price point, your search has ended. It features a durable, all-metal frame, four-wheel casters, and a raised handle that allows for easy directional movement as you wheel it from room to room. Whether you're a fan of wine, cocktails, or plain old beer, this unique offering boasts an aesthetically-pleasing presence and a 10-bottle capacity on its lower rung, ensuring that you'll have room for all the libations you'd like. While its upper surface can still provide a stable area for your beverages, it's been outfitted with a tempered-glass top — you'll want to reserve that for items without much weight.
West Elm Mid-Century
No in-home essential list is complete without the addition of West Elm. The brand's tasteful catalog is renowned within the world of interior design, and for good reason. Its Mid-Century bar cart is a perfect example of why that might be. Instead of catering to modern trends, this tasteful example transports its buyer back to the 1960s, thanks to its old-school architecture. Unlike its counterparts, it features a more subdued, two-wheel design, an all-wood construction crafted from kiln-dried eucalyptus wood and Acacia veneer, and a water-based Walnut finish, helping it to take on a classy appearance that's both bold and boast-worthy. Within, two spacious shelving units provide adequate storage space or all your favorite bottles, garnishes, and maybe a potted plant or two. To round things out, antique brass-finished rails and casters give the cart an even more nostalgic feel.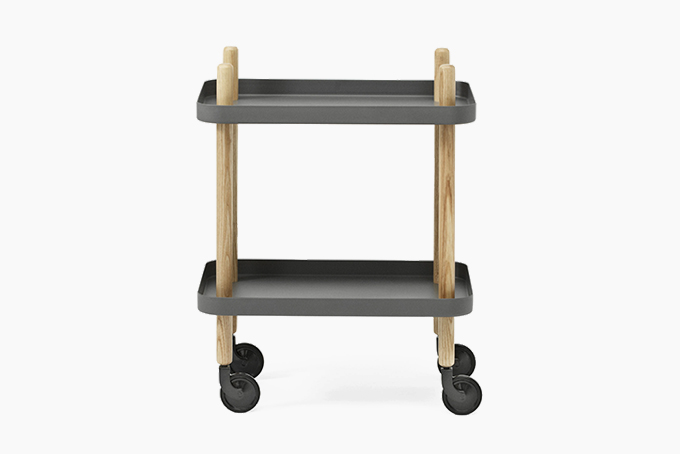 Normann Copenhagen × Simon Legald Block Table
Normann Copenhagen and Simon Legald's Block Table is minimal, original, and undoubtedly unique. Instead of bringing a large, overbearing bar cart into your home, turn to this little guy — a sleek, mobile storage solution that provides what is, perhaps, the smallest footprint on our list. Don't underestimate the Block Table due to its size, though. It features a mobile, four-wheel layout, a matte steel surface, and two ultra-efficient tiers for ample storage space, providing some competitive real-estate that allows it to hold its own against some of the larger offerings in the genre. Plus, it's been conceptualized (and brought to life) by famed Danish furniture designer, Simon Legald, and his colleague Norman Copenhagen, giving it the "designer" signature that many connoisseurs pine for.
Scandanavian Designs Servis
Scandanavian Designs' Servis bar cart might have a clever name, but that isn't all that it capitalizes on. If "bottle service" is your thing, you'll be happy to hear that this sleek wooden example will fulfill all of your needs, and look good while doing it. Inside, the two-tier cart houses a suite of solid shelves and durable surfaces, protecting your beverages from adverse inhibitors. Since its sides are high, you won't have to worry about your bottles and glasses tumbling out of, or off the cart, and thanks to its natural teak construction, tasteful wood grain, and light finish, it'll fit in almost anywhere within your home. Don't need it in the kitchen? That's alright. It's got four wheels, so you'll be able to transport your fluids wherever your heart desires.
Willa Arlo O'Hara
Willa Arlo's O'Hara bar cart is a lavish transporter for those who enjoy the finer things in life. You won't find any mid-century wood grain or heritage materials here. Instead, you'll be treated to high-society architecture that brings stainless steel, acrylic, and glass to any room in your home. Thanks to the cart's rectangular, two-tray design, there's plenty of space for bottles, mixers glasses, and utensils, allowing you to create your favorite cocktail wherever you see fit. It features four caster feet, clear glass surfaces, and a brass-finished persona that looks and feels prestigious, pairing seamlessly with high-end alcohols, cigar boxes, and containers.
Urban Outfitters Madilyn
Want a little bit more copper in your life? If your home is a haven for stylish interior design pieces, cleanly-tailored artwork, and the finest alcoholic beverages that are available on the market, Urban Outfitters might have the bar cart you've been looking for. The Madilyn, as it's been dubbed, features an aesthetically-pleasing copper and wood construction, cocktail-centric planks and surfaces, and vintage feet that allow it to be placed anywhere in the home. Its two-tier design boasts ample surface area for decanters, plants, and plates, while its raised handles provide a bit more security as you transport beverages from one area of your dwelling to the other.
Dims Barbican Trolley II
Sometimes, individuals are born with the talent that they need to defy all odds. While it might not be an animate object, Dims' Barbican Trolley II is one such specimen. This small, foolhardy bar cart might look like it lacks the gumption to stand among the best, but you'd be wrong to assume that it's anything short of capable. In fact, it's the recipient of the Wallpaper* Design Award for 2019. It features a non-toxic, powder-coated steel construction, natural-height handles, and an angled bottom-tier to ensure that items don't move as they're being transported. An enclosed top tray provides a semblance of security as you wheel it from location to location, keeping smaller items, glasses, and tools from tumbling off the side. When you've found the perfect place to set things up, you'll be able to utilize its lockable casters to ensure that it'll stay right where you left it, instead of sneaking way if it's on an incline.
Williams Sonoma Stowe Round
Williams Sonoma is an honorable mention within any home-focused guide, and while the brand specializes in high-profile furniture, it's also got a decent selection of trays, carts, and transport-savvy items. The Stowe Round cart is one of many, calling upon a tempered glass top, leather-dressed shelves, and a gallery rail on its lower run for increased security. Since it's made from durable welded steel and features equally-as-efficient shelving, you'll be able to place a hefty helping of your favorite glassware, spirits, and ceramics within, moving them from room to room, courtesy of its swiveling casters. Plus, you can never go wrong with an elegant tempered glass top, especially when you're trying to enamor guests.
CB2 Prong Glass
CB2's Prong Glass bar cart deviates from the path of its successors. Instead of taking on a square, rectangular, or circular design, it adopts an amalgamation of the aforementioned, resulting in an interesting oblong shape that's as simple as they come. Unlike its competitors, the Prong Glass cart is more of a showpiece, than anything. It boasts an open-air architecture, brass feet, and a glass/steel construction that makes it viable for beverage transportation, but it lacks security. If smooth surfaces and even ground are all you'll be facing, this is a great cart that can add plenty of style points to your living area — however, recognizing its shortcoming is all a part of its charm.
Room & Board Slim
Room & Board's Slim bar cart boasts a classic design that looks like something you might find in an industrial manufacturing plant. Fortunately for them, there are individuals out there who prefer that aesthetic. As one of the more simplistic offerings on our list, the Slim checks all the boxes that you could hope for from a utilitarian cart — it's durable, modern, minimalist, and efficient, without stealing too much attention from your home's more apparent design choices. Each example is made with dependable steel construction and boasts a powder-coated finish to deter wear and tear. Instead of the two-tier format that we've seen elsewhere, this unique offering boasts three different trays, allowing for the transport of even more beverages, food items, and utensils. To make things easier, smooth-rolling casters have been included at each corner, helping you to navigate your libations throughout your home.
Crate & Barrel Libations Brass
Crate & Barrel is known for its unique take on furniture design, so it makes sense that the brand's Libations Brass bar cart would be equally as interesting. Instead of calling upon traditional metals, woods, and plastics, this sturdy offering features an all-iron construction, a brass-plated finish, and a clear matte powder coat, protecting it from abrasive contact. It boasts a run-of-the-mill, two-tray layout and rubber wheels for easy transportation — but its intricacies are what set it apart from its brethren. An enclosed top-shelf accented by clear, tempered glass, provides ample space for beverage storage, while a bottom tray, outfitted with an antiqued, mirrored variant, rounds things out. If you're looking for a vintage cart that'll keep your drinks and food items secure without sacrificing durability and weight, this is the option for you.
RH 1950s Milo
RH's 1950s Milo bar cart is yet another blast from the past. Built as an homage to the midcentury furniture designer, Milo Baughman, this unique example features a sleek, x-shaped frame that's said to mimic some of his most iconic works. From its irresistible plated steel, all the way to its tempered-glass shelves and smooth-rolling wheels, this high-profile cart is a testament to masterful craftsmanship — fitting, considering its inspiration. Its shiny exterior comes courtesy of a thickly-plated nickel/antique brass, while a pair of clear, heavy-set shelves provide ample space for drinks, food items, utensils, and other in-home items.
Kartell LA Gastone
Kartell LA's Gastone bridges the gap between elegant, foldable design, and contemporary minimalism. It features a practical design, chrome-steel supports, and a number of interesting colorways to keep it at the center of the conversation — but, curiously enough, it makes use of varnished, plastic surfaces that we'd have passed off for something much more luxurious. As a result, the Gastone is both lightweight and domineering, making its presence known through the perfect unison of formality and mobility. Its two-tray design offers space for drinks, ceramics, decanters, and bottles, folding neatly when not in use. For that, it has our respect.
TRNK NYC Mategot Trolley
Have an eye for design? TRNK NYC's Mategot Trolley should be a pleasant surprise. Not only does this wondrous bar cart look and feel amazing, but it's got a decent track record, too. It as conceptualized and created in the 1950s by Hungarian designer, Mathieu Mat_got (from whom, it would later receive its name). Calling upon his then-innovative metal-working techniques, the bar cart would introduce powder-coated steel tubing, metal casters, and spacious trays, making way for swopped compartments and subtly-lifted borders. To keep things secure, its upper tray features angled "fencing" to deter tumbles.
DWR Moller Trolley
DWR's Moller Trolley is another vintage offering that fulls under the umbrella of "heirloom-quality" furniture. Not only does this unique specimen boast an original, mid-century design, but it's also decidedly durable, thanks to its dense Walnut frame, hand-polished accents, and thoughtful joinery. After hand-selecting raw wood from environmentally friendly sources, the bar cart is fully assembled at Møller's shop, where it's continued to make its mark on contemporary culture since it was first introduced all the way back in 1952.
DWR 1966 Collection Porcelain
Like many of DWR's offerings, the 1966 Collection Porcelain bar cart is a timeless offering that's traversed generations of shifting interior design trends. Today, it's still one of the most sought-after carts on the market, thanks to its unique, large-wheeled design, porcelain-enamel tabletop, and weather-resistant, polyester powder-coated steel finish. Subtlety is key here. It utilizes a tiltable silhouette, a differential axle, and a simplified, two-tier layout to provide buyers with an in-home showpiece that can double as a bar cart, should you feel the need to utilize it as such. If it were up to us, we'd decorate it with a few static kitchen items, sit back, and revel in its articulate design.
The 20 Best Whiskey Glasses Of 2020
Now that you've procured the perfect bar cart to transport all of your beverage items, head over to our guide on the best whiskey glasses of 2020 to find out what you'll need to finish your in-home alcohol array.