Have you ever been to a restaurant or bar and you go to order a drink and… freeze? You tell the server or bartender that you'll have a Jack and Coke. But that's not what you wanted to spend $13 on. While we're not denying that mixing two of the biggest beverage entities in the American zeitgeist is anything but refreshing or tasty, it's also a drink that you can easily make at home (or find pre-canned at a convenient store these days). And chances are, your bartender is going to go fairly heavy on the Coca-Cola. So wouldn't you be much better off knowing a proper classic cocktail next time around?
Though there's no shame in ordering what you like, there's also some clout to be found in perusing the great black book that is the history of mixology, dating back to the turn of the 19th century when the term "cocktail" was first coined, then through the big boom in the mid-to-late 1800s following the prevalence of ice and the availability of certain spirits. When Prohibition hit in 1920, it didn't put an end to mixed drink enthusiasm more than it saw a diaspora of the nation's best bartenders to bars around the globe, where the craft was then honed and perfected. Today, mixology is more popular than ever, especially with the accessibility to information thanks to the world wide web. Speaking of which, we wanted to share with you our list of 30 classic cocktails every man should know. Whether you use well labels or top shelf, there's no denying a great cocktail is about who's mixing it just as much as what's inside.
Our Sources
Keepers Of The Classics
The Bar-Tender's Guide: How to Mix Drinks by Jerry Thomas (1862)
Written by Jerry Thomas, considered the father of American mixology, this is the first known cocktail book and the first to publish recipes for cocktails such as the mint julep, gin fizz, whiskey sour, and Tom Collins, among many other classics.
Cocktails IBA (2020)
Every few years the International Bartenders Association, which has become the de facto authority on mixed drinks, releases a book with all of its recipes. The latest edition contains many of the drinks you'll find on our list.
The Savoy Cocktail Book by Harry Craddock (1930)
Perhaps the most important cocktail book ever written, Harry Craddock's compendium contains 750 recipes compiled by the famed British bartender himself who trained in the United States before fleeing to England during Prohibition, where he spent a 13-year tenure at a couple of the bars at the Savoy Hotel. While it didn't invent many of the drinks within its pages, this book popularized a slew of them and has become the definitive guide for bartenders, even today.
Recipes for Mixed Drinks by Hugo Ennslin (1916)
Hugo Ennslin's Recipes for Mixed Drinks is significant since it was the last major cocktail book released before Prohibition in 1920. Ennslin was the head bartender at the Hotel Wallick in New York and created several cocktails, including the Aviation.
Beachbum Berry Remixed (2009) by Jeff Berry
Combining his two important tomes, 1998's Beachbum Berry's Grog Log and its 2002 sequel Intoxica!, Jeff "Beachbum" Berry has created perhaps the most definitive compendium of tiki drinks known to man. In this book, the author has added 40 new recipes and recent updates regarding the ownership saga of classic cocktails like the mai tai and the zombie.
The Fine Art of Mixing Drinks by David A. Embury (1948)
While not credited with inventing any of the six cocktails within its pages, David A. Embury's book quickly became the definitive source for many a bartender. Known for its conversational prose and witty tone, the book also takes a methodical approach to crafting drinks, establishing a set of rules such as the 1:2:8 principle (1 part sweet, 2 parts sour, 8 parts base).
Here's How! by Judge, Jr. (1927)
A precursor to the far-more-famous Savoy Cocktail Book, which cribs many of these recipes verbatim, Here's How! contains the first published version of the French 75 in its current form, and was also the first American publication to mention the French liqueur Cointreau.
Aviation
Although Charles Lindbergh and Amelia Earhart were mere teenagers at the time of its invention in the first quarter of the 20th century, the aviation cocktail found prominence during the Depression '30s when famous pilots and enflamed zeppelins made all the headlines. The original recipe calls for crème de violette to give the drink its purple hue, although Henry Craddock's influential book omits the ingredient entirely due to it being difficult to find.
Aviation:
2 parts El Bart gin (dry gin)
1 part fresh lemon juice
2 dashes maraschino liqueur
2 dashes crème de violette
Shake well in a mixing glass with ice, strain, then serve in a cocktail glass.
Source: Recipes for Mixed Drinks
Bloody Mary
This enigmatic cocktail has become a brunch staple. The origins of the Bloody Mary are about as obfuscated as who it was named after (it's ranged from Mary Pickford to Queen Mary I of England to some waitress named Mary), but the earliest claim comes from French bartender Fernand Petiot who was working at the famed New York Bar in Paris in 1921, where he made a cocktail containing only vodka and tomato juice, which was dubbed a "bucket of blood." Several others have laid claim to its invention as well, such as famous comedian George Jessel and a bartender at New York's 21 Club. Add-ins have included such things as bacon and horseradish, but the drink almost always contains a heavy dose of both tomato juice and vodka.
Bloody Mary:
3 parts vodka
6 parts tomato juice
1 part fresh lemon juice
2 dashes Worcestershire sauce
Stir gently in a mixing glass with ice, pour into highball glass with ice or rocks glass with no ice.
Garnish with black pepper, Tobasco sauce, and celery salt up to taste.
Source: International Bartenders Association
Daiquiri
Notice we didn't use the word "strawberry" here. While fruity drinks are understandably delicious, the original daiquiri had no strawberries in sight. Named for the Cuban town of Daiquirí, this drink, which originally consisted of white rum, lime juice, and sugar, was reportedly invented by an American mining engineer visiting Cuba at the tail end of the 19th century. It was introduced stateside a few years later and became immensely popular, even a favorite of Ernest Hemingway and President Kennedy, and its simple recipe forms the basis of many other cocktails.
Daiquiri:
8 parts white Cuban (sub Puerto Rican or Virgin Islands) rum
2 parts fresh lime juice
1 part simple syrup
Shake with ice and strain into a cocktail glass.
Source: The Fine Art of Mixing Drinks
French 75
A take on the champagne cup, which was popular in the 19th century and consisted of champagne, lemon juice, and sugar, the French 75 adds gin to the concoction. However, it's really an amalgamation of the former drink and Harry MacElhone's "75" cocktail, consisting of brandy and gin, from Harry's ABC of Mixing Cocktails. In 1927, the drink eventually took its name and modern form in the book Here's How! by Judge Jr., where the brandy was substituted for champagne. It was later popularized in The Savoy Cocktail Book in 1930 and even makes a cameo in Casablanca.
French 75:
2/3 gin
1/3 fresh lemon juice
1 spoonful powdered sugar
Pour into a tall glass with ice and top with champagne.
Source: The Savoy Cocktail Book
Gin and Tonic
A match made in heaven, gin and tonic pairs the floral juniper of gin with the distinct bittersweetness of tonic water. Originally concocted by British troops in Asia during the early 1800s when they thought that the quinine in tonic water could help stave off malaria. The tonic was so bitter that the officers decided to mix in some sugar, lime, and their rationed gin to make it more drinkable. Studies since then have shown that the amounts of tonic consumed would have needed to be in the range of several gallons per day in order for prevention to occur. Nonetheless, this combination has since become a barroom staple in modern times.
Gin and Tonic:
1 part gin
2 part tonic water
Gently mix over ice in a copa glass.
Garnish with a lime wedge.
Source: Bombay Sapphire
Gin Fizz
While a "fizz" is simply a cocktail with the inclusion of citrus and sparkling water, a gin fizz, easily the most famous version, contains everyone's favorite juniper spirit. Most popular during the first half of the 20th century, the gin fizz itself has several of its own iterations, such as a sloe gin fizz or a Ramos gin fizz, the latter of which adds cream, egg white, orange flower water, and vanilla extract and is said to have required anywhere between 12 and 15 minutes of shaking. Originating in New Orleans as early as 1888, the Ramos fizz (an IBA official drink) became so popular and took so long to put together that bars throughout town would have one person designated to make these beverages at all times.
Gin Fizz:
9 parts gin
6 parts fresh lemon juice
2 parts simple syrup
Shake together ingredients with ice and then strain into a tall tumbler glass.
Splash with soda water.
Source: International Bartenders Association
Hot Toddy
Often served as a nightcap before bed, a hot toddy will warm you up during the winter and keep you disease-free any other time of the year — at least that's what old-timey doctors and grandmothers used to think, although some health experts still say it can alleviate symptoms at the very least. Deriving its name from the Indian drink made from fermented palm tree sap, the hot toddy didn't have any real alcoholic connotations until the late 18th century.
Hot Toddy:
1 jigger of rye, brandy, or rum
The juice of half a lemon
1 lump of sugar
Fill up a highball glass with hot water.
Source: Here's How!
Irish Coffee
Though it wasn't the first version of the cocktail, the modern iteration of the Irish coffee stems from 1942 at Foynes Airbase in Ireland where a restaurant chef came up with the concoction on the spot in order to warm up a group of American passengers stranded there due to bad weather. Someone asked the chef if he was serving Brazilian coffee, to which he responded, "No, that's Irish coffee." According to Stanton Delaplane, a travel columnist for the San Francisco Chronicle, he was the one who brought the cocktail over to the States in 1952 when he worked as a bartender at the Buena Vista Cafe.
Irish Coffee:
50mL (~1.7oz) Irish whiskey
120mL (~1/2cup) hot coffee
50mL (~1.7oz) fresh cream (chilled)
1tsp sugar
Serve in a coffee glass.
Source: International Bartenders Association
Mai Tai
Perhaps the quintessential tiki drink, the mai tai got its name from the Tahitian word for "the best." Prior to making a cameo in Elvis Presley's 1961 film Blue Hawaii, this rum drink was allegedly invented by Victor J. Bergeron — AKA Trader Vic — at his eponymous restaurant in Oakland in 1944. However, tiki culture founding father Donn Beach claims that Bergeron's recipe was simply a derivative of his Q.B. Cooler, although Bergeron won a court settlement to prove that his was the original. Bergeron eventually revealed his own top-secret recipe in a 1972 book and tiki bars have been using it ever since.
Mai Tai:
1oz dark Jamaican rum
1oz amber Martinique rum
1oz fresh lime juice
1/2oz orange Curacao
1/4oz orgeat syrup
1/4oz simple syrup
Serve in a rocks glass over crushed ice.
Garnish with a lime wedge and mint sprig.
Source: Trader Vic's via Beachbum Berry Remixed

Manhattan
While the popular story of this drink's origins takes us to the Manhattan Club in the 1870s during a banquet hosted by Winston Churchill's mother, there were already similar cocktails called "Manhattan" a decade earlier. Today, this combination of rye whiskey, sweet vermouth, and bitters is one of the most popular drinks around and its versatility has become a way for many bartenders to show off their creativity. Like the fizz, the Manhattan is open to many variations, most famously the Rob Roy, which substitutes Scotch whisky. This was also a favorite of Frank Sinatra and the Rat Pack.
Manhattan:
2 parts rye whiskey
1 part red vermouth
1 dash of Angostura bitters
Shake and strain into a cocktail glass.
Garnish with a Maraschino cherry.
Source: Harry's ABC of Mixing Cocktails
Margarita
While no one is certain where the first recipe came from, the margarita was most likely derived from a cocktail called brandy daisy, first published in Jerry Thomas' The Bar-Tenders Guide second edition. However, some early sightings even placed this tequila drink in Tijuana before any of these other tales took place. Although there are about as many ways to make a margarita as there are origins stories, the IBA's recipe simply includes tequila, triple sec, and lime juice.
Margarita:
10 parts tequila
4 parts triple sec
3 parts fresh lime juice
Shake with ice and strain into a cocktail glass.
Half salt rim (optional)
Source: International Bartenders Association
Martini
Although no one will ever agree on the right way to make a martini, the drink has come to be one of the kings of cocktails for its simplicity and versatility. While 007 likes his with vodka, the martini is traditionally made with just gin and vermouth (with a lemon twist or olive), although there have been countless variations, and over time its name has been transmogrified to fit anything served in a martini glass (e.g., appletini). Most older recipes call for the ingredients to be shaken (not stirred), experts today feel that stirring is much better for the gin. Believed by many to be an offshoot of the Martinez drink popular during the mid-19th century, which used Old Tom gin, the dry martini came about due to the popularity of London dry gin at the turn of the 20th century and was possibly invented by a bartender around 1911 at the Knickerbocker Hotel in New York. Whether you like it dry, wet, dirty, or perfect — an entire article could be written altogether on martini patois — the martini is one of the key cocktails with which to familiarize yourself.
Martini:
2 parts dry gin
1 part vermouth
Orange or Angostura bitters if desired.
Shake and strain into a cocktail glass.
Source: Harry's ABC of Mixing Cocktails
Mint Julep
A mainstay at the Kentucky Derby since, some say, its inaugural year in 1875 (it became the official drink of the horse race in 1938), the mint julep is an excellent sweet drink to imbibe during the spring and summer months. A cognate of the Persian word for rosewater, the julep began in England for medicinal purposes. The drink has had a presence in the United States since the late 18th century and has since evolved over time. What was once popularly made with either genever or bourbon is now almost exclusively made with the American whiskey.
Mint Julep:
1 tbsp powdered sugar
2.5 tbsp water
Mix together in a large bar glass and then add 3 or 4 sprigs of fresh mint, muddling them until the flavor is extracted.
Add 1.5 wine glasses full of bourbon.
Fill the glass with shaved ice with the mint stems downward so that the leaves stick out above.
Dash with Jamaican rum
Source: The Bar-Tender's Guide: How to Mix Drinks
Mojito
This drink of Cuban heritage began as a remedy for certain tropical illnesses. When Sir Francis Drake unsuccessfully invaded the country for its gold in the 16th century, he wound up using the concoction as medicine for his crew who were suffering from scurvy and dysentery. The elixir consisted of mint leaves, lime, sugar cane juice, and crude rum that was made from sugar cane. While the drink certainly wasn't called a mojito at that point — the source for the name is still up for debate — the cocktail's popularity likely spread due to Bacardi's rise to prominence in the 19th century and Ernest Hemingway's subsequent advocacy for the drink after discovering it in Cuba.
Mojito:
45mL (~1.5oz) white Cuban (sub Puerto Rican or Virgin Islands) rum
20mL (~4tsp) fresh lime juice
6 mint sprigs
2tsp white cane sugar
Soda water
Mix mint, sugar, and lime juice in a collins glass. Splash with soda water and add ice.
Pour in rum and top with more soda water.
Source: International Bartenders Association
Moscow Mule
The rise in popularity of the Moscow mule in recent years has certainly coincided with the rise in popularity of ginger beer. However, the drink has been around since the 1940s when Jack Morgan, who owned Cock 'n Bull restaurant and ginger beer brand, had a surplus of unsold inventory, notably ginger beer and vodka. The synonymous copper mugs followed after John G. Martin of Hublein Spirits, who distributed Cock 'n Bull and Smirnoff, went around to different bars using the mug to help promote the cocktail. Although today, some health experts recommend the mugs be plated with nickel or stainless steel on the inside.
Moscow Mule:
45mL (~1.5oz) Smirnoff vodka
120mL (~1/2 cup) ginger beer
10mL (~2tsp) fresh lime juice
Stir together in a mule cup on ice.
Source: international Bartenders Association
Negroni
Part martini, part Manhattan, a Negroni is a beast unto itself. Dating back over a hundred years, the cocktail obtains its floral essence from the gin but offers a bittersweetness that derives from the equal blend of red vermouth and Campari, a brand of herbal aperitif that has characteristics of bitters. It was reportedly invented when French general Pascal Olivier Count de Negroni requested a stronger version of his Americano cocktail by substituting the soda water for gin. Meant to be served before dinner, this cocktail may require a specific palate, but has a loyal following, including Orson Welles.
Negroni:
1 part gin
1 part sweet red vermouth
1 part Campari
Pour ingredients into an old fashioned glass with ice. Stir gently.
Garnish with an orange slice.
Source: International Bartenders Association
Old Fashioned
Believed by many historians as the very first drink to be called a cocktail, the old fashioned has definitely earned its name. Apparently stemming from an 1806 article from an old New York newspaper, the drink's original recipe called for "spirits," bitters, water, and sugar. Over the next few decades, cocktails became more highfalutin and eventually, the people desired something a bit more traditional, thus giving the old fashioned its name and its resurgence. In the late 19th century, rye whiskey was the preferred spirit and stuck around as the standard base ingredient.
Old Fashioned:
12 parts American whiskey
1 part simple syrup
1 – 3 dashes Angostura bitters
In an old fashioned glass, add bitters to simple syrup and stir. Add about 1oz of whiskey and stir again. Add two cubes of cracked, but not crushed, ice and top off with the rest of the whiskey.
Garnish with lemon peel and maraschino cherry.
Source: The Fine Art of Mixing Drinks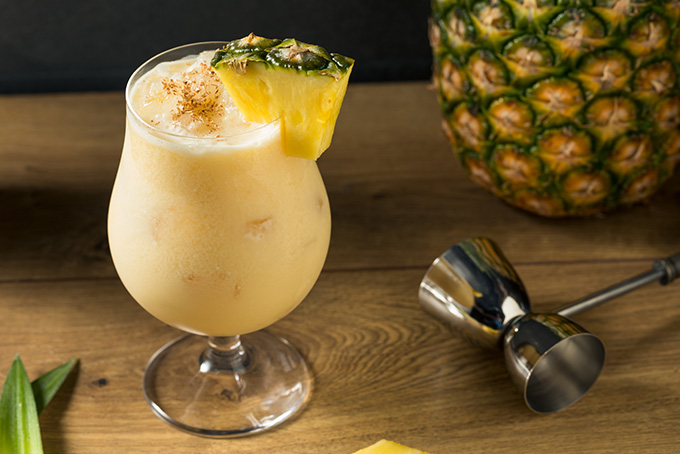 Painkiller
Originally invented in 1971 at the Soggy Dollar Bar in the British Virgin Islands, the Painkiller is not only one of the most popular tiki drinks, but one of the most unique. A delicious blend of dark rum, coconut cream, orange juice, pineapple juice, and nutmeg, this cocktail traditionally uses Pusser's Rum, who's since trademarked the name, but you'd be hard-pressed to find a tiki bar that doesn't sell one of these addicting concoctions. If you want to drink a painkiller at the Soggy Dollar itself, the beachfront bar is still mixing these up. However, you can only get close to the watering hole via boat, until you have to swim the rest of the way — hence the name.
Painkiller:
4oz unsweetened pineapple juice
1oz orange juice
1oz Lopez coconut cream
2.5oz Pusser's Navy Rum (or dark Jamaican rum)
Powdered cinnamon
Ground nutmeg
Shake all the liquid with plenty of crushed ice. Pour unstrained into a tall glass or tiki mug.
Dust with cinnamon and nutmeg.
Garnish with pineapple stick, cinnamon stick, and orange wheel.
Source: Beachbum Berry Remixed
Pimm's Cup
The mint julep of Wimbledon, the Pimm's Cup cocktail is the official drink of the tennis event and has been sold to an estimated 80,000 spectators each year since 1971. A combination of its namesake Pimm's No. 1, a gin-based liqueur first sold in 1840, your favorite light-colored carbonated beverage (ideally clear, English-style lemonade), and an assortment of chopped fruits, this is a terrific drink to wet your whistle during the summer for its refreshingly crisp sweetness. It's also been said that only six people in the world know the Pimm's recipe at any one time.
Pimm's Cup:
2oz Pimm's No. 1
6oz English-style carbonated lemonade (can sub ginger ale)
Pour into a highball glass with ice.
Garnish with an abundance of chopped orange, strawberry, and cucumber, and a sprig of mint.
Source: The Pimm's Company
Pisco Sour
The national drink of Peru (and Chile) was actually invented by an American bar owner, Victor Morris, working in Lima in the 1920s as his take on the whiskey sour. A type of brandy first developed in Peru by 16th-century Spanish settlers, pisco was first used by Morris as a substitute after a railway celebration led to locals drinking all the whiskey available. His first iteration simply contained pisco, lime juice, and sugar, but his apprentice improved upon the recipe with the addition of bitters and egg whites, which gives the drink an elegance that's had fans fixated for over 100 years.
Pisco Sour:
6 parts pisco
3 parts fresh lime juice
2 parts simple syrup
1 egg white
Shake together with ice. Strain into a goblet glass.
Garnish with a few dashes of Amargo bitters.
Source: International Bartenders Association
Rusty Nail
It may seem unlikely, but the combination of two ingredients, and two ingredients alone, provides one of the most exquisite and unique cocktails known to man. The rusty nail is the perfect blend of smoke and honey, attributed to the simple combination of Scotch and Drambuie, a liqueur made from Scotch and other additives. While versions of the drink have been documented as early as 1937, the rusty nail was invented in earnest in the early '60s by the bartenders at the 21 Club in New York. It gained popularity throughout that decade, especially after word got out that it was a Rat Pack favorite.
Rusty Nail:
45mL (~1.5oz) Scotch whisky
25mL (~3/4oz) Drambuie
Pour into an old fashioned glass with ice.
Source: International Bartenders Association
Sazerac
It's a shame that "America's oldest cocktail" was basically unattainable for nearly a century due to the ban of its key ingredient: absinthe. Prior to that, the sazerac was not much different than an old fashioned but can be made with cognac as well. Said to be invented by Antoine Amedie Peychaud, a creole immigrant to the U.S., the sazerac was first made in the mid-19th century. Obscurity is only part of the reason for the enigma surrounding New Orleans' official cocktail. Another is its peculiar preparation, which involves two separate old fashioned glasses.
Sazerac:
5 parts cognac (can sub rye whiskey)
1 part absinthe (can sub Pernod or Herbsaint)
1 sugar cube
2 dashes Peychaud's bitters
Rinse one old fashioned glass with absinthe and fill with ice. Set it aside.
Stir the remaining ingredients over ice in a separate old fashioned glass.
Discard the ice from the first glass and strain the contents of the second glass into the first glass.
Garnish with lemon zest.
Source: International Bartenders Association
Screwdriver
Known as vodka and orange in the UK, the screwdriver dates back to World War II when Americans in China and Turkey experimented with mixing neutral grain spirits. As vodka's popularity rose following the war, Americans Stateside went wild about this drink. A common etymology of the name comes from one group of soldiers using a literal screwdriver to mix the cocktail when they couldn't find a spoon. A common variation on the drink substitutes the OJ for cranberry juice. Add Galliano to a screwdriver to make the '70s-favorite Harvey Wallbanger.
Screwdriver:
2 parts orange juice
1 part vodka
Mix and serve in a highball glass over ice.
Source: International Bartenders Association
Sidecar
First made during World War I to satiate U.S. soldiers in Europe, the sidecar, named after the motorcycle attachment, is easily the most prolific and enduring cognac cocktail. While its inventor is a source of contention by historians, with roots in either the Ritz Carlton in Paris or Buck's Club in London, the cocktail is essentially a daiquiri with cognac instead of rum and orange liqueur instead of sugar. Easy to make, hard to perfect, a bartender's skill can often be judged by how well he or she can make one of these.
Sidecar:
2 parts brandy
1 part Cointreau
1 part fresh lemon juice
Shake and strain into a cocktail glass.
Optional: Prior to pouring, coat the rim of the glass with lemon juice and granulated sugar.
Source: The Savoy Cocktail Book
Tequila Sunrise
The second most famous tequila cocktail wasn't always as popular as it is today. While the origins of this ombre drink can be traced back to either the Agua Caliente racetrack in Tijuana during Prohibition or a Phoenix hotel poolside, both versions of which contained blackcurrant liqueur and lime juice, it was a bartender in Sausalito, California in the '70s that first made the beautifully colored libation with orange juice and grenadine — the version we know today. When the Eagles sang about the drink in their 1972 hit song of the same name, the cocktail finally made its way into our lexicon and through our livers.
Tequila Sunrise:
6 parts orange juice
3 parts tequila
1 part grenadine
Pour orange juice and tequila into a highball glass with ice.
Add grenadine to create the chromatic effect. Do not stir.
Garnish with orange slice.
Source: International Bartenders Association
Tom Collins
In 1974, the Great Tom Collins Hoax — or what you would now call a "prank" — was all the rage in New York City. Someone would tell you that "Tom Collins" was speaking ill of you at the bar around the corner. Well, Tom Collins didn't exist, so when you went to the bar and asked for Tom Collins, the bartender would prepare a drink for you. Laughs aplenty. It's unclear if this was on the mind of Jerry Thomas when he first penned the recipe into his book The Bar-Tender's Guide two years later, or if it was merely a take on the London-famous John Collins cocktail, but with Old Tom gin instead. Whatever the case, Thomas' rendition featured versions with brandy, whiskey, and gin. Although now, gin is the primary base.
Tom Collins:
1 large wineglass of gin
Juice of a small lemon
5 to 6 dashes of gum syrup
Shake with ice and strain into a Collins glass (naturally).
Fill up the rest with soda water.
Source: The Bar-Tender's Guide
Vesper
It makes perfect sense that one of the most famous martini variations was invented by the father of James Bond himself, Ian Fleming. First appearing in the 1953 novel Casino Royale, the Vesper is a combination of Gordon's gin, vodka, and Kina Lillet (shaken, not stirred of course). In the book, 007 insists that vodka made from grain instead of potatoes to perfect the cocktail, so do with that what you will. In the next chapter, our protagonist names the drink after Vesper Lynd, and, given her fate, this is the only time Bond ever orders the drink for the duration of the book series. It's worth noting that Kina Lillet no longer exists. Its descendent, Lillet Blanc, lacks the distinct quinine bitterness that featured in its predecessor. As a result, some bartenders feel that Cocchi Americano is a closer match to the Kina Lillet of the 1950s than the Lillet of today.
Vesper:
3 parts gin
1 part vodka
1/2 part Lillet Blanc (can be subbed with Cocchi Americano)
Shake with ice and strain in a chilled cocktail glass.
Garnish with a large, thin slice of lemon.
Source: Ian Fleming via International Bartenders Association
Whiskey Sour
This iteration of grog, the popular British Navy drink, substitutes brandy for whiskey. Invented sometime in the 1870s, this cocktail had a big resurgence with the prevalence of sweet and sour mix nearly 100 years later. Although, for a fresher taste, we recommend sticking to traditional lemon juice. Not every recipe calls for it, but add the white of one egg for a velvety smoothness without detracting from any of the flavors. This can also be considered a Boston sour.
Whiskey Sour:
45mL (~1.5oz) bourbon whiskey
25mL ( ~3/4oz) fresh lemon juice
20mL (~4tsp) simple syrup
20mL (~4tsp) egg white (optional)
Shake with ice. If using egg white, dry shake first without ice, then add ice and shake again.
Serve strained in a cobbler glass or on the rocks in an old fashioned glass.
Garnish with an orange slice and maraschino cherry.
Source: International Bartenders Association
White Russian
Although Russian cookbooks have recommended drinking coffee liqueur with cream (sans vodka) since the 1930s, it's unlikely that the white Russian cocktail has any Soviet origins. First popping up sometime in the '40s, the cocktail emerged from obscurity when the Coen brothers opted for it to be the drink of choice of The Dude (Jeff Bridges), the protagonist in their 1998 cult classic The Big Lebowski (he tended to call it a "Caucasian"). From there, the white Russian started getting slapped on drink menus across the country. A black Russian is a white Russian with no cream.
White Russian:
50mL (~1.7oz) vodka
20mL (~4tsp) coffee liqueur
Pour into an old fashioned glass with ice.
Float fresh cream on top and stir slowly.
Source: International Bartenders Association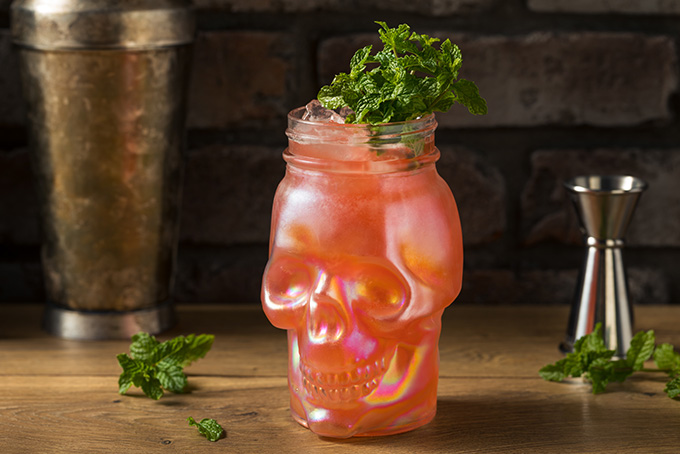 Zombie
Before the mai tai became king, the zombie was the cocktail that ignited enthusiasm for tiki culture in the 1930s. First invented by Donn Beach in 1934, the recipe for the zombie was kept under wraps so tight that the imitators couldn't figure out what to do, so they just threw a bunch of rums and fruit juices together and called it by the same name. This practice became the norm to the point that the flavor of a real zombie had become obfuscated to anyone who hadn't visited Beach's bar firsthand. Beachbum Berry eventually decoded the original recipe for his book decades later and published it for all to see.
Zombie:
3/4oz fresh lime juice
1/2oz Don's mix (equal parts cinnamon syrup and white grapefruit juice)
1/2oz falernum
1.5oz gold Puerto Rican rum
1.5oz aged Jamaican rum
1oz 151-proof Lemon Hart Demerara rum
1 dash Angostura bitters
6 drops Pernod
1tsp grenadine
3/4 cup crushed ice
Put everything in a blender and blend on high for no more than 5 seconds.
Pour unstrained into a chimney glass and add ice cubes to fill.
Garnish with mint sprig.
Source: Don the Beachcomber via Beachbum Berry Remixed
The Complete Guide to Bourbon Styles
If you want to try out different whiskeys for your whiskey sour or mint julep, then check out our complete guide to bourbon styles.